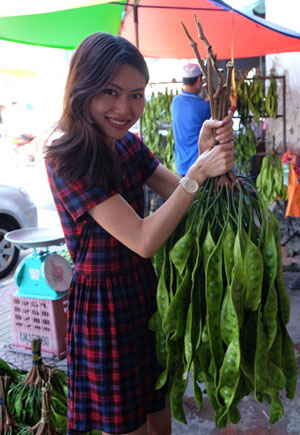 Hello!
I am Sara Khong, a professional cook, recipe developer, food photographer & stylist, food-lifestyle writer, and author of four cookbooks.
I help food brands create content: develop recipes, style and shoot food, make cooking videos, and write articles. I also teach Malaysian cooking at my cooking school which is #1 cooking school in Kuala Lumpur in Tripadvisor.
Food, people, culture, and creating new things are my passion. I styled and photographed the food on this website, drew this illustration for one of my cookbooks, read culinary literature, and grow food in my tropical edible garden.
After receiving my Bachelor of Laws degree from University of London, instead of researching on case law I decided to learn more about food instead. I've obtained a certification from HarvardX on Science & Cooking, in which I learned the science behind cooking.
To expand my horizon in the culinary arts, I travel the world to dine at restaurants, discover local street food and attend local cooking class. I've gotten certification at Le Cordon Bleu London on Modern & Classic Sauce, and Le Cordon Bleu Thailand on Thai Cuisine Workshop: Curry, paste & sauces, and Beijing Cooking School and continue to attend cooking classes wherever I go.
However, the best places I learned cooking is at home and people from the generation before me. At New Malaysian Kitchen, I record recipes passed down from family and friends, and enhanced them using science and modern appliances. Please enjoy my tried and tested recipes. If you're in Kuala Lumpur, I welcome you to join my cooking classes at my family home.

---
SARA'S COOKING PHILOSOPHY
Eat traditionally
I believe that eating healthy is eating traditionally. That means eating like our grandparents did: home-cooked food that includes a variety of real foods such as vegetables, fruits, grains, seafood, meat, bone broth, and fermented food.
Use fresh & local ingredients
I use fresh and local ingredients in my cooking as much as I can. I'm lucky to be able to harvest fresh herbs and vegetables from my garden. However, for convenience, I occasionally include packaged and canned food. Cooking using a combination of fresh and packaged ingredients is better than eating out.
Use natural seasonings
Food should not only be delicious, but nutritious too. I flavour my food with natural seasonings like sea salt, honey, herbs, and spices. For tasty umami flavour, I use homemade stock and glutamate-rich fresh produce such as dried shrimps, mushrooms, and tomatoes. I do use chicken stock granules, but rarely and only in small quantities.
Utilise kitchen appliances & tools
I use kitchen gadgets to make cooking easier and faster. For example, I mince onions in a small manual chopper, and make chilli pastes in my blender. Investing in the right equipment makes cooking much more convenient.
Cook whenever possible
The demands of modern life make it very difficult to cook daily. When I'm busy, I make simple food such as baked fish and roast vegetables in the oven, or cook freezer-friendly meals in batches.
I encourage you to cook, even if it's just once a week. It's good for your health & soul!
New Malaysian Kitchen Cooking Class
No. 2, Jalan 11, Taman Len Seng, 56000 Wilayah Persekutuan, Wilayah Persekutuan Kuala Lumpur, Malaysia
+60 12-360 6112
https://goo.gl/maps/Xxg7n4sGvtr