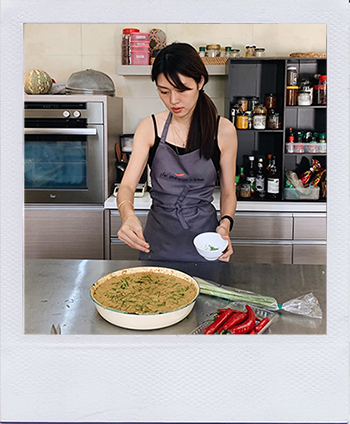 Hello! 
My name is Sara Khong. I write cookbooks and teach Malaysian cuisine at my cooking school in Kuala Lumpur, Malaysia, New Malaysian Kitchen.
I also help food brands create content: develop recipes, style and shoot food, make cooking videos, and write articles. 
Food, plants, people, culture, and creating new things are my passion. I styled and photographed the food on this website, drew this illustration for one of my cookbooks, and grow food in my tropical edible garden.
To expand my horizon in the culinary arts, I dine at restaurants, discover local street food, and attend local cooking classes whenever I travel. However, the best places I learned cooking is at home and people from the generation before me. 
"Food should not only be delicious but nutritious as well"  - Sara Khong

My mission is to record and improve traditional recipes passed down from family and friends. I cook with my mother and interview hawkers to make healthier versions of Malaysian street food at home. 
Head over to my Youtube channel to watch great Malaysian street food and home-style cooking. If you're in Kuala Lumpur, I welcome you to join my cooking classes at my family home. 

---
SARA'S COOKING PHILOSOPHY
TRADITIONAL IS HEALTHY 
I believe that eating healthy is eating traditionally. That means eating like our grandparents did: home-cooked food that includes various foods such as vegetables, fruits, grains, seafood, meat, bone broth, and fermented food. 
PRIORITISE WHOLEFOOD
Many modern foods are processed, refined, and stripped of their nutrient. When I can, I always choose whole food at its natural state, e.g., brown rice instead of white
USE NATURAL SEASONINGS 
I flavour my food with natural seasonings like sea salt, honey, herbs, and spices. For tasty umami flavour, I use homemade stock and glutamate-rich fresh produce, e.g., mushrooms and tomatoes. I do use chicken stock granules, but rarely and only in small quantities.
MORE PLANTS
I don't believe that eating healthy requires giving up meat. I eat good quality animal-produce e.g., free-range chicken and eggs. But I focus on eating more plants than I do meat. 
INCLUDE SUPERFOOD
Not all fresh food is made equally; some contain more nutrients than others. I include superfood into my cooking - e.g., turmeric, cacao powder, and seaweed - so I get more vitamins and minerals than I usually would in a particular dish.
EAT FERMENTED FOOD
Gut health is vital to our well-being. I include natural probiotic and prebiotic food in my diet daily e.g., fermented vegetables, kombucha, garlic, and banana. 
RIGHT PORTION & PROPORTION 
Any meal can be made healthier when the amount and balance are right. The general rule is a meal with more plants, and eat until I feel satisfied but not full. 
COOK WHENEVER POSSIBLE 
The demands of modern life make it very difficult to cook daily. When there isn't much time, I make simple food such as herbal soup or cook freezer-friendly meals in batches.
I encourage you to cook, even if it's just once a week. It's good for your health & soul!
New Malaysian Kitchen Cooking Class
No. 2, Jalan 11, Taman Len Seng, 56000 Wilayah Persekutuan, Wilayah Persekutuan Kuala Lumpur, Malaysia
+60 12-360 6112
https://goo.gl/maps/Xxg7n4sGvtr