Join me for a home-style cooking class and dining experience at my family home. We will cook nasi lemak, ayam goreng berempah, and three other popular Malaysian food.
You will learn how to wrap nasi lemak (or coconut rice) with banana leaves into packets of pyramids just like hawkers do!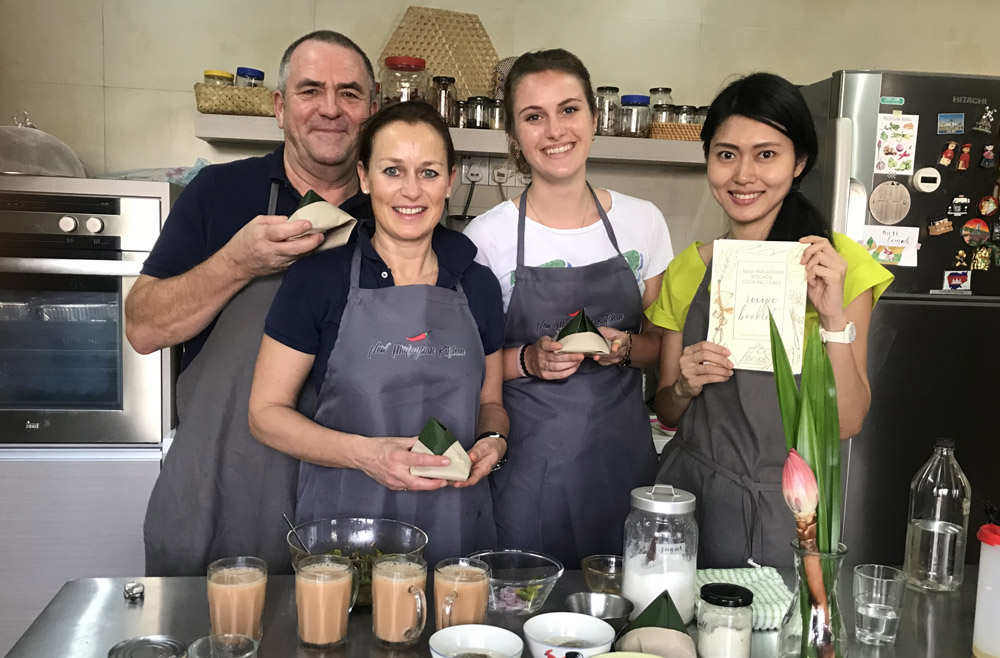 WHAT MAKES OUR CLASS UNIQUE?
Make 5 delicious local dishes

Cook in a small group of maximum 5 people

Take home your own recipe book
Explore a tropical edible garden
Cook and dine in a real Malaysian home
Learn traditional cooking & the local way of life
MENU: Malaysia's National Dish
Nasi Lemak (Coconut Rice with Spicy Condiment/ 马来参巴椰漿飯)
Ayam Goreng Berempah (Malaysian Spiced Fried Chicken/ 马来香料炸鸡)
Kerabu Kacang Botol (Four Angled Beans Salad/马来四角豆沙拉)
Ondeh-ondeh (Glutinous Rice Balls with Coconut Flakes and Palm Sugar) OR Sago Gula Melaka (Sago Pudding with Coconut Milk & Palm Sugar/ 椰糖西米布丁)
Teh Tarik (Pulled Tea/马来拉茶)
Start your morning at a Malaysian home just 20 minutes away from Kuala Lumpur city centre. I will welcome you with a glass of flower tea and delicious appetiser from the garden. Before we cook, we will explore my organic edible garden with over 50 herbs, spices, and flowers used in everyday Malaysian cooking.
We will see, touch, smell, and taste a variety of local plants like blue flower, curry leaves, and turmeric. We may even harvest curry leaves that we will use in our cooking!
In the kitchen where my family cooks, we will learn how to make nasi lemak, ayam goreng, and three other popular Malaysian recipes. I will introduce you to essential produce for our cooking such as lemongrass and belacan (shrimp paste)
With my expert guidance, we will pound spices with a pestle and mortar belonging to my grandmother, marinade chicken with 12 different spices, wrap coconut rice in banana leaf, and pull tea with two mugs. You will learn tips and tricks on authentic Malaysian cooking.
Finally, it's time to enjoy a delicious meal we made together and chit-chat about Malaysian food, culture, and lifestyle. You will leave with a full stomach, knowledge of Malaysia's food and plants, cooking skills, and a recipe booklet so that you can cook Malaysian food for your family and friends back home!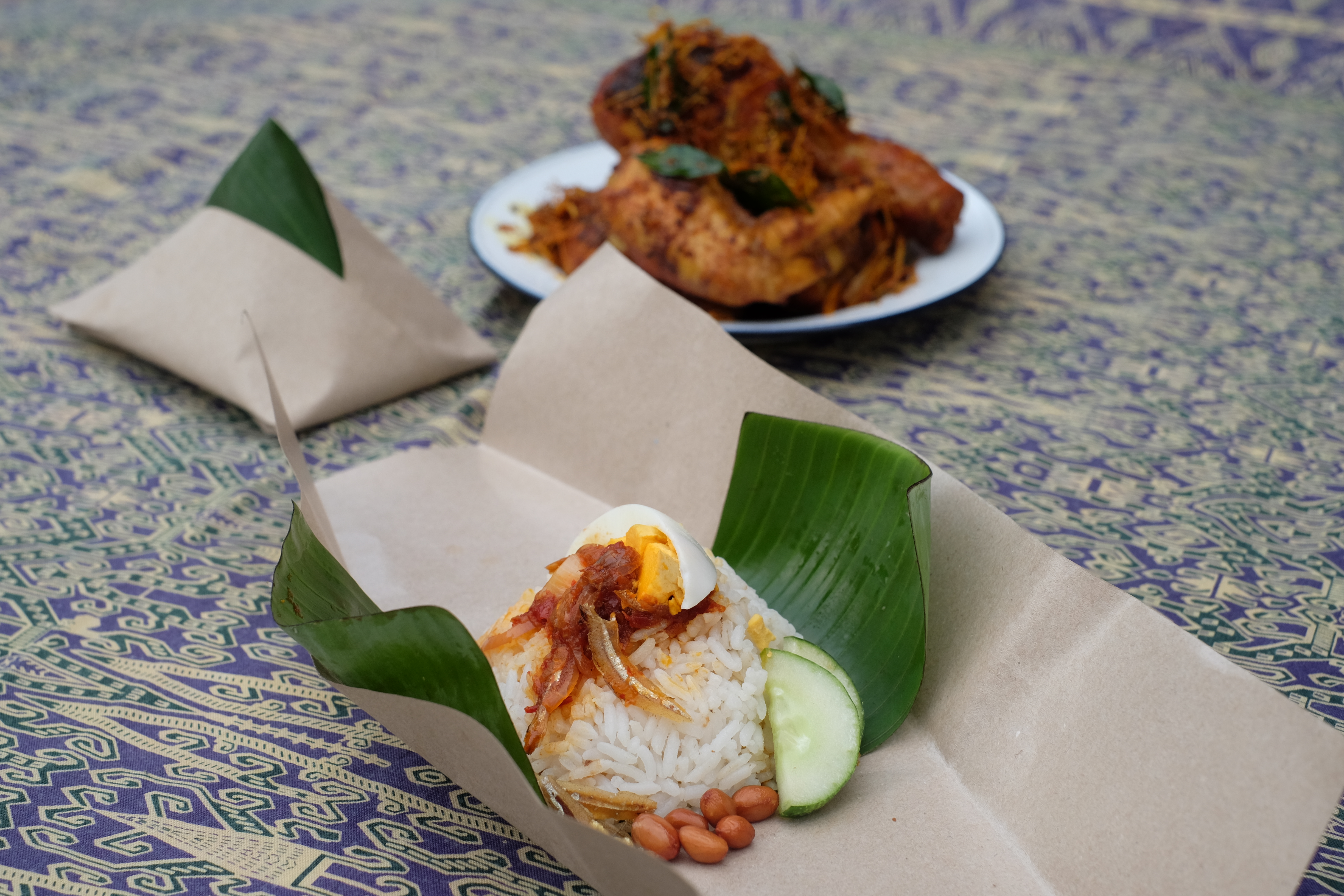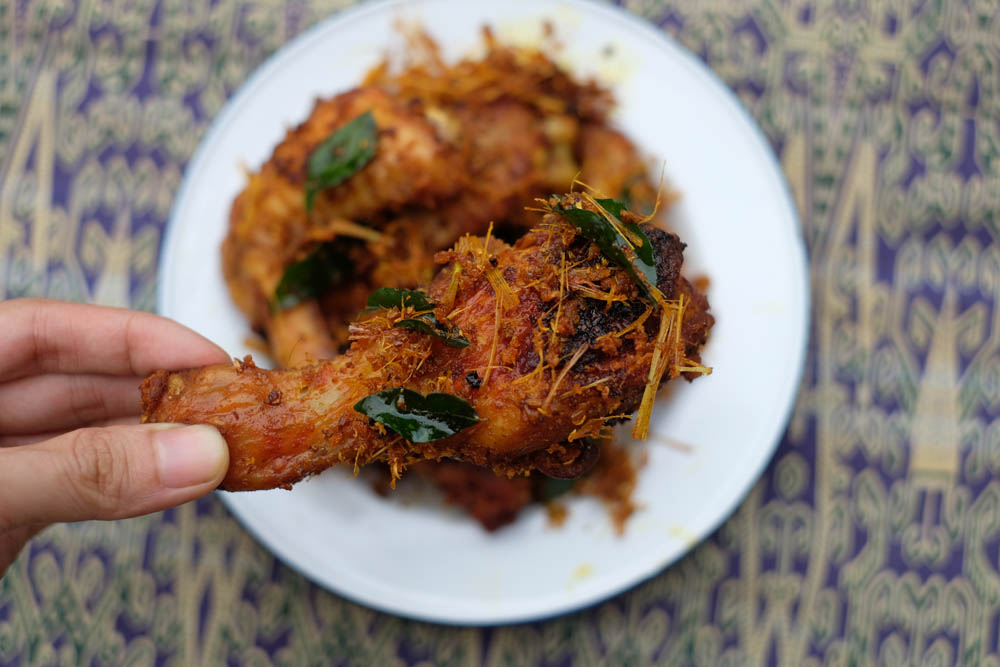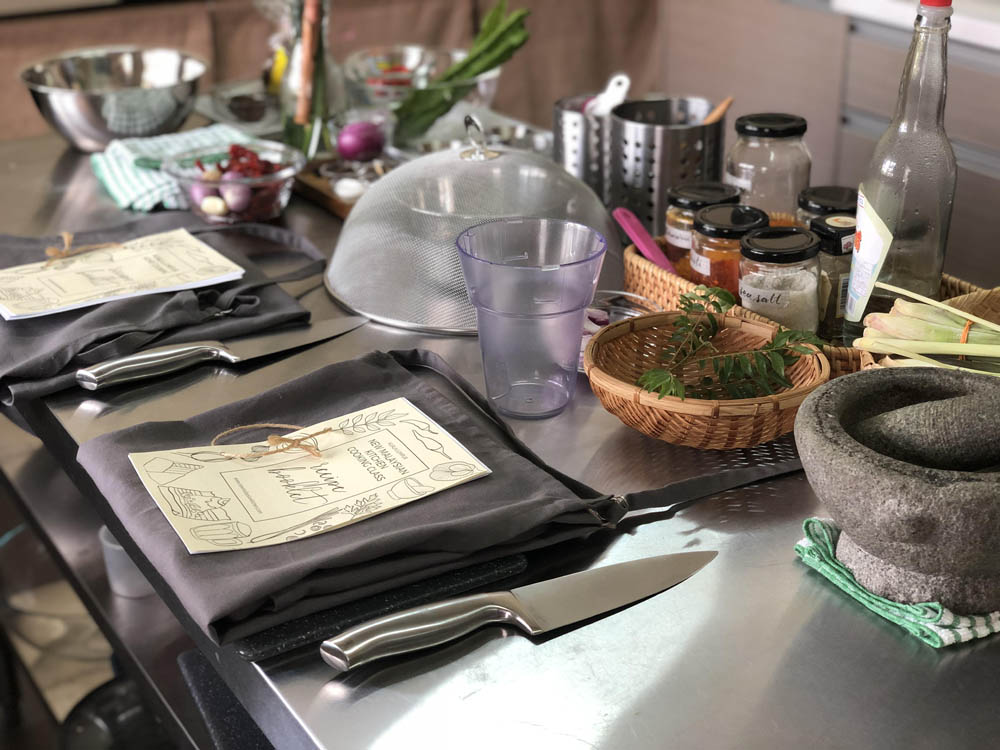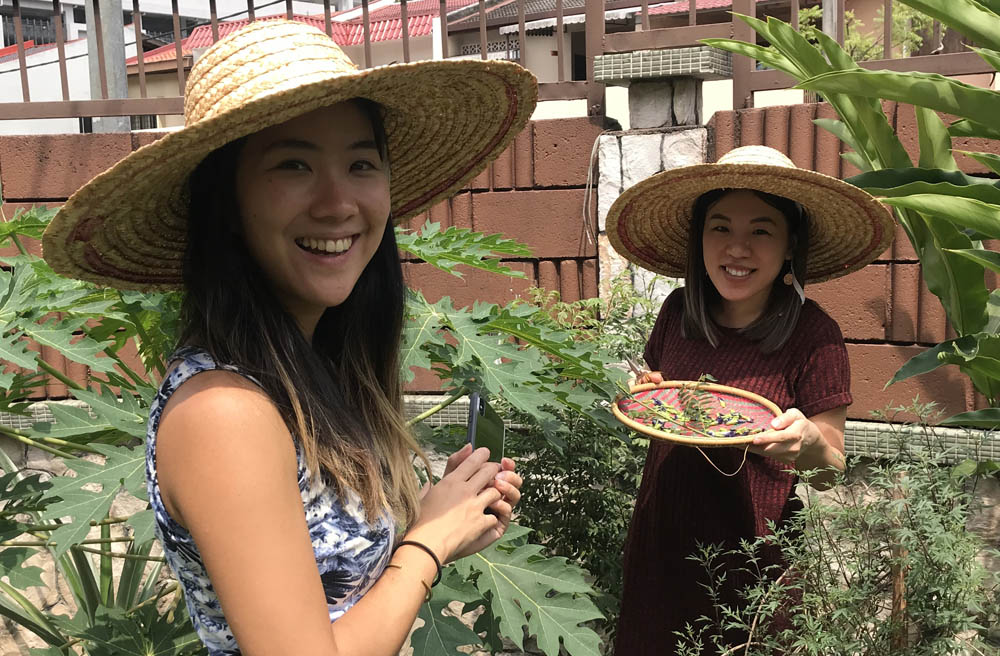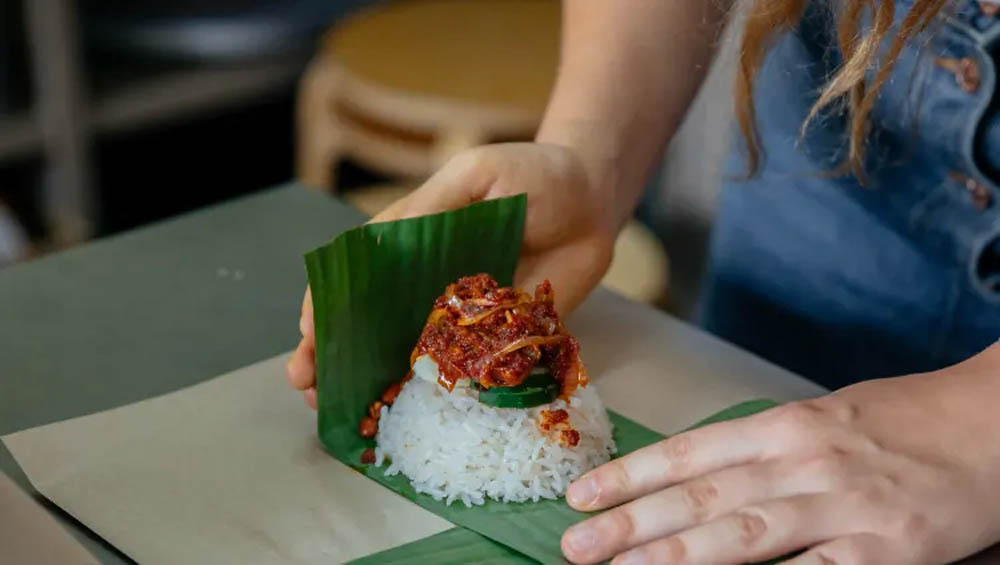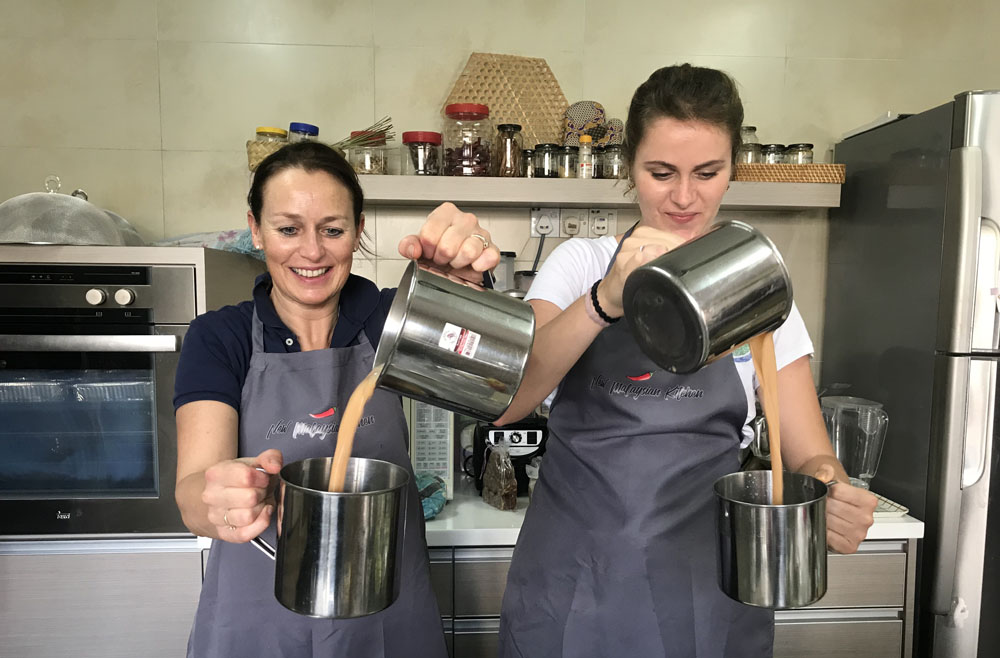 Morning class
9:00 am: Meet at my home. Enjoy a glass of flower tea & appetiser from our organic garden
9:15 am: Garden tour
9:45 am: Cooking Class
12:30 pm: Eat with a local family
1:00 pm: End of session
Note: Market tour (at at additional price of USD 33/RM 150) starts at 8 am 
Afternoon class at 2 pm is available with minimum of 3 people.
My home is just 20 minutes train ride away from the city centre (Bukit Bintang MRT Station). Take a train to Taman Connaught MRT Station and exit at Gate C. We will pick you up there. Ticket fee: ~USD 1 (RM 3.10)
For convenience, take a GRAB taxi (like UBER) directly to the school (recommended). It's about 20 minutes ride from the city. Taxi Fee: ~ USD 6 (RM 25)
We also offer pick-up from and back to your hotel at an additional price of USD 50 (RM 200).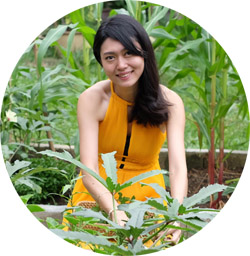 I'm Sara Khong, a professional cook and author of four cookbooks: Malaysian Meals In 30 Minutes, One Pot Wonders, 3 Ingredient Recipes, and Slow Cooker Recipes.
I'm passionate about making authentic Malaysian cuisine and growing herbs and spices in my edible garden. I look forward to share with you Malaysia's most popular dishes made in my family's kitchen!
What's included?
Tea from the garden
Light breakfast
Garden tour
Recipe booklet
Cooking materials
Lunch
How to make payment?
Book a date using the below form
Your booking will be confirmed via email within 24 hours
Make full payment via Paypal or Bank Transfer
We will make 100% refund if 3 days notice is given