Kuala Lumpur Cooking Class & Garden Tour
Learn how to cook your favourite Malaysian street food at a friendly neighbourhood in KL just 20 minutes away from the city. Sara Khong, a professional cook and author of four Malaysian cookbooks, welcomes you to her 40+ years old family home to make Malaysian cuisine together.
Start your morning with a typical Malaysian breakfast and a glass of flower tea. Then, explore our organic edible garden with over 50 herbs, spices, and flowers used in everyday cooking. See, touch, smell, and taste a variety of local plants like turmeric and curry leaves.
You will make, hands-on, five traditional food of your choice in a real Malaysian kitchen. Cook in a small group and get full attention throughout the intimate cooking session.
You will also get a recipe booklet so that you can cook the dishes for your family and friends back home. Lastly, enjoy a delicious meal together and chit-chat with a local family about Malaysian food, culture, and lifestyle.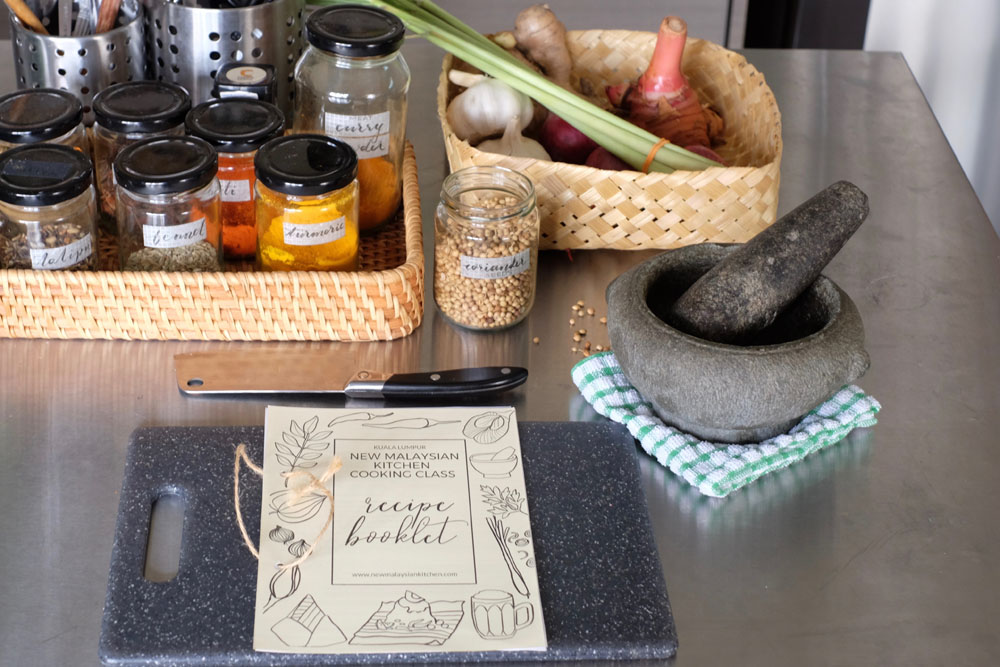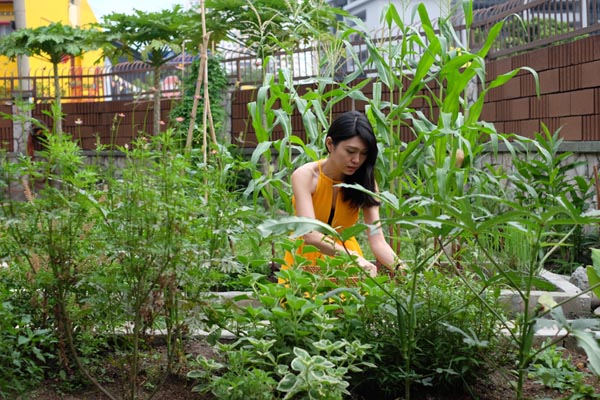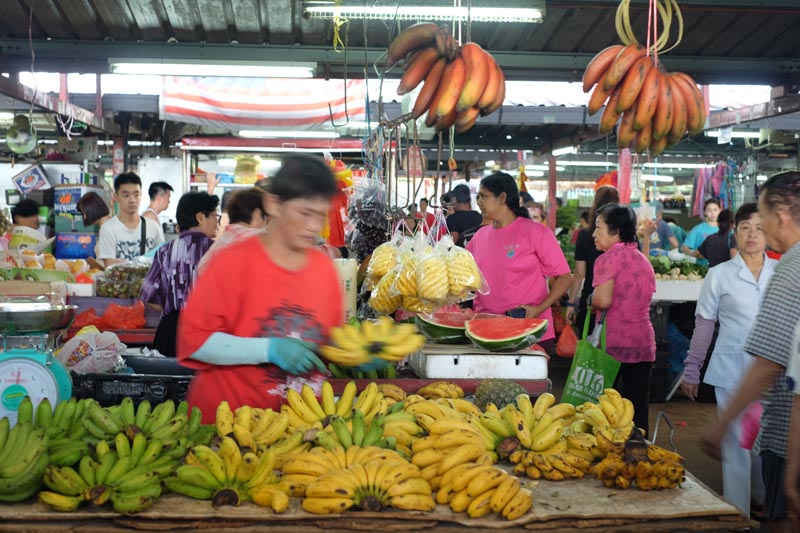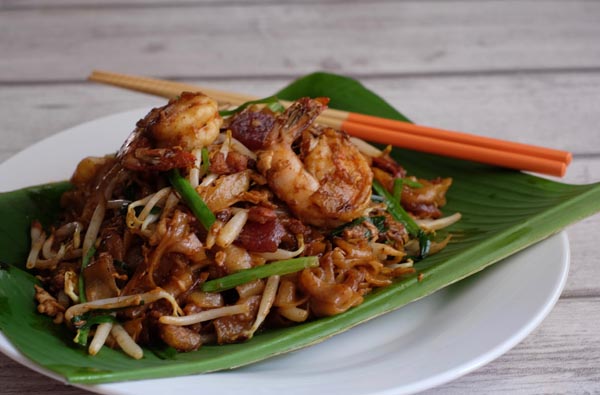 Flexible menu of 5 dishes Choose from different menus of Malaysia's most popular dishes below
Authentic Malaysian recipes We wrap our nasi lemak in banana leaf and use lard in our Char Koay Teow just like how the hawkers do it
Small group Learn to cook with a group of maximum six people
Personal guidance Get full attention during the tour and throughout the cooking process
Garden tour Pluck, smell, and even taste local herbs and spices from our organic garden
Learn about local ingredients Learn about local cooking ingredients and how to choose good quality ones
Welcome drink Enjoy a glass of welcome drink from our garden
Traditional breakfast Have a complimentary light traditional breakfast before the class
Traditional cooking Cook with fresh ingredients and use traditional tools such as pestle and mortar to crush herbs and spices
Cook with natural ingredients: no MSG & not too spicy We get flavour from herbs and spices. We don't use MSG or make our food too spicy
Hands-on cooking (not demo) You will take part in cooking from start to finish e.g marinade chicken, pound spices, etc.
Real Malaysian home kitchen Instead of a commercial kitchen, cook in an authentic Malaysian kitchen used for family cooking
Lunch with locals in their home Enjoy your homemade lunch with a local family in a typical Malaysian home
Recipe booklet Go home with clear and fool-proof recipes so you can cook delicious Malaysian food back home (available in Japanese)
OTHERS
Open daily We are open everyday, including Saturday and Sunday
English/ Cantonese/ Mandarin/ Malay Classes can be conducted in English, Cantonese, Mandarin, or Malay. Instructor speaks fluent English.
Free Wi-Fi Use our free wi-fi to call a taxi or upload photos on social media
Market tour and breakfast (additional) Visit the market where my family get our fresh cooking ingredients and have hearty local Malaysian breakfast together at an additional price (not available on Monday)
Hotel pick-up (additional) We can drive you from the hotel and back at an additional price
Family-friendly We welcome children
Vegetarian/ vegan option We can turn certain meat dishes into vegetarian/vegan
Luggage storage You can bring your luggage along to our class
Tour guide & private driver recommendation We can recommend friends who are certified tour guide and driver whom we personally know
No cooking experience needed We will teach you the basics and provide full guidance to ensure you'll be able to cook the meal at the class and at home
"I have been to at least two dozen cooking classes across the globe and I rate Sara's school amongst the best. The menus are carefully prepared and the written instructions are faultless. The pace is just right. No pressure. No waiting around. To walk through her garden was more fun and enlightening than the usual market visit. I highly recommend the Chinatown Menu. Thank you Sara. I will definitely return next time I am in KL.
-Martien, Australia
"Sara is truly a food enthusiastic, and devoted for Malaysian food and culture heritage preservation. We explored her lovely garden where have lots of plants and herbs she grew. I actually taste and smell each of them. During the cooking session Sara always guide me with kind reminders, answer all the questions I ask...I'd highly recommend this course to any food lover or anyone who wish to learn the heart of Malaysian foods."
- Chen Hsu, Taiwan
"Ich habe schon viele Kochkurse mit verschiedenen Schwerpunkten besucht, aber der Kochkurs mit Sara gehört bestimmt zu den 3 besten. Die Atmosphäre ist außergewöhnlich herzlich, das Ambiente im großen Privathaus der Eltern mit angeschlossenem Garten außergewöhnlich.

Wir kochten Rojak, Ikan Bakar, Fried Hokkien Mee,Pisang Goreng und mixten Limau Asam Boi.

Sie hatte alles perfekt vorbereitet und unterstützte exakt in dem notwendigen Maße."

- Robert Schmidt, Germany
"We had such a great experience with this cooking class, everything was perfect!...The garden tour was really nice and the food was of course delicious. We 100% recommend to do your cooking class there!
-Camille Basse, France
"I brought my teenage daughter and her friend to Sara's cooking class and had a wonderful time. The Malaysian spiced fried chicken is amazing and the fried flat noodles (char koay teow) is just as good as those you get in the food stalls.
Sara's recipe is delicious and easy to learn. We also love the garden and learnt a lot about the plants and herbs that you add in Malaysian cooking. Sara even gave us some laksa leaves to bring home to plant!
I find this class stands out from the other cooking classes that I have been to as we could feel Sara's genuine passion for cooking and for sharing of Malaysian food and culture. She even sent me a list of food to try in KL and the places where I could get the ingredients to bring home. Thank you Sara!"
-Ee Chin, Hong Kong
"Today was my second cooking class with Sara. With the idea of doing a cooking class I found Sara's website on google. The possibility to choose different menues in advance was one highlight before booking...
The highlight was when Sara taught us how fold Nasi Lemak into Banana leave triangle....Sara's class is high professional with her 'mise en place', her well equipped kitchen, all her explanation and lovely preparation like the recipes booklet. 
I recommend New Malaysian Cooking Class to everyone who is interested in Malaysian cuisine and enjoyes to learn more about herbs, Malaysian cooking culture within a friendly environment at Sara's family home."
- Louise, Germany
"We had a wonderful time cooking with and learning from Sara! She is a wonderful host and an excellent chef. Her garden is a nice green space nestled in the city and fun to enjoy. We selected the Malaysian National dish menu and everything we made was tasty and delicious. I am looking forward to trying some of the dishes on my own. Thank you, Sara, for your generosity and hospitality... all three of us really enjoyed cooking with you and getting to know you!" -
Jon Polk, America
"...Cooking class was easy to follow and interactive. I explored Sara's edible garden, smelling all the fresh ingredients was almost as good as tasting the resulting lunch. I also learned the step-by-step for wrapping the "Nasi Lemak Bungkus" and it was extremely fun! Lastly, everyone can get a recipe book to take home as well!"
- Khen, Penang, Malaysia

今回はナシレマ、マレーシアフライドチキン、四角豆のサラダ、サゴプリン&ココナッツミルクのデザート、テタレの作り方を習いに行きました。
サラ先生がご家族と一緒につくられたお庭ではマレーシア料理で使うハーブや野菜、お花などを見ることができます。
お料理もわかりやすいレシピを教えてくれるので、家に帰ってからも簡単に作れるかと思います。食材の選び方も教えてくれるのでお勉強になりました。
教室は英語メインですが、サラ先生は日本語をお勉強中なので
少しの日本語はわかってくれるかもしれません。
(お料理などの説明は英語です。)
とても楽しい時間になりました。また別のメニューを習いに行きたいです。
-Ayano, Japan
Our cooking class is one of the best cooking classes in Malaysia. New Malaysian Kitchen ranks #1 in Tripadvisor and won the 2020 Traveler's Choice Award.
FLEXIBLE MENU (5 recipes each)
You have the choice to choose the set menu that you like, or mix and match your favourite Malaysian dishes.
PRIVATE COOKING CLASS IN MALAYSIA
Private class with custom menu is available
We offer at 2-Days Intensive Cooking Class for chefs/ restaurant owners
Team building for a small group of people is available
We may be able to provide other Malaysian recipes that are not available in our menu e.g chicken curry, asam laksa
Drop us a message at our contact form to organise a private class with us
We provide gift vouchers of RM 300
We can personalise an e-voucher with a short note (see sample here)
There is no expiry date; the receiver can arrange to come on a day convenient for him/her
In the event that the receiver wants to attend a class that cost more than the voucher, he/she can top up the difference
Email us to buy the voucher
9:00 am: Meet at our home for breakfast & welcome drink
9:30 am: Garden tour
9:45 am: Cooking Class
12:30 pm: Eat & chit-chat
1:00 pm: Goodbyes
Note: Market tour (at an additional price of RM 100) starts at 8 am 
Afternoon class is available with a minimum booking of 3 people.
My home is just 20 minutes train ride away from the city centre (Bukit Bintang MRT Station). Take a train to Taman Connaught MRT Station and exit at Gate C. We can get you from there upon request.
For convenience, take a GRAB taxi (like UBER) directly to the school (recommended). It's about 20 minutes ride from the city centre and costs about RM 20 (USD 5). Used widely by local Malaysians, it's safe and reliable.
We also offer pick-up from and back to your hotel (within KL) at an additional price of RM 100 (USD 25)
Book the class of your choice by clicking the 'BOOK NOW' button below
We will confirm your booking via email within 24 hours
Make full payment via Paypal or Bank Transfer
Market tour with breakfast (USD 25/ RM 100) and hotel pick-up (USD 25/ RM 100) is available
We will make full refund if 3 days notice is given