Kuala Lumpur Cooking Class & Garden Tour
Learn how to cook your favourite Malaysian street food at a friendly neighbourhood in KL just 20 minutes away from the city. Sara Khong, a professional cook and author of four Malaysian cookbooks, welcomes you to her 40+ years old family home to make Malaysian cuisine together.
Start your morning with a typical Malaysian breakfast and a glass of flower tea. Then, explore our organic edible garden with over 50 herbs, spices, and flowers used in everyday cooking. See, touch, smell, and taste a variety of local plants like turmeric and curry leaves.
You will make, hands-on, five traditional food of your choice in a real Malaysian kitchen. Cook in a small group and get full attention throughout the intimate cooking session.
You will also get a recipe booklet so that you can cook the dishes for your family and friends back home. Lastly, enjoy a delicious meal together and chit-chat with a local family about Malaysian food, culture, and lifestyle.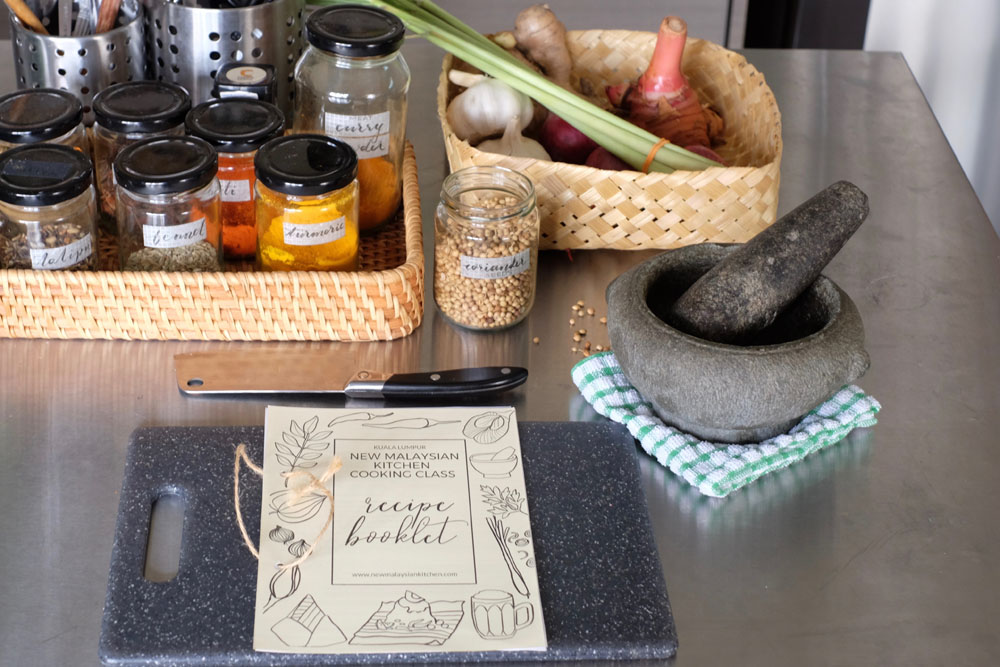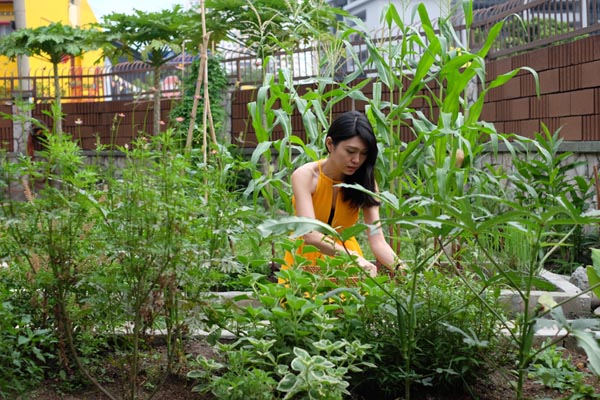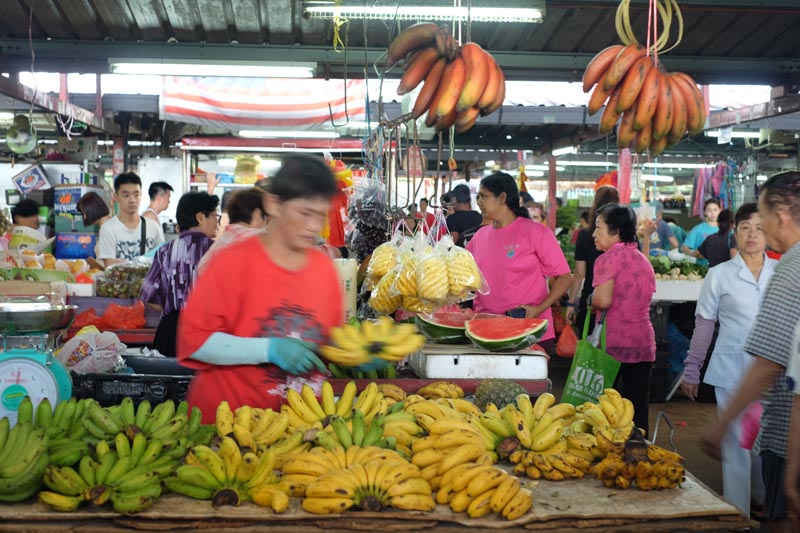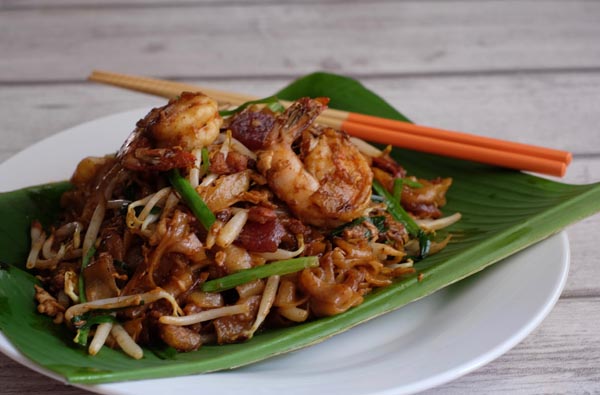 Flexible menu of 5 dishes 

Choose from different menus of Malaysia's most popular dishes below.

Authentic Malaysian recipes

 We wrap our 

nasi lemak

 in banana leaf and use lard in our 

Char Koay Teow, 

just like how the hawkers do it.

Small group

 Learn to cook with a group of a maximum of six people.

Personal guidance

 Get full attention during the tour and throughout the cooking process.

Garden tour

 Pluck, smell, and even taste local herbs and spices from our organic garden.

Learn about local ingredients

 and how to choose good quality ones.

Welcome drink 

Enjoy a glass of flower tea from our garden.

Complimentary traditional breakfast

 Enjoy a light traditional breakfast before the class.

Traditional cooking 

Cook with fresh ingredients and use traditional tools such as pestle and mortar to crush herbs and spices.

Cook with natural & quality ingredients 

We get flavour from sea salt, herbs and spices. We use filtered water.

No MSG & not too spicy

 

We don't use MSG or make our food too spicy.

Hands-on cooking (not a demo) 

You will take part in cooking from start to finish e.g., marinade chicken, pound spices, etc.

Real Malaysian home kitchen

 Instead of a commercial kitchen, you will cook in an authentic Malaysian kitchen used for family cooking.

Have lunch with a local family 

Enjoy your homemade lunch with a local family in a typical Malaysian home.

Recipe booklet 

Go home with clear and fool-proof recipes so you can cook delicious Malaysian food back home.

No cooking experience is needed 

We will teach you the basics and provide complete guidance.
English/ Cantonese/ Mandarin/ Malay 

We can conduct the class in English, Cantonese, Mandarin, or Malay. The instructor speaks fluent English.

Vaccinated The instructor is fully vaccinated with a third booster dose (Pfeizer).

Free Wi-Fi

 Use our free wi-fi to call a taxi or upload photos on social media.

Market tour and breakfast (additional) 

Visit the market where my family get our fresh cooking ingredients and have hearty local Malaysian breakfast together at an additional price (not available on Monday).

Hotel pick-up (additional)

 We can drive you from the hotel and back at an additional price.

Family-friendly 

We welcome children to cook together in our kitchen 

Vegetarian/ vegan option

 We can turn certain dishes into vegetarian/vegan.

Luggage storage

 You can bring your luggage along to our class.

Tour guide recommendation

 We can recommend friends who are certified tour guide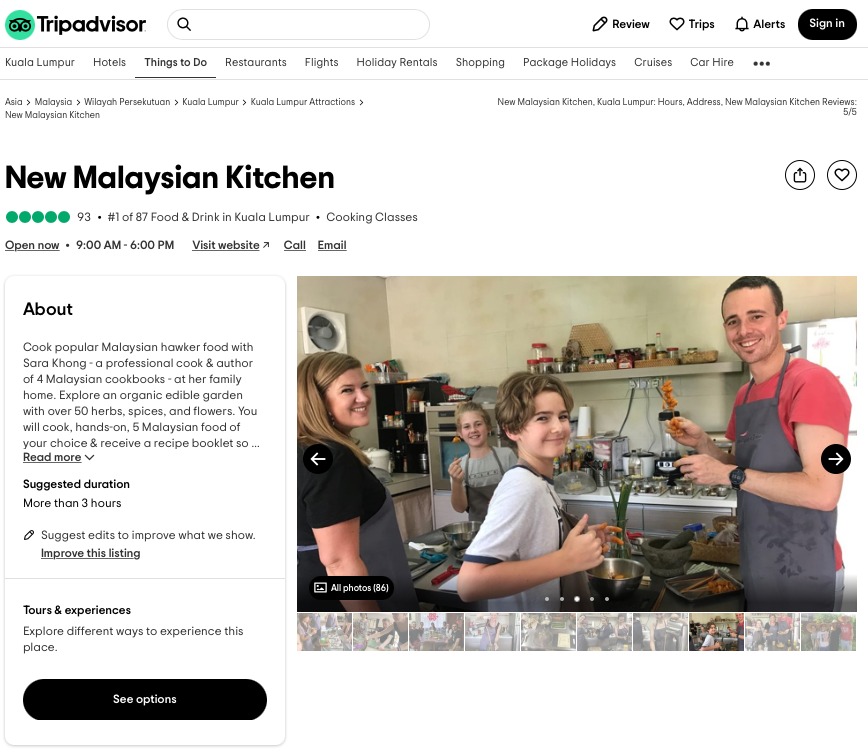 BEST COOKING CLASS IN KUALA LUMPUR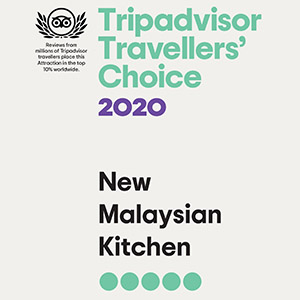 FLEXIBLE MENU (5 recipes each)
You have the choice to choose the set menu that you like, or mix and match your favourite Malaysian dishes.
PRIVATE COOKING CLASS IN MALAYSIA
Private class with custom menu is available
We offer at 2-Days Intensive Cooking Class for chefs/ restaurant owners
We may be able to provide other Malaysian recipes that are not available in our menu e.g sweet and sour pork, pan mee, asam laksa, etc.
Drop us a message at our contact form to organise a private class with us
We provide gift vouchers of RM 400
We can personalise an e-voucher with a short note (see sample here)
There is no expiry date; the receiver can arrange to come on a day convenient for him/her
In the event that the receiver wants to attend a class that cost more than the voucher, he/she can top up the difference
Email us to buy the voucher
9:00 am: Meet at our home for breakfast & welcome drink
9:30 am: Garden tour
9:50 am: Cooking Class
12:30 pm: Eat & chit-chat
1:00 pm: Goodbyes
Note: Market tour (at an additional price of RM 150/~USD 33) starts at 8 am
My home is just 20 minutes train ride away from the city centre (Bukit Bintang MRT Station). Take a train to Taman Connaught MRT Station and exit at Gate C. We can get you from there upon request.
For convenience, take a GRAB taxi (like UBER) directly to the school (recommended). It's about 20 minutes ride from the city centre and costs about RM 20 (USD 5). Used widely by local Malaysians, it's safe and reliable.
We also offer pick-up from and back to your hotel (within KL) at an additional price of RM 100 (USD 25)
SAFETY PRECAUTION FOR COVID-19
We are all fully vaccinated with our third dose of vaccine (Pfeizer).
Our home, including the kitchen, is fully ventilated.
Sanitiser and masks are provided.
Book the class of your choice by clicking the 'BOOK NOW' button below
We will confirm your booking via email within 24 hours
Make full payment via Paypal (additional 6% processing fees) or Bank Transfer
Market tour with exclusive breakfast (USD 33/ RM 150) and hotel pick-up (USD 50/ RM 200) is available
We will make full refund if 3 days notice is given