Kuala Lumpur Cooking Class & Garden Tour
Learn how to cook your favourite Malaysian hawker food at a friendly neighbourhood in Kuala Lumpur just 20 minutes away from the city. Sara Khong, a professional cook and author of four Malaysian cookbooks, welcomes you to her family home to make Malaysian cuisine together.
Start your morning with a glass of flower tea before exploring our organic edible garden with over 50 herbs, spices, and flowers used in everyday cooking. See, touch, smell, and taste a variety of local plants like turmeric and curry leaves.
You will make, hands-on, five Malaysian food of your choice in a real Malaysian kitchen. You will also get a recipe booklet so that you can cook the dishes for your family and friends back home.
Lastly, enjoy a delicious meal together and chit-chat with a local family about Malaysian food, culture, and lifestyle.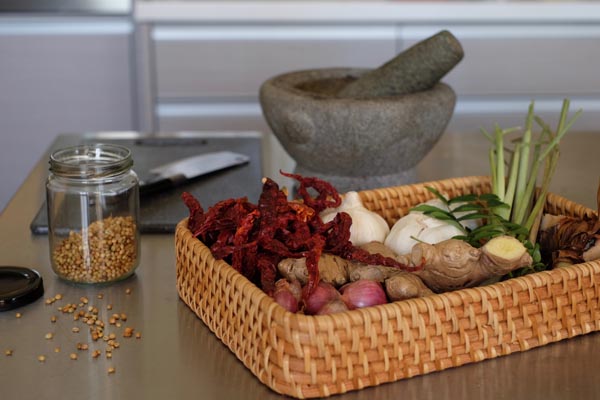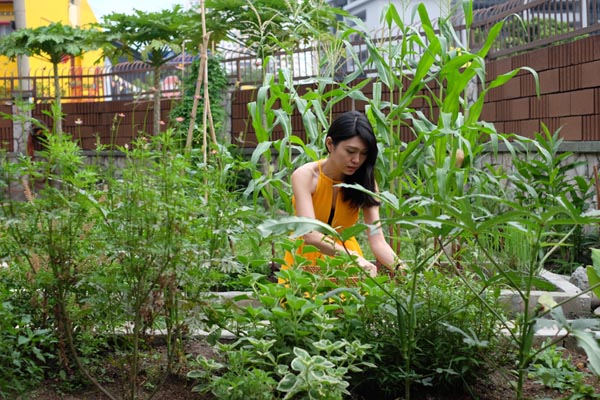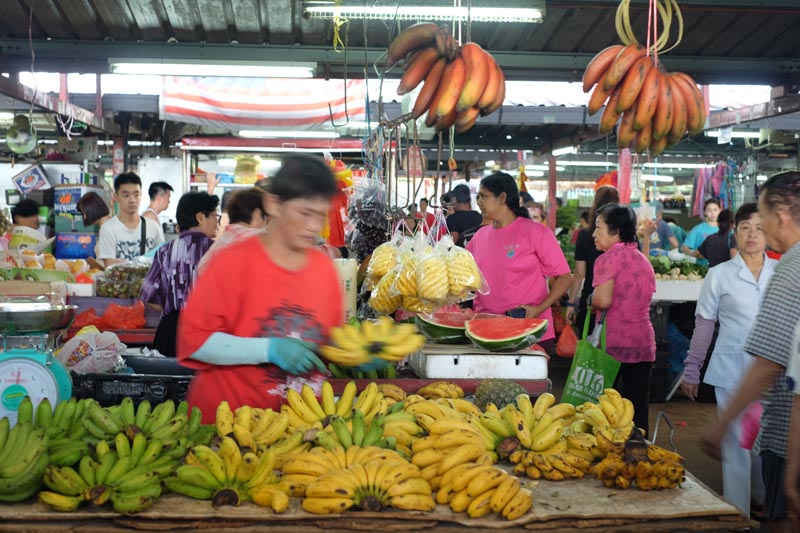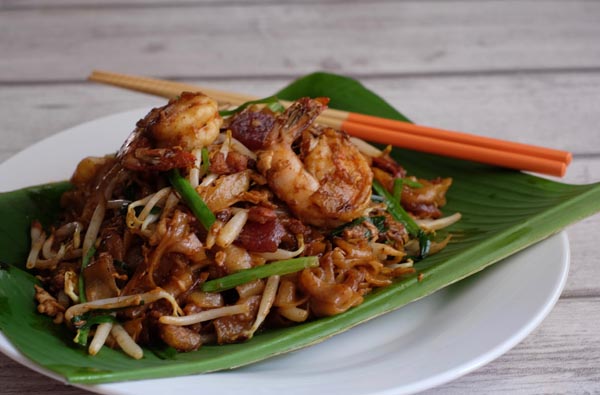 Flexible menu of 5 dishes Choose from different menus of Malaysia's most popular dishes below
Authentic Malaysian recipes We use lard in our Char Koay Teow and wine in our Wantan just like how the hawkers do it
Small group Learn to cook with a group of maximum five people
Garden tour Pluck, smell, and even taste local herbs and spices from our garden
Learn about local ingredients Learn about local cooking ingredients and how to choose good quality ones
Complimentary drink & appetiser  Enjoy a glass of welcome drink & appetiser from our garden
Personal guidance Receive personal guidance during the tour and throughout the cooking process
English/ Cantonese/ Malay Classes can be conducted in English, Cantonese, or Malay
Traditional cooking Cook with fresh ingredients and use traditional tools such as pestle and mortar to crush herbs and spices
Real Malaysian home kitchen You will cook not in a studio but an authentic Malaysian kitchen used for family cooking
Recipe booklet Go home with clear and fool-proof recipes so you can cook delicious Malaysian food back home
Market tour and breakfast (additional) Visit the market where my family get our fresh cooking ingredients and have local Malaysian breakfast together at an additional price (not available on Monday)
Hotel pick-up (additional) We can drive you from the hotel and back at an additional price
"...Cooking class was easy to follow and interactive. I explored Sara's edible garden, smelling all the fresh ingredients was almost as good as tasting the resulting lunch. I also learned the step-by-step for wrapping the "Nasi Lemak Bungkus" and it was extremely fun! Lastly, everyone can get a recipe book to take home as well!"
- Khen, Founder of LokalLocal, Malaysia
"Sara is truly a food enthusiastic, and devoted for Malaysian food and culture heritage preservation. We explored her lovely garden where have lots of plants and herbs she grew. I actually taste and smell each of them. During the cooking session Sara always guide me with kind reminders, answer all the questions I ask...I'd highly recommend this course to any food lover or anyone who wish to learn the heart of Malaysian foods."
- Chen Hsu, Taiwan
"We had such a great experience with this cooking class, everything was perfect!...The garden tour was really nice and the food was of course delicious. We 100% recommend to do your cooking class there!
-Camille Basse, France
"We loved Sara's class! We got to cook two dishes and learned a ton about the different herbs and plants in her garden (many medicinal plants plus other edible herbs and fruits). The food was delicious too, so come hungry!"
-Sahar, America
"Today was my second cooking class with Sara. With the idea of doing a cooking class I found Sara's website on google. The possibility to choose different menues in advance was one highlight before booking...
The highlight was when Sara taught us how fold Nasi Lemak into Banana leave triangle....Sara's class is high professional with her 'mise en place', her well equipped kitchen, all her explanation and lovely preparation like the recipes booklet. 
I recommend New Malaysian Cooking Class to everyone who is interested in Malaysian cuisine and enjoyes to learn more about herbs, Malaysian cooking culture within a friendly environment at Sara's family home."
- Louise, Germany
"We had a wonderful time cooking with and learning from Sara! She is a wonderful host and an excellent chef. Her garden is a nice green space nestled in the city and fun to enjoy. We selected the Malaysian National dish menu and everything we made was tasty and delicious. I am looking forward to trying some of the dishes on my own. Thank you, Sara, for your generosity and hospitality... all three of us really enjoyed cooking with you and getting to know you!" - Jon Polk, America
FLEXIBLE MENU (5 recipes each)
You have the choice to choose the menu that you like, or mix and match your favourite Malaysian dishes.
Private class with custom menu is available
We may be able to provide other Malaysians recipes that are not available in our menu
Drop us a message at our contact form to organise a private class with us
My home is just 20 minutes train ride away from the city centre (Bukit Bintang MRT Station). Take a train to Taman Connaught MRT Station and exit at Gate C. We will pick you up there. Ticket fee: USD 1
For convenience, take a GRAB taxi directly to the school (recommended). It's about 20 minutes ride from the city. Taxi Fee: USD 6
We also offer pick-up from and back to your hotel at an additional price of USD 25.
Book the class of your choice by clicking the 'BOOK NOW' button below
Your booking will be confirmed via email within 24 hours
Make full payment via Paypal or Bank Transfer
Alternatively, make 50% payment as deposit. The remainder fee is paid at the class
Market tour with breakfast (USD 15) and hotel pick-up (USD 25) is available at an additional charge
100% refund will be made if 3 days notice is given