Join me for a home-style cooking class and dining experience at my family home! Together will make aromatic 'oiled' rice and the many condiments like chili sauce and garlic dip.
Most importantly, you will learn techniques to make the chicken skin juicy (we will dip the whole chicken into a bucket of ice water!)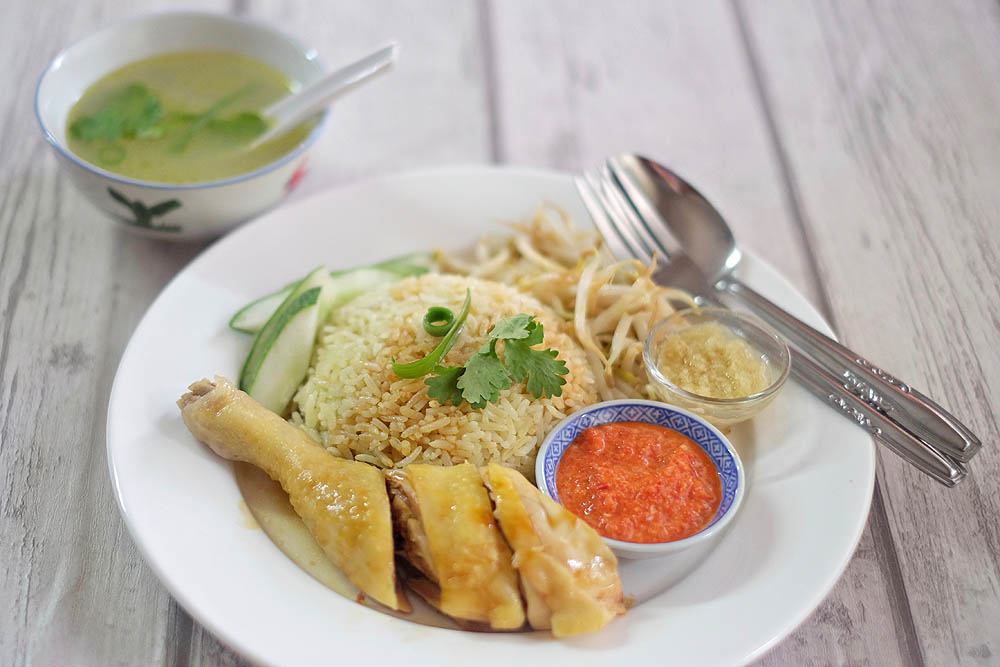 WHAT MAKES OUR CLASS UNIQUE?
Cook in a small group of maximum 5 people
Take home your own recipe book
Cook and dine in a real Malaysian home
Learn traditional cooking & the local way of life
Explore a tropical edible garden
---
MENU
Aromatic Rice
Succulent Poached Chicken
Condiments: Chili Sauce, Ginger Sauce, Flavoured Soy Sauce
Beansprout Salad
Chicken Soup
Calamansi Lime Juice
---
WHAT WE WILL DO
Start your morning at a Malaysian home just 20 minutes away from the heart of KL. I will welcome you with a glass of flower tea from the garden and traditional Malaysian breakfast. Before we cook, we will explore my organic edible garden with over 50 herbs, spices, and flowers used in everyday Malaysian cooking.
We will see, touch, smell, and taste a variety of local plants like blue flower, curry leaves, and turmeric.
In the kitchen where my family cooks, we will learn how to make the many components of Hainanese Chicken Rice from scratch. I will introduce you to essential produce for our cooking such as lemongrass and cili padi (bird's eye chili)
With my expert guidance, we will  poach the whole free-range chicken to make chicken stock and dip it in a bucket of ice. Then, we will pound fresh spices into paste using a stone pestle and mortar belonging to my grandmother.
Finally, it's time to enjoy a delicious meal we made together and chit-chat about Malaysian food, culture, and lifestyle.
You will leave with a full stomach, knowledge of Malaysia's food and plants, cooking skills, and a recipe booklet so that you can cook Malaysian food for your family and friends back home!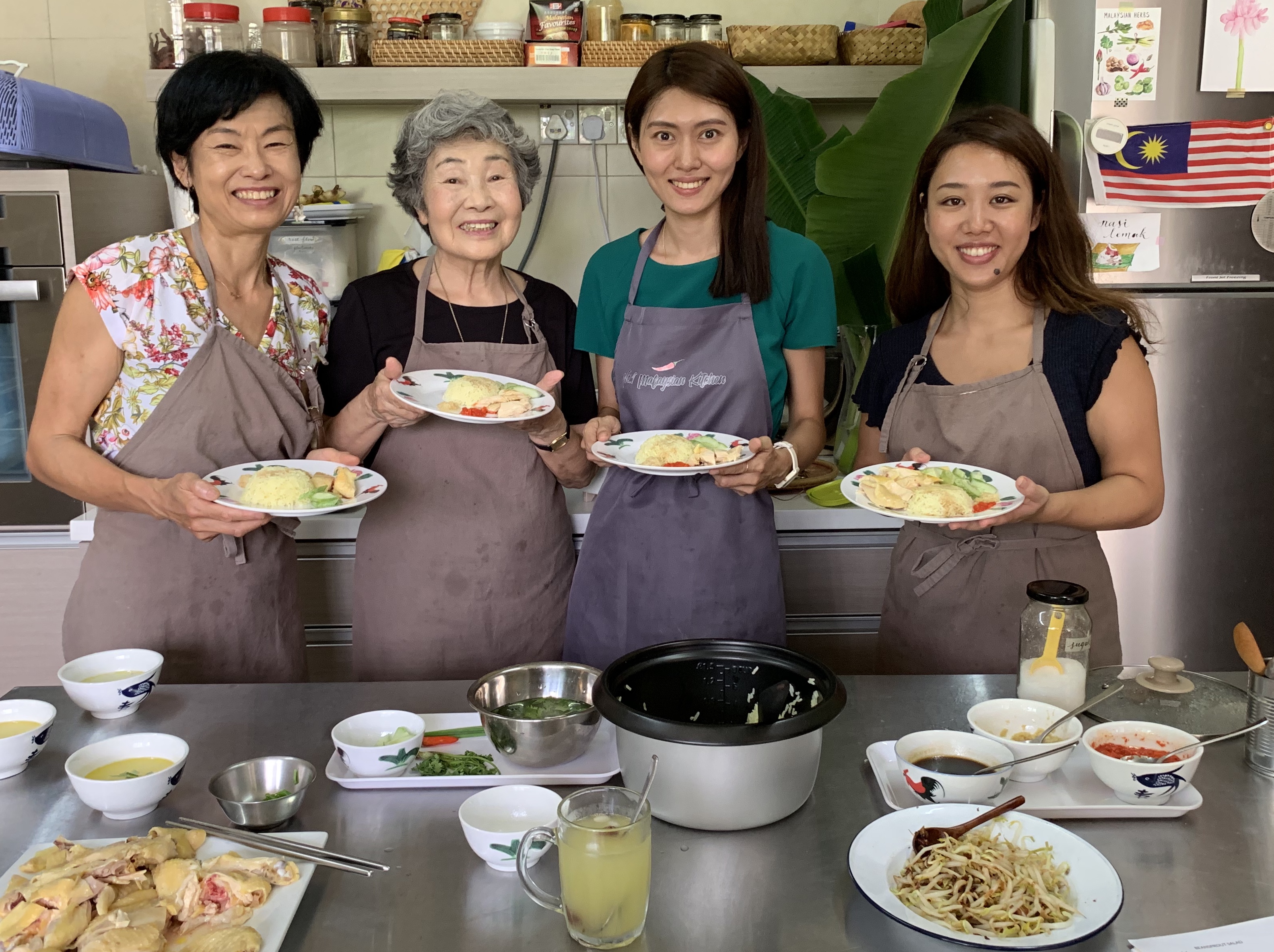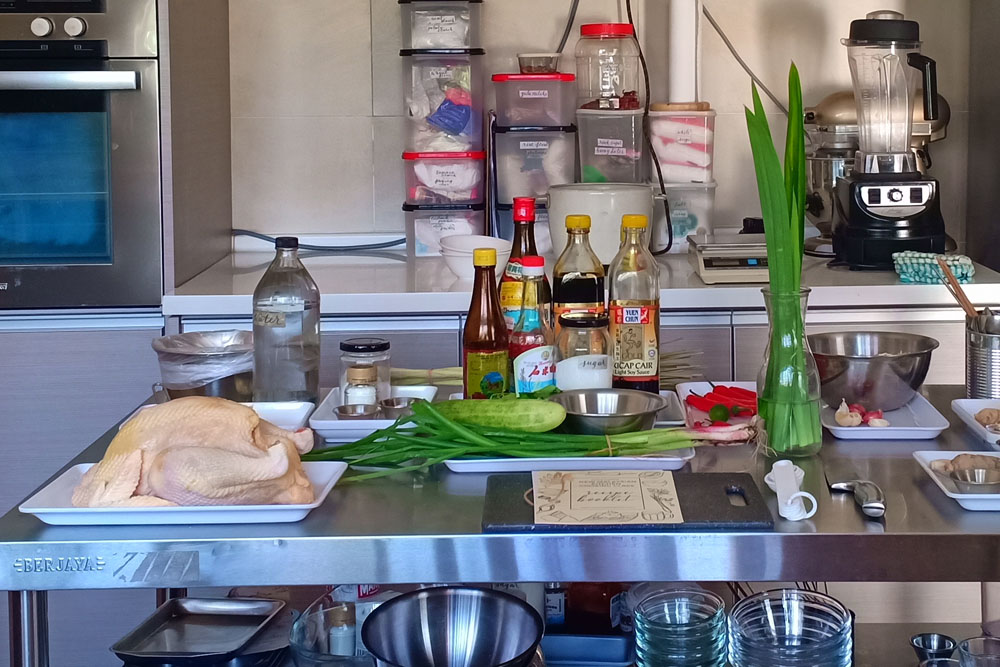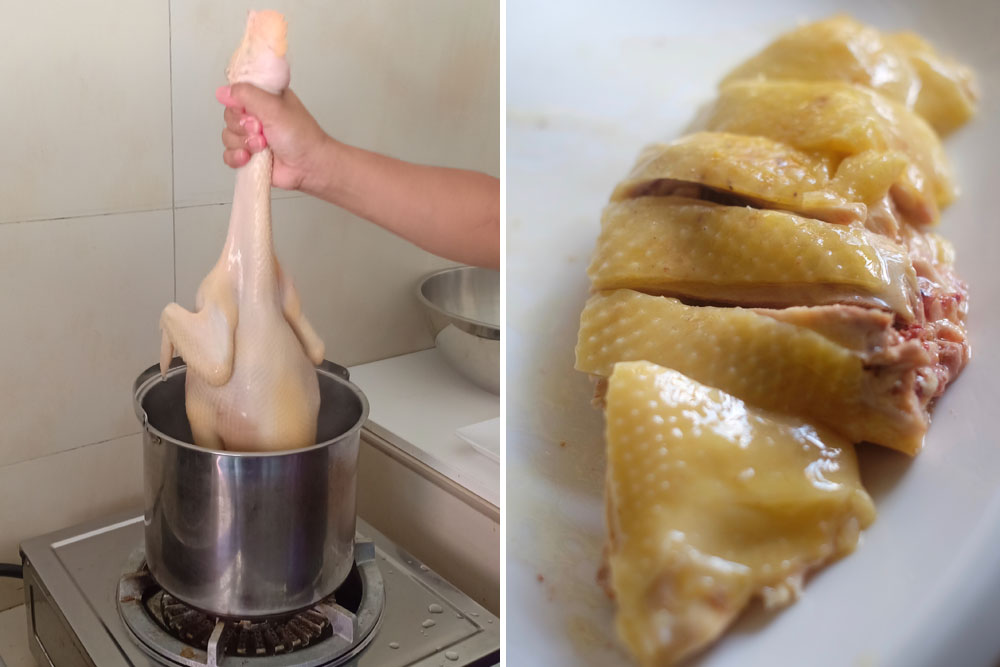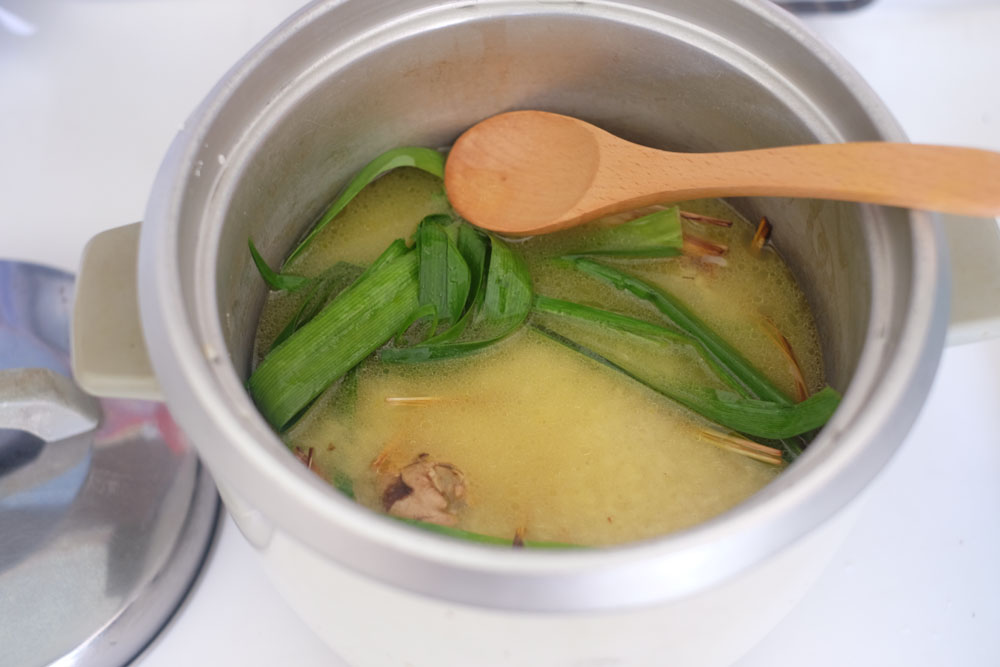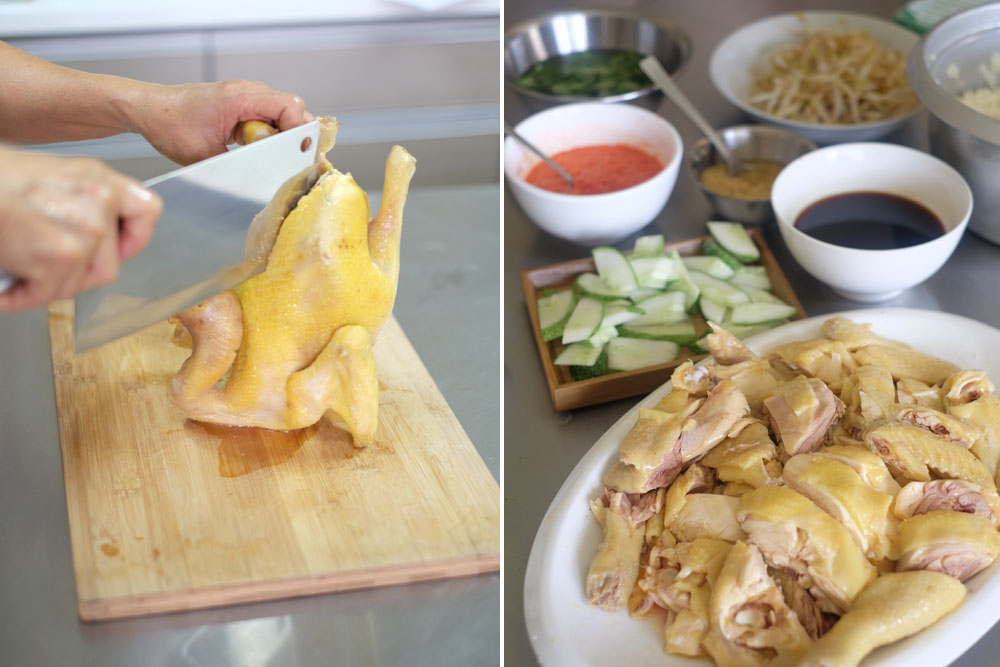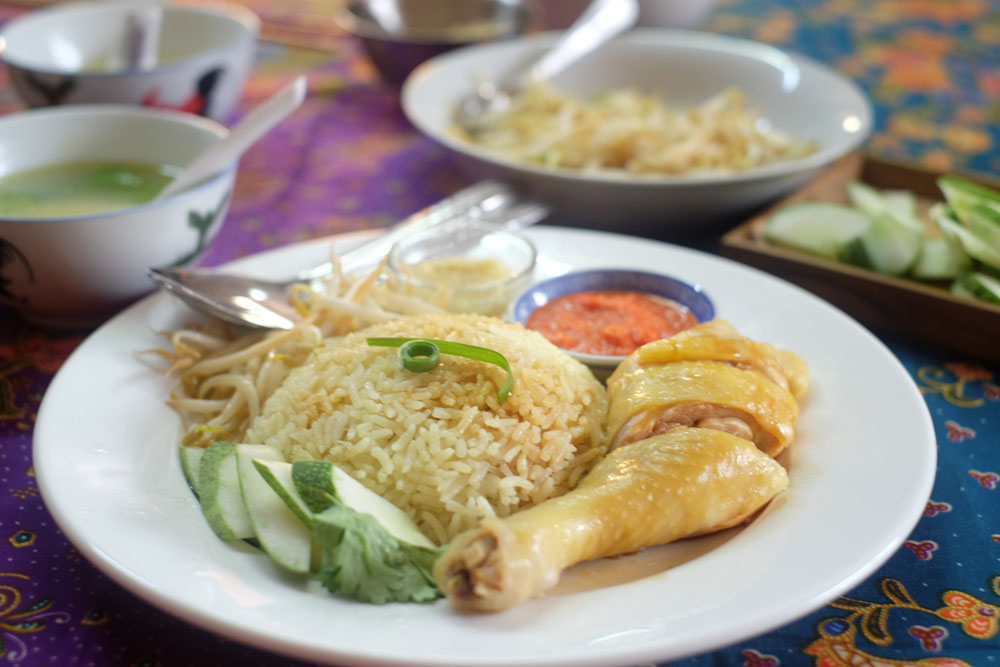 ABOUT HAINANESE CHICKEN RICE
Hainanese Chicken Rice is created by Chinese from the Hainan province who migrated to Malaya in the mid 19th century. Back then, Hainanese people were often hired as cooks in British military camps and homes of the wealthy.
The most loved Hainanese food is their Chicken Rice. This dish is a popular lunch menu for working Malaysians who want a filling and delicious meal.
What makes 'Hainanese' chicken rice different from ordinary chicken is its juicy skin. The chicken is poached in chicken soup and then bathed in ice water to create a succulent skin. Yes, we will dip a whole chicken into the pot and then transfer into an ice bucket!
This meal is only complete with aromatic rice 'yau fan' cooked with pandan leaves and other secret ingredients; chili sauce; ginger condiment; chicken soup; and seasoned soya sauce.
Though this meal takes a lot of work, but it is worth it!
---
TIME
Morning class
9:00 am: Meet at our home. Enjoy traditional breakfast & a glass of flower tea from our organic garden
9:15 am: Garden tour
9:45 am: Cooking Class
12:30 pm: Eat!
1:00 pm: End of session
Note: Market tour (at an additional price) starts at 8 am 
---
ADDITIONAL SERVICES
Additional charge for market tour with breakfast (USD 33/RM 150)
WHERE WE WILL MEET
My home is just 20 minutes train ride away from the city centre (Bukit Bintang MRT Station). Take a train to Taman Connaught MRT Station and exit at Gate C. We will pick you up there. Ticket fee: ~USD 1 (RM 3.10)
For convenience, take a GRAB taxi (like UBER) directly to the school (recommended). It's about 20 minutes ride from the city. Taxi Fee: ~ USD 6 (RM 25)
What's included?
Tea from the garden
Light breakfast
Garden tour
Recipe booklet
Cooking materials
Lunch
How to make payment?
Book a date using the below form
Your booking will be confirmed via email within 24 hours
Make full payment via Paypal* or Bank Transfer
We will make 100% refund if 3 days notice is given
*Additional 6% for payment made via Paypal