My late grandmother used to always make a huge plate of deep-fried oyster balls during Chinese New Year. I remember she would wrap it in caul fat, something that looked like a see-through net which the kid in me found incredibly fascinating.
I truly enjoy the taste and texture of this dish – it's out of the world! It's one up from meat balls; perhaps the it's the morcel of oyster in each of them which contributes to its umami flavour. The rare ingredient, caul fat, when fried, gives this ball extra flavour and crispy texture. What is caul fat?
---
Auspicious ingredients: dried oyster & water chestnut
The Chinese always serve auspicious sounding dishes during Chinese New Year. Now I know why my grandmother made this for her favourite festival. Dried oyster in Chinese is called (蠔豉; ho xi), which sounds similar to 'good things' or 'good luck'. While water chestnut (荸薺; bíqí) represents unity. These are the things she wished for her family.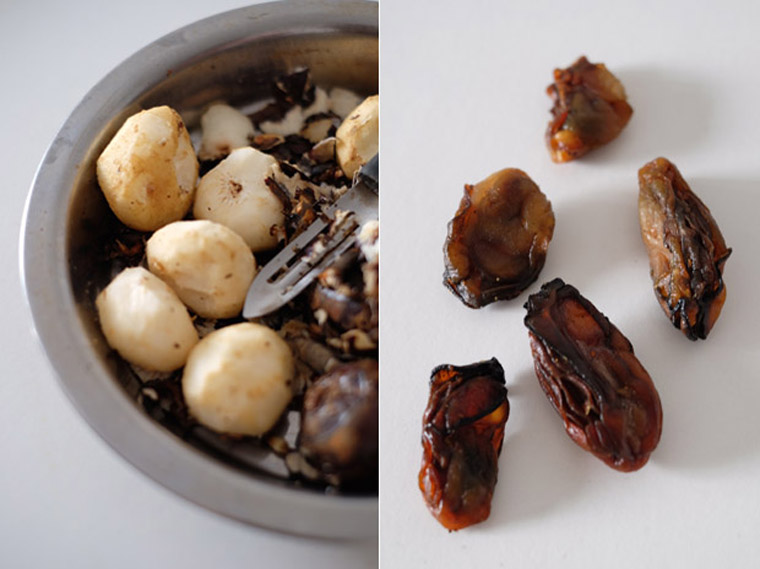 ---
TOOLS
Wok + steam rack
Knife + peeler + chopping board
Scissors
Mixing bowl + spoon (to mix ingredients)
Plate (for steaming)
Serving plate
---
RECIPE CARD
Hakka Fried Stuffed Dried Oyster Balls (Yeung Hou Si/ 酿蚝干)
5th May 2017
: 4- 8
: 20 min
: 40 min
: 1 hr
: Medium
Crispy pork balls stuffed with umami rich dried oyster and crispy water chestnut.
Ingredients
700 g Mince pork (shoulder loin)
500 g Fish paste
15 pcs Dried oyster
400 g Caul fat
12 pcs Water chestnut
Salt to taste (suggestion: 2 tsp)
Sugar to taste (Suggestion: 1 tsp)
White pepper (Suggestion 1/8 tsp)
Cooking oil (suggestion: peanut oil)
Directions
Step 1

CHOP WATER CHESTNUT & DRIED OYSTERS: Peel water chestnut. Chop water chestnut and dried oysters into small pieces.

Step 2

MIX & SEASON MEAT: In a large mixing bowl, toss in minced pork, fish paste, dried oyster and water chestnut. Mix well. Sprinkle salt, sugar and white pepper. Mix well.

Step 3

WRAP: Take a spoonful of mixed meat and place onto caul fat. Wrap it tightly

Step 4

STEAM. Steam stuffed dried oyster until cooked.

Step 5

FRY. Deep fry until golden brown and crispy.

Step 6

Dish out and serve hot.
---
SHORT RECIPE
Mix 15 pcs chopped oyster + 12 pcs chopped water chestnut + 500 g fish paste + 700 g minced pork. Season with salt + sugar + white pepper. Wrapped a spoonful of mixed meat in caul fat. Steam & fry.
---
COOKING TIPS
Buy prepared ingredients. While this dish is not difficult to make, it is time consuming. To save time, you may want to buy ready fish paste and minced meat from the market.
Pre-order caul fat. This is not easily available as it's not a popular ingredient. Do order it ahead from your butcher.
Freezer-friendly. I like to make this a week ahead Chinese New Year. After steaming them, I'll freeze them in a container. Come reunion dinner, just thaw it and fry. So convenient!
Bake. Instead of frying, you can bake it in the oven too. I prefer this way to avoid consuming more oil than necessary. It can still turn golden brown if you turn on the broiler function.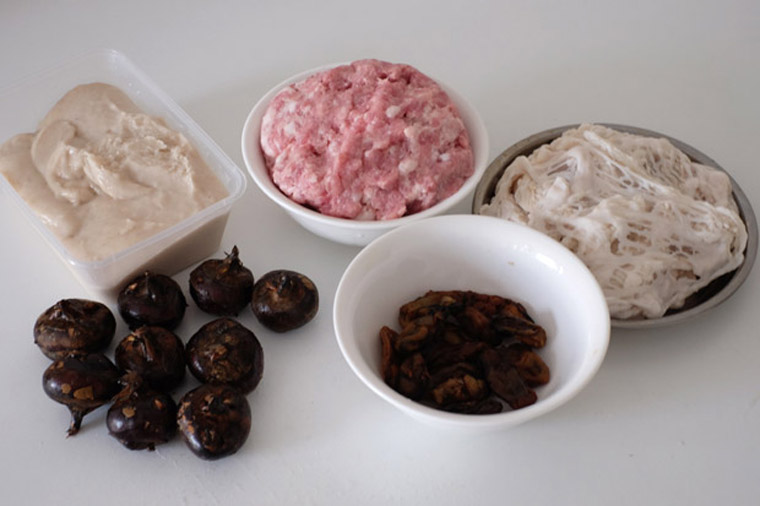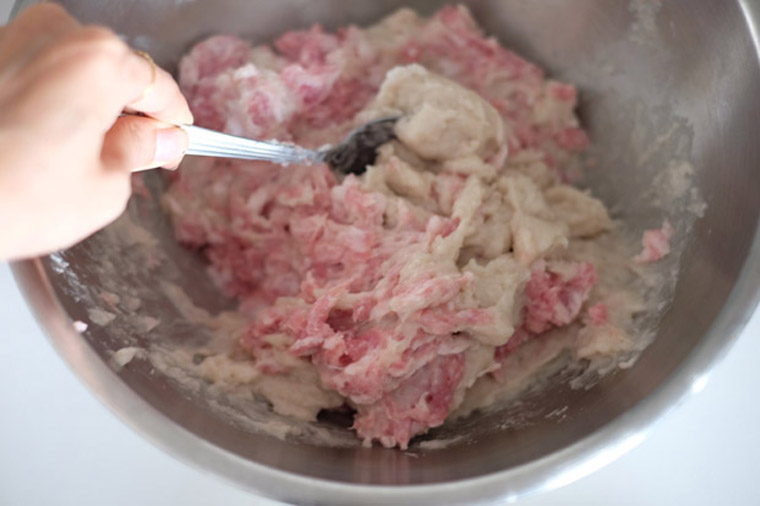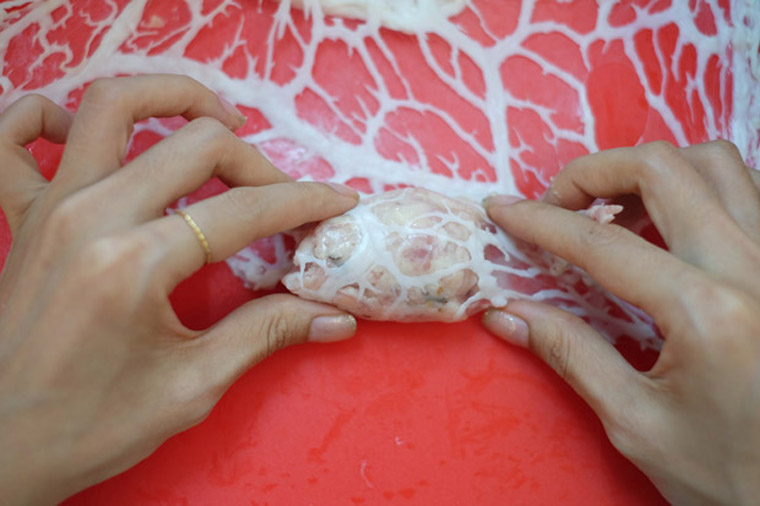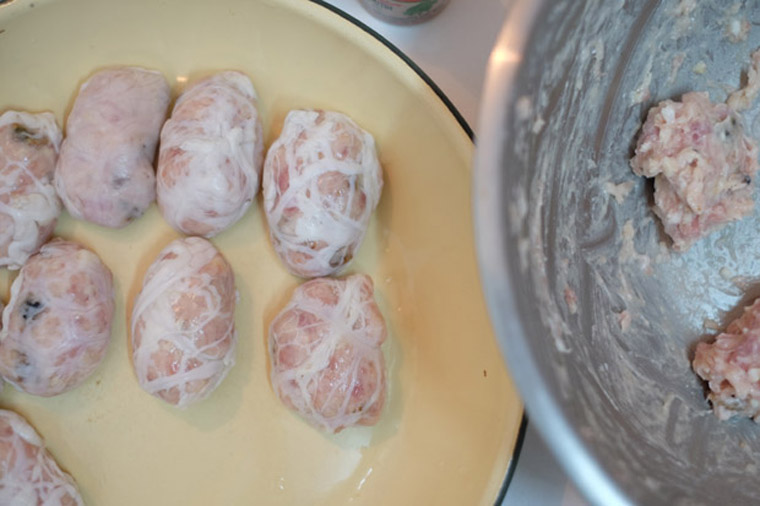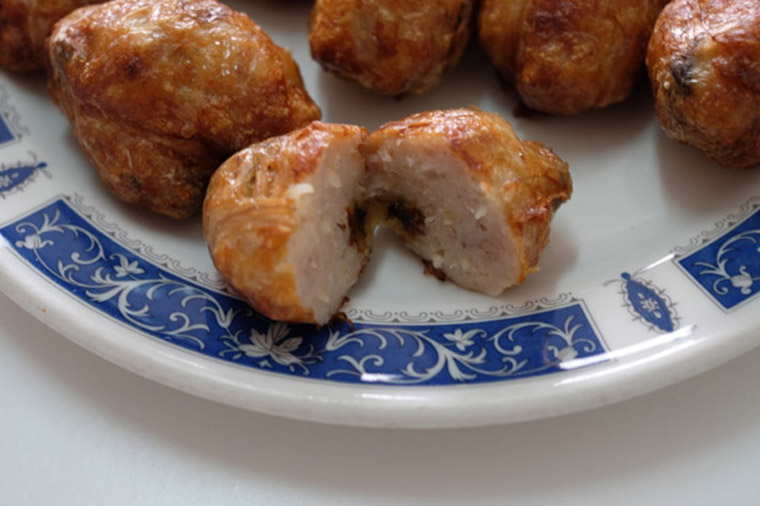 Enjoy!