I heard about this up-and-coming fine dining restaurant from a few food enthusiasts for a while now. But I wasn't the type that easily swayed by popular opinion. Perhaps having dined at some world-famous restaurants like Sukiyabashi Jiro and Dinner by Heston Blumenthal, I have rather high expectations.
I study the restaurant menu and even follow the chef on social media before deciding whether I want to carve out my precious hours and dollars on it. Raved or expensive is not necessarily good.
Especially being a supporter of Malaysian food – 'Modern French' was not a plus point for me. Alas, I was looking for an interesting place to dine with a dear friend and thought it'd be fun to check out somewhere new.
Thank goodness, 'Locally Driven' was also part of what they described themselves on Instagram. I came without expectations but was impressed not just by the food and service but also by the inclusion of local-produce like toddy (palm wine) and raw fish from Terengganu.
Serving locally-sourced food was why they could offer a dining experience at a fair price. Priced at RM 150 for such an exquisite 5 coursed menu, it's almost unbelievable.
---
1: RAW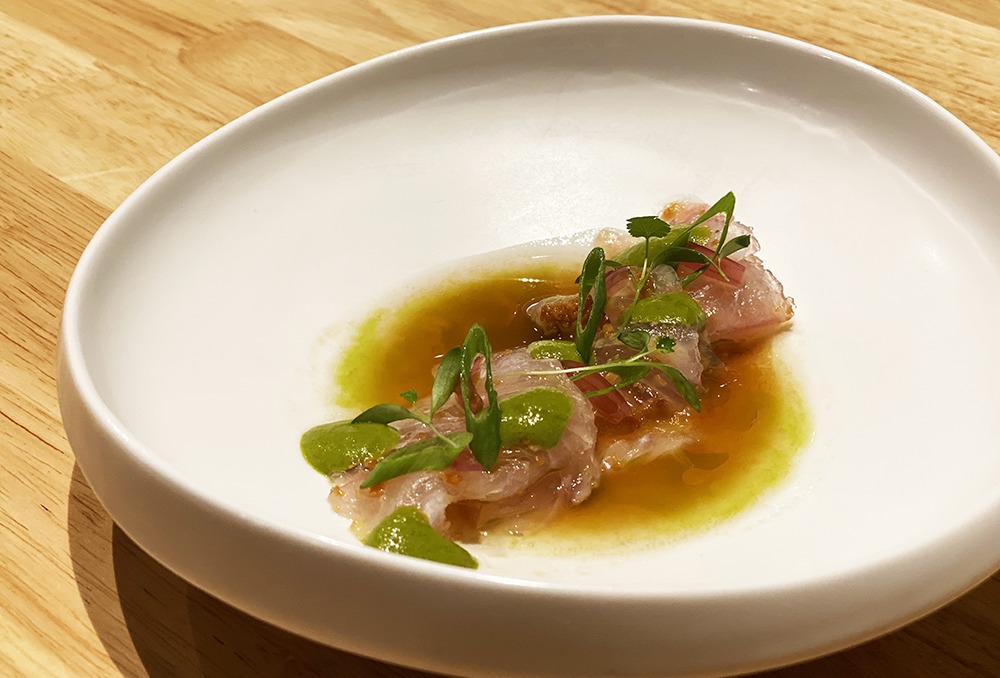 What is it? The first course was something raw, golden snapper dressed with coriander sauce, pickled onion, and spring onions, and coriander cress.
How did I like it? I was surprised to hear that the star of the dish is the seasonings instead of the fish. The first taste of the coriander sauce made me understand why; it's concentrated with flavour.
As I've always liked sashimi, which is usually air-flown from Japan, I'm so impressed that our local fish tastes equally good.
The onions and soy sauce complemented the raw fish well. I enjoyed seeing it plated in the open kitchen and then topped with delicate coriander cress, one ingredient that I just got to know.
If I have to sum it up in one sentence, I would say it's an elegant dish that is easy for Asian palate to accept.
---
2: FISH
What is it? Grilled barramundi, yuzu foam, fish maw congee.
How did I like it? The subtle scent of kaffir, one of my favourite tropical herbs, enticed me even before tasting it. 
"Always try the star ingredient first," the sommelier-cum-host suggested. So I used the sago chip as a spoon to scoop the foam.
One bite and I knew I'd love the dish already. The foam gradually disappeared into my mouth to reveal the fish maw congee made from Japanese rice in Hokkaido called 'nanatsuboshi', a cultivar with a chewy texture. I'm not sure if the slight yet pleasant chewiness comes from the rice or the fish maw.
I liked that there is edamame inside that gives a different crunch to the dish. The green beads are slightly browned as it's pan-roasted, giving a light caramelised taste that I enjoyed on charred vegetables. While it's not mentioned on the menu, I loved this unexpected addition.
---
3: PLAT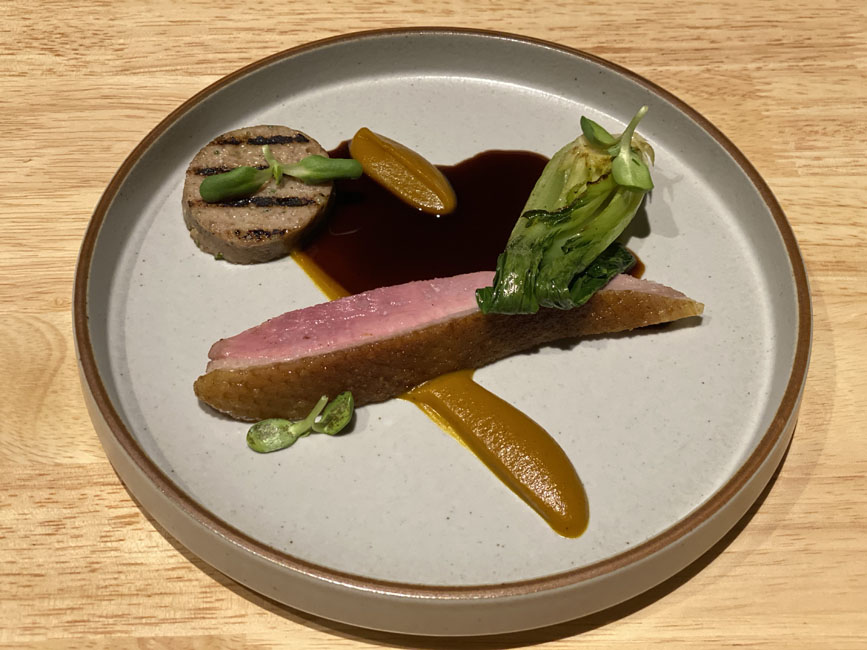 What is it? Aged duck with curried pumpkin, coffee kombucha juice.
How did I like it? While my dining companion took the more expensive beef that he preferred more than this, I like it more. Perhaps that's because I always have good beef but rarely duck. This aged duck has a rich flavour and cooked to perfection – just the right redness and texture. It was easy to like.
What stood out to me was the coffee kombucha juice with caramel consistency and deep smoky flavour.
---
4: LIVER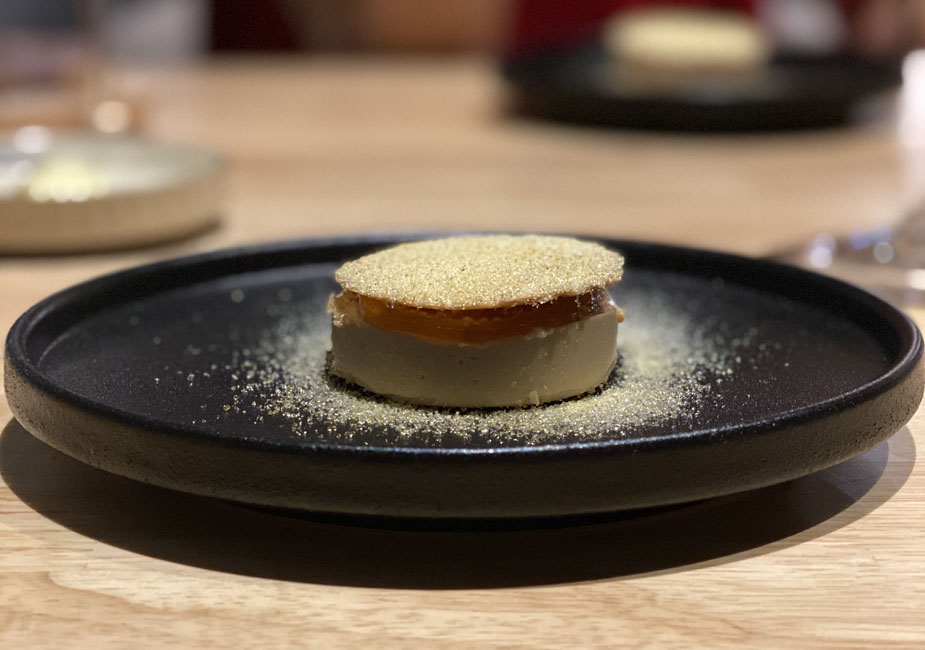 What is it? Lanaudie foie gras with plum gel, mandarin crystals, mandarin rind, and filo pastry.
How did I like it? I'm not a fan of foie gras, and I almost chose the 4-course menu instead. But after taking a bite, I was glad that I didn't make that mistake. I even said to my companion, "I can't believe I'm going to say this: this might be my favourite dish of the night!".
The texture is like ice-cream. The plum gel, orange rind, and mandarin crystals – with their natural sourness – balances the liver's richness. The thin pastry that separated the soft liver and the crust gave the dish a light, crisp texture. Slicing it was pure joy.
I believe that the mark of a good restaurant is one that changes my mind towards an ingredient I usually do not enjoy. A Sukiyabashi Jiro, I though it octopus taste like that all the time, I could like it. And at Akar, savoured its every bite.
I didn't think it could be better. Then the sommelier suggested to pair it with port wine.
It was divine.
---
PALATE CLEANSER

What is it? Calamansi lime and mint sorbet on sliced cucumber.
How did I like it? Perhaps it's just a dish to prepare me for my next. I would have preferred to have more lime juice in it.
---
5: DESSERT
What is it? A chocolate dessert with roasted almond sponge and topped with hazelnut mousseline. 
How did I like it? Apollo, a chocolate waffle in a golden packet that I used to have as a child, inspired this dessert. Perhaps the liver was so good that it almost reminds me of ice-cream, this chocolate didn't excite me as much. Though it reminds me of really good Ferrero Rocher.
It's a generous piece of dessert with crunchy and spongey textures from roasted almond sponge, feuilletine (crispy crêpes) and, chocolate swirl. While I enjoyed it, I wasn't wowed by it.
---
DETAILS: Booking, Location, Timing
I made a booking through their Whatsapp which I found on their Instagram
Opens from Monday to Saturday
Dinner Seatings:
1st seating: 6:30PM
2nd seating: 7:30PM
3rd seating: 8:30PM

They offer a 4-course and 5-course menu. The former is without liver

You could switch the duck to beef instead an additional price of RM30 (which I did for one of our choice)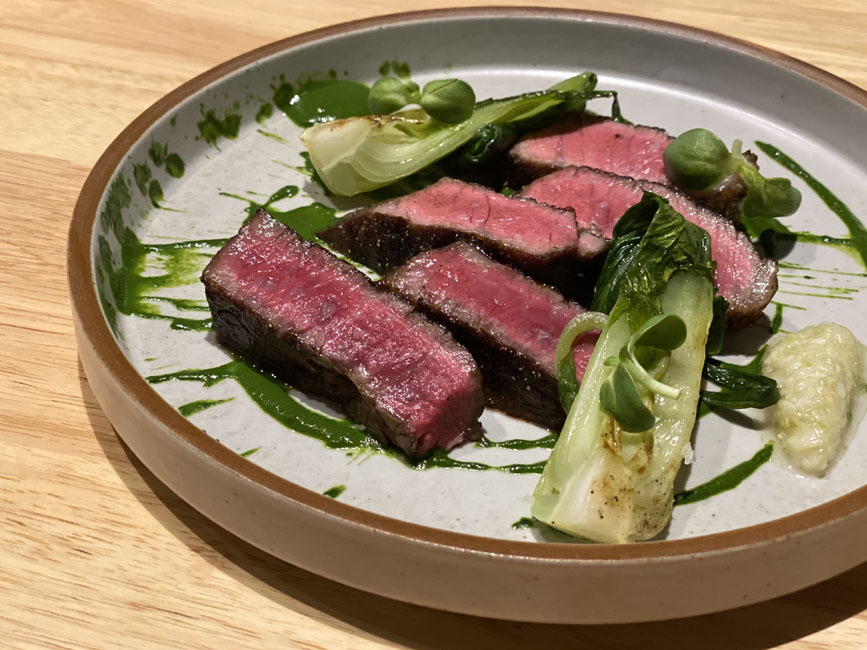 The restaurant is a shoplot at TTDI right next to KGB

Parking may be a little challenging to find. I would suggest taking a taxi so that you could also do wine pairing (If you drink, I highly recommend doing the wine pairing as well)
If I have to make an analogy to fashion, this restaurant is not avant-garde. There is fashion that is beautiful but not wearable. Like there are a few good fine dining restaurants that I would only go once. But this one feels like wearing tailored made clothing; the menu is of quality but not too over the top. I would be pleased to come back to dine again.
---
IN A NUTSHELL
FOOD: Palatable dishes with the inclusion of interesting local ingredients that are cooked French-style. 

PRICE: RM 150 for 5-course meal. Wine pairing at RM 250.

SERVICE: Friendly, attentive, and the staff will go the extra mile to make sure that you have a good time 

AMBIENCE: Quiet. Good for conversations
RATING: 7/10
WILL I COME BACK? Yes
---
LOCATION
Address: 109, Jalan Aminuddin Baki, Taman Tun Dr Ismail, 60000 Kuala Lumpur, Wilayah Persekutuan Kuala Lumpur 
Phone: 018-277 0597