As I believe in healthy and quick cooking, I avoid deep-frying food at home. But then, I do enjoy crispy anything;  I order them in small portion and make them for special occasion. But when I began making my own chicken karaage, I was afraid that this trend will change. It is delicious and incredibly easy to make. I also love that they are in bite-size pieces, making it a good TV snack.  Serve it to guest with a side of juice or an after-school snacks for kids. Think of it as a nugget replacement!
I like to fry my karaage until its very brown and crispy. When I first made it, I serve it with Kewpie mayonnaise and some seaweed strips. Now, I prefer to serve it with a sprinkling of coriander and chili powder. Not only these ingredients are always in hand in a typical Malaysian kitchen and antioxidant-rich herbs and spices is good for us; it add so much flavour and colour to this crunchy snack!
---
RECIPE CARD
CHICKEN KARAAGE (JAPANESE FRIED CHICKEN
18th May 2015
: 4
: 10 min
: 15 min
Ingredients
500 g (2 pcs) Chicken thighs, boneless with skin-on
1 tbsp Ginger, freshly grated
1 clove Garlic, minced
2 tbsp Soya sauce
1/2 tbsp sake or rice vinegar
2 tsp Granulated sugar
1/3 cup Potato starch
Cooking oil
Japanese mayonnaise (optional)
Lemon wedges (optional)
Coriander powder for garnishing (optional)
Chili powder for garnishing (optional)
Directions
Step 1

TO PREPARE INGREDIENTS. Grate ginger, mince garlic and cut chicken thigh into 2.5 cm pieces.

Step 2

TO MARINATE: In a bowl, add ginger, garlic, soy sauce, rice wine and sugar and stir to combine. Add in the chopped chicken and stir to allow marinate to coat chicken evenly. Cover and refrigerate for at least an hour.

Step 3

TO FRY: In a bowl, add potato starch. Toss chicken into it and coat each piece evenly. Add about an inch of cooking oil onto a frying pan. When the oil is hot and bubbling, turn to medium fire, put in pieces of chicken and fry until it is brown and crispy. Place fried chicken on two pieces of paper towel to remove excess oil.

Step 4

TO SERVE: Transfer into serving dish. Sprinkle with herbs. Serve with mayonnaise and lemon wedges
---
SHORT RECIPE
Marinate 500 g chicken thigh cut into bite-size with 1 tbsp grated ginger, 1 clove minced garlic, 2 tbsp soya sauce, 1/2 rice wine, 2 tsp sugar. Coat with 1/3 cups potato starch. Fry until golden brown. Sprinkle with coriander + chili powder. Serve with lemon + mayo.
---
COOKING TIPS
Traditionally, Sake (japanese rice wine) is used in making chicken karaage. As most kitchen wouldn't have it, you can substitute it with rice vinegar. After all, rice vinegar is produced from rice wine. And if you have none of them at all, you can omit it entirely and it'll still taste good (though different).
Chicken is easier to cut with a sharp knife if it's a little hard from the freezer. When it's not, I like to cut with a pair of scissors instead. It's much easier and faster!
I like to make extra and keep it in the freezer. On busy days, I'll thaw it, fry and top it on warm rice for a 'chicken karaage don'. If you intend to freeze your chicken karaage, don't fry it for too long – when you defrost and bake/fry it again, you don't want it to be burned.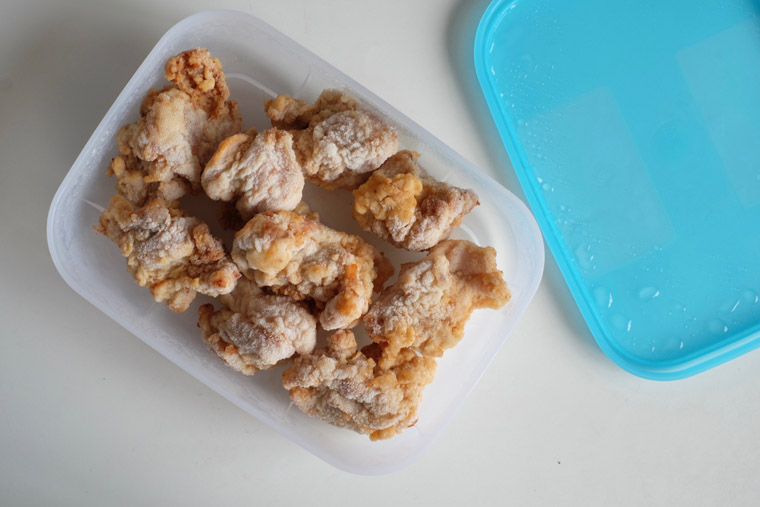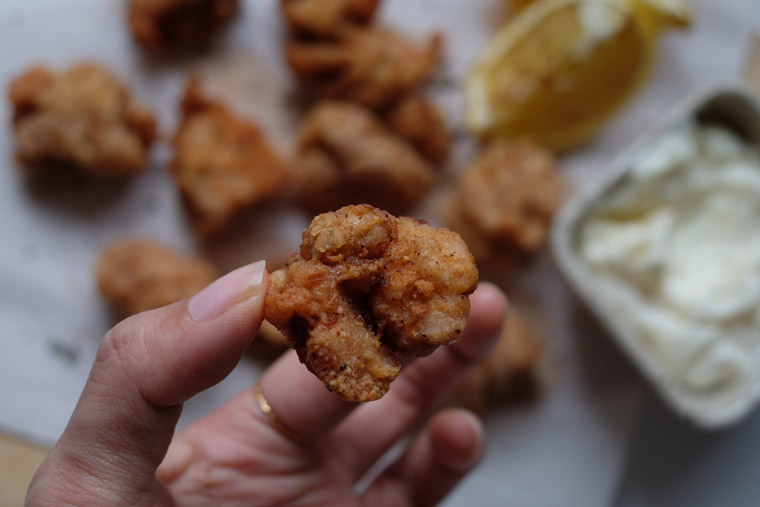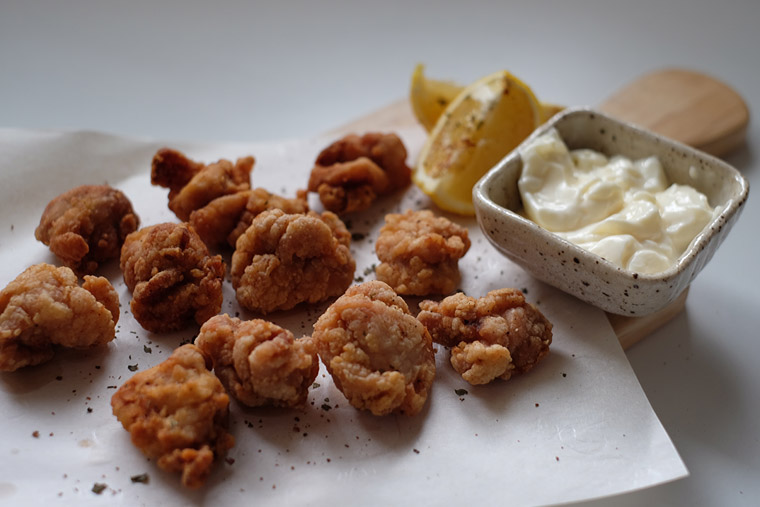 Have fun popping these into your mouth!