Chinese Roast Pork belly or Siu Yuk 烧肉 is one of the most popular street food in Malaysia. The Chinese style roast pork is served with fragrant 'oil' rice, tangy and hot chili sauce, cucumber, and soup.
I've made roast pork belly many times, but none is as crunchy as this. Thanks to Nigel who had been making this recipe for at least ten years, I found the secrets to make crunchy yet moist roast pork belly. It's all revealed in my Youtube video.
Although we specifically mentioned 5 important secrets to make crackling roast pork, there are many tips sprinkled throughout the video. So if you intend to up your roast pork game, make sure you don't skip any part!
---
TOOLS
Oven
Knife/ Chopping board
Metal skewers
Paper towel
---
RECIPE CARD
Crackling Chinese Roast Pork Recipe
15th August 2020
: 10
: Easy
Ingredients
2 kg of pork belly
1- 2 teaspoons of five spice powder
1.5 Tablespoon of salt
Freshly ground white pepper
1.5 tbsp Rice wine
5 red fermented tofu
1 bulb of garlic
250 - to 300 g of coarse salt
Directions
Step 1

PREPARE MARINADE: In a bowl, mash fermented beancurd. Add salt, pepper, five-spice powder, and rice wine. Mix well until it becomes a paste.

Step 2

PAT DRY THE MEAT: Pat dry the skin and the meat using paper towels. Lay it out meat side up.

Step 3

MARINADE: Stab the meat with a paring knife to make holes and stuff them with cloves of garlic. Then, rub the marinade all over the meat.

Step 4

PAT DRY: Flip the meat back skin side up and pat dry again.

Step 5

DRY MEAT WITH A FAN/FRIDGE: Aim a portable fan at the meat and allow it to dry until it becomes leathery. You can also do this in the fridge, uncovered, overnight. Or you can do a combination of both.

Step 6

PREHEAT OVEN: Turn the oven on at 175C and put a tray of water in at the bottom of the oven.

Step 7

SKEWERS: Drive some skewers into the meat to keep it flat while roasting.

Step 8

WRAP WITH FOIL: Wrap the sides with foil leaving about 1 cm border up top to contain the salt.

Step 9

LAYER COARSE SALT: Sprinkle the salt on. It should be around ½ cm deep.

Step 10

FIRST ROAST: Preheat the oven. Put the slab of meat into the oven and roast for about 45 minutes to 1 hour.

Step 11

REMOVE SALT: Take the meat out, CLOSE the oven door to keep heat in and turn it up to its maximum heat i.e 240 to 250C. Quickly, break and brush off the caked salt on top. You don't want it to cool off.

Step 12

SECOND ROAST: Put the pork back into the oven. Wait until the skin bubbles. It can take from a few minutes to 45 minutes.

Step 13

REMOVE TO COOL: Take it out of the oven. Do NOT touch it for another 20 minutes.

Step 14

SLICE: Flip it skin side down and slice it.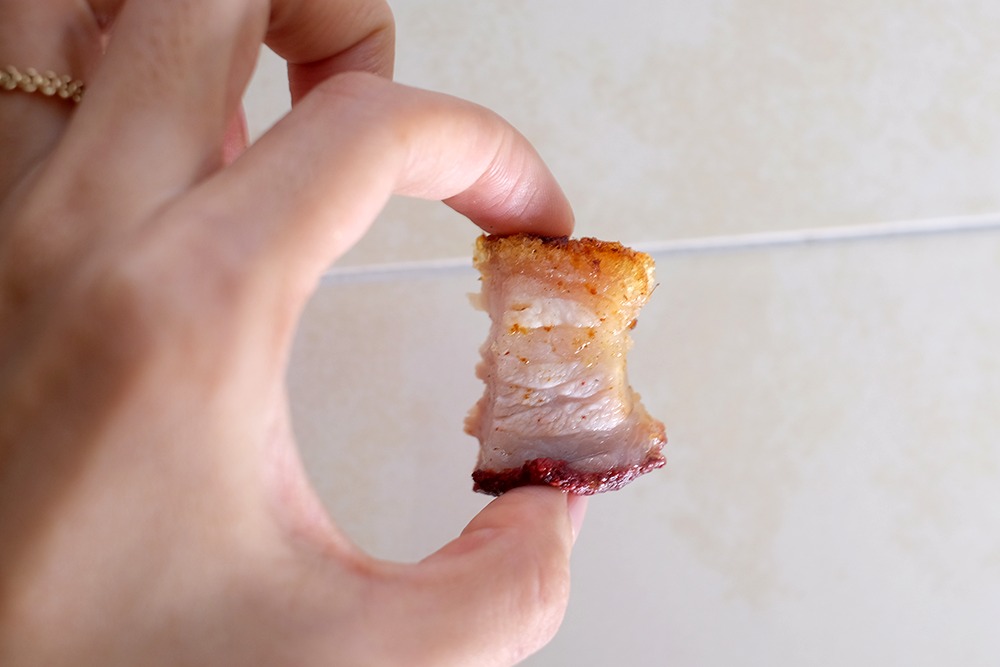 Try this crunchy yet moist roast pork recipe!