I love learning to make Malaysian food from the people before me. The Hainanese Chicken Rice recipe I teach at my cooking class was a recipe I learned from Susan, a private cook with 50 years of experience. There are so much knowledge and wisdom to learn from people before us. In an exaggerated Chinese saying, they've 'eat more salt than we do of rice'.
So when Nigel suggests that we make Hainanese Chicken Rice together while making our Chinese Roast Pork Siu Yuk recipe – I immediately said yes. Now, I have in hand two Hainanese Chicken Rice variations. An authentic Chicken Rice where we use kampung chicken (free-range chicken), traditional Chinese condiments, and a cleaver to chop; and Nigel's fusion Hainanese Chicken Rice recipe.
---
NIGEL'S ANCESTOR EASY HAINANESE CHICKEN RICE
Nigel's recipe is different in a few ways. It's easier one for home cooks. A few things that he did differently:
Dashi base for soy gravy and chili
Cutting the chicken with a scissors
Soup with pandan leaves
Nigel is quite a chill cook. I would normally not make this dish without a corn-fed kampung chicken, but he thinks it's just fine.

---
TOOLS
Large 6L stockpot – to poach the chicken and make soup
Large bowl/pot – to soak the chicken
Scissors +knife – too carve the chicken
Blender + grater  – to make chili sauce
Rice Cooker –
Wok/pan + spatula – to fry rice
---
RECIPE
INGREDIENTS
POACHED CHICKEN
2 kg chicken 
4 litres water
4 cups of chicken stock from the soup
CHICKEN SOUP
2 kg chicken 
4 chicken feet
4 litres water
1/4 cup (10g) dried anchovies 
1 bulb of garlic
2 pieces of pandan leaves 
60 g of ginger 
1 gizzard
DASHI STOCK
palm-size kombu
1/2 cup bonito flakes 
2 cups of water 
SOY GRAVY
1/2 cup of dashi stock
1/2 cup of soy sauce 
1/2 teaspoon of sesame oil
RICE
2 cups of long-grained jasmine rice
1/2 cups of glutinous rice 
4 cups of chicken stock from the soup or dashi stock
3 tbsp chicken fat/ pork fat
2 pieces of pandan leaves 
CHILI SAUCE
400 – 450 g fresh red chili
4 bird's eye chili (cili padi)
3 inches (40 g) ginger 
2 shallots
8 cloves of garlic 
1 persian/ key lime 
1 cup of dashi 
1/4 tsp salt 
GARNISH
Coriander leaves
Spring onions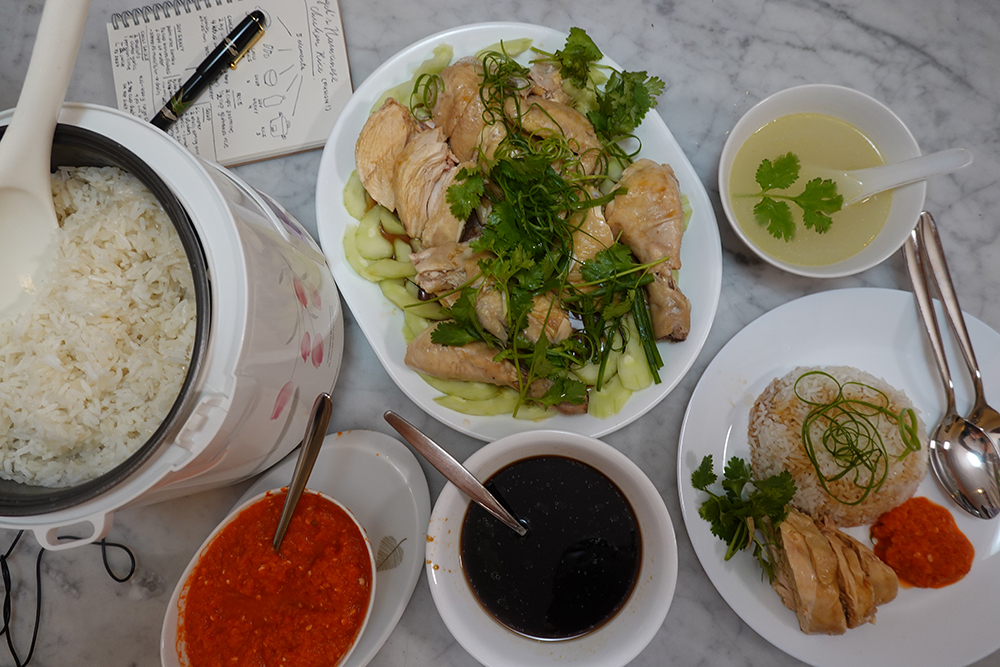 INSTRUCTIONS
POACHED CHICKEN & SOUP 
Blanch chicken and feet in 4L of water for about 5 minutes. Pour away the water along with the scumb.
Add another 4L of water in the stockpot along with chicken feet, gizzard, anchovies, garlic, pandan leaves and ginger.
Place the chicken in and let it cook until the internal temperature records about 70°C. It should take about 40 minutes.
In the meantime, cook the rice and condiments.
DASHI STOCK
Steep kombu and bonito flakes in 2 cups of water for 15 – 30 minutes
Drain with a sieve
SOY GRAVY
1/2 cup of soy sauce  and 1/2 teaspoon of sesame oil, into 1/2 cup of dashi stock.
RICE
Combined 2 cups of jasmine rice with 1/2 cup of glutinous rice. Rinse until clear
Fry rice in 3 tbsp of chicken/pork fat along with pandan leaves
Put the rice, pandan leaves, and 4 cups of water into the rice cooker. Cook until rice is fluffy
CHILI SAUCE
Chop chili, ginger, shallots, and garlic into small pieces.
Zest lime and squeeze lime juice
Blend everything together with dashi stock
Then season with salt.
---
I love that Nigel uses the dashi base for the sauces. Not only it gives a different dimension to the usual flavour, it also faster to make than slow-boiled chicken soup.
I grew up with poached or steamed chicken that is chopped perfectly into bite-size pieces with a cleaver. So I never thought to do it differently. Nigel's method of cutting the chicken is much easier – only with scissors and a knife; and he happily eats the drumstick whole!
If you'll like Hainanese Chicken Rice with less work, try this!