While I adore Malaysian street food, I cannot deny that many are not good for health if eaten excessively. But I'm a greedy person. I want to enjoy my Malaysian food and yet maintain my good health. So I always find ways to make my favourite Malaysian food healthier.
Malaysian Spiced Fried Chicken,  or Ayam Goreng Berempah in Malay, is something I make very often. I teach the recipe along with nasi lemak at my cooking class. The result? Sometimes, I eat it almost every day!
So I came up with a healthier version of it. This is one of my proudest inventions. I even shared this recipe with Nicol David in our Cook Off Challenge. Check out my Youtube video tutorial to see how I do it!
---
---
HOW IS IT HEALTHY?
BAKED Insted of deep-frying it in oil, I bake it
COATED WITH SEEDS To get the crispy texture, instead of coating it in breadcrumbs, I coat it in seeds
SPICES I use a lot of powdered spices including turmeric
NO OIL I don't use any oil. Sometimes I like to good oil e.g 1  tbsp of coconut oil
---
TOOLS
AirFryer/ Oven
Blender
Knife + chopping board
---
RECIPE CARD
Healthy Malaysian Fried Chicken With Lemongrass & Curry Leaves
3rd September 2020
: Easy
Ingredients
Spices for chicken
Chicken leg / chop, deboned - 1 piece
Curry powder - 1/2 tablespoon
Chili powder - 1/2 tablespoon
Turmeric powder - 1/2 tablespoon
Coriander powder - 1 tbsp
Cumin powder - 1 tsp
Garlic powder - 1 tsp
Ginger powder - 1 tsp
Fine sea salt - 1 tsp
Coating
1 lemongrass
3/4 cup of sunflower seeds
2 sprigs of curry leaves
Directions
Step 1

PREP: Chop chicken into four pieces. Whisk egg. In a bowl, mix breadcrumbs, smashed lemongrass, and curry leaves. Blend coriander and cumin

Step 2

MARINADE: Mix all the spices in a large bowl. Put in chicken and coat thoroughly. If you have the time, marinade it for 30 minutes. You can also leave it overnight. If you don't, it's okay.

Step 3

COATING: Dip marinated chicken in whisked egg. Then coat the chicken in the mixture of sunflower seeds, lemongrass, and curry leaves

Step 4

FRY: Fry in the Airfryer at 200°C for 10 mins.
---
SHORT RECIPE
Marinade 1 chicken leg (chopped into 4) in 1/2 tbsp curry powder + 1/2 tbsp curry powder + 1/2 tbsp turmeric powder + 1 tbsp coriander powder + 1 tsp cumin powder + 1 tsp garlic powder + 1 tsp ginger powder + 1 tsp sea salt. Mix well. Dip chicken in egg. Then into coating of 1 lemongrass (pounded and stripped) + 3/4 cup blended sunflower seeds + 2 sprigs of curry leaves.
---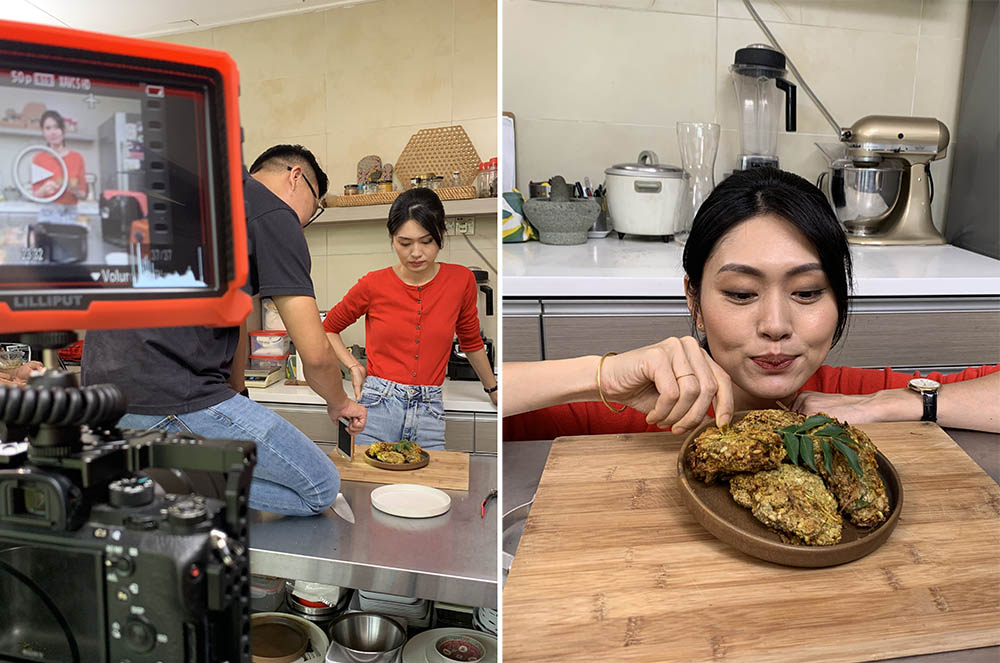 With a bit of tweaks, it's possible to make our favourite food healthier.
Do try it and let me know how you like it!