Ever since dining at restaurants such as Dewakan and Akar, which craft delicate dishes using Malaysian local produce, my interest in fine dining is piqued. I started to go on research for exquisite Malaysian inspired restaurants.
When I found a seemingly good restaurant, I don't take what people say about it at face value; instead, I study the menu. What ingredients do they use? How are they bring the best out of that ingredient that is in line with their philosophy?
Nadodi's menu satisfied my requirement. I was especially interested in how they've incorporated iconic Malaysian food into their starters, and I was keen to dine with them.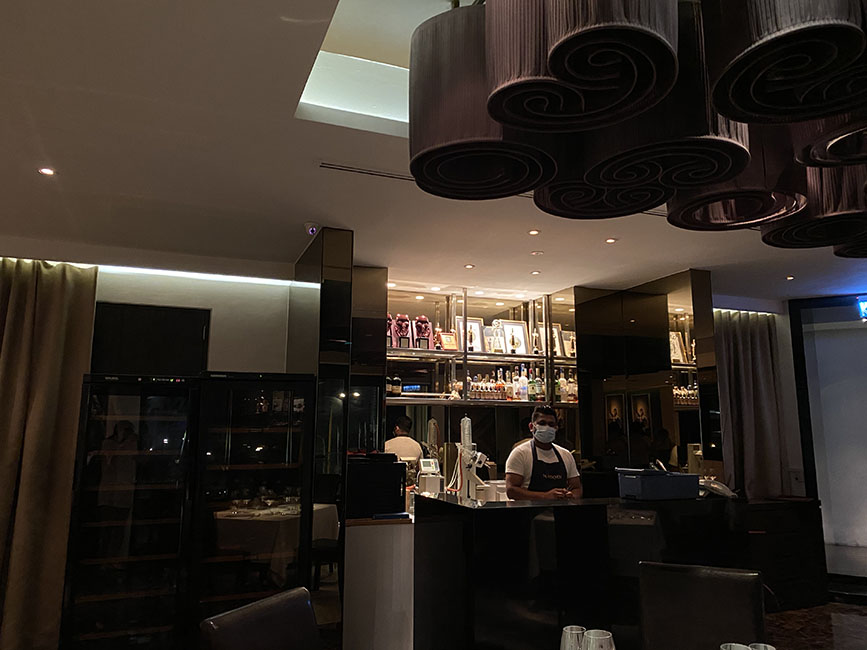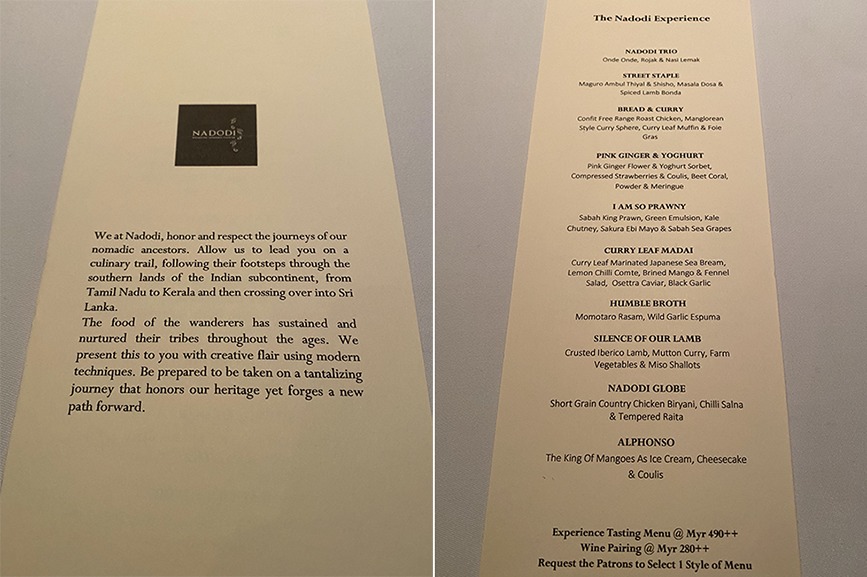 ---
1: NADODI TRIO

What is it? It's a bite-size starter featuring iconic Malaysian food – ondeh-ondeh, rojak, and nasi lemak. Rojak is made into a tart and nasi lemak is made into a macaron-sized mini bun. The friendly staff suggested that we eat it at one bit, and according to the sequence.
How did I like it? The idea, construction, and taste blew my mind – especially the rojak.
Ondeh- ondeh

 – Instead of sweet 

gula melaka

, the coconut flakes wrapped glutinous rice ball filled with rambutan gel. It's topped with passionfruit, caviar, and chili ring. My dining companion said 

'It's like a savoury ondeh-ondeh!'

 I loved the sourish taste from the rambutan and passionfruit, which contrasted with the savoury-spicy profile of caviar and chili. Though I wish there were more fillings and less glutinous rice dough.

Rojak

 – The shell of the tart reminds me of pie tee. In it, there is a mix of finely cut fruits – pineapple, apple, starfruit, and raw mango. What's interesting is that the rojak sauce is a thin maroon layer! I was tickled that the fruits were cut so small; it felt like a rojak Gulliver from Gulliver's Travel would eat! The taste was also exquisite – tho small, it was bursting with a multitude of flavours. This appetiser is indeed done well and is my favourite amongst the trio.

Nasi Lemak

 – It's like a mini burger. The 'bun' is made from rice water has the most curious texture. Filled with air, the airy bun collapsed immediately as I bit into it. That's when you get the delicate taste of fig sambal and a hint of cucumber and egg
---

2: STREET STAPLE
What is it? Indian street staple made dainty. I was encouraged to eat this and the last course with my hands. Perhaps this is what Nadodi means by 'engaging' cuisine?
How did I like it? 
Maguro Ambul Thiyal 

– I like that the maguro tartar, a standard raw appetiser, does not feel 

that

 raw and retain Indian gastronomy. The spiced flavoured fish lays on a tempura shisho leaf. I grow this leaf in my garden; hence I find it wonderful to see it turned into something that tastes local (instead of Japanese). The contrast between raw and fried, soft, and crunchy was beautiful.

Masala Dosa

 – Again I'm impressed how much flavour a skilled chef can pack into tiny food. The crispy dosa (or known as tosai in Malaysia) is now a crispy cigratte-like roll. In it, accompanied with mashed potato, coriander chutney, and curry leaves. This is as enjoyable as the Maguro Ambul Thiyal.

Spiced Lamb Bonda

 – Anything round is called Bonda, the staff said. It's filled with mutton and lamb mixed with sweet spices, layered with lentil batter, and finished with mint chutney. Perhaps I'm not a fan of bready food. I would prefer it to be more like a cutlet than pastry.
---

3: BREAD & CURRY
What is it? This is the chef's take on Egg Benedict. Instead of drenching the bread in egg yolk, is with curry. The wobbly yolk-like sphere is filled with curry sauce and topped with marigold flowers. It rest on a bed of shredded free range chicken and curry leaf flavoured bread.
How did I like it? I take my hats off for the chef's creativity. Check out my Instastory 'FineDining' to see the magical moment where the yolk breaks and soaks up the shredded free-range chicken and curry leaf flavoured crispy bread. This is the most interesting way to eat chicken curry with bread. I was fascinated.
---

4: PINK GINGER & YOGHURT
What is it? Sorbet made from torch ginger flower (bunga kantan) and served with compressed strawberry and beetroot meringue. It's finished with micro plants – wood sorrel and fennel flower. 
How did I like it? I've always loved the sourish taste of pink torch ginger flower placed on asam laksa. But I have not imagined it made into a cold dessert. The sorbet alone was already enjoyable to me that the rest of the accompaniment seemed secondary. I thought the meringue texture was rather interesting, but my entire focus was on the sorbet and the sorbet alone. Another star dish that paired well with the previous dish.

---

5. I AM SO PRAWNY
What is it? Fresh Sabah King Prawn topped with dainty sea grapes from Sabah, edible flowers from Cameron Highlands, and a dollop of sakura ebi mayo (a prawn infused mayonnaise). A green emulsion made from various vegetables and kale chutney is to be eaten together with the shellfish.
How did I like it? Once the glass-covered prawn unveils – I immediately smelled a whiff of fresh prawn. The bright contrasting colours is a happy sight – green, red, and floral. This dish is yet another of my favourite in the 10 coursed meal. 
---

6: CURRY LEAF MADAI
What is it? Curry leaf marinated sea bream, lemon chili comte, brined mango & fennel salad, osettra caviar, and black garlic.
How did I like it? The seabream is perfectly cooked – I enjoyed the flaky yet tough texture. The bright yellow sauce is made from lemon and comte cheese – another clever combo. What I surprise me most is the fermented black garlic, which works well with the citrus-cheese sauce, but is delicious on its own. I was scooping the dollop just to enjoy its taste independently. Oh, did you see the tiny melon? It's cucamelon – a fruit about a grape size that looks like melon but tastes like cucumber. I was so fascinated to discover that this exists in nature!
---
7: HUMBLE BROTH
What is it? Rasam soup infused with tomato. This humble broth is not so humble; 20 kilos of tomatoes are steamed to produce 4 kilos of tomato paste to be strained into the spiced soup. Commonly eaten with rice, the chef chose to serve it with paper-thin rice crackers instead. 
How did I like it? It's a lighter version of rasam mixed with tomato. Instead of the typical watery rasam, this is thicker in texture but milder in flavour. Chef Sri, the brains behind Nadodi, sprayed tomato into a cup and, with a teapot, poured rasam into it. I love it. Soup has always been comfort food to me. Holding the warm bowl with both hands, I slowly savoured the soup with typical cumin, coriander, and peppercorn. 
---
8: SILENCE OF OUR LAMB
What is it? Lamb loin with mutton curry, lamb jus, onion, and sous vide burdock and beans.
How did I like it? Another exquisite dish – succulent lamb which equally impressive accompaniment. I could taste the pea's rich flavour, and each of the crispy bean hidden in the pod. As with the rest of the dishes before, the flavour is concentrated yet not overwhelming. All thanks to the clever balance of contrasting ingredients. 
---
9: NADODI GLOBE
What is it? Briyani, raita, and cashew nut sauce served in layered plates which are stacked to form a globe.
How did I like it? It's a rather large portion, and by now, my stomach is filled to the brim. The chicken briyani rice is made from short-brain rice hence less starchy. While delicious, I was not able to savour much of it. However, I enjoyed the lighter raita made with yoghurt, cucumber, mustard seeds, and yacon. The cashew sauce with curry leaf oil was also lovely. 
---

10: ALPHONSO
What is it? A mango theme dessert made from Alphonso, the king of mango in India: mango cheesecake, ice-cream, and coulis.
How did I like it? The mango cheesecake is topped with white chocolate and beautiful pentas flowers, and served with a side of ice-cream. By now I'm spoilt and expected a lot more. This dessert, while delicious, did not wow me.
I did enjoy eating the edible butterfly that I plucked off the branch, and the son papadi, a butter-flour dessert served in a box of cloves.
---

DETAILS: Booking, Hours, Location
Make your booking on their website Nadodikl.com
We managed to get a booking just a day before and only decide on the menu on the very same day.
It's right opposite Ambank building in Kuala Lumpur, and situated on the first floor in an inconspicuous building. Find the side entrance, go up in a small lift, and be guided into a cosy dining space.
It opens from 6 pm to 11 pm. I dined from 7.30 pm until their closing time.
The Experience Tasting menu is RM 490++ Wine pairing is another RM 280++.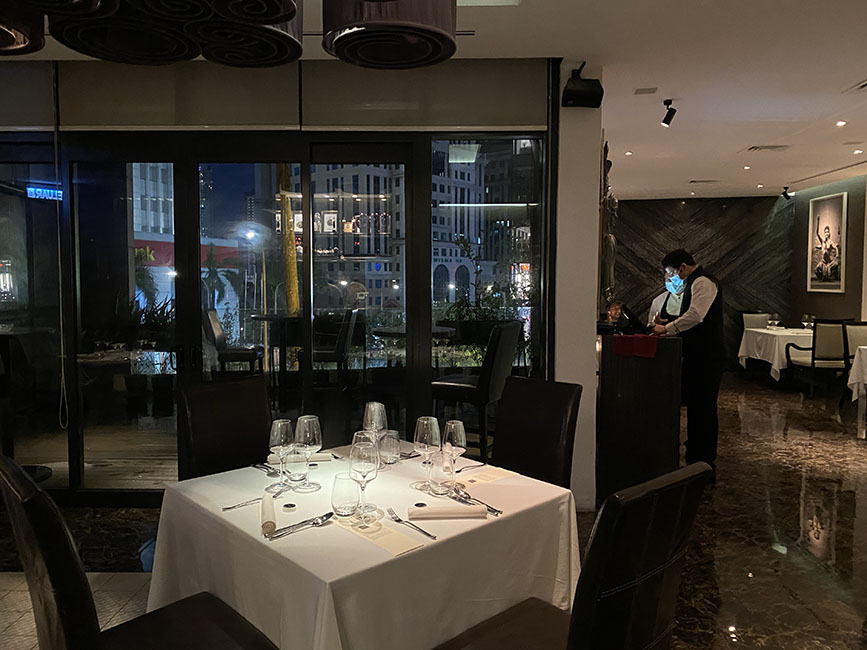 ---
IN A NUTSHELL
FOOD

: The food was exquisite (and I don't use the word lightly). I can tell that the chef poured a lot of thought into the menu and incorporates many rare ingredients. Each course is paired perfectly i.e, after a strong-flavoured, savoury course meal, the next is usually lighter, sweet, or sour; this primed my palate and belly to enjoy the next dish.

PRICE

: RM 490++ per person. For such an extensive and creative menu, the price is justified.

SERVICE:

 Service was top-notch. As I'm a slow-eater and prefer to savour my food in such a setting, I asked for a 10 minutes break between food. The staff obliged and also suggest if the next course should be served faster.

AMBIENCE:

 I enjoyed the quiet atmosphere which is conducive for good conversation. I wish the light was less harsh for pleasant photography.

RATING:

 9/10

WILL I COME BACK?

 Yes.