One weekend, after hiking and intense squat exercise at a hill near where I live, I found myself in a hipster cafe. This modern cafe is furnished with wooden fittings, offers smoothie bowls, cold-pressed juice, and other superfood-laden dishes. My exercise buddies and I thought: how can we ruin hours of exercise with unhealthy food? So this place – aptly named 'Goodness Green' – feels just right.
We ordered Nasi Lemak Wrap (made with quinoa, nuts, vegetables and coconut oil amongst other things), cold-pressed juice and a smoothie bowl to replenish our expended energy and rebuild our aching muscles. We thoroughly enjoy the breakfast, especially the Pittaya Smoothie Bowl. It's made with red dragon fruit topped with bananas, virgin coconut oil, almond milk, cacao nibs, granola, strawberries, bee pollen, desiccated coconut and chia seeds.
I thought to myself: 'I don't mind having this everyday!'. Eating fruits, vegetables, and other food which incorporate a lot of superfood made me feel so good…until the bill came. Then I realise that I cannot be spending RM 18 on a smoothie bowl everyday. It's only part of my breakfast – may I add.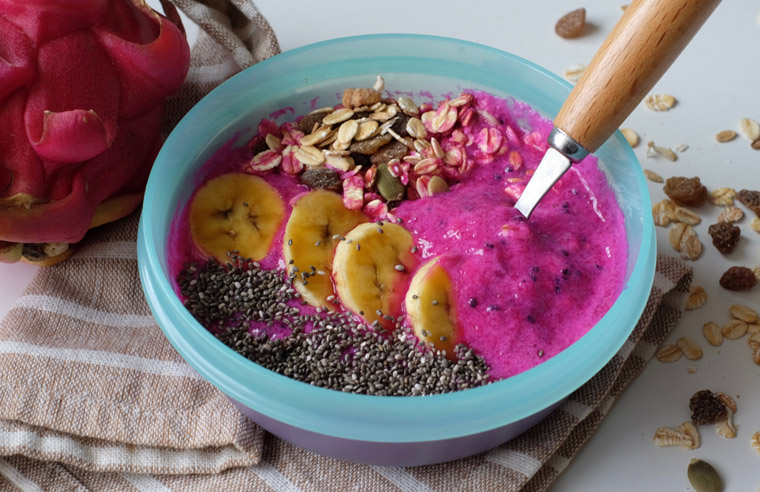 ---
HOW TO HAVE SMOOTHIE BOWL DAILY & EASILY
I thought out loud on my Instagram that I'll try to make it at home (Follow me!) and I did. I wanted to create something easy – so easy that it is sustainable to have it everyday. How?
Five ingredients. I use only the bare minimum ingredients to speed things up, and make things less overwhelming.
Use dragonfruit. Just slice dragonfruit into half and scoop it out. You don't have to peel or chop fruits.
Easily available at supermarkets. All the ingredients that you need are available in the supermarket. There is no need to visit specialty food store to make this.
Make in batch and freeze. It's best to double or triple the recipe and make 4 or 6 containers to freeze. Every night, before you sleep, just place it in the chiller to defrost.
Easy toppings. Use topping that you only need to open from a packet and sprinkle onto the smoothie bowl such as granola and chia seeds. I also chose banana because it's an easy fruit to prepare.
---
TOOLS
Blender
Small plastic containers
Knife + chopping board
---
RECIPE CARD
Pink Pittaya Smoothie Bowl - 5 ingredients + 5 min
30th May 2017
: 2
: 5 min
: 5 min
: Easy
Ingredients
1 red dragonfruit
100 ml (a little less than 1/2 cup) soy milk
1 Banana, small
2 tbsp Granola
1 tsp Chia Seed
Directions
Step 1

SCOOP DRAGONFRUIT: Slice dragonfruit into half

Step 2

SCOOP FRUIT INTO BLENDER: Scoop the flesh with a spoon and toss into your blender.

Step 3

POUR SOY MILK: Pour soy milk into blender with dragonfruit.

Step 4

BLEND: Process until smooth.

Step 5

POUR INTO CONTAINERS: Pour smoothie into separate Tupperware.

Step 6

ADD TOPPINGS: Slice banana onto smoothie bowl. Sprinkle with chia seeds and granola.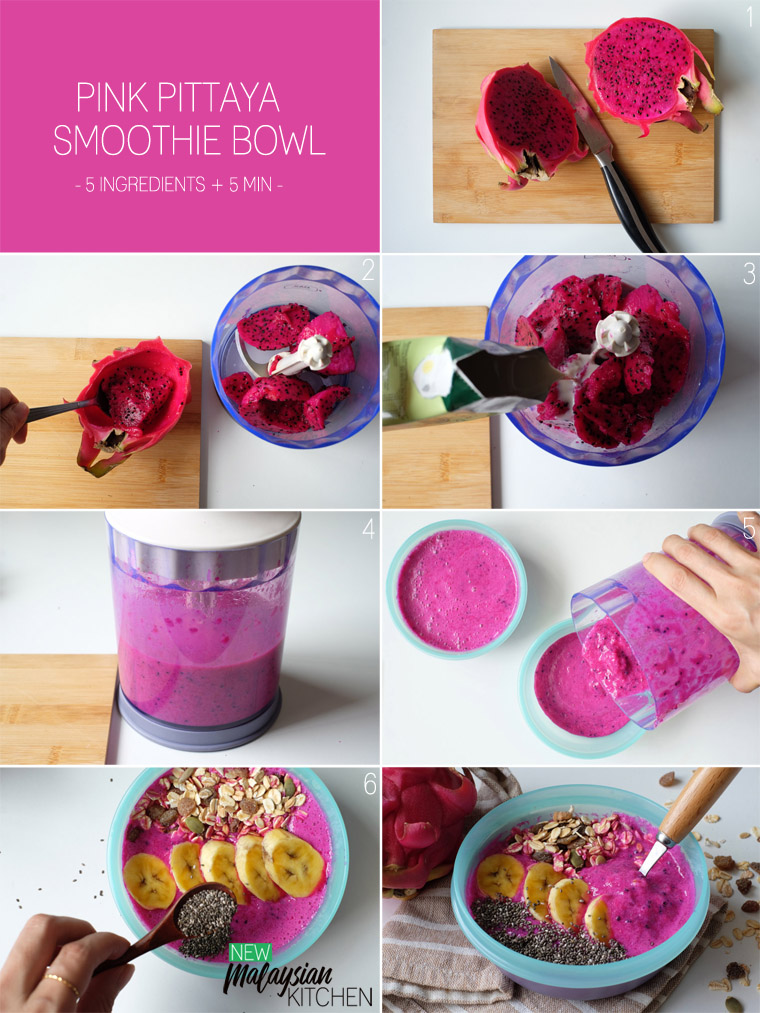 ---
SHORT RECIPE
Blend 1 dragonfruit + 100 ml soy milk. Pour into containers. Top with chia seeds + granola + sliced banana.
---
OPTIONAL EXTRAS
To enhance your already very healthy smoothie bowl, you can top up with more superfood such as:
Honey
Bee pollen
Spices: e.g Ginger Powder/ Turmeric
Desiccated coconut
Cacao Nibs
Extra Virgin Coconut Oil
---
COOKING TIPS
Soy milk replacement. You can replace soy milk with other nut milk e.g almond milk, which was the milk used in the original smoothie bowl that I've tasted. However, I think soy milk is a more affordable hence sustainable choice.
Use fruit juice. Instead of soy milk, you can also use fruit juice. Juice fresh orange if you have the time.
Granola packets. For convenience, I like to buy granola in small packets of about 45 grams.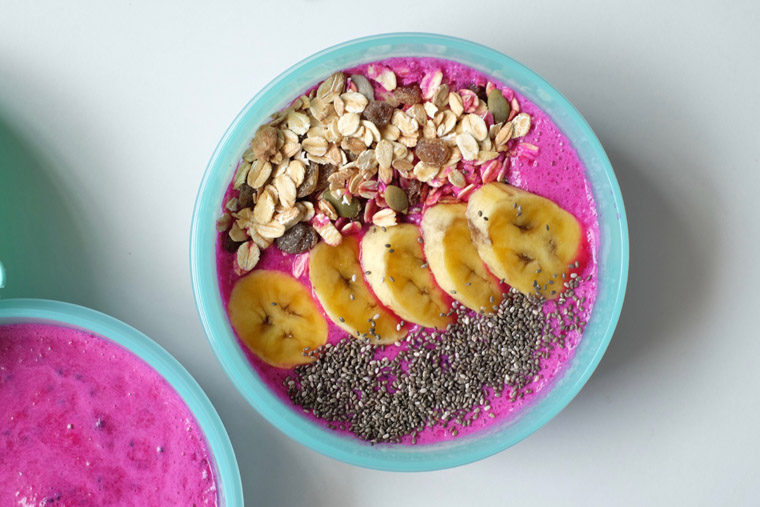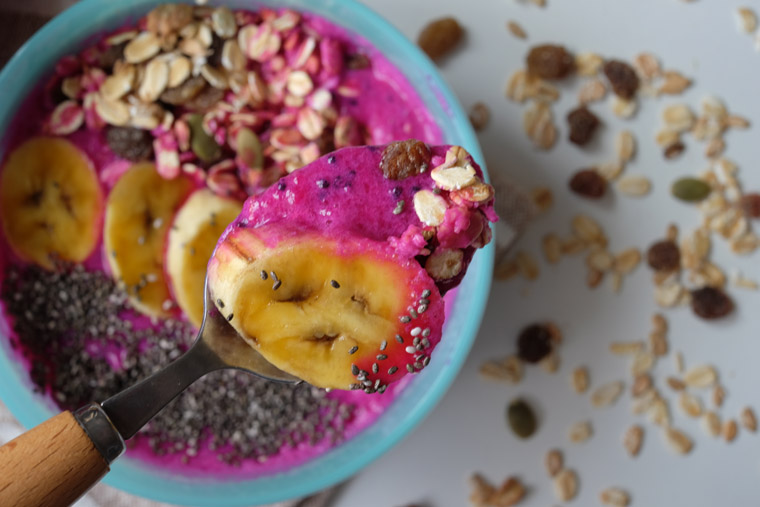 ---
Enjoy this easy and delicious smoothie bowl!