I have a confession to make: I don't particularly like salad. Most people are surprised by this as they think a health advocate must like salad. But plate of salad for lunch will make me very unhappy. Instead, I prefer my vegetables cooked. I like them stir-fry with garlic or roasted with herbs in the oven. If I had to eat raw vegetables, it must be made really well (which is hard to come by).
In the effort to look for salad I genuinely love to eat because of its taste and not only for its health benefits, I've found this: Thai spicy fruit salad. The traditional recipe uses tropical fruits such as green papaya, green mango, star fruits or rose apple. It also includes string beans and cherry tomatoes.
If you're a fan of the sour, sweet, salty, and umami combo, you'll love this recipe. As some ingredients are hard to come by, I only use the more common mango, string beans, and cherry tomatoes.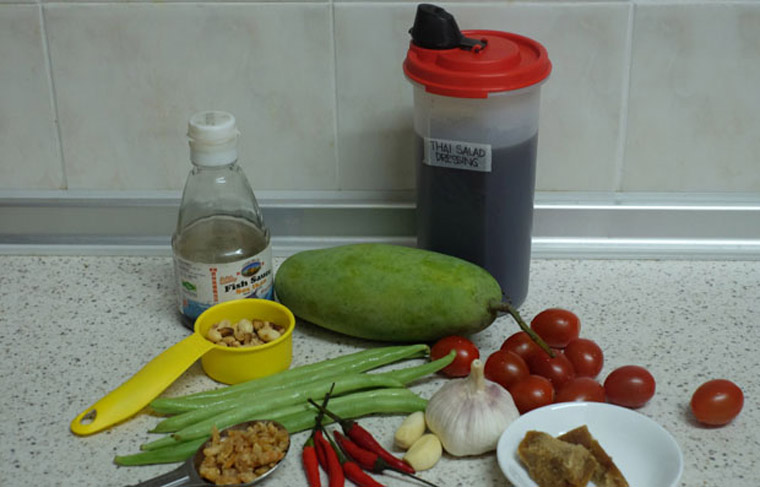 ---
RECIPE CARD
Thai Spicy Mango Salad
4th May 2017
: 4
: Medium
This classic Thai recipe is adapted from Le Cordon Bleu Thailand
Ingredients
1 (120 g) Green mango
2 cups (60 g) French beans
10 pcs (100 g) Cherry tomatoes
3 cloves (10 g) Garlic cloves
6 pcs (10 g) Bird's eye chillies (cili padi)
40 g Palm sugar (gula melaka)
3 tbsp Roasted peanuts
1 tbsp Dried shrimps
DRESSING
1/2 cup Thai salad dressing
Directions
Step 1

Shred mango and chop french beans.

Step 2

In a blender or a pestle and mortar, blend garlic cloves, bird's eye chillies, cherry tomatoes, palm sugar, roasted peanuts and dried shrimps until they are roughly crushed but not mushy.

Step 3

In a big bowl, add shredded mixed fruits, blended mixture and salad dressing. Mix well.

Step 4

Serve immediately, or chilled.
---
SHORT RECIPE
Blend 3 garlic cloves + 6 pcs cili padi + 10 pcs cherry tomato + 40 g palm sugar + 3 tbsp roasted peanuts + 1 tbsp dried shrimps. Toss in 60 g chopped french beans and 120 g shredded green mango. Flavour with Thai Salad Dressing.
---
COOKING TIPS
Originally the ingredients are crushed with pestle and mortar. To cook faster, I use a blender instead. To achieve a rough texture, do not over-blend it.
If the salad is not salty or sour enough to your taste, add more fish sauce and lime juice respectively.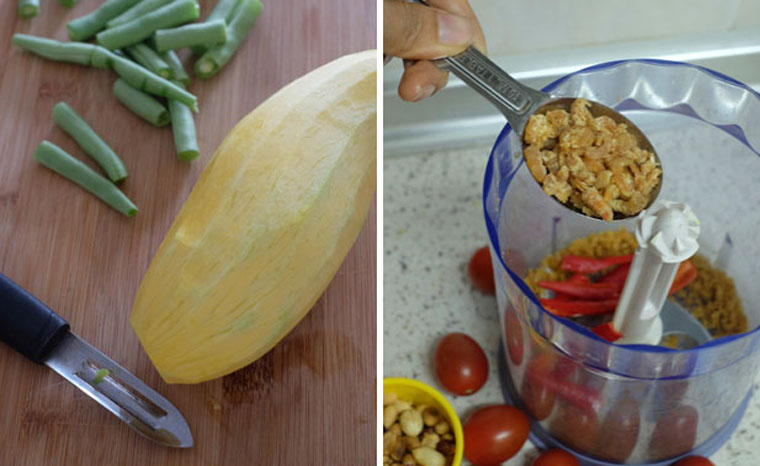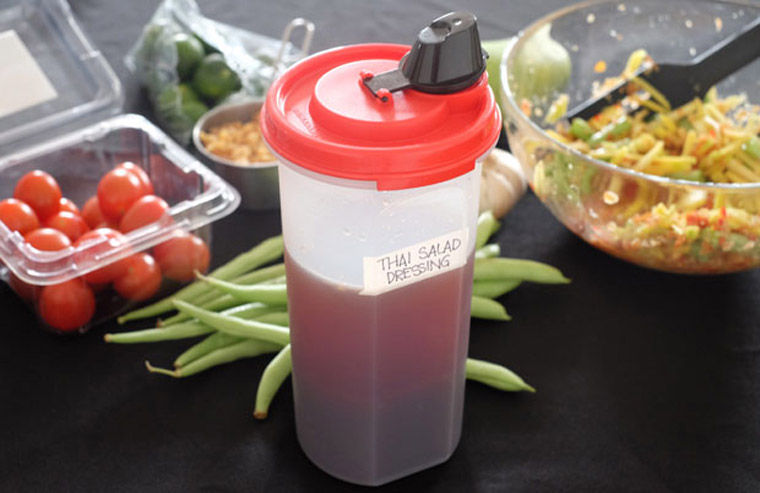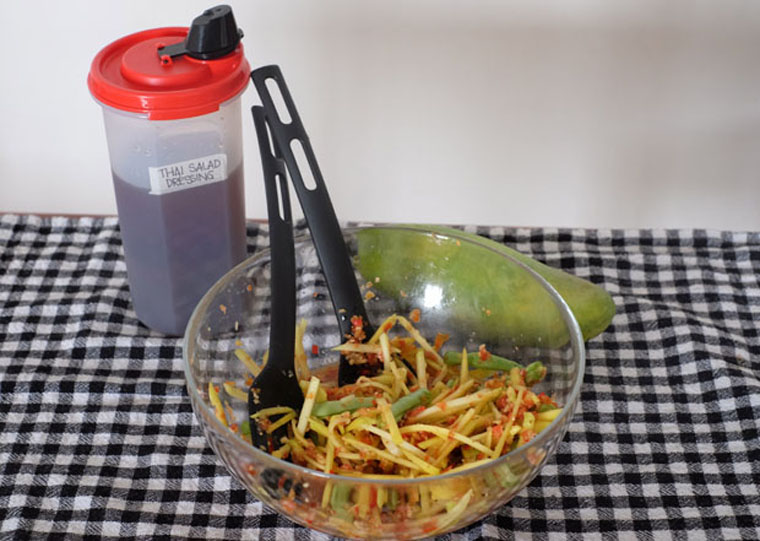 What other salad do you like? Do you have any good salad recipe to share? Drop me a line below!