If the Germans are proud of their engineering, the Americans their rights, and the Japanese their efficiency and cleanliness – the Malaysians are most proud of their food.
In Malaysia, food is available 24 hours a day (yes, even at 3 am!), almost everywhere. and very affordable. There is plenty of different cuisines to choose from: Malay, Chinese, Indian, Nyonya, and more.
That is because Malaysians are made up of different ethnic groups. Yet each race still speak a different language, wear different clothes, believe in a different religion, and cook different food. And we celebrate our differences.
Kuala Lumpur is a peninsular surrounded by the sea. Hence, we have an abundance of seafood which we preserved and become our staple ingredients e.g belacan (shrimp paste) and ikan bilis (anchovies). On top of hat, our tropical weather, fertile low and highland, allow us to plant crops like chillies, durian, coconut, petai (stinky beans), and tamarind.
What does all that lead to? An amazing array of delicious food with different flavours!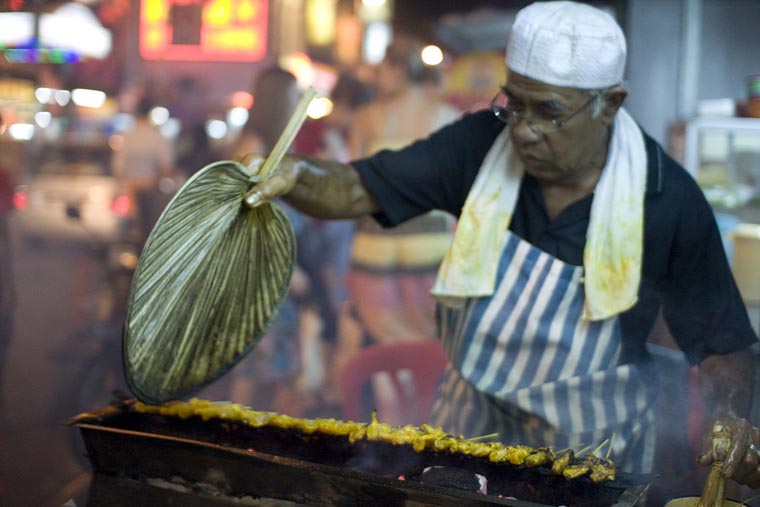 Photo credit: Jerzil
WHY SHOULD YOU FOLLOW THIS LIST?
As a food consultant, cookbook writer, and cooking class instructor – I get a lot of questions from travellers about what to eat in Malaysia.
As there is too much delicious food to try (and most people have limited time and stomach space), I came up with a list that gives you a taste of Malaysia.
If you follow this list, you will get to:
Taste the most popular food from each ethnics: Malay, Chinese, Indian, and Nyonya
Visit different types of shop: kopitiam (coffee house), mamak stall (Indian-Muslim restaurant), hawker stall, and food court.
Try a variety of food and drinks: rice, noodle (fried and soup), bread (toasted and pan-fried), coffee, and tea
Enjoy food made from the best local produce: e.g coconut milk, palm sugar, anchovies (ikan bilis), belacan
Taste different tastes that Malaysia offers: spicy or light, hot and cold, sweet and savoury.
Try some food that you will never find in another country (except maybe Singapore which was a part of Malaysia) because it's originated from Malaysia or made unique by us
Eat at restaurants that is made for locals
Reduce your travel time as most of the restaurants I recommend are near the city centre
---

Photo credit: Time Out Kl
1. Nasi Lemak 
Nasi Lemak is Malaysia's defacto National dish.If you travel in Malaysia Airlines (MAS), you will be served this food. It is made from coconut rice, spicy sambal sauce, accompanied with eggs, peanuts, fried anchovies, and cucumber. Many Malaysians like to top it up with an extra side dish like fried chicken or beef/chicken rendang.
Where can you get it? It is available everywhere. Two very popular nasi lemak place Malaysians go to is Nasi Lemak Village Park (At Uptown Damansara, Petaling Jaya) and Nasi Lemak Tanglin (near Lake Gardens in Kuala Lumpur)
---

Photo credit: Malaya Chronicles 
2. Nyonya Kuih
Kuih (singular) and Kuih-muih (plural) are Malaysian cakes. While western desserts are made from wheat flour and milk, Malaysian cakes are made from rice flour and coconut milk. I have a cookbook that list 80 variety of them! But I suggest that you can try a few of the most popular ones like the photo above. If I must name the top 3 kuih to try, I would suggest: Bingka Ubi, Ondeh-ondeh, and Rempah Udang.
Where can you get it? You can get it at the farmer's market and stalls incertain food court. But as a tourist who is not familiar with unnamed stalls, I suggested visiting Nyonya Colours which is available at major shopping malls.
---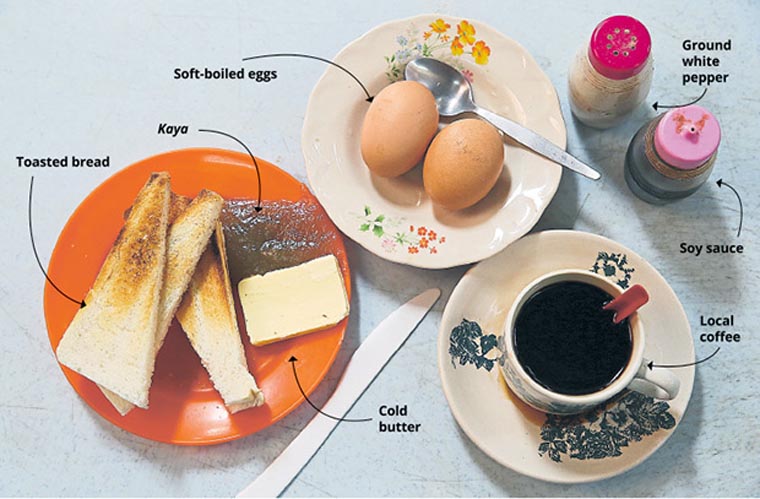 Photo credit: Malay Mail
3. 'Kaya' Coconut Jam Toast and Soft-boiled Eggs with Coffee
One very special breakfast that is unique to Malaysia is a combo of:  Kaya-butter toast bread + soft-boiled eggs + local coffee. Our 'Kaya' jam is made from coconut milk and eggs. The jam and butter is then slather over a light bread (which you can't get from the supermarket). We break our eggs into plates, season with soy sauce and pepper, then slurp it in! Finally, our coffee is toasted with butter and sweetened with condensed milk.
Where can you get it? You can get it at local coffee house called kopitiam. Most Malaysians go to a kopitiam near their home. When I am in the city, I like to visit Yut Kee Restaurant or Capitol Cafe.
---

Photo credit: Malay Mail
4. Cendol
Cendol is a type of dessert made shaved ice, green rice flour jelly, coconut milk and palm sugar syrup. I chose to include this dessert because you have to try Malaysian palm sugar and fresh coconut milk combo – it's amazing. Secondly, if you're adventurous, some cendol stall allows you to top it up with durian. It's a delicious way to try this pungent fruit!
Where can you get it? Try Teochew Chendol a chain store (though its origin is in Penang). My favourite is Kwong Wah at Petaling Jaya.
---
5. Curry Laksa
Curry Laksa is listed in Lonely Planet's Ultimate Eatlist book lists as the second best food experience in the world. But that is not the only reason why this noodle is in the list. The soup is made from spices and coconut milk; while the ingredients includes egg noodles, fried tofu, cockles, long beans, and a side of chili sauce. It's a complicated dish that's why it's so delicious!
Where can you get it? Try the one at Madras Lane in Petaling Street, the store which gets this bowl of noodle in the list. If you like air-conditioned restaurant, Madam Kwan, a chain restaurant, also serves a good bowl of curry laksa (and nasi lemak too!)
---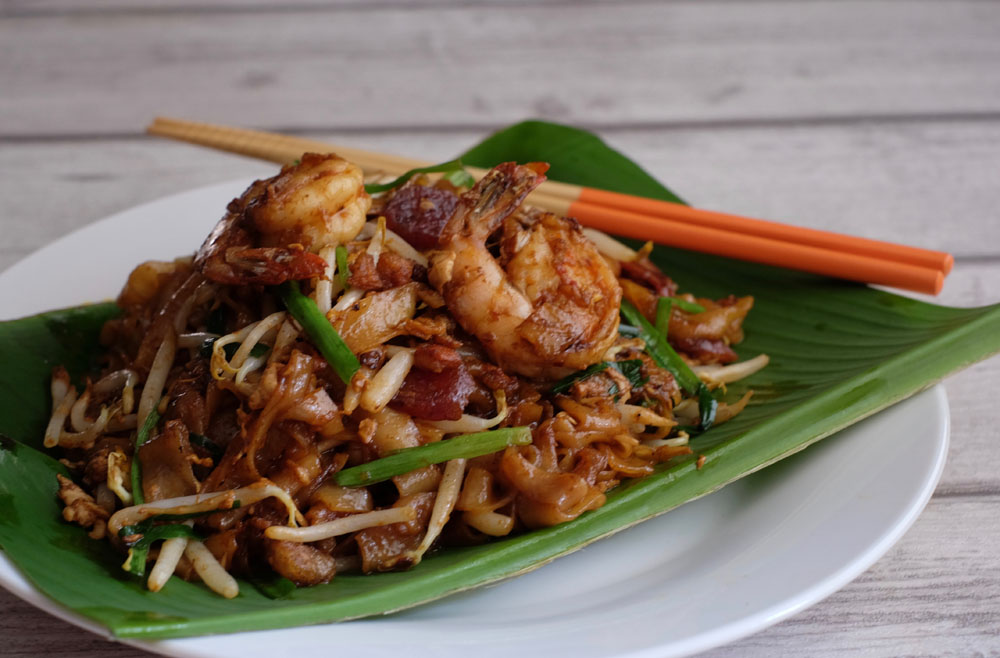 6. Char Koay Teow
This is arguable Malaysia's most famous noodle. From my experience as a Malaysian and cooking instructor, both locals and tourist rate this as their top favourite noodle. Char Koay Teow literally means 'Fried Flat-Rice Noodle'. The noodle is fried on a wok on intense high heat with prawns, fish cakes, chives, eggs, beansprouts, and topped with lard and cockles.
Where can you get it? Almost every food court has one hawker stall selling char koay teow. If you're at Bukit Bintang area, try Lot10's food court called Hutong where the dish is made from duck egg instead of chicken egg. It's easily available at chain Malaysian restaurants like Madam Kwan.
---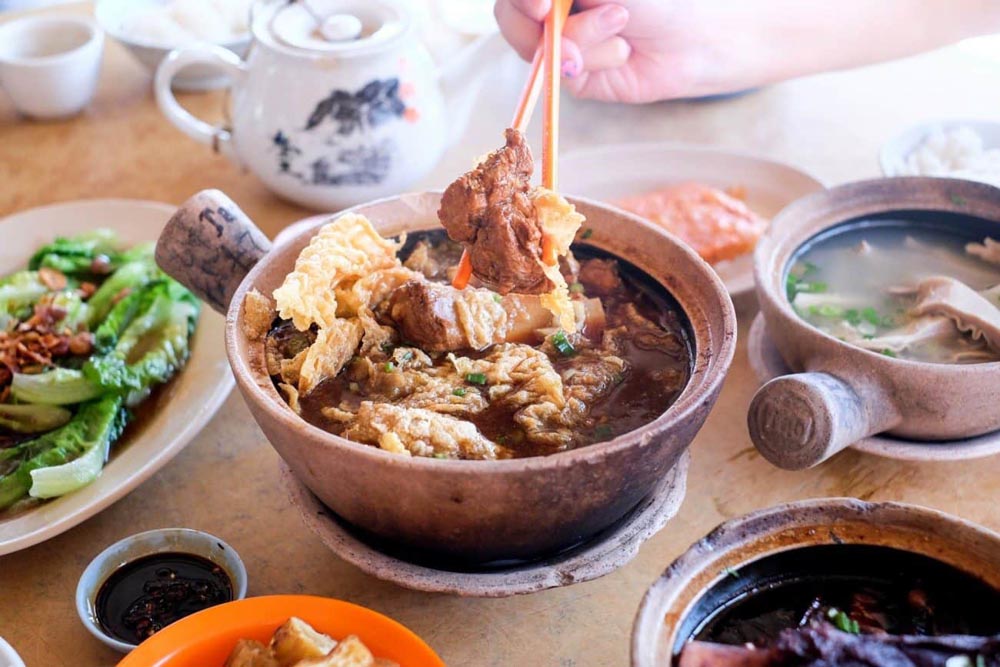 Photo credit: Miss Tam Chiak
7. Bak Kut Teh
Bak Kut Teh means 'Meat Bone Broth'. This dish is unique of Malaysia. While many Chinese-Malaysian food can be traced back to China, this is truly made in Malaysia. It's a pot of herbal soup with pork, garlic, and fried tofu. It's served with rice and a soy sauce-garlic condiment. It's best topped with sliced youtiau (chinese fried dough).
Where can you get it? Most Malaysian agree that the best bak kut teh are from Klang (a town 45 minutes away from the city centre). If you don't want to go that far, try  Pian Qian Bak Kut Te at Lot 10 Hutong food court or Samy and Min Bak Kut Teh. While they are in the mall, they originate from hawker stalls in Klang.
---

Photo credit: https://thegardennom.wordpress.com
8. Chili Pan Mee
Pan Mee too is unique to Malaysia. There are two variety: dry and broth. I suggest trying the dry noodles where sauced noodle is topped with minced pork, poached egg, fried anchovies, and chili flakes.
Where can you get it? The go-to restaurant for many local is Kin Kin Chili Pan Mee. I often visit the one at Publika's food court.
---

Photo credit: www.sayaiday.com
9. Roti Canai with Curry
While roti canai is also available in India, Malaysian gives it a very unique tweak. We have a variety of roti (bread) made with milo, margarine, cheese, garlic etc. I suggest trying regular, egg, and planta (margerine with sugar). The bread is then dipped in a few types of curries!
Remember to look at how the bread is made – the cook professionally flip the bread in the air!
Where can you get it? Mamak, like McDonalds, is everywhere in Kuala Lumpur. Roti Canai unlike other food like curry laksa is similar everywhere. So just walk into any mamak stalls or restaurant near your place.
---

Photo credit: Amir Rashid
10. BBQ Satay with Peanut Sauce
All kinds of meat – chicken, beef, or even rabbit – are marinated in spices and grilled on charcoal. It's then dip in sweet peanut sauce served with chop cucumber and onion. While meat skewers are also available in other countries, Malaysian makes some of the best.
I suggest getting them at places where it is made with charcoal. Satay taste best when barbecued as it gives a delicious smoked flavour.
Where can you get it? Satay is also easily available at restaurants and hawker stalls near your hotel. If you don't mind getting out of the way, you can try Sate Kajang Hj. Samuri, arguably the most popular satay restaurant.
---
BONUS:

credit: Gizmodo
11. Teh Tarik
The reason why I include this drink is because the process of making it in an experience in itself. Teh Tarik means pulled tea. You will see cook pouring tea from one mug to another – it's a sight to behold! Besides, this is probably the first drink a Malaysian will order.
Where can you get it? Any Malaysian restaurant or hawker stall will serve this. But I suggest visiting a road side hawker stall where you can view the making of it for the full experience.
---
More food adventures
This is just the tip of the iceberg, there is a lot more Malaysian food to explore (I had a hard time choosing the top 10 dishes). But if you have limited time or space in your stomach, this is a good start.
If you are interested to learn more about Malaysian food and culture – why not join my cooking class where you get to learn how to make the most popular food in Malaysia?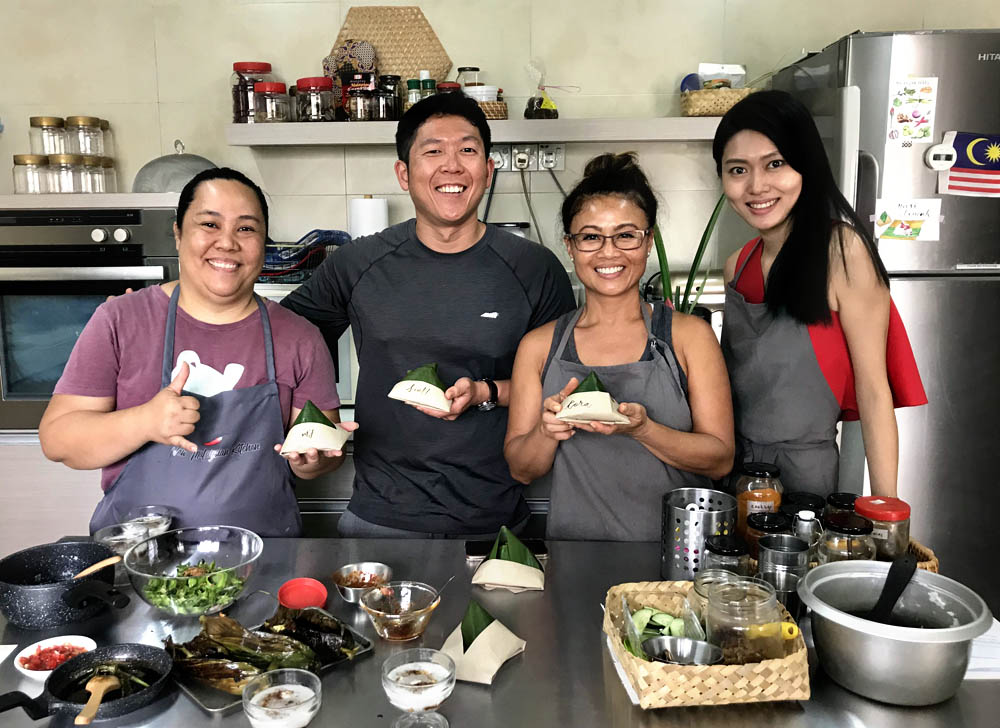 Notes for foodies
This list is assuming that you may not be able to visit Penang (my favourite state after Kuala Lumpur). If so, get Char Koay Teow and Chendol in Penang instead). Replace the two dishes with Kuala Lumpur Hokkien Mee at Kim Lian Kee, Wantan Mee at Koon Kee, banana Leaf Rice or Hainanese Chicken Rice at Nam Heong at Chinatown.
Happy eating!