I regularly visit a TCM specialist for holistic health checkup. Yes, I see the doctor even if I'm not sick. In TCM, it is believed that nobody can be 100% healthy and seeing the doctor is for 'maintenance' (tiau li/ 调理)
While I am blessed to not have any major illness, my stomach and digestion is weak. According to the doctor, poor digestion is the reason for my puffy eyes and inability to gain weight. Gasp. My stomach is not making me pretty!
---
FERMENTED FOOD IMPROVES DIGESTION
This piece of information led me to find ways to improve digestion. One of the many ways is eating fermented food. Then it became my 
Food Philosophy. 
I believe in eating traditionally like our grandmothers - which include eating fermented food.
While there are plenty of traditionally fermented food, many of them are made or processed in such as way that the good bacterias are gone (Read: 10 Fermented Food in Malaysia)
---
---
BUT PASTEURISED FERMENTED FOOD IS WITHOUT PROBIOTICS
I've been to a Michelin-star restaurant in Tokyo, Shiojiri Jozojo,  that serves only Fermented food
According to the owner, Nobuaki Fushiki:
"There's no point to eating the miso and soy sauce you can buy at supermarket…Those products have been pasteurized and contain zero live enzymes and good bacteria." - Nobuaki Fushiki (Source: A Culinary Calling in Tokyo)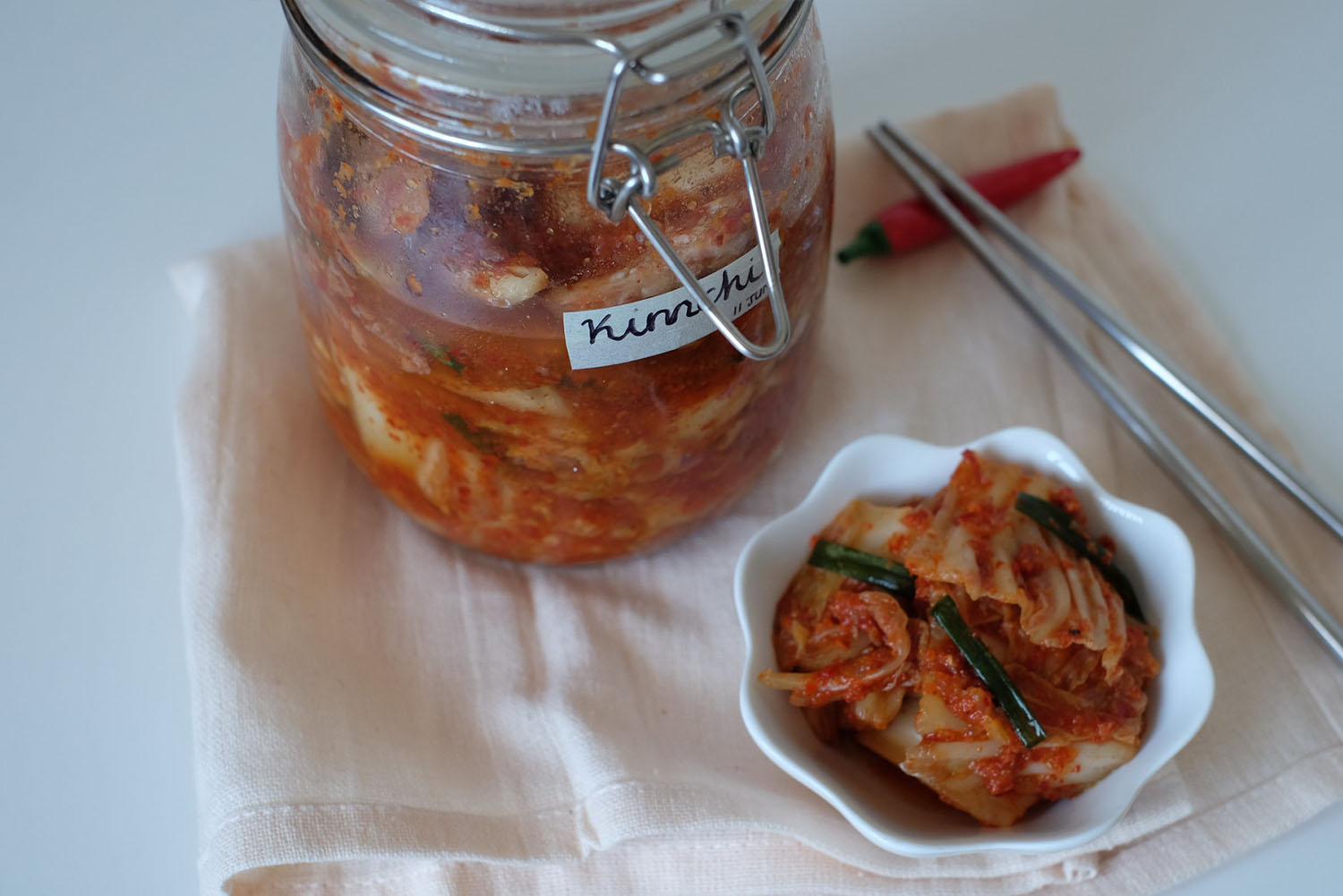 ---
MAKING KIMCHI IN MALAYSIA
That is why I make my own kimchi. There is no guarantee that the 'fermented' food that we buy truly has probiotics in it. As we only need to eat a small quantity, I only need to make it once every few months.
Here's my family's recipe using things easily find in Malaysia e.g anchovies to replace salted shrimps (for the umami flavour). Other ingredients like napa cabbage and Korean pear are easy to find in the supermarket. The only specialty produce you need to buy is Korean Chili Powder.
Does it taste as good as regular kimchi? Yes! I let my Korean guests at my cooking class to try these recently. They told me it's just like those they had at home.
---
TOOLS
2 large mixing bowl (about 13 inch/ 35 cm)
Colander/ Salad spinner
---
RECIPE CARD
Easy Malaysian-Style Kimchi
19th August 2019
: 8 cups
: 30 min
Ingredients
To brine:
1 large (1.3 - 1.5 kg) napa cabbage, cut into squares
1/4 cup himalayan pink salt
To blend:
1 (80g) red onion, large
1 (350 g) Korean pear, peeled deseeded and chopped
1 bulb (45 g) garlic
1 thumb size (20 g) ginger
1/2 cup anchovies (ikan bilis), toasted
3 tbsp anchovy fish sauce
2 tsp sugar
To mix:
1/2 cup Korean chile pepper flakes
10 green onions (green part only), cut into 2 inches
Directions
Step 1

CHOP CABBAGE: Chop cabbage into half, then quarter. Rinse under running water. Chop into 2 inches squares. Slice off the hard part.

Step 2

SALT CABBAGE: In a large bowl, combine the cabbage with salt and set aside for 1 hour.

Step 3

BLEND SEASONING PASTE: In a blender, pulse together onion, pear, garlic, ginger, anchovy, dried shrimp, fish sauce, and sugar until a paste is formed. Transfer to large mixing bowl and mix in the chilli pepper flakes. Set aside to let the flavours combine.

Step 4

RINSE & DRAIN CABBAGE: Pour away the liquid. Then rinse the cabbage to remove any traces of salt. Drain in a colander for 20 minutes, or use a salad spinner to remove move of the water.

Step 5

MIX CABBAGE, SPRING ONIONS, & PASTE: In another large bowl, mix together the green onions, seasoning paste, and drained cabbage until combined thoroughly, making sure the seasoning paste is distributed evenly among the leaves.

Step 6

PACK IN CONTAINER: Packed the mixture tightly into a large containers. Leave about an inch from the cap.

Step 7

LEAVE TO FERMENT: Ferment. Leave to ferment cool place for 24 hours. 

Step 8

STORE: Store. Refrigerate and consumed within 6 months.
---
SHORT RECIPE
Chop cabbage into squares. Rub salt into cabbage. Set aside for 1 hour. Blend seasoning paste: 1 onion + 1 bulb garlic + thumb-size ginger + pear + anchovy + fish sauce + 3 tbsp shrimp + 2 tsp sugar.  Pour into mixing bowl + add 1/2 cup chili flakes. Set aside to let the flavours combine. Rinse cabbage and drain in colander.  Mix : cabbage + seasoning paste + spring onions. Pack in jars. Leave for 24 hours. Keep in fridge.
---
KIMCHI-MAKING TIPS
Cut cabbage in squares so that it's easy to eat. In Korean, it is call Mat Kimchi (pre-sliced).
Use a salad spinner to speed things up You can drain the cabbage in a colander. That takes about 20 minutes. Sometimes, when I don't have that patience, so I'll just dry it quickly with a salad spinner.
Buy Korean Chili Powder (Gochugaru) from Korean Mart  I got my chili powder from a Korean Mart (Freshan) in 163 Retail Park at Mont Kiara. It's RM 18.80 for a packet (500g). Find a Korean Mart near you or buy it online.
Store in glass jars Reuse empty jam jars. If you don't have any, get them at Daiso or IKEA
Use hands, not gloves According to Connie Chew, a fermentation guru from Malaysia, there are microbes in our hands that is good for fermentation(Source: Kimchi, Kombucha, and Belacan: How to ferment food at home)


"Some people use gloves – especially when making spicy dishes like kimchi, but when you use gloves, you're actually disconnecting from the microbes. There's actually bacteria in the hands, which is encouraged, so try not to wear gloves when you're making fermented food," Connie Chew
---
RULES FOR FERMENTATION
Do not fill kimchi to the brim

When the fermentation process begin, vegetable liquid will be realised. Carbon dioxide and lactic acid that are produced will cause bubbling. If you fill it to the brim, juice will spill out.

Pack it tightly and submerge kimchi Don't expose it to air.
Do not open the jar during fermentation as the most important fermentation activity occurs at this stage (I got this tip from a book I read ' The Kimchi Cookbook' by Lauryn Chun. Opening it frequently will expose kimchi to oxygen which will affect the condition of kimchi.
Leave it to ferment for 24 hours in a cool and dark place. In a book that I read, the kimchi is left out for 3 days to ferment. However, I feel that Malaysian weather is too hot for that. After 24 hours, there is already sign of fermentation i.e bubbling. So I've always just leave it for a night.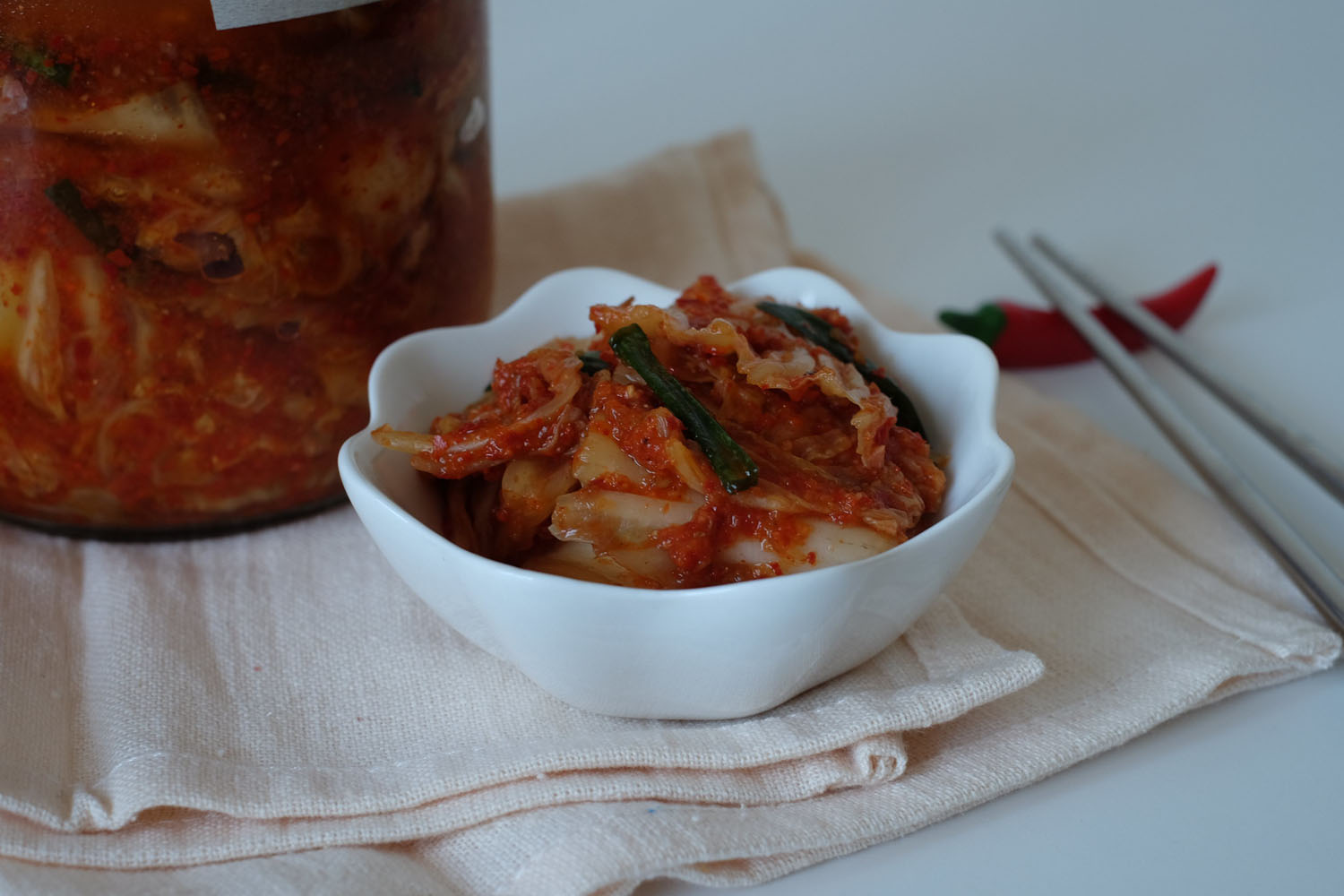 Kimchi is one of the easiest and most sustainable way to get probiotic into your body. It's not hard to make and it goes well with rice. I try to have a little kimchi everyday when I have dinner at home.
If you're looking to improve your gut bacteria, this would work for you. Try it!