When I first started my kitchen, there weren't much cooking utensils and almost none for baking. I thought that to bake, I would need fancy equipments such as a stand mixer (which I wasn't ready to invest yet). So I made jellies, mousse and Chinese sweet soup instead. I didn't think that I could bake a cake (easily) without proper tools until I found this no-bake cheesecake recipe.
You only need 30 minutes to prepare the cake. You don't need a cake mixer or an oven. Best of all, it is absolutely delicious. If you don't trust me, trust Nigella Lawson (Recipe adapted from Nigella Lawson)
---
SHORT IDEA
The whole idea of this cake is that no eggs are involved so you don't have to bake it. All you need to do is 1) Make a base using biscuits and butter  2) Make and top the base with cheese filling and 3) Spread jam over it. That's it!
---

TOOLS
Whisk (I use electric whisk)
Cake pan (20 cm)
Pestle/ rolling pin/ or anything heavy eg. bottom of a pan + ziplock bag (to crush biscuit)
Measuring cups/spoons
Wax paper
---
RECIPE CARD
Easy Blueberry Cheesecake - 30 Min + No-bake
4th March 2013
: 8 - 12
: 30 min
: Easy
Ingredients
125 g (9 pcs) Digestive biscuit
75 g Butter
300 g Cream cheese
60 g (1/2 cup) Icing sugar
1 tsp Vanilla extract
1/2 tsp Lemon juice
250 ml Double cream
Blueberry jam
Directions
Step 1

MAKE BISCUIT BASE: Crush the biscuits into crumbs. Add into softened butter. Press the mixture into a 20cm springform tin and refrigerate.

Step 2

MAKE FILLING: Beat together the cream cheese, icing sugar, vanilla extract and lemon juice in a bowl until smooth. Lightly whip the double cream, and then fold it into the cream cheese mixture. Refrigerate overnight.

Step 3

SPREAD TOPPING: When you are ready to serve the cheesecake, unmould it and spread the blueberry jam on top. 
---
TUTORIAL
STEP 1: Make biscuit base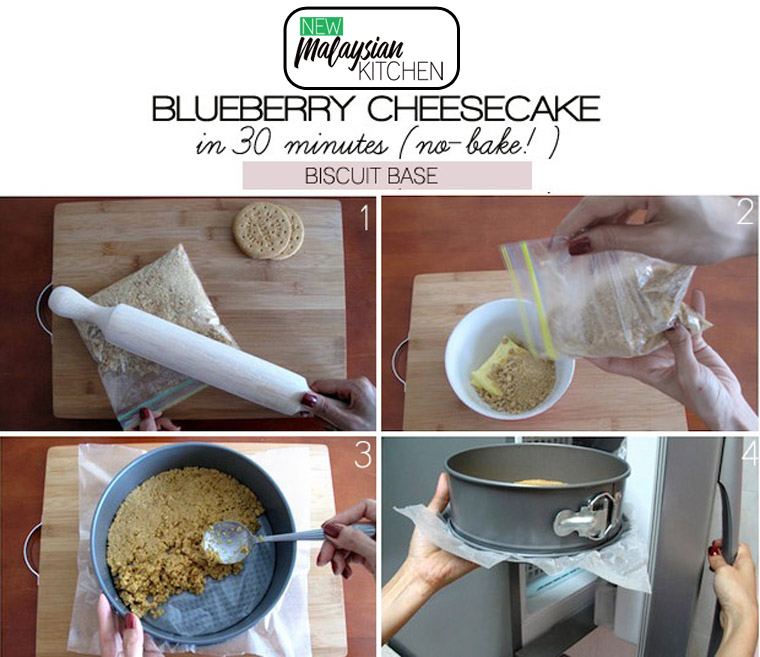 STEP 2: Make cheese filling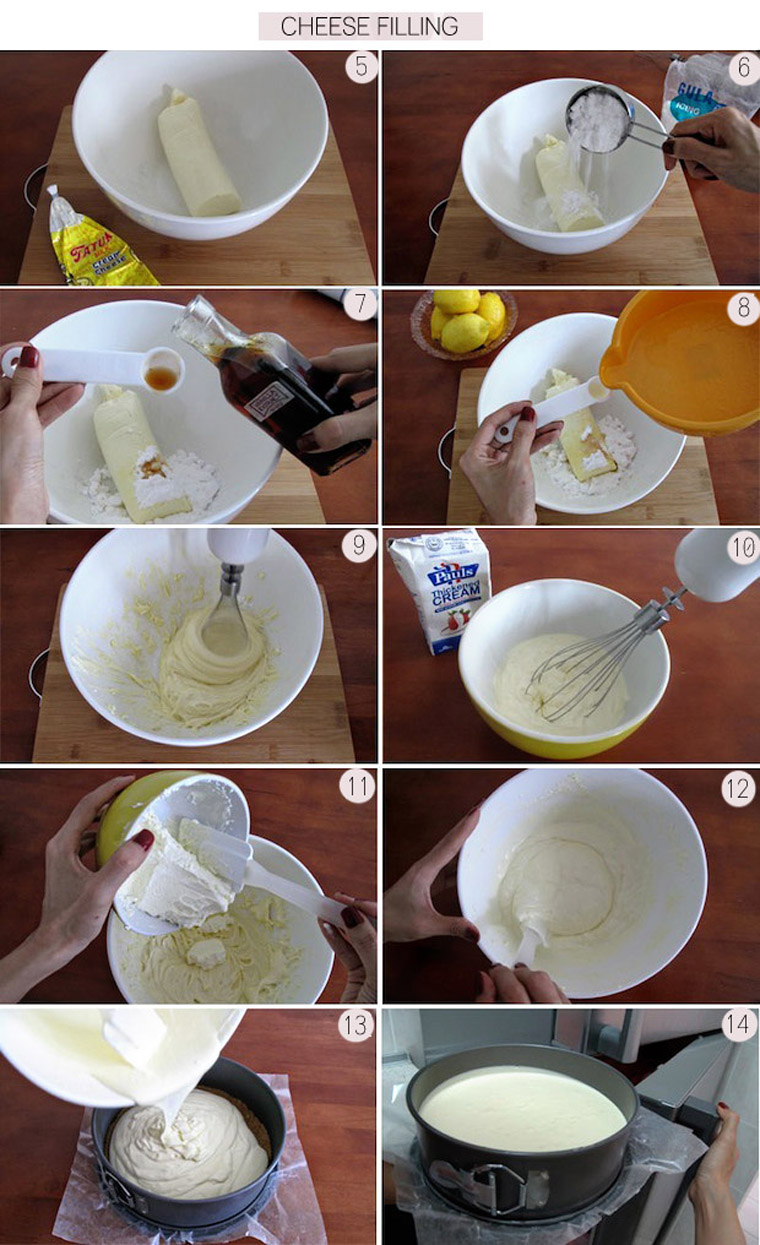 STEP 3: Spread topping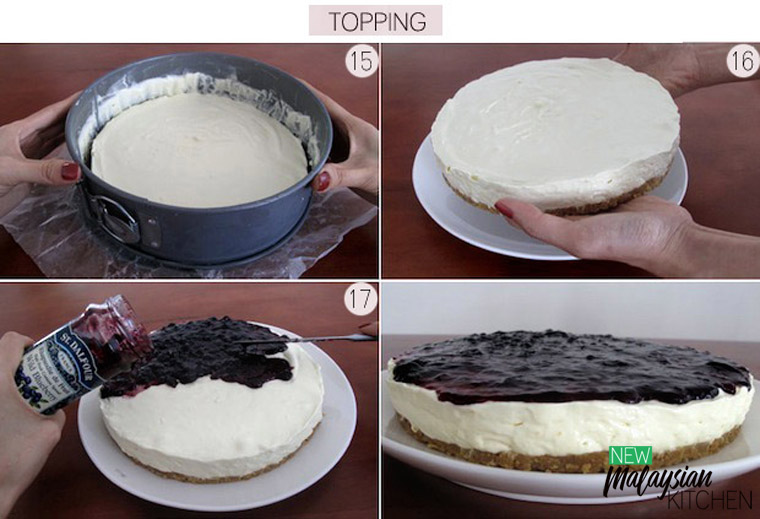 ---
SHORT RECIPE
Mix 9 pcs crushed biscuit + 75 g soften butter. Press biscuit mixture into a 20cm cake pan & refrigerate. Beat together 300 g cream cheese + 1/2 cup icing sugar + 1 tsp vanilla extract + 1/2 tsp lemon juice in a bowl until smoot..Whip 250 g double cream &  fold it into the cream cheese mixture. Refrigerate overnight. Unmould & spread the blueberry jam on top.
---

---
Isn't it a piece of cake?