Chinese New Year, to me, always involves some kind of sharks fin soup – real or imitation. My late grandmother adored decadence. Every Chinese New Year, she would have a dozen of fresh chickens from the wet market delivered to her home and spend a fortune buying Chinese delicacies like fish maw, sea cucumber and shark fin. I grew up eating shark fin soup and parts from endangered animals like rhino horn.
When I became older and realise how the food I ate came about and the impact to the world, I stop eating them completely. I remember the shock I had when read and saw how sharks are treated in The Star newspaper. Since then, I never had a bowl of shark fin; not even if it was scooped and place infront of me at Chinese wedding banquets which I often attend. I even participated in a WWF campaign called Save Our Seafood,
Nowadays, I like making imitation shark fin soup. My grand-aunt (who is a lot more practical than my late grandmother) serves it yearly. While it may not be authentic shark fin soup, all who tasted her soup loved it (but she uses MSG). Here's my simplified version using the bare minimum ingredients. It's the easiest way one can make this soup: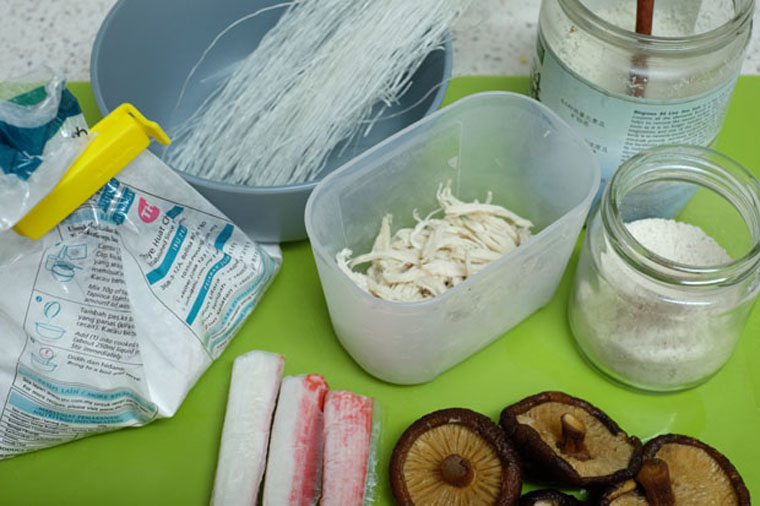 ---
TOOLS
Pot + stove + spatula
Knife + chopping board
Small bowl (to dilute corn flour)
---
RECIPE CARD
Easy Imitation Shark Fin Soup - 30 Min
2nd February 2015
: 4 - 6
: 15 min
: 15 min
: 30 min
: Easy
Ingredients
1 L Water x 1 L
4 pcs Dried shiitake mushroom, soaked and thinly sliced
1/4 cup Chicken breast, boiled and shredded thinly x 1/4 cup
40 g Glass noodles, soaked and cut into 1.5 inches
2 pcs Crab sticks, thinly shredded
1/8 tsp Dark soy sauce (optional)
Salt to taste (Suggestion: 1 tsp)
Chicken stock powder to taste (Suggestion: 1 tsp)
4 tbsp Corn flour (diluted in 4 tbsp of water)
1 Egg, lightly beaten
Black vinegar (optional)
Directions
Step 1

PREP: Boil chicken breast for about 5 minutes. Soak glass noodles and shiitake mushroom. Shred crabsticks and chicken into thin slices. Slice mushroom into thin slices. Dilute cornflour in water.

Step 2

BOLING SOUP: Bring water to boil. Add mushroom and shredded chicken. Boil for 10 minutes to allow their flavour to be extracted. Lower the heat to medium. Add glass noodles and crab sticks.

Step 3

SEASON: Season with dark soy sauce, salt and chicken stock.

Step 4

THICKEN SOUP: Pour cornflour mixture into the boiling pot of soup. Stir immediately. Add more or less to achieve the consistency you desire. Lastly, swirl egg into the pot. Stir immediately in one direction to ensure the egg forms thin, long layers.

Step 5

SERVE: Dish out into individual bowls. Serve hot with a dash of black vinegar.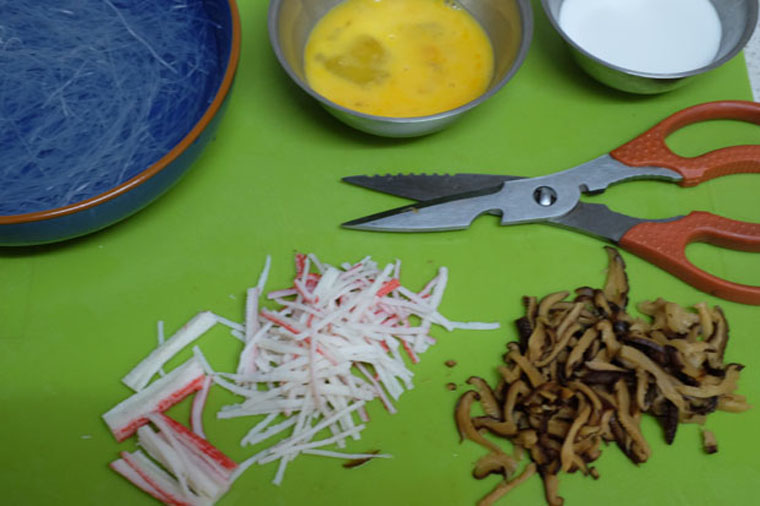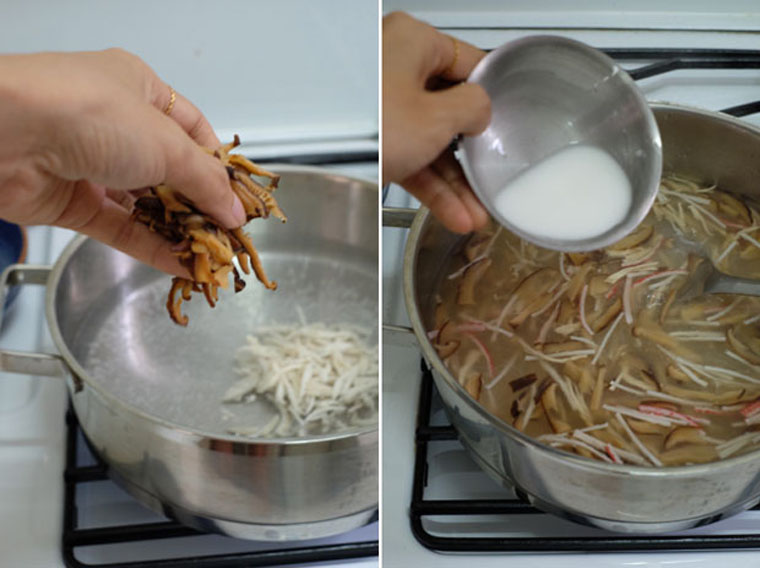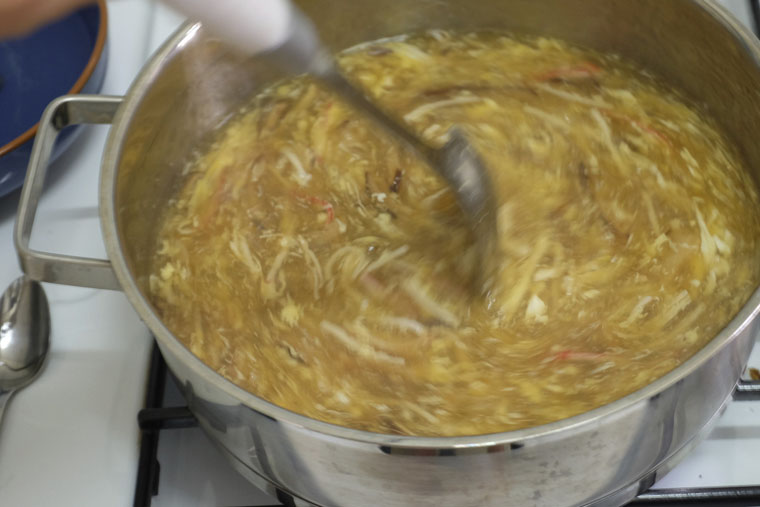 ---
SHORT RECIPE
Boil sliced mushroom & shredded chicken. Add glass noodles & crabsticks. Season with 1/8 tsp dark soy sauce + 1 tsp salt + 1 tsp chicken stock. Thicken with 4 tbsp cornflour diluted in 4 tbsp water. Pour whisked egg and stir. Serve with black vinegar.
---
COOKING TIPS
Using chicken stock to reduce cooking time If I can, I avoid using artificial flavouring in my cooking. This recipe is catered for the busy cook with little time, so I recommend chicken stock powder. I try using less of it (1 tsp). If you would like it to taste like those you have at Chinese wedding dinners, you might to put a little more.
Make chicken stock I've made this numerous time in order to look for the perfect recipe for Chinese New Year. I've tried commercial chicken stock powder and homemade slow-boiled chicken broth. If you make a flavourful chicken broth with chicken bones – you can omit using chicken cubes and it taste even better. Try my Collagen-Rich Chicken Stock recipe (without the vegetables).
Use a scissors. If you don't cook much and have little knife skills use scissors. When I first started to cook, I find it easier to cut mushroom using a scissors than slicing with a knife.
Slice thinly for smoother texture. If you want to ensure the soup feel smooth in the mouth, make sure ingredients are thinly sliced and do not put too much chicken which gives the soup a rough texture.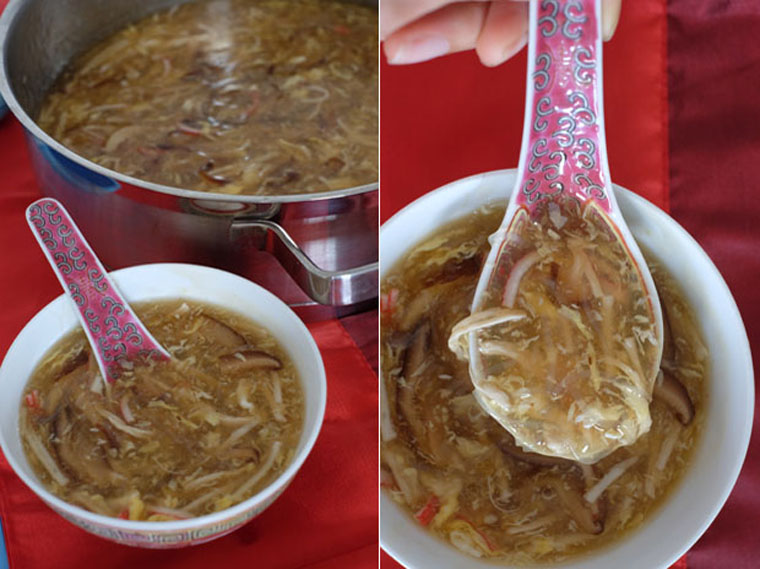 ---
Good luck!