Malaysians must be serious about their food. We put extra time and effort to cook what otherwise should be 'instant' noodles, and created the wildly popular Maggi goreng.
While sometimes I do wonder why I should order a plate of fried instant noodles, all thoughts disappear once it arrived on the table with a sunny-side-up on top. Personally, I love breaking the yolk and have it oozes out to drench the flavourful, fried noodles.
One day, I decided to make it at home and I went into a kitchen of a few mamak stalls to learn. Some stalls uses sambal, light soy sauce and curry powder and to enhance the taste. At home, I prefer to keep it less salty and add more fresh ingredients such as vegetables and tofu. I also make sure the ingredients are the bare necessary.
I swear this is the easiest 'Maggi Mee' goreng recipe you can find. You only need 5 essential ingredients: onions, tofu, vegetables, egg, and dark soy sauce.
---
RECIPE CARD
EASY MAGGI MEE GORENG
3rd May 2017
: 1
: 5 min
: 10 min
: 15 min
: Easy
Ingredients
1 Maggi noodles in packet (curry flavour)
1/4 cup Tofu
1 cup Green leafy vegetables such as sawi
1 Egg
1/2 packet Maggi curry seasoning
1/2 tbsp Dark soy sauce
½ Onion, minced
1 Lime (optional)
1 sunny side up (optional)
Directions
Step 1

TO COOK NOODLES: In a pot, bring water to boil and add in a packet of dehydrated Maggi noodle. Cook noodles until soft. It should take a few minutes. Drain the water and set aside.

Step 2

TO COOK MAGGI GORENG: In a wok, heat oil and fry onions until brown and fragrant. Add tofu and sawi to cook. Stir in cooked noodles, Maggi seasoning and dark soya sauce. Mix well with a wok spatula and stir continuously for a few minutes. Serve hot.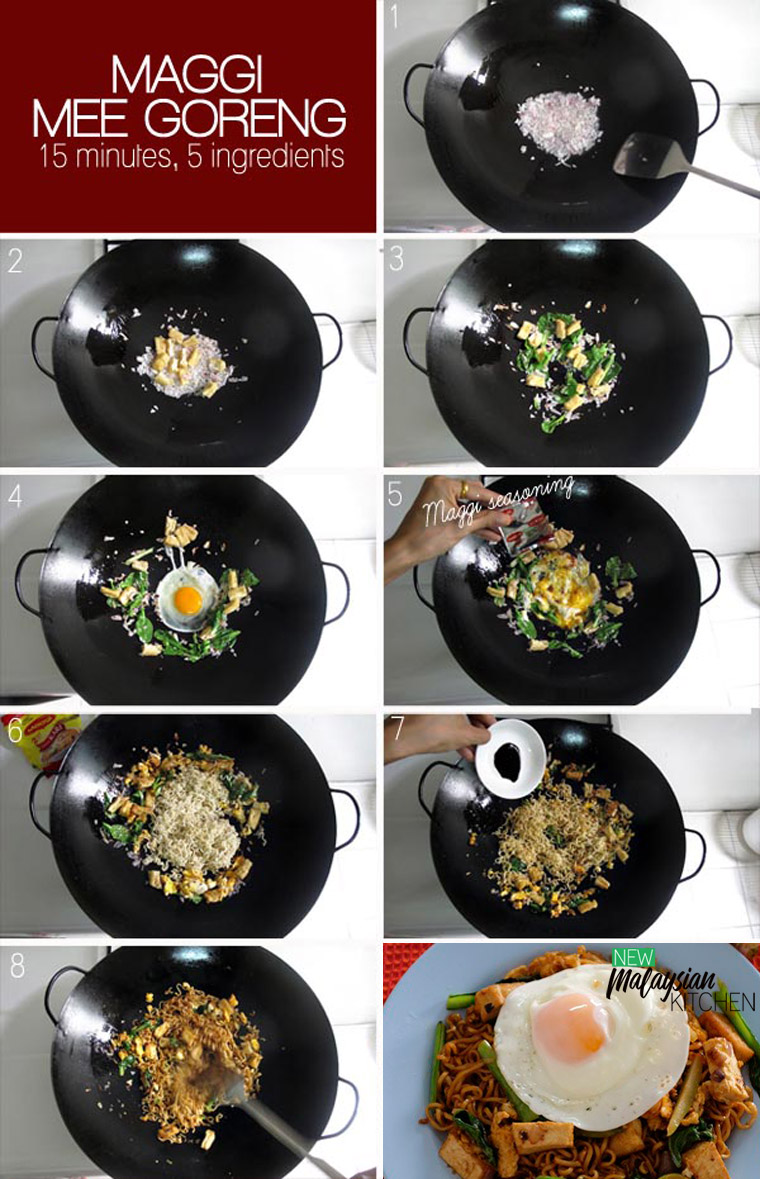 ---
SHORT RECIPE
Cook noodles and drain. Fry 1/2 minced onions. Add 1/4 cup cubed tofu and 1 cup chopped vegetables. Stir-fry. Toss in noodles + 1/2 packet Maggi curry seasonings + 1/2 tbsp dark soya sauce. Mix well. Dish out & serve hot with a squeeze of lime.
---
Enjoy!