Malaysians must be serious about their food. We put extra time and effort to cook what otherwise should be 'instant' noodles, and created the wildly popular Maggi goreng.
While sometimes I do wonder why I should order a plate of fried instant noodles, all thoughts disappear once it arrived on the table with a sunny-side-up on top. Personally, I love breaking the yolk and have it oozes out to drench the flavourful, fried noodles.

One day, I decided to make it at home and I went into a kitchen of a few mamak stalls to learn. Some stalls use chili paste, light soy sauce, and other curry powder to enhance the taste. At home, I prefer to keep it less salty and add more fresh ingredients such as vegetables and tofu.
---
5 OTHER INGREDIENTS
I promise you this is the easiest 'Maggi Mee' goreng recipe you can find.
On top of  packet of curry flavour Maggi noodles and cooking oil, you only need to prepare 5 essential ingredients: onions, tofu, vegetables, egg, and dark soy sauce.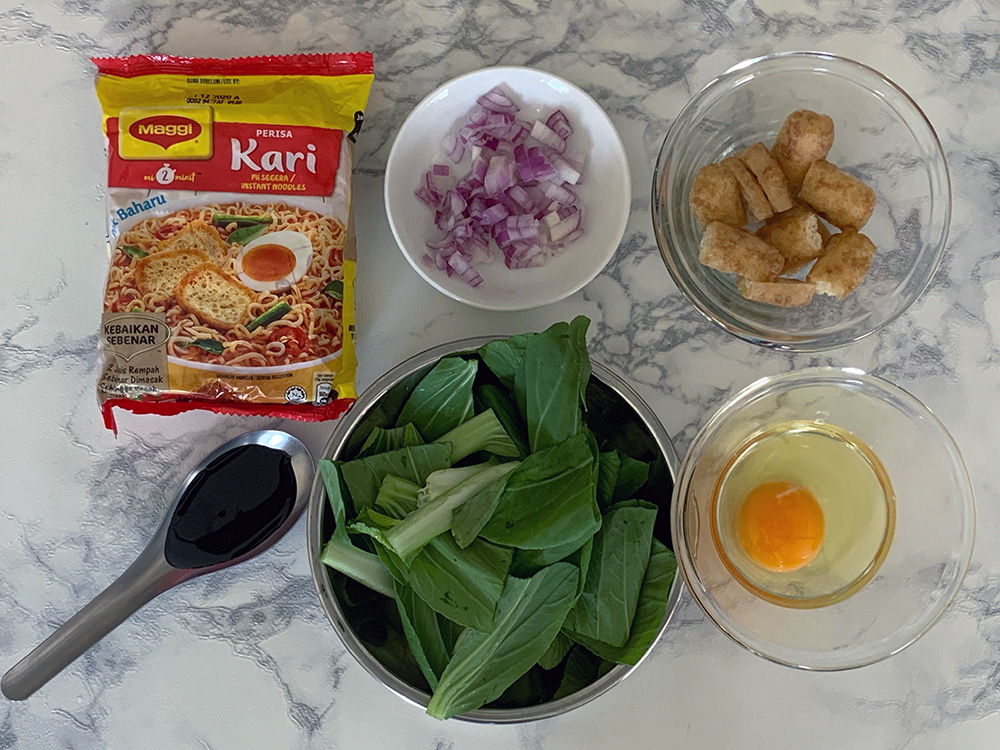 ---
RECIPE CARD
EASY MAGGI MEE GORENG
3rd May 2017
: 1
: 5 min
: 5 min
: 10 min
: Easy
Ingredients
1 Maggi noodles in packet (curry flavour)
3 fried tofu
1 cup Green leafy vegetables such as bok choy
1 Egg
1/2 packet Maggi curry seasoning
1/2 tbsp Dark soy sauce
1 shallot, cubed
1 Lime (optional)
1 sunny side up (optional)
Directions
Step 1

TO COOK NOODLES: In a pot, bring water to boil and add in a packet of dehydrated Maggi noodle. Cook noodles until it soften (30 seconds). Drain the water and set aside.

Step 2

TO COOK MAGGI GORENG: In a wok, heat oil and fry onions until it just begin to brown. Add tofu and vegetables and stir-fry until vegetables soften. Add an egg. Stir in cooked noodles, Maggi seasoning and dark soya sauce. Mix well with a wok spatula and stir continuously for a few minutes. Serve hot.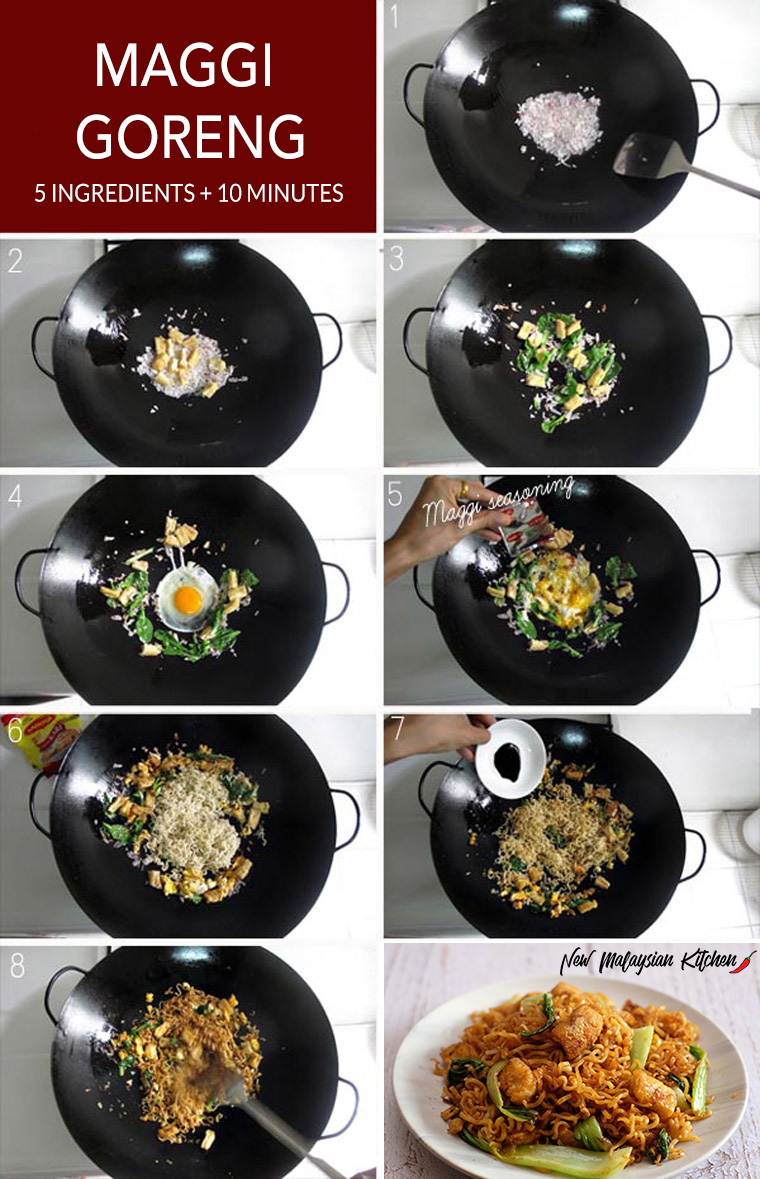 ---
SHORT RECIPE
Cook noodles and drain. Fry 1/2 minced onions in ~1 tbsp of cooking oil. Add 1/4 cup cubed tofu + 1 cup chopped vegetables + 1 egg. Stir. Toss in noodles + 1/2 packet Maggi curry seasonings + 1/2 tbsp dark soya sauce. Mix well. Dish out & serve hot with a squeeze of lime and sunny side up.
---
COOKING TIPS
FISH CAKES AS TOFU SUBSTITUTES I use tofu because unlike meat, it doesn't need defrosting and cooks quickly. So even if you're new in cooking, you are not afraid that you undercook your meat. But you can also use fishcakes.
USING CHICKEN You can use sliced chicken. Add them right after the onions.
RECOMMENDED VEGETABLES I recommend using bok choy, baby bok choy, or cabbage. Why? You can just tear them with your bare hands! No chopping board and knives needed
SQUEEZE IN LIME To make this noodle taste more balanced, squeeze in something lime. Other sour agent like lemon is good too.
USE SOY SAUCE AS A SUBSTITUTE If you don't have dark soy sauce (which function is to give colour too), you can use about 1 tsp regular light soy sauce. But the colour will be lighter.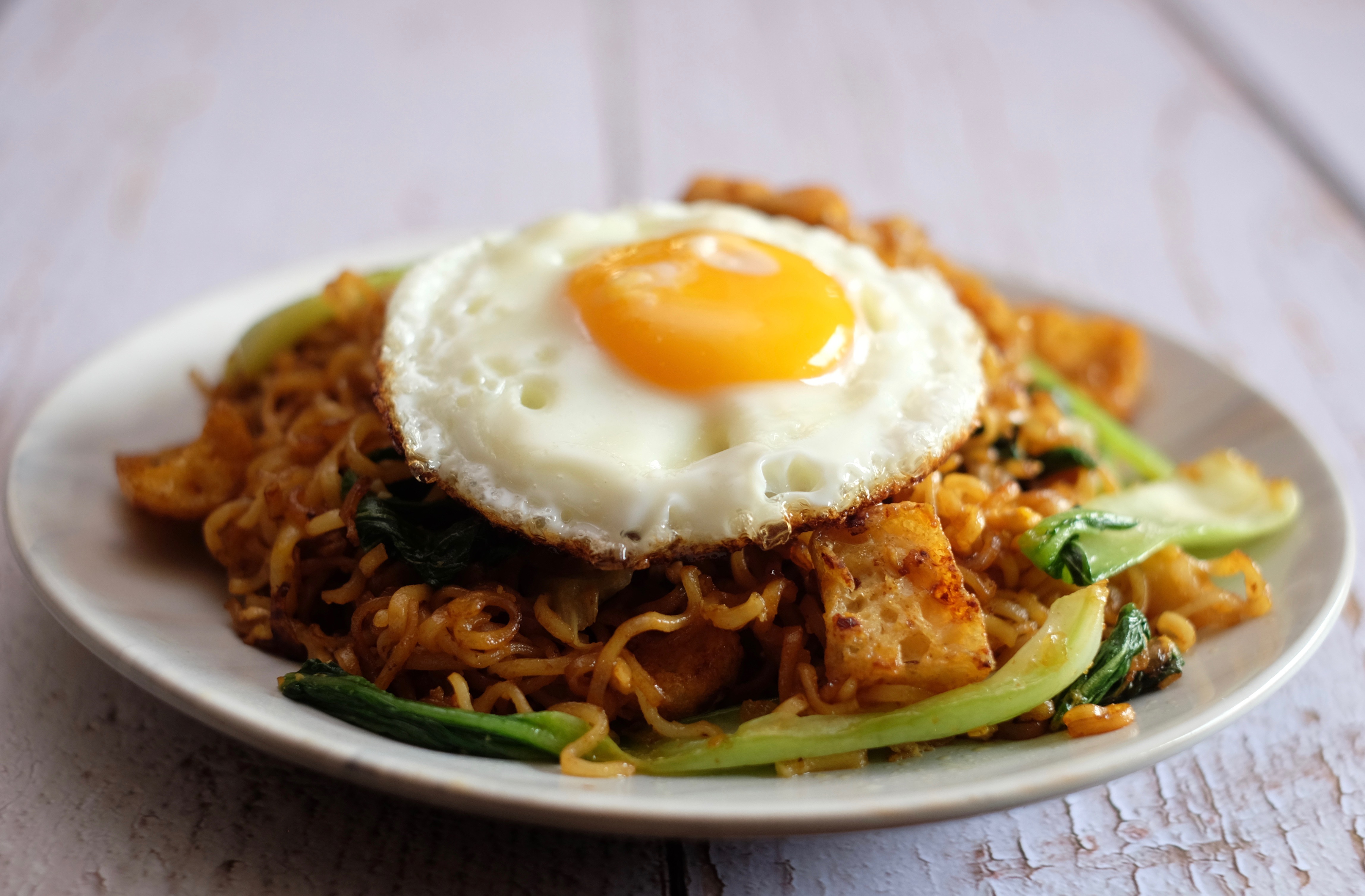 I think it's best eaten with sunny side up!
Enjoy!