Dal curry used to be just a sauce I dip roti canai in at the mamak stalls. That was until I tasted the dal curry made from scratch at home. Homemade dal taste incredibly better than those found at mamak stalls; it's thicker and richer. Now, I enjoy having the deep yellow-orange curry at home and drenched on rice. I also love this vegetarian dish due to its immense health benefits.
Dal is a Hindi word which means lentil. The yellow pulse is good source of non-animal protein and rich in iron. It is cooked with rainbow-coloured vegetables with different phytochemicals: red tomatoes, orange carrots, yellow potatoes, red and green chilis, purple brinjal and white garlic. I love that it's seasoned with turmeric, one of the most potent spice on earth. I'm amazed how all components that makes a complete meal – protein, vegetables, carbohydrate and spices – contain in this single dish!
I also like the fact that dal curry is a versatile meal. It can be eaten with rice or bread, and it is suitable to eat any time of the day. Dhal curry is the first few dishes I learned to make in an effort to eat better but with little time. During my busiest days, I will cook the flavourful curry in a big pot during the weekends and have it almost daily. To me, homemade dal and butter prata makes a satisfying meal.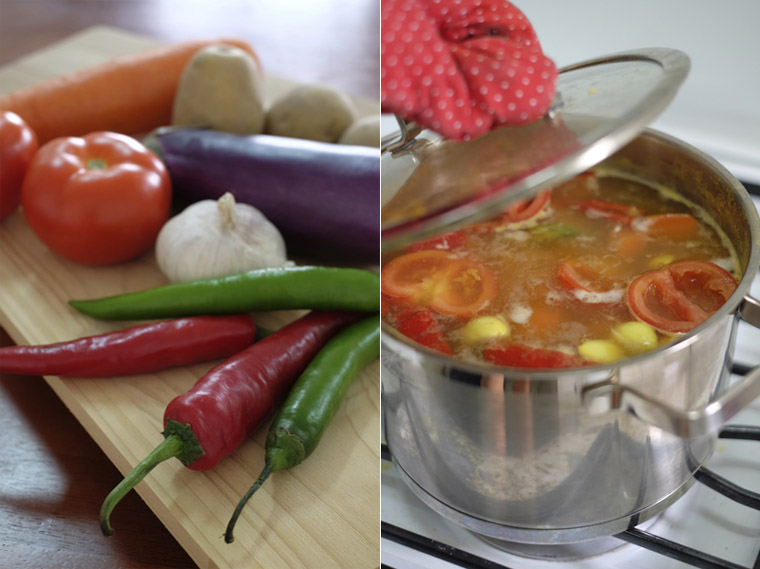 ---
COOKING TIPS
Pot/ Pressure cooker
Pan + spatula
---
RECIPE CARD
QUICK DAL CURRY
Ingredients
DAL & SPICES
350 g (1 1/2 cups) Misore Dal, soaked and wash thoroughly
1500 ml Water
1 bulb Garlic, peeled
1/2 tsp Turmeric powder
1/4 tsp Chili powder
2 Green chilli, seeded and cut lengthwise
2 Red chilli, seeded and cut lengthwise
SPICES FOR FRYING
3 tbsp Oil
1 Red onion, finely chopped
10 pieces Dried chili, cut to an inch
1/4 cup Curry leaves
2 tsp mixed fenugreek (fenugreek, fennel, mustard, cumin seeds)
VEGETABLES
1 Carrot, cut into an inch
3 Medium size potatoes, peeled and quartered
2 Tomatoes, halved
1 Brinjal, cut into an inch
OTHERS
125 ml (1/4 cup) Milk
4 tsp Salt
Directions
Step 1

TO COOK DAL: Boil soaked dhal, garlic, red chilies, green chilies, chilli and turmeric powder in a pot for 10 minutes or until lentils soften. Add in potatoes, carrots and tomatoes. On medium fire, cook for 15 minutes or until the vegetables softens. Add in brinjals and cover the pot with a lid.

Step 2

TO FRY SPICES: Meanwhile, in a pan heated with 3 tablespoon of oil, fry the spices (onions, dried chillies, curry leaves, and spice mix) until fragrant or when the onions begins to turn brown. Add the spices and milk into the pot of dhal and cook for another 5 minutes. Season with salt to taste.

Step 3

TO SERVE: Serve hot with rice, prata or capati.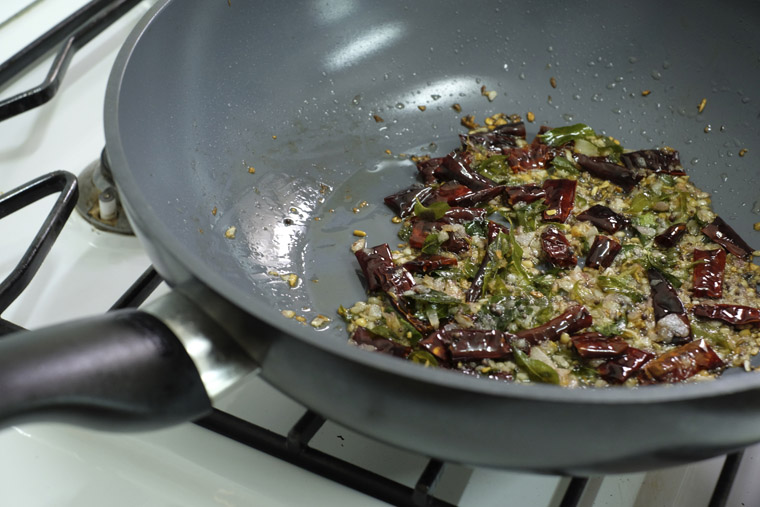 ---
SHORT RECIPE
Boil 1.5 cups dhal +1 bulb peeled garlic + 2 red chillies + 2 green chillies + turmeric powder (10 min). Add 1 carrot + 3 potatoes + 2 tomatoes. Cook for 15 min. Add brinjal & cover pot. Fry spices: 1 onion + 1o dried chili + 1/4 cup curry leaves + 2 tsp of mixed dal spices. Add spices & 1/4 cup milk into the pot of dhal. Cook 5 min. Season with salt to taste.
---
COOKING TIPS
I like to make this in a pressure cooker. It only takes 20 minutes!
There are many types of dal such as Mysore dal, Malawi dal, Chana dal and Australian dal. Pick Misore dal as they are the softest hence faster to cook.
Soak dal overnight as they cook faster.
Dal curry freezes well; the texture and taste remains the same after reheating. Cook a huge pot and divide them into small container to freeze.
Plan ahead and take defrost it in the fridge a day before to make the process quicker.
This curry is delicious with prata. Buy frozen prata from the supermarket. It'll take only about a minute or two to cook. I think it taste best cooked with butter instead of oil.
Mixed spice (fenugreek, mustard, cumin seeds, fennel) is easily available at supermarkets and small Indian grocer. If you're in the latter, ask for talipu, the Tamil name for the spice mix.
Health benefits of fennel (jintan manis) and cumin (jintan putih)Enjoy!
UPDATE:
That was the first dal curry recipe I've learned to make. I know that though it's rather simple to cooks who are used to these ingredients, it can be overwhelming to new cooks.
So I've further simplified the recipe (purist will not be happy with it). But a lot of people told me that they loved the simplicity and have started making dal more often. So do try this recipe!