In Malaysia, curry leaves are available in the gardens of many households. I live in the surburb where you can easily find this plant growing by the roadside. As my neighbour has a huge and healthy curry leaves tree (which she generously offer us to pluck anytime), we didn't have to plant any in our garden (Note: now we do have a small one that is growing well though slowly).
---
How to use in cooking
While it is primarily used in Indian cooking, this fragrant leaves is also used in certain Malay and Chinese dishes. My favourite Chinese dishes using this herb includes salted egg prawns and kam hiong crab.
Curry leaves are used fresh. Fried in oil to extract it's flavour, curry leaves give fragrance to a dish. It is normally the first ingredient used in Indian cooking. Curry leaves is fried in oil until fragrant or about 30 seconds, then cooked with ingredients like onions, dried chilli, spices, or curry paste.
It is so fragrant that if you leave it out, even the least picky eater could taste the difference.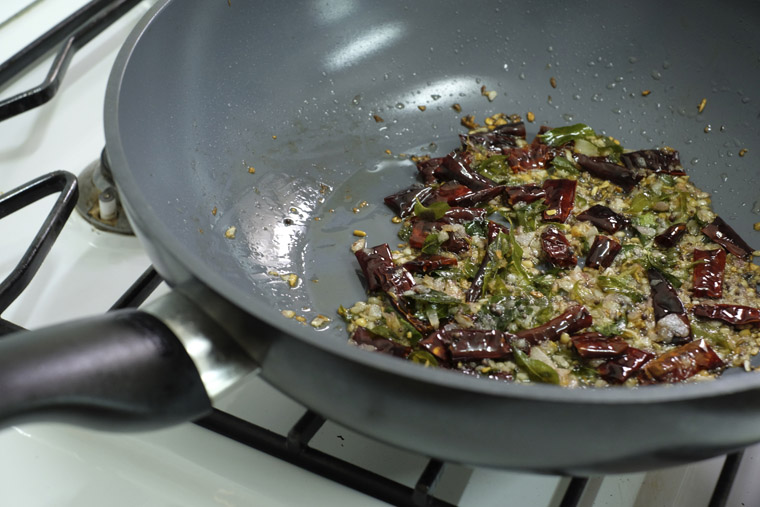 ---
How to save curry leaves? Freezing or drying curry leaves?
When I lived in an apartment with no access to freshly plucked curry leaves, I buy the from the supermarket. I normally have more than I need in a recipe and left with extra curry leaves that I don't need anytime soon. There's a few method to save them:
Dip the bottom stalk in a bottle of water. This will keep the plant alive, hence the leaves fresh.
Keep it in the fridge. You can also keep it in the fridge for a few days. I used to just chuck the curry leaves wrapped in plastic in the fridge.
Freeze You can wrap them in plastic bag tightly and freeze. However, I find that it's not as fragrant as before and may turn black from oxidation if not kept properly. If you're not particular and have a lot of curry leaves that you wouldn't be able to use for a long time, this method is acceptable.
Dry and blend the leaves into powder. Though I have not tried it, you can process fresh curry leaves into dried herbs.
"I do wash and dry them thoroughly though before I lay the leaves out to air dry on a cookie cooling rack (So that the air circulates better around the leaves). This process takes up to a weeks time. Ideally, the leaves should not blacken but become a dry-herb green. The black ones usually have no flavor. Then, I simply crush the leaves before using or just powder them in my blender before storing them in an air-tight box in the freezer. The flavour remains great. In fact, I feel, it intensifies (as with any dried herb)."  Desicook

---
Other names of Curry Leaves
English name: Curry leaves
Malay name: Daun kari
Chinese name: Gālí yè (Mandarin)/ Ka lei yip (Cantonese) 咖喱叶
Indian name:  Murraya koenigii
---
How to choose curry leaves
Just like how fruits from one tree can be sweeter than another, some curry leaves are more fragrant than others.
From curry trees
When have a choice between a few trees, pluck the leaves, tear them, smell and judge which imparts greater fragrance. Once you identify a better flavour one, go back to the same plant.
Supermarket
Unfortunately, curry leaves are normally place in a plastic packet. Just choose one that look fresh and without much black spots. Curry tree is easily infested by insects.
---
Recipes