If soup is my comfort food, curry is a treat. Soup soothes my soul but curry stirs excitement. What kind of spices is in the curry? Are there potatoes in it? Will it be too spicy? The thing with curries is that you'll never know until you take a bite.
I have long searched for a simple and satisfying curry recipe. I've tried many chicken curries – Southern Indian curry with spices like cinnamon and curry with lemongrass for example – but somehow I never make them much. Then I found this Punjabi-style chicken curry and been making it rather often.
It's the easiest chicken curry that I've cooked – so I don't feel overwhelmed with all the spices and steps. The only three spices involved are: curry powder, coriander powder, and cumin powder. Besides, the curry is much milder – not too hot or spicy. I like to enjoy my curry without hissing from (over) generous amount of chillies.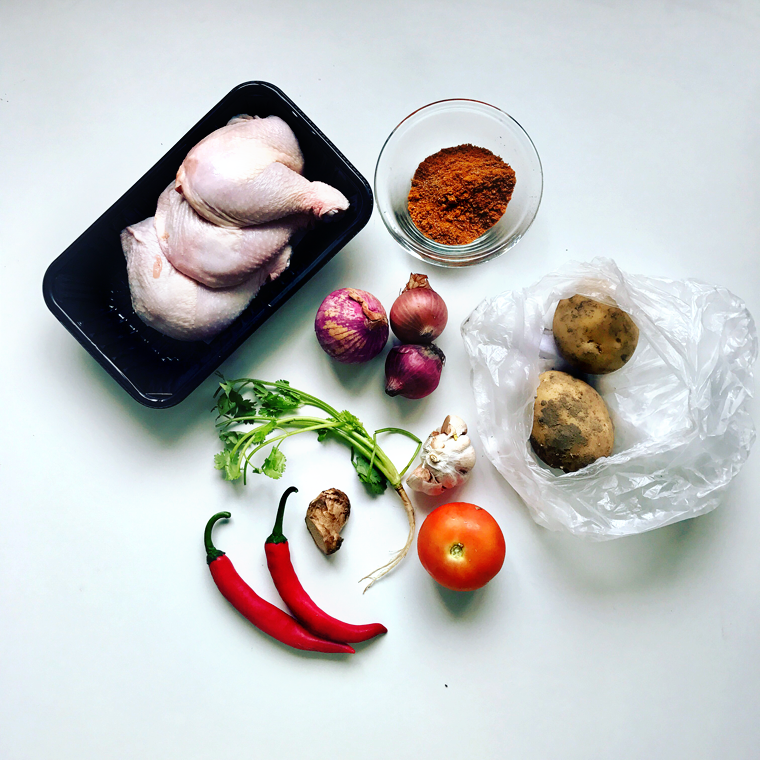 This recipe is from Aunty Gucci, a Punjabi teacher who claims that she doesn't like to cook, but makes delicious chapati and curry effortlessly. Maybe because of the fact that she doesn't like cooking complicated meals that makes her recipe so easy to follow. Instead of using coconut milk (which you can't keep for long), she uses coconut cream powder instead. How clever!
If you like to make a pot of chicken curry that is easy, not too spicy, and delicious, this recipe is for you.
---
TOOLS
Pot/Wok with lid
Blender
Chopping board + knives + peeler
---
25 minutes
---
RECIPE CARD
Easy Punjabi Chicken Curry
5th September 2017
: 10 min
: 30 min
: 40 min
: Medium
Ingredients
Curry paste
3 - 5 (150 g) red onions
10 cloves garlic
1 inch (15 g) ginger
2(40 g) red chili, large
1 sprig ( 6 g) Coriander
1 (120 g) Tomato, big
2 tbsp Curry powder
1 1/2 tbsp Coriander powder
1/2 tbsp Cumin powder


Others
1/2 cup oil
A handful of curry leaves
2 Chicken legs
2 Potatoes, large
2 cups Water
2 tbsp Coconut cream powder
Salt to taste (about 1 1/2tsp)
Directions
Step 1

PREP: Peel onions, garlic and ginger. Chop and deseed red chili. 

Step 2

BLEND CURRY PASTE: Place all vegetables and spices into the food processor. Blend until smooth. 

Step 3

COOK CURRY PASTE: Heat 1/2 cup of oil in a pan. Add curry leaves and fry until fragrant (30 sec). Add blended vegetables and spices. Cook until oil separates and float on top of the curry paste (10 – 15 min). Stir occasionally.

Step 4

BRAISE CHICKEN & POTATO: Add chicken, potatoes, and enough water to cover the chicken. Cover and cook until potatoes softens (20 minutes). 

Step 5

SEASON WITH SANTAN & SALT: Add coconut cream powder and salt into curry. Stir, cook for a few more minutes, and dish out.
---
SHORT RECIPE
Blend: 5 red onions + 10 cloves garlic + 1 inch ginger + 2 red chili + 1 sprig coriander + 1 tomato + 2 tbsp curry powder + 1.5 tbsp coriander powder + 1.5 tbsp cumin powder. Cook paste in 1/2 cup of oil for 10-15min. Add 2 chopped chicken thigh + 2 peeled potatoes + 2 cups of water. Cover and cook for 15 minutes. Flavour with 2 tbsp coconut powder + 1.5 tsp salt.
---
COOKING TIPS
Curry consistency You can adjust the consistency – wet or dry. If you like more sauce to dip with chapati or to pour over rice, then dish out before it turns dry. If you like drier curry, let more water evaporate.
Freeze and reheat I like to make them to freeze. When you want to reheat it, just add a little water and cook for about 5 to 10 minutes. You can also reheat in the microwave, but I like reheating on a small pan which I also use to serve (pictured).
Coconut cream powder. Using santan powder is so much more convenient. That's because when I open the UHT coconut milk, I'll have leftover coconut milk which I may not need yet. I think coconut cream powder is good enough for everyday meal. However, Aunty Gucci told me that coconut milk will make this dish tastes much better.
Grind your own coriander and cumin powder. I've made this dish a few times. The first time, Aunty Gucci gave me the spices she grinded. The second time, I bought it from the supermarket. Boy, I can tell the difference; the freshly grinded ones is so much more fragrant. I was told a good quality curry powder is also important. Aunty Gucci suggested Baba's brand (meat) curry powder.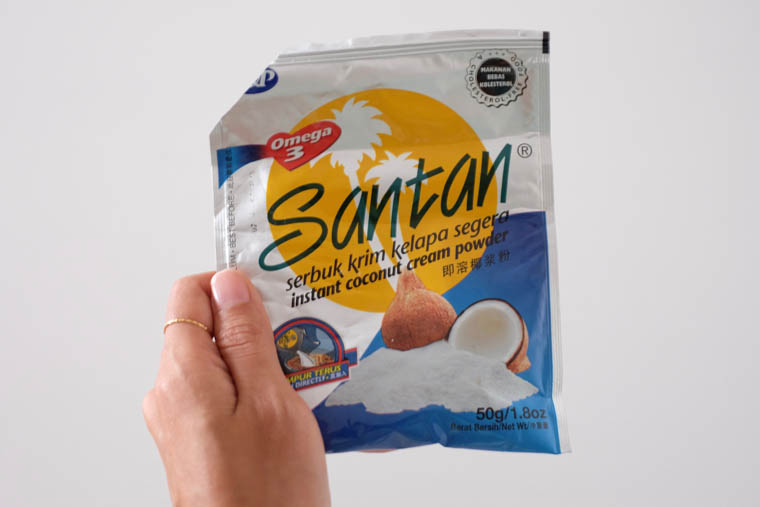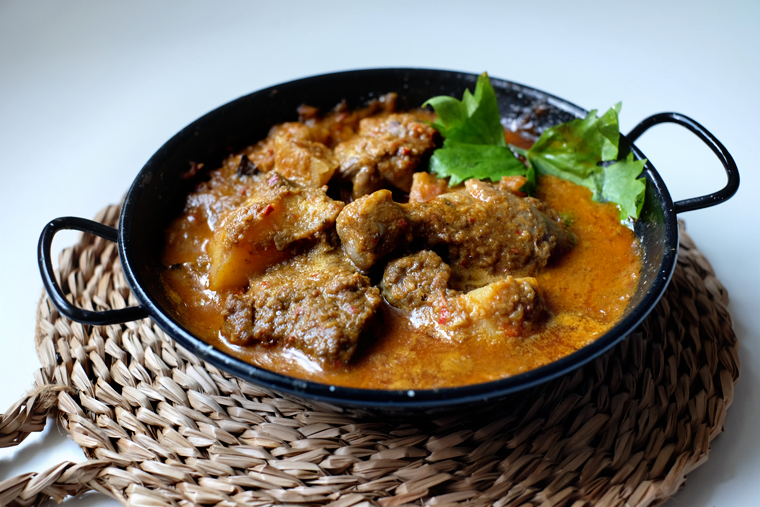 ---
Good luck!