If there's one dish that I am crazy about, it must be asam laksa. This noodle has all combination of flavours: sour, spicy, sweet, salty, and umami. The thick broth made from local spices, tamarind, and fish flakes is divine.
My love for asam laksa is beyond normal. When I was a kid, my father used to cook it during the weekend and I would have them for two days. In Penang, I always visit Kimberly Road to have asam laksa (It used to be a Joo Hooi Cafe. The asam laksa vendor moved to a new cafe on the same road). In KL, I get my asam laksa fix at Jusco's foodcourt or Ancle Peoh at Klang.
I've always wanted to learn to make authentic Penang-style asam laksa properly and did on my last trip to Penang. Pearly Kee, a nyonya cook and author, showed me how. I was surprised to find that it is so much easier than what my Mom had taught me.
The below recipe is modified from Pearly's book 'A Nyonya Inheritance' and the instructions that she gave me at her house. Penang home-cooked asam laksa is thick and flavoured with a lot of hae ko (shrimp paste). My family prefer the usual hawker-style laksa which is more soupy. So I added a little more water and top up the spices so that it won't be diluted.

---
MAKING AUTHENTIC ASAM LAKSA EASIER
Firstly, asam laksa is not an easy dish to make. Because I want to be able to make it at home more often, I was tempted to simplify the recipe. Sometimes, my quest to make cooking easier goes overboard - canned food and bottled spices.
For this dish, I have half the mind to try to replace fresh turmeric with powder and use bottled seedless tamarind paste instead. I also thought torchginger flower is not necessary.
However, this time, I've decided against extreme simplification; I'll like to make asam laksa for an enjoyable dining experience (not merely eating to keep my stomach full). So I'm not omitting any ingredients and use only fresh ingredients.
How is it easier? I optimized the steps, planned the timing so it can be done in less than an hour, buy prepared ingredients (e.g peeled pineapple and toasted belacan powder), and use a blender (I recommend using a three-in-one hand blender).
Don't be overwhelmed with the long list of ingredients. All you need to do is:
Peel the spices (Do it in a bowl of water. Its easier and the shallots is less likely to sting your eyes)
Blend spices in a blender.
Squeeze tamarind in water
Boil the broth for about 25 minutes (Simply chuck everything in!)
While broth is boiling, cook noodles and chop vegetable toppings
This is the most optimized way of making asam laksa that tastes like the real thing.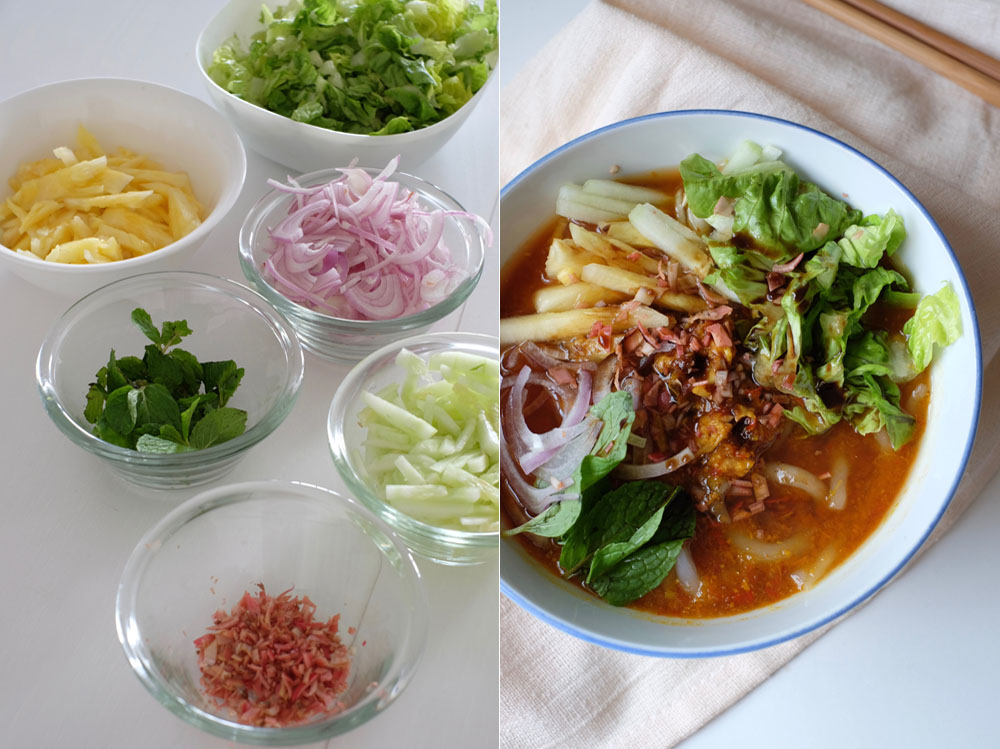 ---
TOOLS
Pot (for cooking stock)
Wok + sieve (for cooking noodles)
Chopping board + knives
Blender
---
RECIPE CARD
EASY PENANG ASAM LAKSA
27th September 2017
: 4-6
Ingredients
LAKSA PASTE
4 fresh red chili
10 dried chili
1 inch fresh turmeric
3 stalks lemongrass
2 slices (20 g) galangal
120 g large shallots
3 cloves garlic
15 g (2 tbsp) belacan powder
150 g fresh pineapple


STOCK
60 g tamarind soaked in 6 cups of water, squeezed and strained
8 stalks (30 g) of laksa leaves (kesum)
1/2 torch ginger flower
5 sardine/ mackerel/ kembong


SEASONINGS
1 - 3 tbsp sugar
2 - 3 tbsp prawn paste (hae koe)
1 tsp salt


NOODLES & VEGETABLES TOPPINGS
400 g laksa noodles, cook to softened
100 g pineapple slices, sliced and julienned
100 g cucumber, sliced and julienned
1 onion, sliced
8 stalk of mint
Lettuce
1/2 torch ginger flower, sliced finely
Directions
Step 1

PREPARE TAMARIND WATER: Squeeze tamarind in 6 cups of water. Set aside.

Step 2

PREPARE INGREDIENTS FOR LAKSA PASTE: Soak all laksa paste ingredients (except belacan and pineapple) in a large bowl of water. Remove skin of galangal, turmeric, and onions. Deseed chili.

Step 3

BLEND LAKSA PASTE: Chop laksa ingredients, add a little water, and blend laksa paste in a blender.

Step 4

BOIL STOCK: Add blended laksa paste, tamarind water, laksa leaves (tied into a knot), and torch ginger stalk. Mix well. Bring to a boil, then simmer for 20 minutes.

Step 5

COOK NOODLES & PREPARE TOPPINGS: While stock is boiling, cook noodles in boiling water. Remove with a sieve and drain. Set aside. Slice vegetables for asam laksa toppings. Place on a plate.

Step 6

SEASON: When broth is ready, remove laksa leaves. Season with sugar, salt, and prawn paste.

Step 7

COOK FISH: Add fish into boiling broth. Cover and let it cook for another 6 minutes. Turn off heat. Remove fish, debone, and put fish flakes back into the soup. Mix well.

Step 8

SERVE. Pour soup over noodles. Top with vegetables (pineapple, cucumber, lettuce, onions, mint and torch ginger). Drizzle with diluted prawn paste, if you like.
---
SHORT RECIPE
Blend laksa paste (4 fresh red chili + 10 dried chili + 1 inch fresh turmeric + 3 stalks lemongrass + 2 slices galangal + 120 g shallots + 3 cloves garlic + 2 tbsp belacan powder + 150 g fresh pineapple). Boil then simmer laksa paste, tamarind water (60 g tamarind + 6 cups water), 8 stalks laksa leaves and 1/2 torch ginger flower for 20 minutes. Remove laksa leaves. Season with 1 tbsp sugar, salt, and 2 tbsp prawn paste. Add fish to cook for another 8 mins. Debone and place fish flakes. Serve with noodles and vegetables toppings.
---

COOKING TIPS
Sieve tamarind water with your fingers When I was making this asam laksa at Pearly's class, she got the tamarind straight from a century year old tree. Not having that luxury, I use tamarind paste from a packet. You need to soak it in water and squeeze to infuse it in the water. Squeeze it continuously for a few minutes. Then, using your fingers as sieve, pour into the pot. Don't sieve it - otherwise you'll get rid of the cream and you'll have to wash another thing.
Buy organic cucumber My family normally peel the cucumber skin if its not organic. However, if peeled, the cucumber will be a little harder to slice. I prefer not to peel them for convenience and appearance (the dark green ends looks really nice in contrast to the red soup)
Buy big shallots and peel it in the water. The bigger the shallots, the less you need to peel, and the easier it is. You could also get big red onions. I peel the shallots in the water - it helps prevent tears!
Peeled pineapple. I bought peeled pineapple from the supermarket. At Jusco, it's placed in a plastic container in the fruit section.
Be generous with sugar. I always try to use very little sugar in my cooking, however asam laksa is not one of those that you can be stingy with sugar. The more sour it is, the more you have to balance the tartness with sugar. The key to a good asam laksa broth is balancing the taste.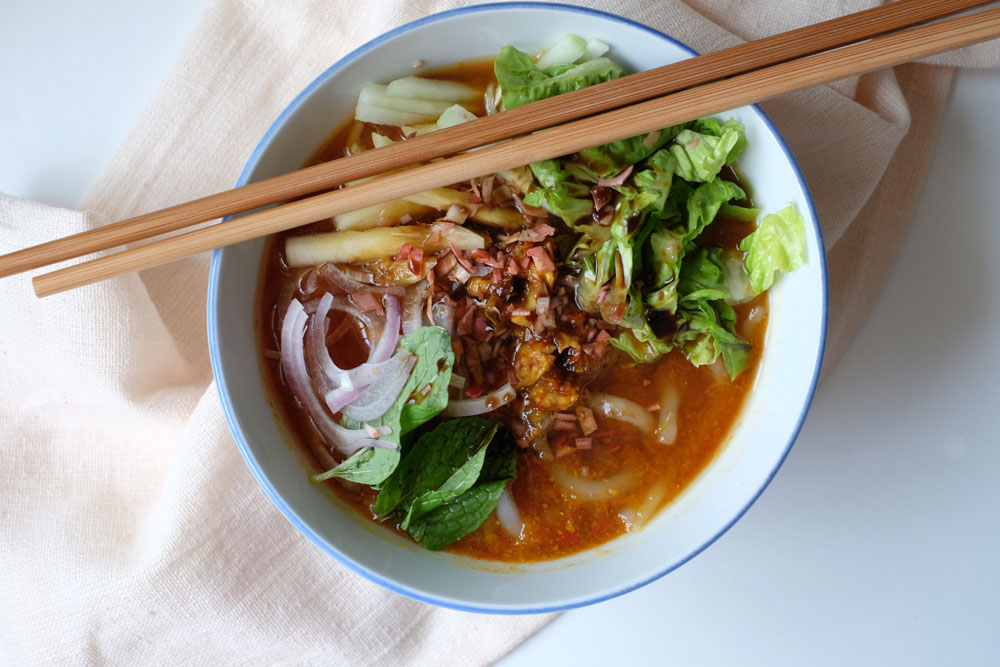 If that's too much work, check out Penang-style asam laksa restaurant in Kuala Lumpur in my Youtube video:
LIKE THIS RECIPE? GET CURATE RECIPES IN YOUR INBOX
Every month, I send write a personalised e-mail with my favourite recipes, food tips, and recent food adventures. Keep in touch with me by signing-up for my newsletter👇 OR follow me at my personal Instagram.