People often say: never trust a thin cook. Well, you can trust that a thin cook cooks food that keeps you slim. My palate naturally gravitates to light and healthier food. I'll choose asam laksa over char koay teow, and kuih bingka over pisang goreng. When I cook, I tend to cook lighter food - even if it's for others.
I was pondering what kind of dessert to make and bring to a party. Cakes? Brownies? Cookies? Somehow, I didn't feel like bringing sugar and flour-laden dessert. So I decided to make a pudding I haven't had in a while: soya milk longan pudding.
This nutritious dessert is made from plant milk (soya milk), fruit (longan) and natural flavouring (pandan). It's not too sweet and smooth like tau foo far.
I found a lot of recipes online, but didn't like any of them as the measurements and instructions are rather inconvenient. I also omitted sugar but instead rely on the sweetness from the longan syrup. This particular recipe - which I've tweaked -  is easy to follow even if you don't have proper measuring tools.
---
TOOLS
Large pot
Whisk
Can opener (to open evaporated milk)
Measuring cup
Ladle
10 containers (1 cup capacity)
---
ACTIVE TIME
20 minutes
---
RECIPE CARD
Easy Soya Milk Longan Pudding
1st August 2017
: 10 containers
: 15 min
: 25 min
: Easy
Ingredients
1 L Packet soya bean drink
3 cups (750 ml) Water
150 ml (less than 3/4 cup) Evaporated milk
1 tin (535 g) Canned longans
1 packet (10 g/ 1 tbsp) Agar-agar powder
3 pandan leaves, bruised and knotted
Directions
Step 1

PREP: Rinse pandan leaves and tie pandan leaves into a knot. To extract the most fragrance out of it, tear the leaves a little. Pour longan syrup into a bowl, and pour out 150 ml of evaporated milk into a measuring cup.

Step 2

BOIL SOYA MILK & PANDAN: Add 3 cups of water and pandan leaves into a pot. Cover with lid and bring to a boil (10 minutes). Remove pandan leaves.

Step 3

POUR IN SOYA MILK & AGAR. Pour about 900 ml of soy milk into the pot. Mix agar agar with the remaining soy milk. Mix well and pour into the pot.

Step 4

BOIL. Bring to boil (without lid or it may spill over), whisk occasionally, then turn off the heat (10 min).

Step 5

ADD EVAPORATED MILK & LONGAN SYRUP: Pour in evaporated milk and longan syrup. Mix well.

Step 6

POUR MIXTURE INTO CONTAINERS: With a ladle, pour soy mixture into plastic containers. You could also transfer it into a jug. For a smooth surface, skim off bubbles from the top. Leave it to set (2 hours).

Step 7

TOP PUDDING WITH LONGAN: When pudding is set, gently place three longans on each of them.

Step 8

REFRIGERATE: Chill in fridge before serving.
---
SHORT RECIPE
Boil 750 ml water with 3 pandan. Add 1 L of soymilk with 1 tbsp of diluted agar powder. Bring to boil. Add 150 evaporated milk + longan syrup from can. Pour into 10 containers. Let it set for 2 hrs. Top with longan. Chill in fridge.
---
COOKING TIPS
Skim off bubbles For smooth surface, skim off all bubbles. Whatever bubbles that you see, will remain after the pudding is set.
Use a jug. If you're pouring the mixture into a small container, its best to to transfer the mixture from the pot into a jug. The pour makes pouring so much easier to handle.
Additional sugar. Taste the final mixture; if its not sweet enough for your taste, add some granulated sugar.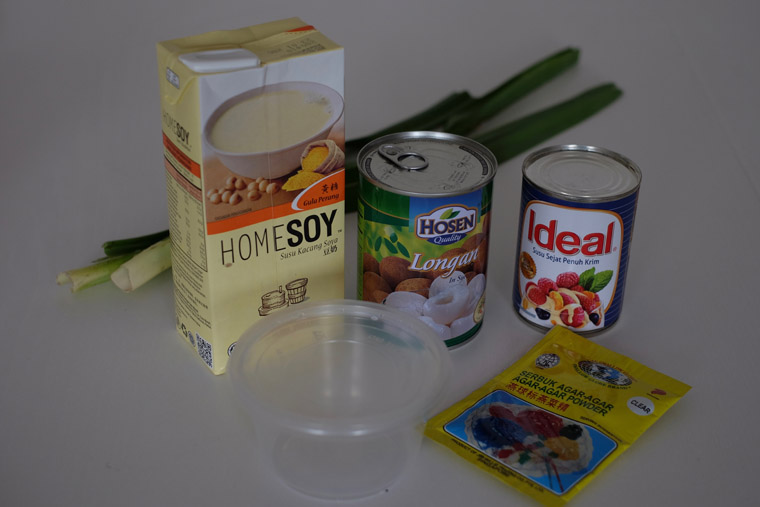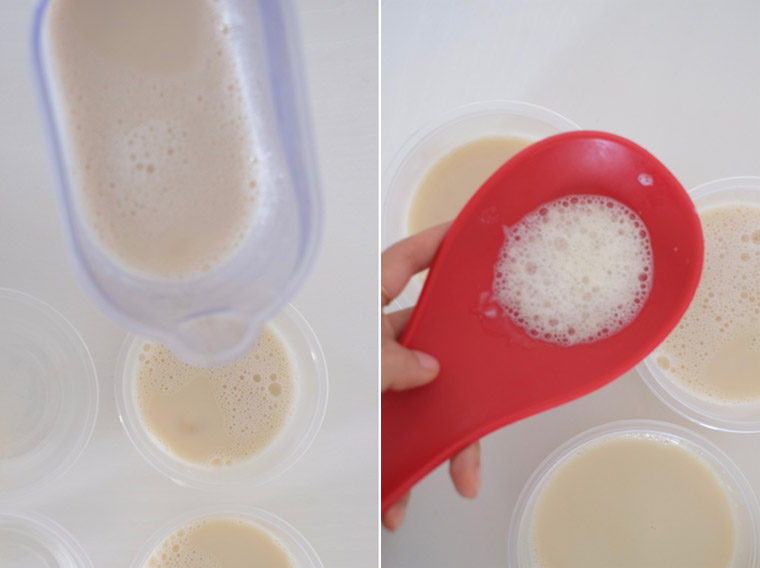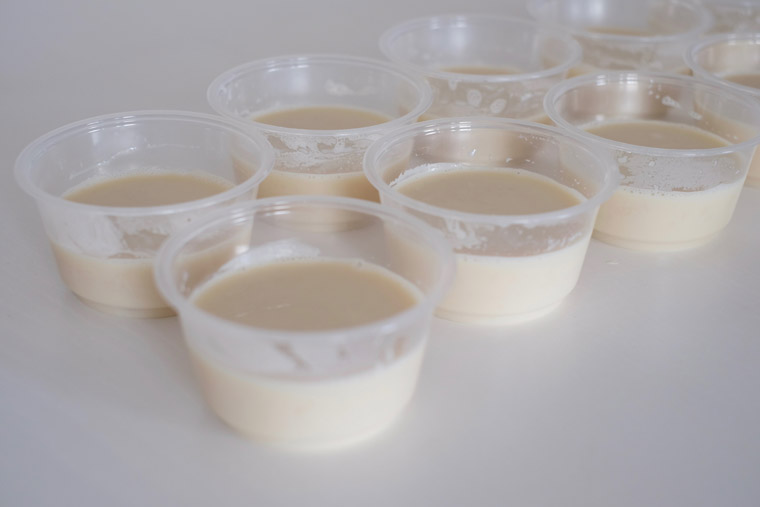 ---
Enjoy!
LIKE THIS RECIPE? GET CURATE RECIPES IN YOUR INBOX
Every month, I send write a personalised e-mail with my favourite recipes, food tips, and recent food adventures. Keep in touch with me by signing-up for my newsletter👇 OR follow me at my personal Instagram.