Do you know the sour, spicy, and rather pungent soup served in small metal bowl when you have banana leaf rice? It's called rasam. It wasn't love at first taste. I didn't learn to like it until a few years back. The spice can be a little too much to handle.
But then, what we taste at restaurants is normally very different from what's at home. I didn't know dhal curry is not supposed to be watery and bare, but thick, flavourful, and filled with vegetables. So is rasam. Homemade rasam is thicker and so much more pleasant with a more rounded flavour.
Aunty Clara who grew up drinking rasam taught me a simple recipe. She called it 'Indian soup' and explained to me many Indians drink it everyday. She had a colleague who bring a bottle of rasam to work everyday.
I was so intrigued when she started plucking curry leaves from her garden, squeezing juice out of tamarind, chopping onions, and taking out spices like cumin and mixed fenugreek from her spice drawer. She said "You don't need to peel the garlic. We blend it with the peel".
When asked why, she said it's the way that she had been taught. She also said that her grandmother make her stand by the pot of rasam when it cooks. "Make sure not to boil the rasam. Otherwise it'll be bitter" she advised.
The homemade rasam was sublime. When she served homemade rasam with chicken curry, I ate more than expected. Aunty Clara said "Yes, rasam is an appetiser!". She poured it over ponni rice and drank it throughout the meal. She said that Indian family makes a big pot of rasam and keep it in the earthen pot for days. "It won't go bad!" she assured me

BENEFITS OF RASAM
I begin to form a theory in my mind: rasam is the secret to Indian youthful look. Indians rarely have wrinkles! Spices are rich with antioxidant and cumin is the top 20 spices with the highest ORAC value (a measure of antioxidant capacity in food). Antioxidant does have preservation properties. I wonder if that's why it wouldn't spoil (for up to a few days) even if it's not kept in the fridge?
I came home and make some for myself I've been drinking so much rasam. Especially since it's kept in a pot, I just scoop into a small bowl and drink whenever I like. So I told Aunty Clara and she warned me "Don't drink too much or you'll always need to go the toilet!".
Then I realise that my bowel movement had been rather smooth for the past days that I've been drinking rasam. When I went to Nepal, and was eating food with spices, there was no constipation problem. Well, looks like I found a delicious and natural laxative
---
---
TOOLS
Pot
Blender/pestle and mortar
Mixing bowl x 2
Sieve
---
RECIPE CARD
Easy Malaysian Rasam (Indian Soup)
3rd January 2018
: 1 L
: 15 min
: 10 min
: 25 min
: Easy
Ingredients
Spice paste to blend:
1/2 tbsp cumin (jintan putih)
1/2 tbsp black pepper seeds
1 (70 g) red onion, big
1 (120 g) tomato, large
5 cloves (20g) garlic (peel intact)
1/2 cup of water

For tamarind juice:
1/2 cup (80g) tamarind (asam jawa)
3 1/2 cups of water

Spices for frying:
3 pcs dried red chili, deseeded
15 pcs of curry leaves
1 tsp mixed fenugreek (talipu)

Others:
Salt to taste (Suggestion: 1/2 tsp of fine sea salt)
Directions
Step 1

PREP: Peel onion. Chop tomato and onions into quarter.

Step 2

BLEND SPICE PASTE: In an electric blender, process tomato, cumin and black pepper seeds until fine. Add onion and garlic. Blend until a smooth paste is formed.

Step 3

MAKE TAMARIND JUICE: In a large bowl, pour 3 1/2 cups of water into 1 cup of tamarind. Squeeze the tamarind until all fibres dissolved into the water, making it brown. Pour tamarind through a sieve into another large bowl to remove its seeds.

Step 4

FRY SPICES: In a large pot, heat up 1 tbsp of oil. Fry dried chili, curry leaves, and mixed fenugreek until fragrant. 

Step 5

BOIL: Pour in spice paste, tamarind juice, and salt into the pot to cook. Cook on high heat. DO NOT LET IT BOIL. Turn off the fire at the first sign of bubbling. Otherwise, rasam will taste bitter. 

Step 6

SEASON & SERVE: Season with more salt if necessary.
---
STEP-BY-STEP TUTORIAL
STEP 1: Chop ingredients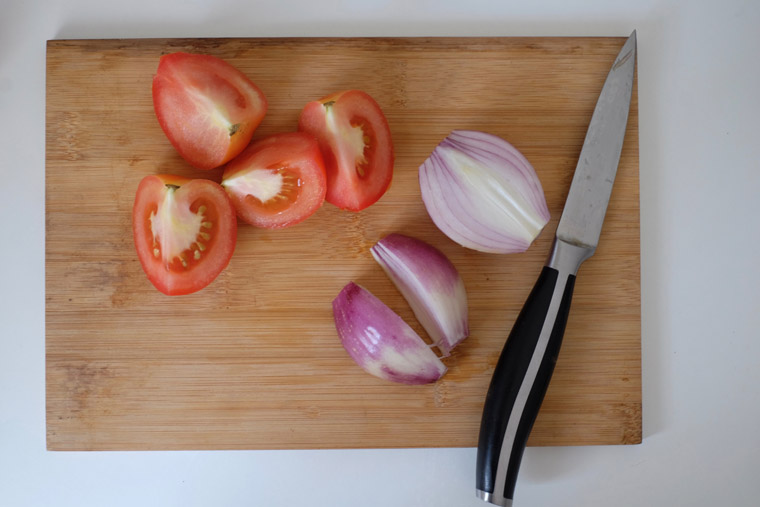 STEP 2: Blend spices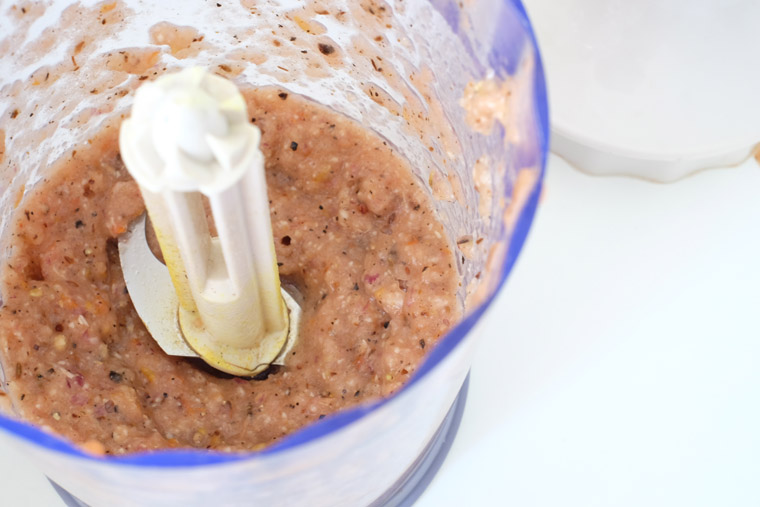 STEP 3: Make tamarind juice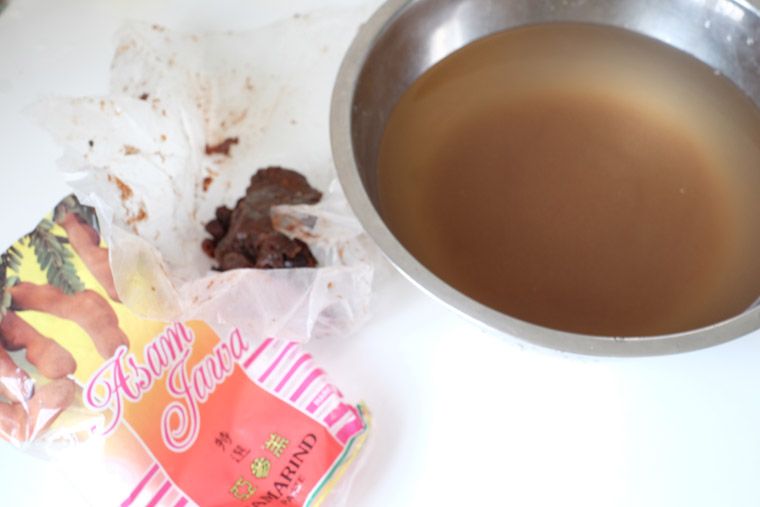 STEP 4: Fry spices
STEP 5: Cook spice paste and tamarind juice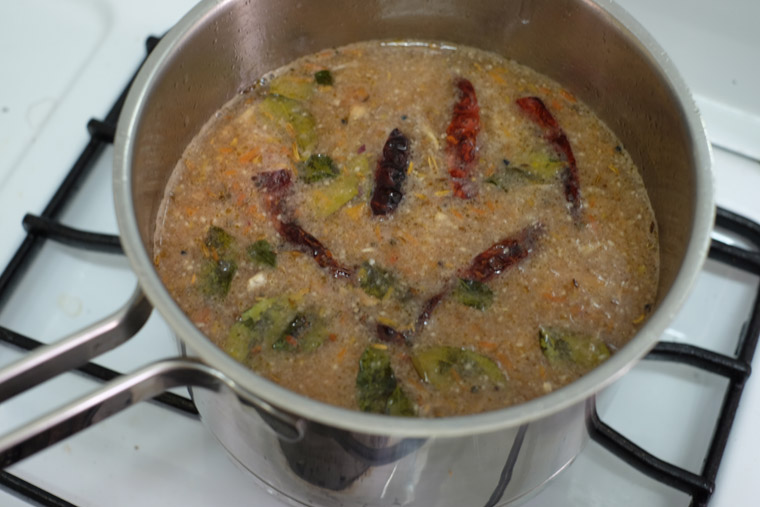 STEP 6: Season & Serve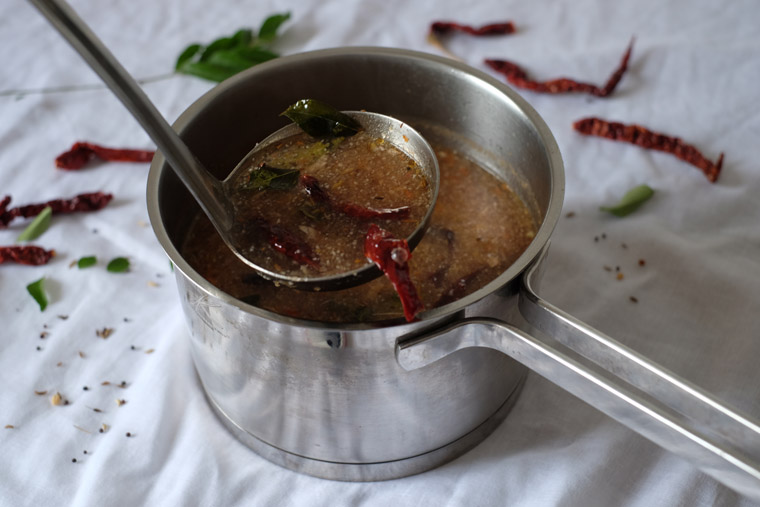 ---
SHORT RECIPE
Blend 1/2 tbsp cumin + 1/2 tbsp black pepper seeds + 1 red onion + 1 tomato + 5 cloves of garlic + 1/2 cup of water. Extract 1/2 cup of tamarind in 3.5 cups of water, sieve. Fry 3 dried chili + 15 curry leaves + 1 tsp mixed fenugreek in a pot. Pour in tamarind juice + spice paste + salt. Turn on high heat. Turn off fire as soon as it bubbles.
---
COOKING TIPS
Mixed fenugreek spice is a pre-packed spice which contains fenugreek, urad dal, fennel, mustard, and cumin seeds. It's commonly found in Indian mini grocer and supermarkets.
Sieve using your hands If you don't have a sieve, use your fingers to trap the tamarind seeds.
Add coriander. For an extra zing, add chopped onions before putting it to cook. I was told that it's a common but optional ingredient in rasam.
---
BEST PAIRED WITH:
---