This miso soup is without tofu or spring onions – two fresh ingredients that I don't always have at home. It's made with three basic ingredients – homemade dashi stock, miso paste and wakame. You could use dashi granules, but I always like to make my own stock.
Understandably, in a typical Malaysian kitchen, we may not have dashi stock. But its really easy and convenient to make – you only need to boil kelp and bonito flakes, and both are dried ingredients that have long shelf life. I always make a huge batch ahead and keep it in the fridge.
---
MUST-HAVE INGREDIENTS FOR MISO SOUP
To have miso soup at home easily, just keep these in the kitchen:
kelp
bonito flakes
wakame
miso paste
First you need to make dashi stock with kelp and bonito flakes (find out how to make dashi stock here.) Then, its a matter of adding miso and soaked wakame into the stock. If you have other ingredients like tofu, radish, or spring onions; you could add it into your soup. You could also get pre-made stock off the shelf (though I don't).
This is how I usually make my miso soup:
---
TOOLS
Pot
Bowl (to soak wakame)
Spoon
---
5 minutes
---
RECIPE CARD
Easy Miso Soup - 3 Ingredients
Ingredients
1 cup (250 ml) dashi stock
3/4 - 1 tbsp miso paste
1 tsp dried wakame
Directions
Step 1

SOAK WAKAME: Soak dried wakame for 5 minutes. It will expand.

Step 2

SIMMER DASHI: Pour homemade dashi into the pot. Turn on medium heat and simmer until its hot. Turn off the heat.

Step 3

DISSOLVE MISO: Add 1 tbsp of miso into the pot. Alternatively, for a smoother texture, put miso in a bowl and add a tablespoon of dashi. Mix well before pouring into the pot of dashi.

Step 4

ADD WAKAME: Add soaked wakame and serve.
---
SHORT RECIPE
Heat 1 cup of dashi stock. Dissolve 1 tbsp of miso paste into stock. Add soaked wakame.
---
COOKING TIPS
Soaking wakame is optional At a cooking class in Tokyo, I asked why we must soak the wakame. I normally just chuck the dried seaweed in. My cooking instructor told me she does the same at home. Soaking wakame in cold water just gives it a better colour.
Get store-bought dashi stock. When I was staying with my host family in Japan, I see that they keep bottled dashi stock in the fridge. If you can't make your own dashi stock, you can try those. However, it is not commonly found in Malaysia. I only found one 'Ninben Shiro Dashi' at Happy Fresh, an online grocer. It cost about RM 24 per 500 ml.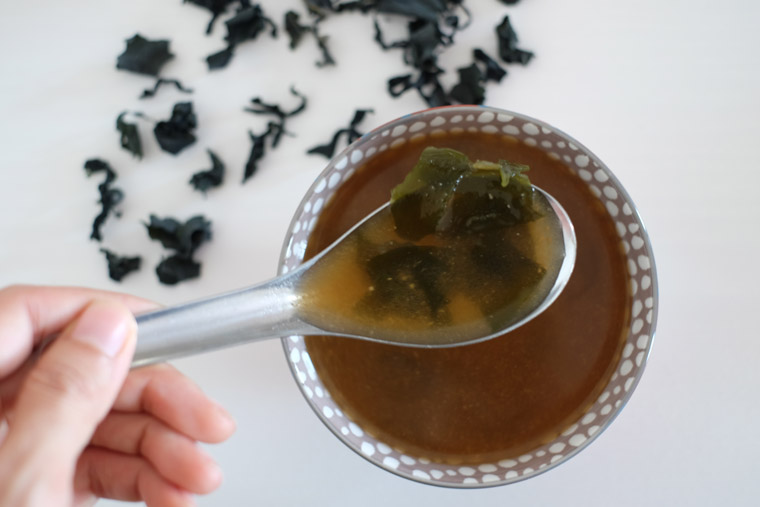 ---
Enjoy!