Japanese cuisine has a special place in my heart. At sixteen, I went on a student exchange programme to a little town in Ishikawa called Komatsu (小松市). Then, the ignorant teenager that I was thought the Japanese only raw food like sushi and sashimi, both which I didn't learn to love yet.
But my host mother I fondly call Okaasan made really delicious home cooked Japanese food. Since then, my love affair with Japanese food and its culture began, and strengthened after I visited my host family again recently.
I stayed in a traditional Japanese house with sliding doors and carpeted with tatami mat. It's right next to the family temple as my host father (Otoosan) is a buddhist priest. Every morning at 4 am, Otoosan, who is now a grandfather of five, would drive to work on his farm just a few minutes away. Okaasan would make breakfast, and it always comes with a bowl of miso soup.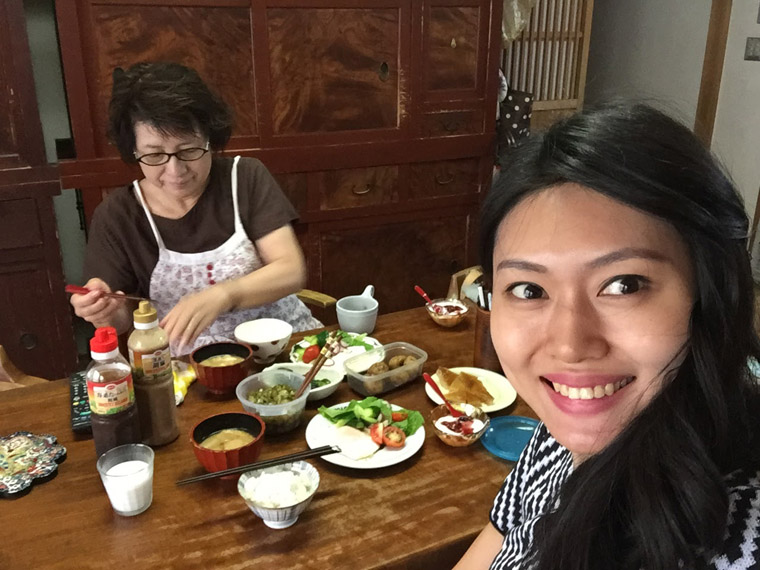 Miso soup, I've learned, must be made with dashi stock. In fact, it's a base for noodles like soba, and many other Japanese snacks such as dashimaki (sweet omelette) and takoyaki (Octopus balls). If you want to learn to make good Japanese food, first and foremost, you must learn how to make a good dashi.
This recipe is not a shortcut. It's one which method help extract the most umami out of the kelp and bonito flakes.
---
TOOLS
Saucepan/ pot
Scissors (to cut kombu, or kelp)
Chopsticks
Sieve
---
5 minutes
---
RECIPE CARD
Japanese Fish Stock (Dashi with Kombu & Bonito Flakes)
4th July 2017
: 1L
: 40 min
Ingredients
1 palm-size (6 g) Kombu (dried kelp)
1/2 cup (6 g) Bonito flakes
1 L of water
Directions
Step 1

PREP: Cut about 2 palm-size kombu. Wipe it clean with a wet towel. Do not rinse it as it will remove its umami flavour.

Step 2

SOAK KOMBU: Fill in 1 L of water in a large sauce pan. Add kombu. Let it soak for 20 minutes.

Step 3

BOIL KOMBU: Turn on medium low heat, and heat until small bubbles begins to appear (10 minutes). If you have time, let it simmer for an hour to extract the most umami flavour.

Step 4

REMOVE KOMBU: Before the water start shimmering (about 70°C), remove the kombu and turn on heat to high to bring to a boil (3 min).

Step 5

BOIL & ADD BONITO FLAKES: Once the water boils, add dried bonito flakes. When the bonito flakes float, push them down with a pair of chopsticks, and turn off the heat. Let the dried bonito sinks to the bottom of the pot.

Step 6

STRAIN: Strain the broth through a fine mesh strainer. Do not squeeze the bonito, otherwise it'll have an off flavour. Then set aside.

Step 7

STORE: Dashi can be stored up to a week in the refrigerator.
---
SHORT RECIPE
Let kombu sit in 1L pot of water (20 min). Turn on low heat until bubbles appear (10 min). Remove kombu. Boil. Add bonito flakes & turn off heat when it floats. Strain & store.
---
COOKING TIPS
Add more kelp and kombu. You can add more kombu and bonito flakes for an even more concentrated stock (Suggestion: 10 g dried kombu and 20 g dried bonito flakes). However, for an everyday and budget-friendly meal, the above measurement is good enough. That is especially since we preserve and extract the most umami flavour out of our ingredients.
How extract the most umami flavour? Cut the kombu into smaller pieces. Then, let it sit in the water (which we will use to cook) for 20 minutes before heating it. You can also simmer kombu for an hour (instead of 10 minutes).
Storage. You can keep it up to a week.
Keep dashi stock for making other Japanese dishes. Dashi stock is integral in Japanese cooking; it's a base for many Japanese dishes. On top of making miso soup, it can also be used to make chawanmushi and Japanese Spinach Salad.
---
Enjoy!