Image credit: Sammie Tan of Grey Rabbit Studio
A comfort soup with 'cooling' properties, perfect for the hot weather. Slow cooking this soup will soften the mature melon, and extract the maximum umami flavour from the dried seafood, and the natural sweetness of the dates. The result is a concentrated and delicious soup.
This Chinese soup is one of my favourite, and featured in my cookbook, 'One Pot Wonders'. I make it so often that I didn't have a recipe for this before writing this book. Much to my horror, when someone asked me how to boil this Chinese soup, like my mother, I said "Just chuck everything in and boil! So easy!"
Then I remembered, once upon a time, I can't even fry an egg. When I started cooking, I told myself I'll never assume that everyone can cook; giving precise measurement and detailed instructions is very important. So I'm really glad to have a reason to test this soup again and again, and record everything to the tiniest detail.
Normally when I slow boil this soup at home, I'm not too concern about the outcome. I'll use whatever ingredients I have. No chicken feet? It's ok. Ahh, I've got some extra yu zhu (solomon seal); chuck it in! So results varies (though it is always nutritious).
But writing a recipe that people will follow is an entirely different ball game. I think I've boiled it almost everyday for the entire week in the Philips All-In-One Cooker. My goal was to achieve the perfect blend of umami flavour and sweetness from the ingredients itself – I didn't want to rely on flavourings like chicken stock powder. So I added just the right mix of bones, meat, dates and dried seafood.
I also wanted a soup that gels from concentrated collagen content from the bones; so chicken feet is added and I slow boiled it for for hours. Now you know why you pay for cookbooks – recipes are given much thought, then tried and tested! The results? An absolutely delicious soup that tastes good even without much salt.
---
TOOLS
Slow cooker/ Instapot
Sieve (to skim off fats and impurities) – optional
---
10 minutes
---
RECIPE CARD
OLD CUCUMBER SOUP (LOU WONG KUA TONG/ 老黃瓜湯)
27th June 2017
: 4-6
: 10 min
: 4 hr
: Easy
Ingredients
700 g cucumber, scrubbed, deseeded and chopped into large chunks
600 g chicken bones and meat (1 carcass, 2 feet, 1 skinless breast), cleaned, blanched and rinsed to remove scum
30 g (10 pcs) red dates, sliced into half
20 g (1 pc) Chinese honey date
15 g (1 pcs) dried cuttlefish, wiped and cut into large slices
20 g (3 pcs) dried scallops
20 g (3 pcs) dried oysters
1500 ml (6 cups) water
Salt, to taste
Directions
Step 1

PREPARE INGREDIENTS: Blanch chicken in a pot of hot water. Wash old cucumber, chop length-wise, remove the seeds with a spoon, and chop into large 2 inches chunks. Rinse dates, scallops and oyster. Slice red dates into half. Wipe cuttlefish with a piece of clean cloth, and cut into large slices

Step 2

SLOW BOIL: Place all the ingredients into a slow-cooker.Simmer for 4 hours, or until melon softens and broth tasty.

Step 3

SKIM & SEASON: Skim off fats or scum, if any. Season with salt. Mix well.

Step 4

SERVE: Dish out and serve with hot rice.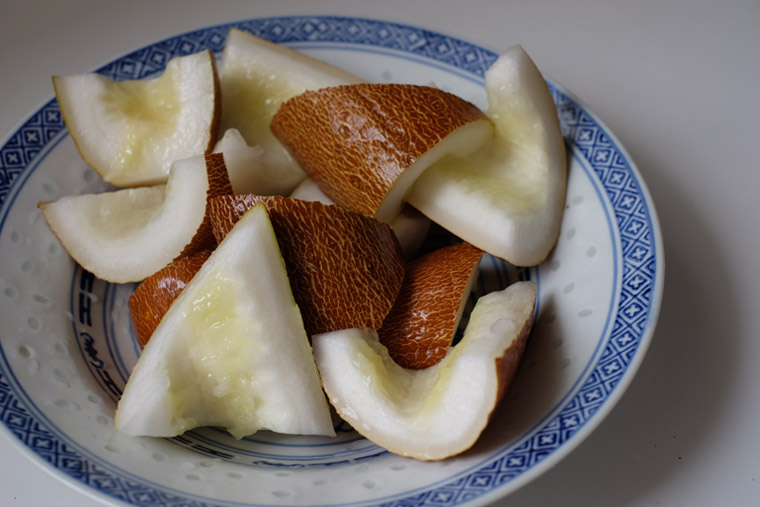 ---
SHORT RECIPE
Blanch chicken carcass, 2 feet, and skinless breast. Boil chicken with chopped old cucumber, 10 red dates, 1 dried cuttlefish, 3 dried scallops, 3 dried oysters & 6 cups water. Simmer for 4 hours.
---
COOKING TIPS 
If you prefer, you can replace chicken bones with pork bones.
To achieve similar flavour and for convenience, I highly recommend that you make it in a slow-cooker/ instapot.
If you're making it over the stove, you'll need to add another cup of water. That is because water evaporates easily when cooking over the stove.
The scallops that I use can be rather pricey; you could buy more economical smaller scallops.
Find out more how to store and chop old cucumber here: newmalaysiankitchen.com/old-cucumber/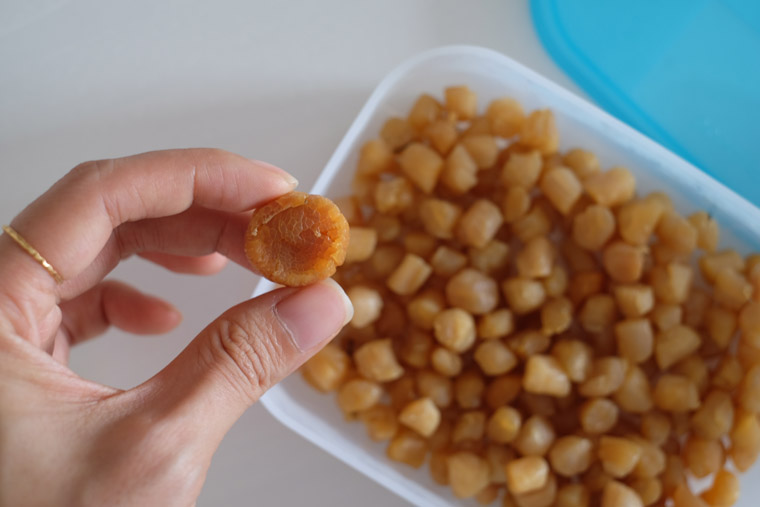 ---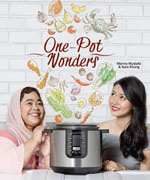 This recipe is available in my cookbook, 'One Pot Wonders'.
---