My family makes slow-cooked Chinese soup almost everyday. At Chinese New Year reunion dinner, it is no exception. In fact, it has to be a lot more luxurious than usual. Our go-to Chinese New Year soup is Fish Maw Soup with Cabbage and Scallops.
Luxurious yet affordable ingredients
This time around, I've worked with Chai Huat Hin, an almost 50 years old dried seafood store located at Petaling Street, to create an even more luxurious (yet affordable) soup for their Chinese New Year campaign.
I was shown the different grades of fish maw and dried scallops that are available, and played with other interesting ingredients like conch meat. After a few round of experiment in the kitchen, I finally came up with the perfect soup that taste and look like those in high-end Chinese restaurants.
I used chicken with bones and lean pork meat. A combination of meat makes the soup tastier; each of them provides a different kind of flavour.
I also learned to choose good quality ingredients:  fish maw, conch meat, and Hokkaido dried scallops. These ingredients are more intense in flavour than lower grade ones.
Slow-cooker makes good quality soup
The main reason for using a slow-cooker in this recipe is to retain the taste, nutrient, and texture. When you use such good quality ingredients, you don't want to boil the soup on high heat in.
Boiling on sustained lower heat without too much of bubbling ensure that the ingredients stay intact. By the end of 6 hours, you will still get a whole cooked scallop and a whole piece of melt-in-mouth fish maw (Be gentle with it though!)
Cooking the soup in the slow cooker also extracts all the goodness (including the collagen) from the bones. (Read: How bone broth keeps you young)
If you have a steam oven, you can even double-boil this soup. But the most common appliance in a Chinese household is the slow-cooker and this is what I used for this recipe. Enjoy!
---
VIDEO
---
TOOLS
Slow-cooker
Pot (for blanching fish maw and chicken)
Knife/ scissors (for cutting fish maw)
---
RECIPE CARD
Fish Maw, Conch, and Scallop Soup in Slow-Cooker
3rd January 2019
: 6
: 20 min
: Easy
Ingredients
80 g Fish Maw
6 pieces of Japanese scallop
1/2 piece (30 g) conch meat
2 pieces (750 g) chicken legs, blanched
1 piece (300 g) of lean pork, blanched
1 tablespoon Goji berry
2 L (8 cups) of water
Directions
Step 1

SOAK FISH MAW: Soak fish maw in water for 12 hours or overnight. It is ready when the middle is soft. If not, soak for a few more hours.

Step 2

BOIL FISH MAW: Then use some ginger slices to boil it for about 15 minutes to remove any fishy odour.

Step 3

COOK IN THE SLOW-COOKER: Place fish maw, conch, scallop, chicken, and water in the slow cooker. Cook on HIGH for 1 hour. Then cook on LOW for another 5 hours.

Step 4

SEASON: 10 minutes before serving, add goji berries and season with salt.

Step 5

SERVE: Cut fish maw into 6 pieces. Place fish maw and scallop into each bowl and top with goji berries.
---
SHORT RECIPE
Blanch chicken and pork. Soak 80 g of fish maw until soften. Boil fish maw with ginger slices.  Put fish maw + conch + scallop + chicken + pork + water into the slow cooker. Cook on HIGH for 1 hours, then low for 5 hours. 10 mins before serving add 1 tbsp goji berries + salt. Cut fish maw and conch into 6 pieces. Divide ingredients evenly into 6 bowls.
---
COOKING TIPS
Soak fish maw overnight. The thicker the fish maw, the longer you will need to soak it. The general rule is soaking it overnight (about 12 hours). Then check if its soft enough by pressing it with your fingers. If its still hard, soak for a while more until the whole fish maw is properly rehydrated.
Boil fish maw in ginger. I used to skip this step. However, speaking to experts in Chai Huat Hin and to a grandaunt who used to own a Chinese restaurant made me realise the importance. Boiling the fish maw in ginger slices will help remove its fishy odour, leaving only pleasant marine taste.
Go easy on the conch Conch meat (lo pin/螺肉). A small amount of conch meat enhances the soup. However, do not put too much as it can give a fishy odour (腥味).
Prepare at lunch time, and enjoy at dinner This soup takes about 6 hours to boil. Make it during lunch time so that by dinner you'll have a pot of slow-boiled soup for reunion dinner
Buy the ingredients way ahead of time As all the ingredients can be kept for a long time, get the ingredients as soon as possible to avoid the last minute Chinese New Year crowd. To save time and hassle, order them online and have them delivered to you.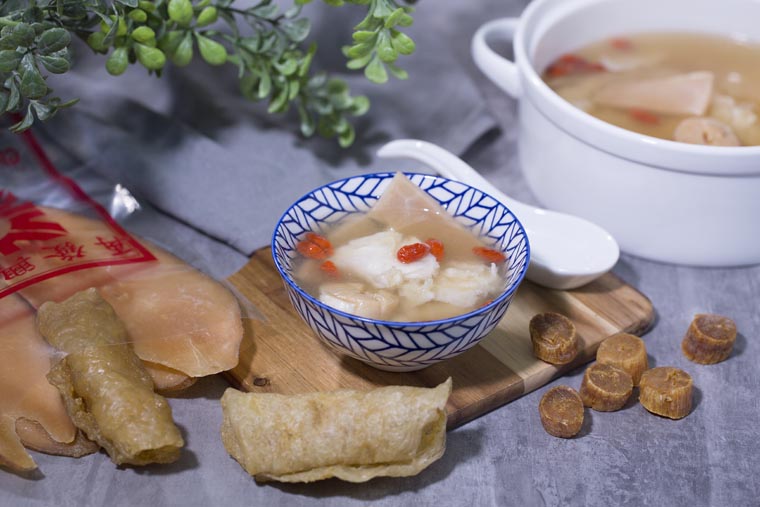 There you go, a luxurious soup that is easy to make for this Chinese New Year. Try it!