Every Reunion Dinner, my family will either make Buddha Jump Over The Wall (佛跳墙) or Fish Maw Soup. Since I strongly oppose to eating Shark's fin, now that I take over from my mother in preparing Chinese New Year feast for my family, I will always boil the latter.
Recently, I went to my mother's friend's herbal shop to check out different grades of fish maw. While chit-chatting with her, she shared with me her fish maw soup recipe which includes dried arrowroot. I was intrigued. She said that it'll make the soup taste sweeter without having to use fresh ingredients. The convenience convinced me into buying this packet of herbs and some relatively expensive fish maw.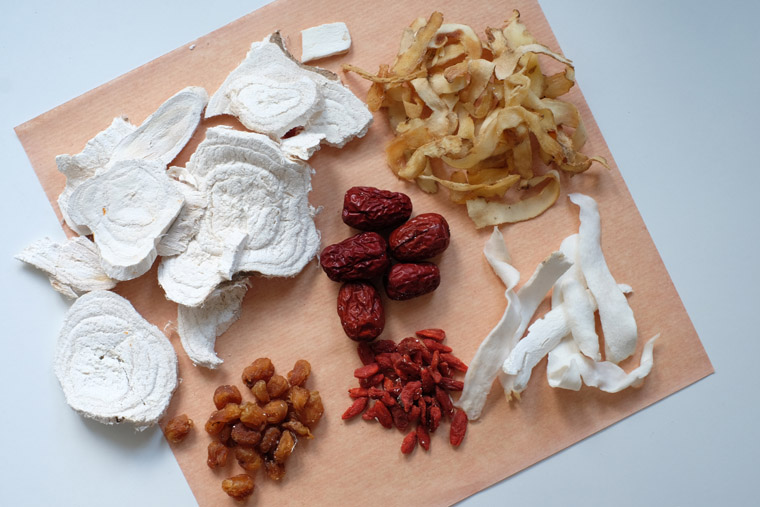 I like that she packed all the herbs for me and even told me the weight. Writing this recipe was so easy! Although I prefer my fish maw soup without herbs, I'm attracted to how much easier it is to make this soup and how much more nutritious it is. The fish maw lends a kind of interest sea-flavour to an otherwise ordinary herbal soup.
Originally, I would need to use fresh ingredients like cabbage. This soup uses herbs and dried arrowroots instead. This cut down preparation time by a lot since I don't have to soak, rinse and chop cabbage. If you're short for time during Chinese New Year and would like to try something new, do give this a go!
---
TOOLS
---
RECIPE CARD
Fish Maw Soup
18th May 2017
: 15 min
: 6 hr
: Easy
Ingredients
(700 g) 2 chicken carcass + 1 breast
2.5 L Water
30 g Yu chuk (solomon seal)
20 g Wai San (wild yam)
20 g Dried longan
10 g Wolfberry
30 g Red dates
100g Dried arrow root (fun kok/ 粉葛)
50 g Fish maw, soaked and cut into smaller pieces
1 tbsp Salt
Directions
Step 1

PREP: Soak fish maw in a large bowl of water until soften. It should take about an hour. Then, cut them into smaller pieces. Blanch and rinse chicken. Rinse herbs.

Step 2

SLOW COOK: Pour chicken, herbs and 2.5 L of water into a slow cooker. Set on high and cook for 5 1/2 hours.

Step 3

ADD FISH MAW: Add soaked fish maw and let it cook for another 30 minutes.

Step 4

SEASON & SERVE: Season with salt and serve
---
SHORT RECIPE
Blanch & rinse 2 chicken carcass + 1 breast. Rinse herbs. Soak fish maw. Slow cook chicken + herbs + 2.5 L water for 5.5 hours. Add soaked fish maw. Cook for 30 min. Season with 1 tbsp salt.
---
COOKING TIPS
Save or print the above recipe, and get your herbalist to pack them for you.
If you're using the intermediate fish maw that is rounded like the one below, do cut them open, and then into half, for better presentation.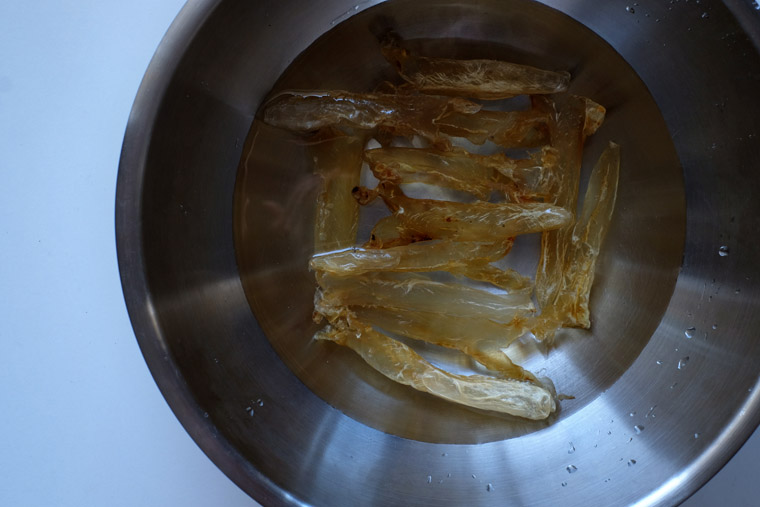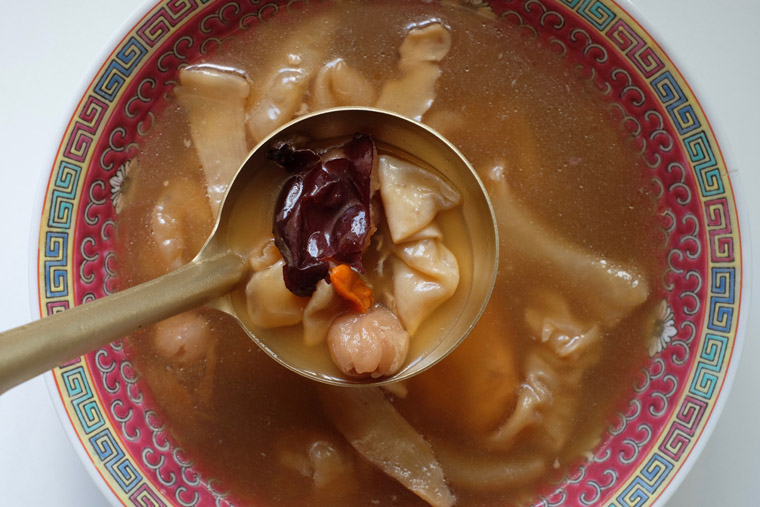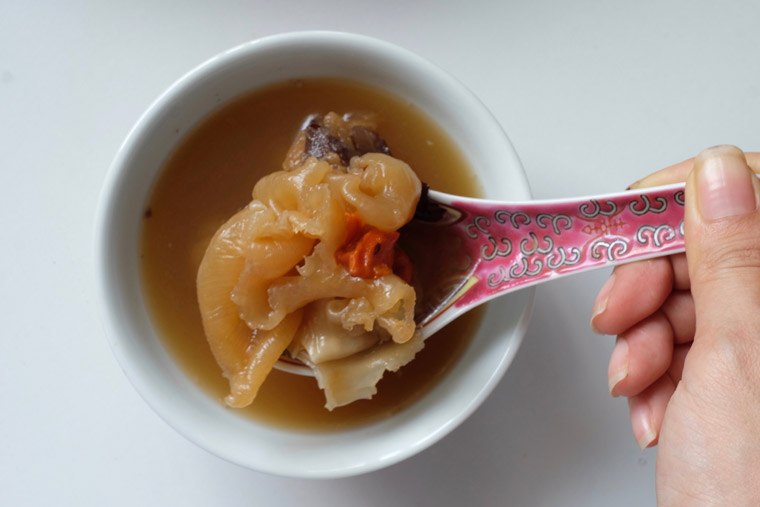 ---
Enjoy!