I know that not everyone like vegetables, but it's news to me that some people dislike fruits. How can it be? Fruits are so sweet and delicious! When I try to cajole these fruits-hater from taking a bite, they casually said "I don't need fruits, I'm not constipated!"
But fruits is not good only for constipation. It provides fibre and fibre is an important part of a healthy balanced diet. It can help prevent heart disease, diabetes, weight gain and some cancers, and can also improve digestive health. (source: UK National Health Service)
So in my attempt to make fruits more enticing, I thought of flavouring it with a Thai dip: prik-kab-klua. In Thailand, this salt-sugar-chili mixture comes along with fruits that you buy from a roadside stall. The additional tastes – salty, sweet and spicy – gives another dimension to tropical fruits.
I personally like the colour and texture. Fruits look so invited with sprinkles of red and white on top (sometimes I even oregano for the extra taste and additional green colour). Perfect to jazz up an ordinary plate of fruits for a party!
---
TOOLS
---
RECIPE CARD
Thai Chili Salt (Prik-kab-klua)
17th May 2017
: 1 min
: Easy
Ingredients
1 tbsp sugar
1 - 2 tsp sea salt
1 - 2 tsp chilli flakes
Directions
Step 1

Mix sugar, sea salt and chilli flakes in a dipping bowl.

Step 2

Sprinkle on fruits, or dip fruits in it.
---
SHORT RECIPE
Mix 1 tbsp sugar + 1 tsp sea salt + 1 tsp chilli flakes
---
TIPS
Use sea salt I've switched to using sea salt in flavouring my food. Unlike table salt which has a sharp taste, sea salt milder and gentler to the tongue. Find out why sea salt is better than table salt
Add oregano I like to add another teaspoon of oregano into this traditional dip. Why? Of all herbs, oregano is one of the highest in antioxidant. Hence, I always find ways to sneak them into my cooking. I was so please to find that this dip taste much better with the addition of this spice. The herbaceous green notes tone down the spiciness of the chilli powder, the sweetness of the sugar, and the saltiness of the sea salt.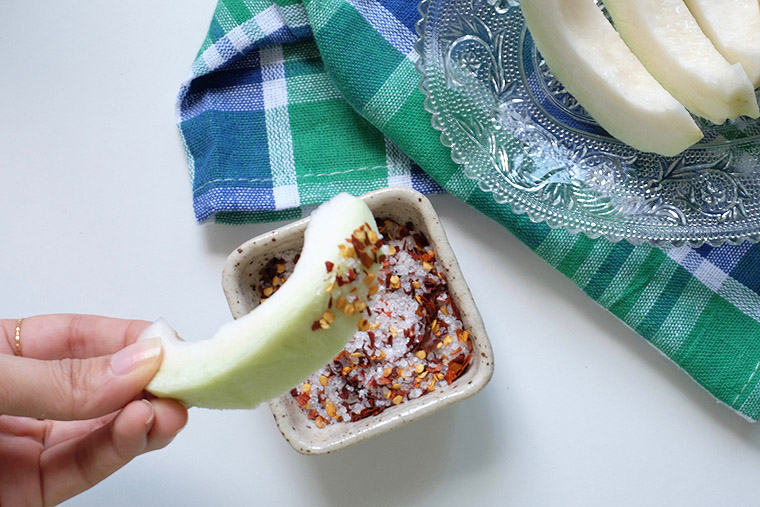 Sprinkle these over guava, mango, pineapple or any other fruits. Enjoy!