I love anything with green tea in it. This winning combo of green tea and Nutella is amazing. I like the deep and bitter taste of green tea powder; the nutty sweetness of Nutella; and its moist texture. If you love green tea as much as I do, a slice of this cake is not enough.
The best part is it's so easy to make. Frankly, I do not have much patience in baking (even when I cook, I'll like to get it done as soon as possible). The entire idea of my website and my book, Malaysian Meals in 30 minutes, is to make easy, quick and delicious recipes. This recipe from 'New Japanese Kitchen' by Kyoko Rabbetts is something I foresee I'll make again and again.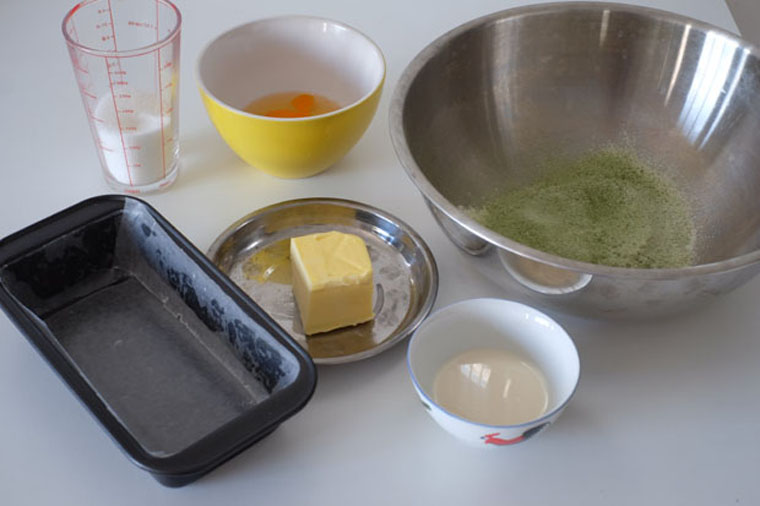 ---
TOOLS
Oven
Stand mixer/ large mixing bowl
Cake tin (15 cm x 10 cm x 7 cm)
Sift
Mixing bowl (to sift flour, baking powder and green tea powder)
Parchment paper
Aluminium foil
---
RECIPE CARD
GREEN TEA & NUTELLA CAKE
1st May 2017
: 4
: 10 min
Ingredients
90 g Cake flour
10 g (2 tsp) Baking powder
10 g (2 tsp) Matcha (green tea powder)
120 g Butter, unsalted
110 g Granulated sugar
3 tbsp Milk
2 Eggs, large
1/2 tsp Salt
4 tbsp Nutella
Directions
Step 1

GATHER INGREDIENTS & TOOLS. Leave ingredients outside to room temperature.

Step 2

PREHEAT OVEN: Preheat oven to 180°C.

Step 3

PREP INGREDIENTS: Break two eggs into a bowl. Measure 120 g of butter and 110 g of sugar. Line the bottom and the side of the tin with parchment paper. Use butter to stick the paper to the tin.

Step 4

Measure flour and sift into a large mixing bowl. Add 2 tsp of baking powder, 1/2 tsp salt and 2 tsp of matcha powder.

Step 5

Whisk butter until pale. Add sugar and continue to whisk for another 5 minutes in medium speed, then add milk and eggs. Combine flour, baking powder and matcha from the bowl. Whisk until light and fluffy. (About 15 min)

Step 6

Pour batter into cake tin. Pour half the batter into a cake tin. Place a layer of Nutella on top of the mixture (avoid the edges). Pour in the rest of the batter. Cover cake tin with foil. Tear aluminium foil and loosely cover the tin.

Step 7

Bake for 25 to 30 minutes at 180°C.

Step 8

Test doneness.  Stick a bamboo skewer inside the cake. Poke at the edges to avoid the Nutella layer. If nothing sticks to it, its ready to be removed from the oven. Otherwise, bake for a while more.

Step 9

Serve. Let it cool and cut into slices. Slather with more Nutella if you like.
---
SHORT RECIPE
Whisk 120 g butter until pale. Add 110 g sugar – whisk 5 min. Add 3 tbsp milk + 2 large eggs + 90 g sifted cake flour + 2 tsp baking powder + 1/2 tsp salt + 2 tsp matcha powder – whisk until light & fluffy. Pour half the batter into cake tin. Add 4 layer tbsp of Nutella. Pour the rest of the batter. Cover tin with foil. Bake for 25 min at 180C.
---
BAKING TIPS
If you don't have a stand mixer, stir the batter in a large bowl and spatula (When I was little, this is how we make cake). A stand mixer only make baking faster. Nowadays, many of us seem to think that we can't bake a cake because we don't have a machine! Though honestly I will be very reluctant to bake a cake without it…
If you don't want your cake to be too sweet, you can omit the Nutella. This is probably what I'll do the next time I bake it. I can always slather Nutella on the cake after baking it.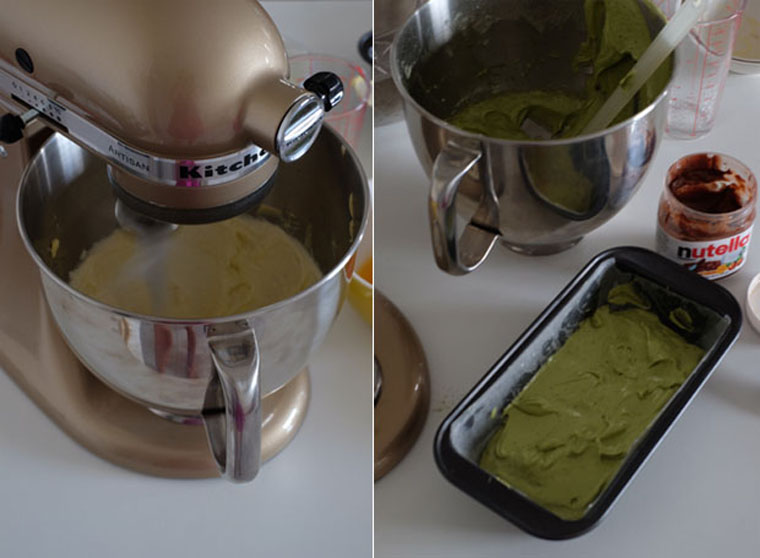 Enjoy!