The leaves are boiled into a decoction to treat asthma, fever, colic, nausea, rheumatism, coughs, urinary tract infection, epilepsy, and convulsion. Upon checking an encyclopaedia of herbal medicine, I found that this herbal plant is used in Indian folk medicine as a digestive remedy.
It became mainstream when western medical circle discovered that it contains forskolin, a powerful medicine for various problems including heart failure, glaucoma and bronchial asthma. You can read more about it at Wikipedia.
---
Taste & smell
Indian Borage smells and taste wonderfully minty.
---
Other names
Common name: Indian Borage/ Mexican Mint
Scientific name: Plectranthus barbatus Andrews
Malay name: Bangun-bangun
Chinese name: –
Tamil name: Karpuravalli
---
Where to buy
Unfortunately, I have not found this herb to be available for purchase. Instead, I plant my own. Look around your neighbourhood for this plant and most commonly found in the Indian community. I got mine from my local community garden.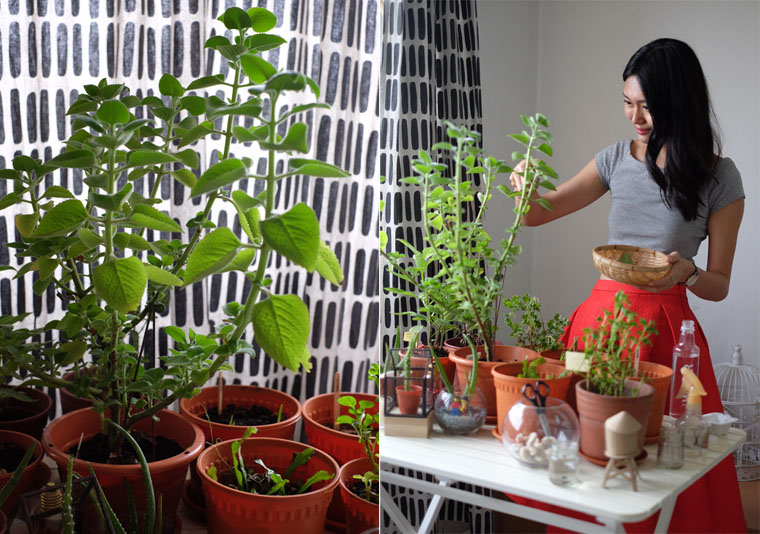 ---
Planting
Indian Borage is a low-maintainence plant that grows rather easily and quickly. It can grow up to 75 cm tall. The leaves are thick, somewhat furry, and about the size of 3 – 9 cm long and 2 – 5 cm wide. The fruit is blackish-brown.
It's a perennial and semi-succulent herb. It's quite drough-tolerant; that means even if you don't water it as much it could survive.
---
How to use
Substitute for mint leaves – Though it's not the same, it could be used as substitute for mint leaves. Once, I was running out of mint to make mint sauce and added some Indian Borage from my garden instead.
Make herbal tea with the leaves
---
Recipes