Recently, I've been obsessed with crispy food. My goal is produce food so crispy that I can hear the crunch as I bite into it. So far, I tried prawns and fish; I've made super crispy salted egg prawns for Chinese New Year and perfected the necessarily skills for a crispy skin salmon. Next up must be everyone's favourite fried chicken. The first recipe that pops in my head is Amma's fried chicken.
Every Christmas, my partner's grandmother, Amma, would make this fried chicken amongst other delicious Indian food like acar and mutton cutlet. It's absolutely delicious especially when it's hot and crunchy. Somehow, she didn't make it last year and regular guest started asking for it. Yup, it's that yummy!
One day, while I was chit-chatting with Amma, I got the chance to ask for her fried chicken recipe. It's difficult to get a written recipe from a seasoned cook; they cook from memory. So I took a spoon and a teaspoon from her kitchen and to get a more accurate measurement of her 'agak-agak' (approximation) method.
Amma told me she blends her own spices and pound them with her pestle and mortar, and advised me to do the same for the best flavour. Upon discovering that I didn't have one, she gave me her an old stone granite mortar and pestle she used when she was a child. I was stoked! Here's the finished recipe which I've tried a few times in a week because it's so good (and because I absolutely loved playing with my new toy)
---
TOOLS
Blender/ pestle & mortar
Large bowl
Small bowl
Wok and tongs
Paper napkins, wire rack and aluminium foil
Flat strainer
---
RECIPE CARD
INDIAN-STYLE FRIED CHICKEN
18th April 2016
: 4 - 6
: 15 min
: 30 min
: High
Ingredients
1 (1.5 kg) Chicken, chopped into small pieces
1 inch knob (60 g) Fresh ginger root
6 cloves Garlic
1 1/2 tbsp Chili powder
1/2 tsp Turmeric powder
2 tsp Coriander powder (ketumbar)
1 tsp Fennel seed (jintan manis)
1 tbsp Cornflour
1/2 tbsp Salt, to taste
1 tbsp Lime juice
2 cups Cooking oil (preferably with peanut content)
Directions
Step 1

PREP: Clean chicken and drain in a colander. Pat dry (we want the chicken to be dry when we marinate it) Make ginger-garlic paste: Peel ginger and garlic. Blend in a machine or crush with a pestle and mortar. Mix spices: Add blended spice powder, cornflour and salt in a small bowl. Mix well.

Step 2

MARINATE CHICKEN: Place chicken in a large bowl. Slowly pour mixed spices, lime juice and blended ginger-garlic over chicken. Mix well. Cover with cling wrap and let it marinate in the chiller for a few hours or overnight.

Step 3

COOK CHICKEN: Take marinated chicken out of the chiller an hour before cooking. This is important to ensure that chicken wouldn't be undercooked inside. In a wok, heat up oil. When oil sizzles, turn the down the heat to medium. Put a few pieces of chicken (of the same size) into wok and fry until brown. Place freshly fried chicken in a tray lined with paper towels, then transfer to a wire rack, laced with aluminium foil underneath to ease cleaning. You may need to fry about 3 – 4 batches.

Step 4

SERVE: Dish out and serve hot.
---
SHORT RECIPE
Blend/pound 1 inch ginger + 6 cloves garlic. Marinate chopped chicken in ginger-garlic paste + 1.5 tbsp chili powder + 1/2 tsp turmeric powder + 2 tsp coriander powder + 1 tsp fennel seed + 1 tbsp cornflour + 1 tbsp lime juice. Fry chicken until crispy.
---
 COOKING TIPS
If you cannot get hold of spice powder, get the seeds and blend your own using a spice mill or a pestle and mortar. Unlike, chilli and turmeric, coriander and fennel seeds are not as easily available in powder form. Hence I pounded the spice with the mortar and pestle.
Add more salt if you so desire. Suggestion: start with 1/2 tsp. Fry a piece and see if the chicken is tasty enough. I adjust the salt level according to people and its purpose. Is it a finger food or its eaten with rice? Do my guest normally eat in or eat out? For the latter, I'll add more salt.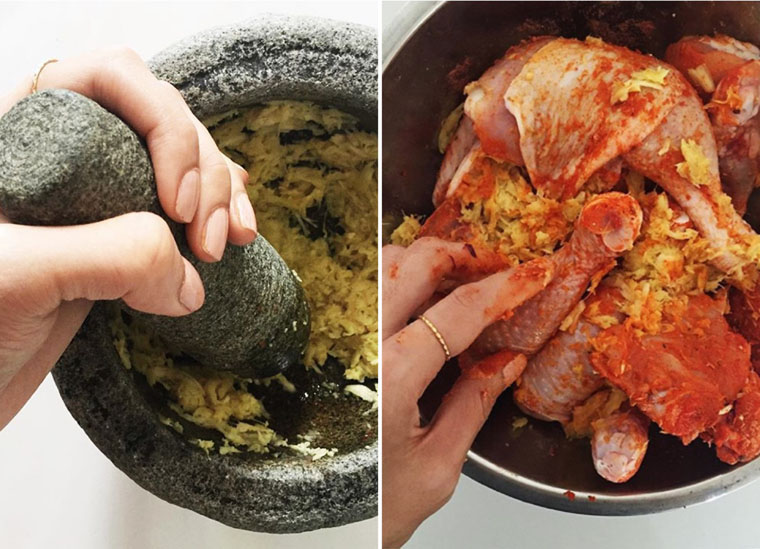 ---
HOW TO MAKE IT CRISPY
Skills is very important. If you are not used to deep-frying, it may take practice. However, here are some things you can do to improve the chances of getting crispy chicken:
Use oil with peanut content.
Do not fry too many chicken at once. Allow enough oil to coat every piece of chicken.
Move chicken as you're frying.
Make sure oil is clean. Remove bits from oil with a strainer in between frying.
Place chicken on paper napkins and then transfer to a wire rack. Do not place freshly fried chicken too close together or covered. If it steams up, the chicken will not crisp because of moisture.
---
I don't normally fry food at a daily basis, as I try to use less oil in my diet. Besides, I believe cooking should be simple and fast; this recipe is not and frying takes time. However, I do indulge once in a while and cooking food that other people enjoy. If you don't like frying, you can oven-roast the chicken. I've tried and regret to inform that it is incomparable to fried chicken made the traditional way.