Since I started gardening, I realise that there are plenty of local herbs and vegetables that we have forgotten. Have you heard of Indian Borage or Daun Kaduk? Perhaps their lack of popularity makes them hardly available in the market. It's such as pity as they are incredibly flavourful and rich in nutrient too.
Read: How to start an edible apartment garden
One thing I'm trying to do is to plant herbs and vegetables that cannot be bought or hard to get. I'm trying to plant more ulam such as ulam raja and cekur. Unfortunately I didn't have opportunity yet, and the only ulam I have now is daun kaduk.
How to use it in your cooking? The easiest way is to make Kaduk Omelette. I think it's so wonderful to add something nutritious in everyone's favourite protein. Here's a recipe I found from Pearly Kee's latest cookbook, Pearly's Nyonya Pantry.
---
RECIPE CARD
Kaduk Omelette
18th July 2016
: 1
: 5 min
: 5 min
: 10 min
: Easy
An omelette with a twist. The inclusion of wild betel leaves (dauk kaduk) gives it a hint of pleasant peppery taste
Ingredients
2 tbsp Cooking oil
2 Garlic cloves, crushed and chopped
5 - 30 Wild pepper leaves (daun kaduk)
2 Eggs
A few pinch of salt
A dash of pepper
Directions
Step 1

PREP INGREDIENTS: Crush garlic and mince finely. Roll a few leaves together and slice finely. Break two eggs into a bowl. Add a pinch of salt and white pepper. Whisk well with a fork.

Step 2

Heat up the oil in a frying pan on medium fire. Add in garlic and wild pepper leaves. Fry until the leaves soften and dry.

Step 3

Add in beaten egg and cook on low heat.

Step 4

Cook until omelette is firm, fold into half and serve hot.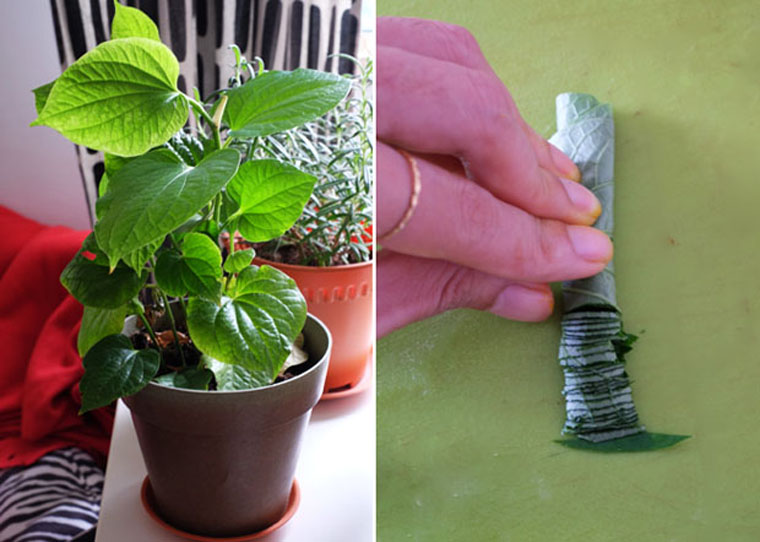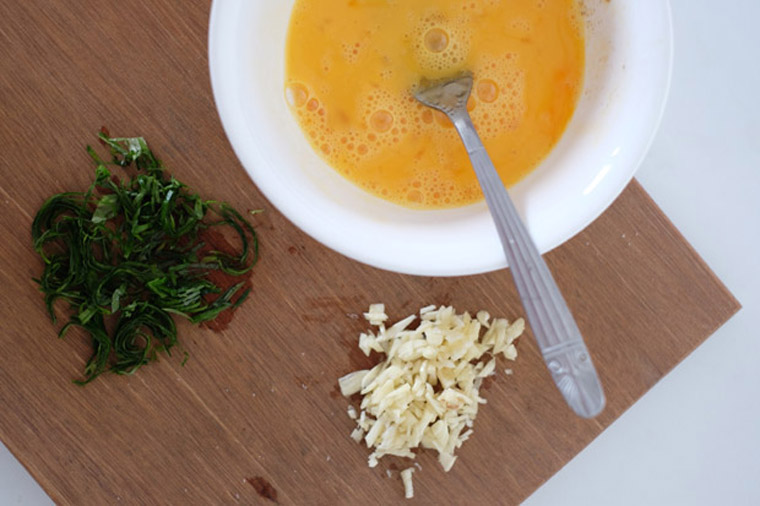 ---
SHORT RECIPE
Whisk egg and season with a pinch of salt & white pepper. Fry 2 cloves chopped garlic + julienned kaduk in 2 tbsp oil. Pour egg into pan. Cook on low heat. Fold omelette into half and serve.
---
COOKING TIPS
I like to use healthier oil to cook such as olive oil. Sesame should also work for this recipe, but would taste different Read: What cooking oil is the healthiest oil?
Do remember to avoid over browning the garlic which produces bitter flavour.
Pearly suggested 30 pieces of kaduk leaves. If you or whoever you cook this for is not used to the peppery taste of this ulam, I suggest putting less e.g about 5 to 10 pieces.
I think this is a great way to sneak in some green into your diet. The book said that the omelette serve 6 person, as this is meant to be a sharing dish. But you can consider making this for breakfast too.
What is your favourite ingredients to put in your eggs? Let me know!