My interested in Korean culture (and food) begins with the first episode of Dae Jang Geum (Jewel In The Palace), a super popular K-drama about a palace made who became the first female imperial doctor.
Since a few years ago, I always have a packet of kimchi in my fridge. Besides eating it with rice, my new favourite thing to do with kimchi is to make pancakes with it. You only need three main ingredients kimchi, onions and flour! These ingredients have long shelf-life which means if you're running out of groceries, or if there's an unexpected guest, you can easily whip this up.
This recipe is adapted from Maangchi, my favourite Korean recipes website (Recipe: Kimchijeon). I've simplified it by using store-bought sliced kimchi. I've also reduced the amount of kimchi; 1 cup of kimchi may be too overwhelming for tastebuds which are not familiar with the pungent taste of Korean's favourite fermented food. I also fry it long enough, so that the onion caramelised and the crust turns crispy. That's how I like my kimchi pancake.
---
TOOLS
Stove + pan + spatula
Knife + chopping board
Large mixing bowl + spoon
Teaspoon
Measuring cup
Large plate
---
RECIPE CARD
EASY KIMCHI PANCAKE
12th December 2016
: 2
: 5 min
: 10 min
: 15 min
: Easy
Ingredients
3/4 cup Mat Kimchi, chopped
3 tbsp Kimchi juice
1 Onion, small
1/2 tsp Salt
1/2 tsp Sugar
1/2 cup All purpose flour
1/4 cup Water
2 tbsp Vegetable oil
Directions
Step 1

Gather ingredients and tools.

Step 2

TO PREP INGREDIENTS: Peel onion. Chop into half, then into slices. Chop 3/4 cup of kimchi into strips.

Step 3

TO MAKE BATTER: In a large mixing bowl, combine 1 cup of kimchi, 3 tbsp of kimchi juice, 2 tbsp chopped onion, ½ tsp salt, ½ tsp sugar, ½ cup flour, and ¼ cup of water. Mix it well with a spoon.

Step 4

TO FRY PANCAKE: Heat up non-stick pan over high heat and drizzle 2 tbsp of cooking oil. Place the mixture of kimchi pancake batter on the pan. Using a spoon, spread it thinly and evenly. Fry until the bottom turns golden brown and crispy (5 min). Turn it over. Lower the heat to medium and cook for another few minutes (5 min).

Step 5

TO SERVE: Slide pancake into a large plate.
---
SHORT RECIPE
Mix 3/4 cup chopped kimchi + 3 tbsp kimchi juice + 2 tbsp chopped onion + ½ tsp salt + ½ tsp sugar + ½ cup flour + ¼ cup of water in a mixing bowl. Mix well. Heat pan with 2 tbsp oil. Pour batter on pan and spread evenly. Fry until the bottom is golden brown (5 min). Flip and fry until crispy (5 min).
---
COOKING NOTES
I made seafood kimchi pancake at a cooking event. There were sliced prawns and white squid. A fan of seafood, this version tastes so much better. The combination of pungent kimchi and umami of seafood is amazing.
If you like, add some spring onions for taste and colour.
Maangchi's cooks her kimchi at medium high fire and in a shorter amount of time. However, I find that the pancake does not crisp up. If you're like me who likes your pancake brown and crispy, you may have to cook it for a longer time.
As I ran out of all-purpose flour, I use bread flour. It turned out well.
If you use Mat Kimchi (chopped cabbage kimchi), you could skip the step of chopping the kimchi. However, I feel that smaller slices of kimchi makes eating easier hence more enjoyable.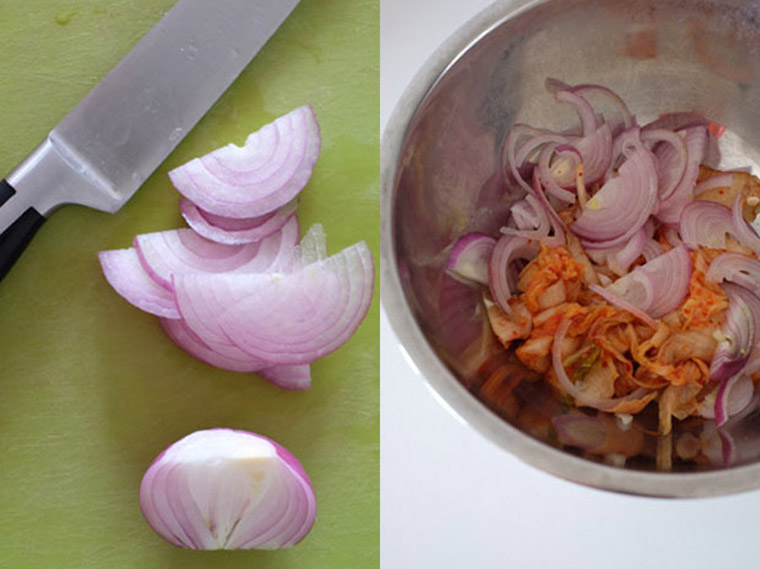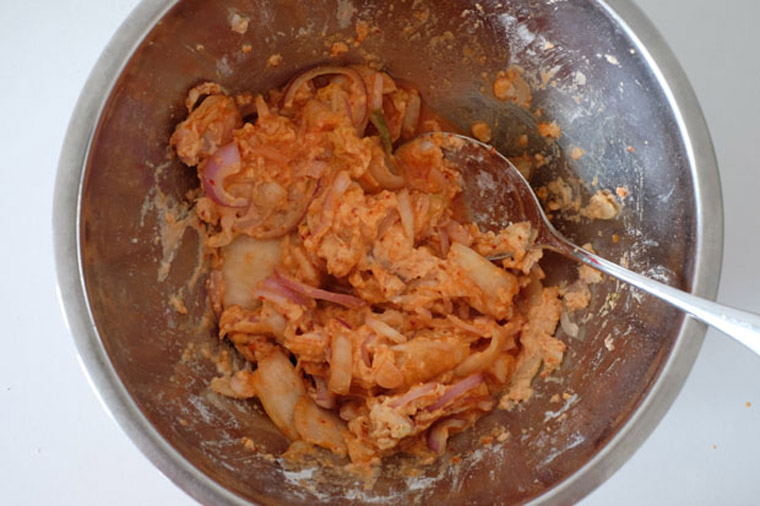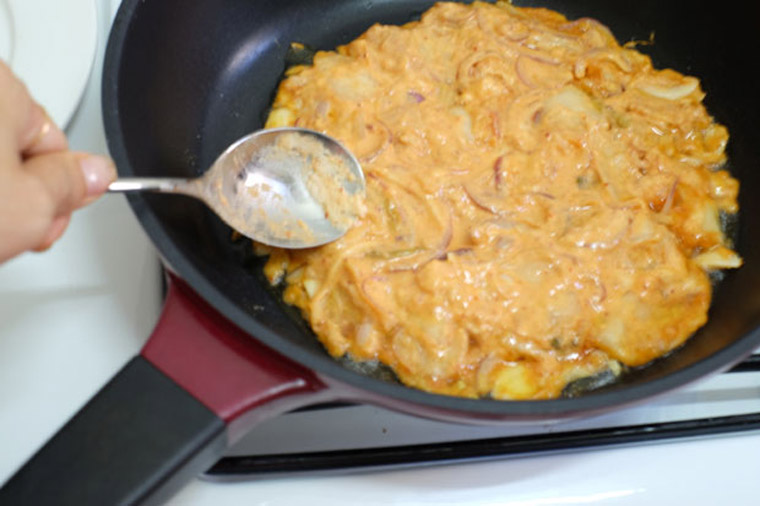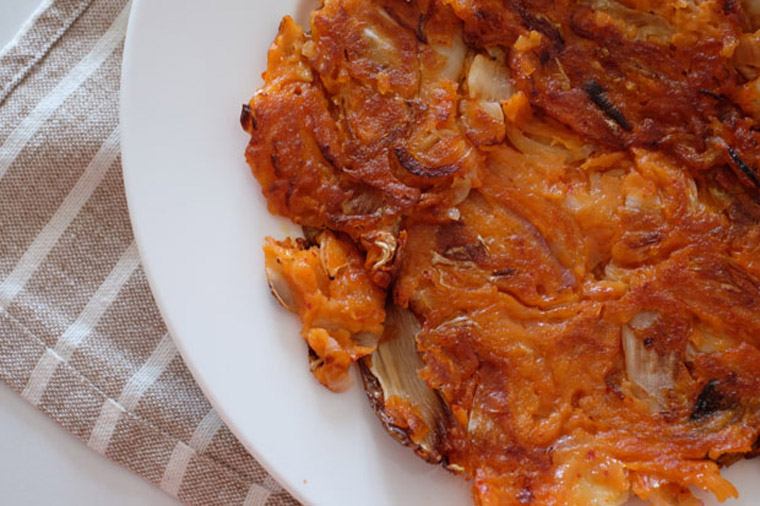 Enjoy!