This is hands down one of the easiest dessert I've ever made. Only 7 ingredients and 10 minutes to prepare (though you will need to wait for a few hours for the end product). No oven or a stand mixer needed. The results? Glasses of rich, pastel coloured mousse with a lovely taste of green tea. Sweet, milky and pretty.
This recipe is adapted from New Japanese Kitchen by Kyoko Rabbetts, and is originally called the Sakura and Matcha Mousse. As it reminds me of Christmas colours, I thought I'll make it for this year's Christmas party.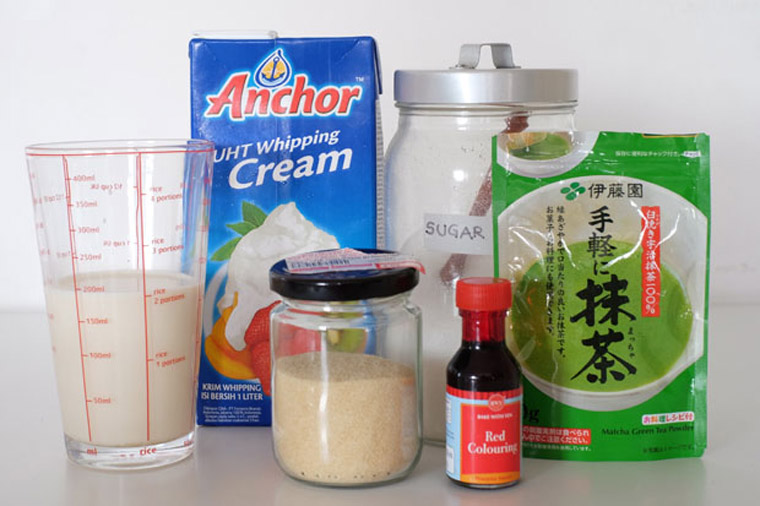 ---
TOOLS
Small bowl x 2
Measuring spoons
Glasses x 3
Serving glasses x 3
Stirrer/ chopsticks x 2
Microwave
---
RECIPE CARD
EASY GREEN TEA MOUSSE
5th December 2016
: 3
: 10 min
: Super Easy
Rich, pastel coloured mousse with a lovely taste of green tea. Sweet, milky and pretty.
Ingredients
180 ml Milk
3 tbsp Sugar
130 ml Whipping cream
2 tsp Gelatin powder
2 tbsp Water
1/2 tbsp Japanese green tea powder (matcha)
Few drops of red colouring
Directions
Step 1

Gather ingredients and tools.

Step 2

DISSOLVE GELATIN: In a small bowl, add 2 tbsp of water and sprinkle 2 tsp of gelatin over it. Let it soak until combined.

Step 3

MEASURE & MICROWAVE MILK: Measure 180 ml in a microwave-save glass. Heat in the microwave for about 40 seconds. Milk should be warm, not boiling.

Step 4

ADD GELATIN & SUGAR INTO MILK: Add 3 tbsp of sugar and dissolved gelatin into the milk. Stir well.

Step 5

ADD WHIPPING CREAM INTO MILK: Measure 130 g of whipping cream, pour into milk and stir gently.

Step 6

Step 7

POUR MIXTURE: Pour mixture into two other drinking glasses.

Step 8

MAKE GREEN TEA MIXTURE: In a glass, mix 1/2 tbsp of warm water with 1/2 tbsp of matcha powder. Stir well until combined. There should not be clumps of green tea powder.

Step 9

MAKE PINK MIXTURE: Add a few drops of red food colouring. Stir well until combined.

Step 10

FOR WHITE MIXTURE: Leave the mixture as it is.

Step 11

CHILL LAYERS: Pour the green layer into serving glass. Place in fridge for an hour, or until set. Pour another layer, let it set, and followed by the last layer.

Step 12

Serve chilled
---
SHORT RECIPE
Dissolve 2 tbsp of gelatin in 2 tbsp of water. Heat 180 ml water in microwave for 40 sec. Add dissolved gelatin and 3 tbsp sugar into the warm milk. Stir. Pour in 130 g whipping cream. Stir. Pour mixture into two glasses. Add few drops of red food colouring in one. In another, add 1/2 tbsp matcha powder dissolved in 1/2 tbsp of warm water. Pour green layer into 3 serving glass equally. Chill to set (1 hr). Repeat with white and pink layer.
---
COOKING TIP
Dissolve green tea powder properly It is very important to dissolve green tea powder properly. Otherwise, there will be specks of green tea in the mousse which wouldn't look attractive.
Substitute with soy milk If you don't want to use cow's milk, you can use soy milk instead.
Make it sweeter If you're a sweet tooth, you can add up to 4 tbsp of sugar (instead of 3 tbsp).
Microwave mousse to liquify it If the mousse starts to set before you can pour it, heat it in the microwave and it'll turn into liquid again.
Make it ahead You can make it two days ahead of your party.
Make one green layer The different layers makes the dessert looks very pretty. However, it takes a longer time and more effort (as you have to separately colour the cream mixture and wait for one layer to set before you could pour another layer). To make it even easier than it already is, forget about the coloured layers. Simply dissolve matcha powder in the cream mixture, pour it into different glasses, and pop it into the fridge.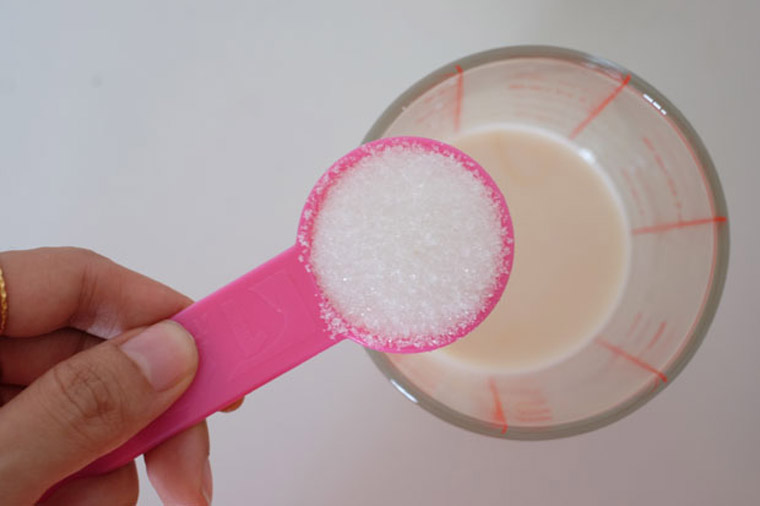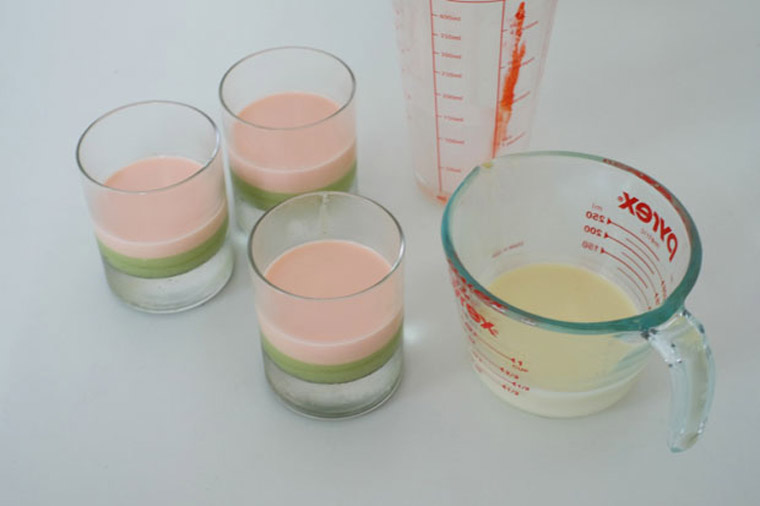 Enjoy!