I have a thing for Nyonya food; I think I like the unique flavour combo of the many spices such as turmeric and daun kaduk (wild betel). Perhaps because Nyonya cuisine is influenced by the Chinese, Malay, Indian, Thai and British, it tend to have a complex and interesting flavour (I'm crazy about sambal belacan – a must have on the Nyonya table)
Otak-otak is one of my absolute favourite Nyonya food. However, I have never thought of making it. Perhaps, I always have the impression that it's a complex dish which takes too much time to make. All changed when I found a recipe in Food For the Brain. It uses canned fish and UHT coconut milk, and suggested steaming in a bowl instead of wrapping it in a banana leaf. 'Doable!', I thought to myself.
This recipe is so easy to make. You only need to blend the spices (lemongrass, shallots, garlic, turmeric, chili) with canned sardine, coconut milk and eggs. Pour the mixture into bowls, flavour with daun kaduk, and steam it. That's it!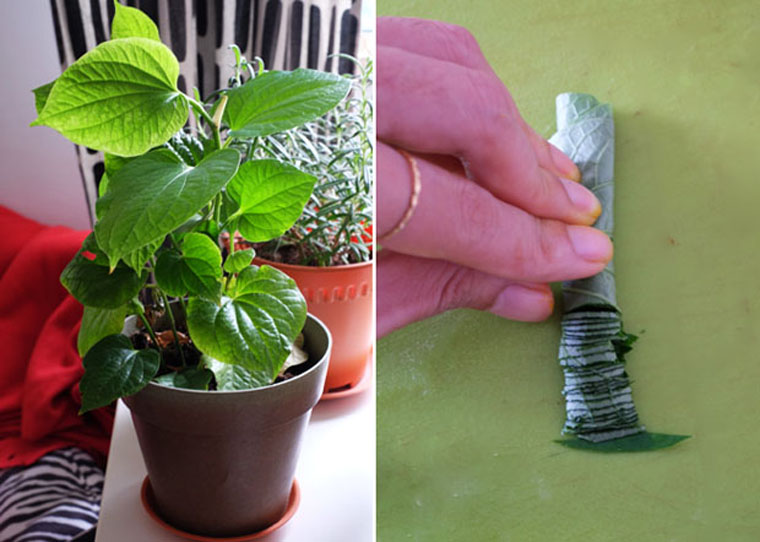 ---
TOOLS
Blender
Wok with lid + steam rack/ Steam oven
Small bowls
---
RECIPE CARD
EASY OTAK-OTAK
25th October 2016
: 4
: 15 min
: 15 min
: 30 min
: Easy
Ingredients
1 can (120g) Sardine in extra virgin olive oil and chili
3 stalks Lemongrass
80 g Shallots
4 cloves Garlic
1 (3 cm) Fresh turmeric
3 Red chilli, deseeded
3 Eggs
150 ml Coconut milk
4 pcs Daun Kaduk (Wild Betel Leaves), julienned
Salt to taste (Suggestion: 1 tsp)
Directions
Step 1

Gather ingredients and materials.

Step 2

PREP: Break eggs into a bowl. Chop the bottom 3 inches lemongrass into small pieces so that it's easy to blend. Peel shallots, garlic and turmeric. Deseed chili. Place kaduk leaves on top of each other, roll and slice finely.

Step 3

BLEND: Add 1 piece of sardine and everything else except kaduk leaf into a blender. Blend until fine.

Step 4

POUR INTO BOWLS: Pour mixture into small individual bowls. Top with remaining sardines and kaduk leaf.

Step 5

STEAM: Bring water in wok to a boil. Fit wok with steam rack and fill with water. Place tray with bowls of otak-otak mixture over it. Bring to a boil. Once boiling, cover lid. Steam until cooked or mixture is set (15 minutes)

Step 6

SERVE: Serve hot with rice, or eat it as it is!
---
SHORT RECIPE
Blend 1 piece of sardine and all ingredients (except kaduk). Pour mixture into small bowls. Top each bowl with remaining sardines and julienned kaduk leaf. Steam until mixture is set (15 min).
---
COOKING TIPS
Substitute for kaduk You can substitute daun kaduk with turmeric leaves. Understandably, these two herbs are not very common around the world and will be difficult to get hold of if you live out of Southeast Asia. You could replace with leaves that taste peppery. However, even if you don't use any herbs this dish will still taste nice though not nearly as good as the original.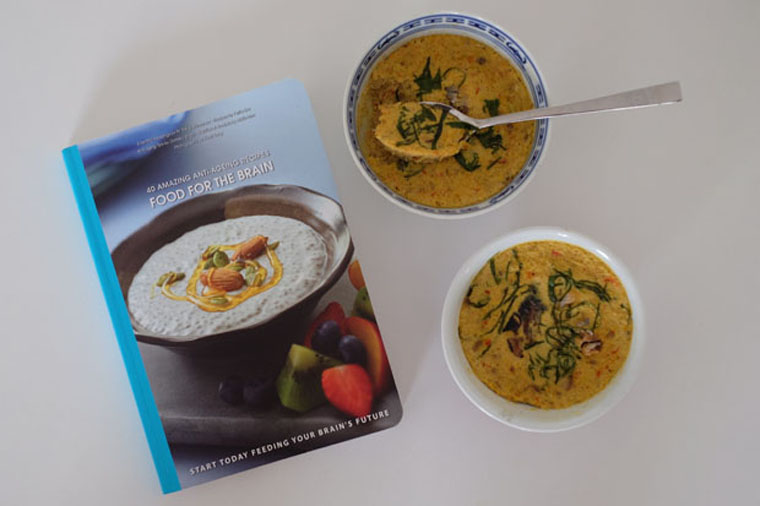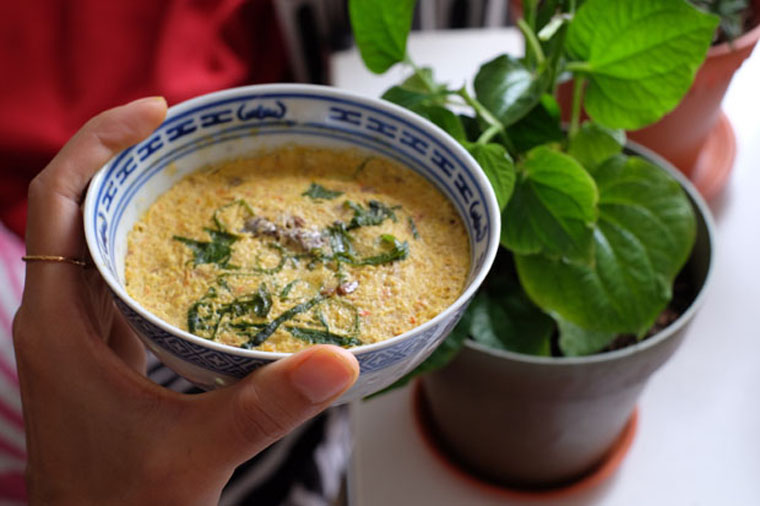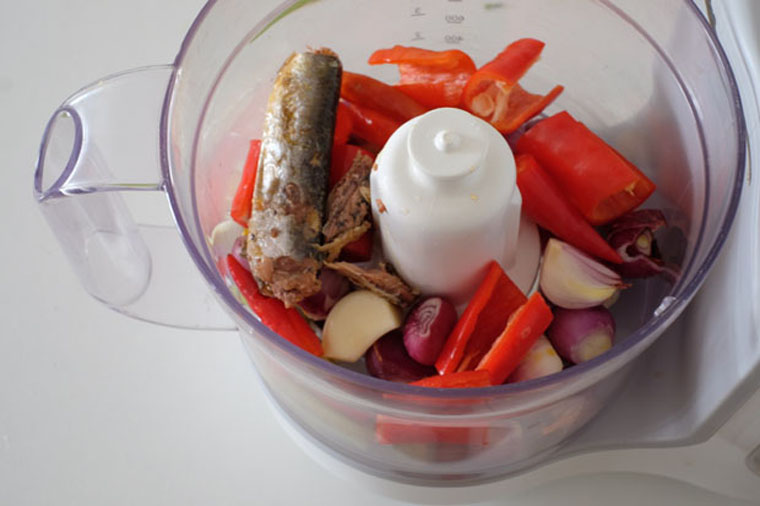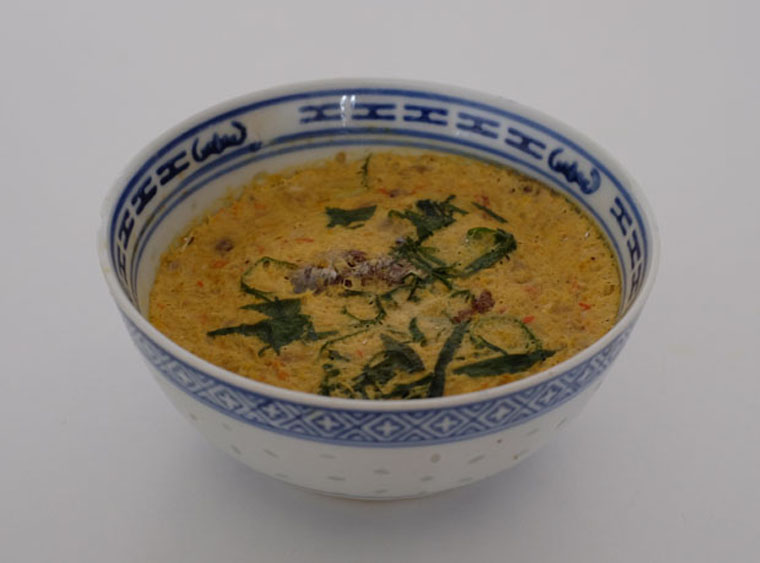 Notes:
This recipe is taken from Food For The Brain, written by Takuji Shirasawa, President of Shirasawa Anti-Aging Medical Institute; Daniela Shiga, researcher with Juntendo University of Graduate School of Medicine and Pelita Lim, a food writer and stylist.

The book shows that daily intake of Medium Chain Triglycerides and Omega 3 that have been proven to help reduce the effects of Alzheimer's disease and dementia. Recipes included in this book contains mainly fatty fish and coconut milk.
Enjoy!