There are a few dishes in this world that make me eat a double amount of rice. Fish head curry is one of them. The flavourful curry sauce from a variety of spices and the creamy coconut milk makes this dish so appetising!
WHY FISH HEAD?
In Asia and some parts of the modern world, it's common to eat an animal (or fish) from head to tail. In Malaysia, fish are normally served whole – with the head and tail.
Funny thing is that the fish head is considered a delicacy. I remember my uncle who dotes on his daughter always saves the cheek of the fish for her. According to him, it's the best part because it's the softest, most delicate part of the fish.
Though we call it 'fish head' curry,  we don't only serve the head alone. The head is attached to the upper part of the fish and the curry is made with a lot of vegetables too!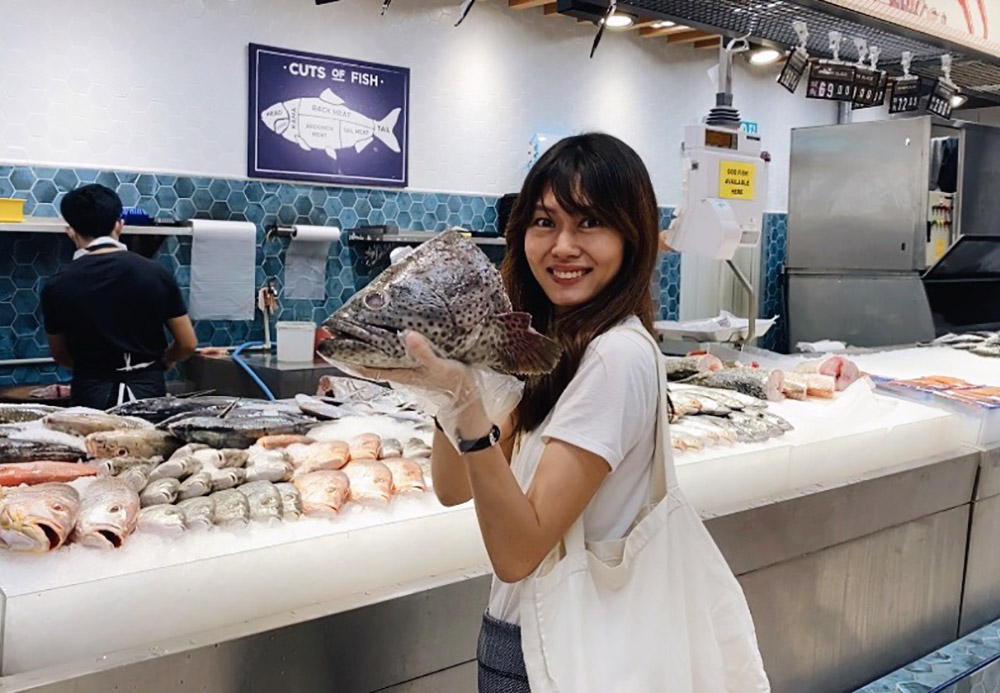 ---
MUST I USE FISH HEAD?
Nope.  You can just put the fleshy part. In fact, I personally prefer the body over the head. My Mom and the older generation like my Uncle on the other hand eat the head like a pro.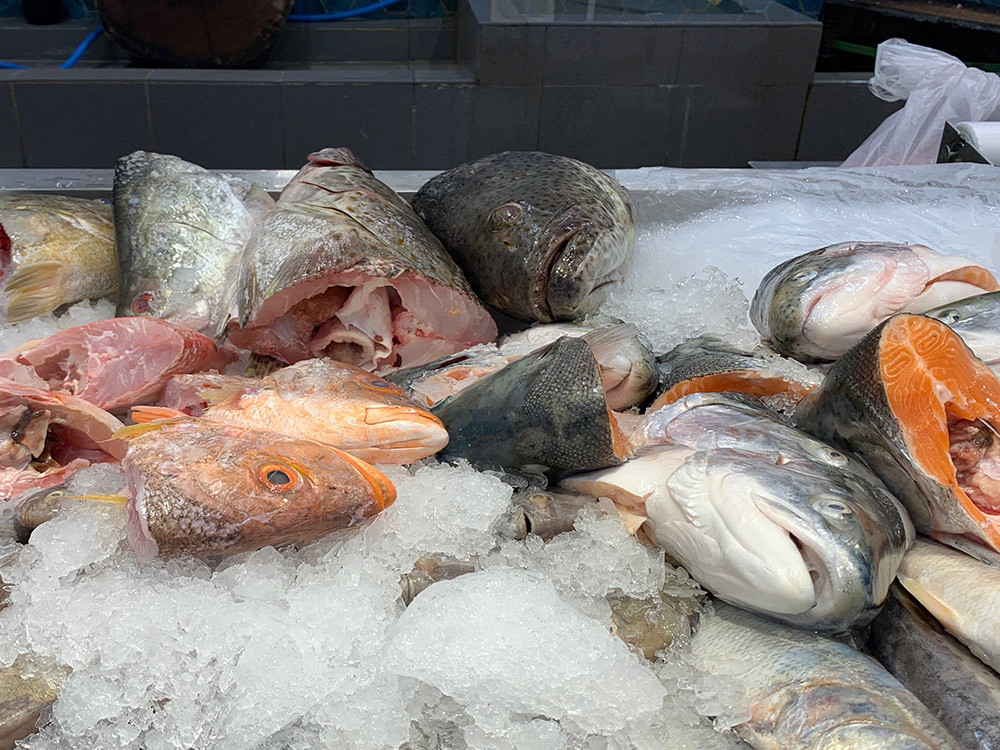 ---
WHAT KIND OF FISH HEAD SHOULD I USE?
Any fish head will do. Even if you want to use salmon (which is not commonly used here in Malaysia). But in Malaysian Chinese restaurant normally offers garoupa (grouper) or snapper. I like garoupa's flaky texture so it's my preferred choice.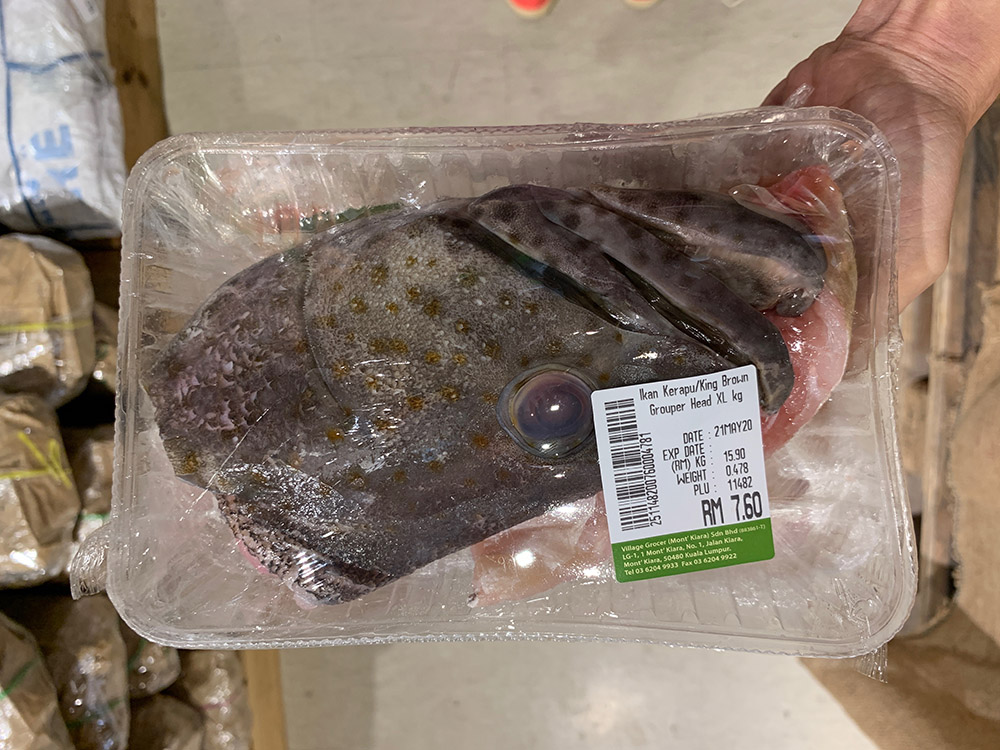 ---
TWO TYPES OF FISH HEAD CURRY IN MALAYSIA
There are two types of Fish Head Curry: Mamak Fish Head Curry and Nyonya Fish Head Curry. Mamak-style is from the Indian & Muslim community in Malaysia. In this curry, we used spices like mustard seeds.
Whereas Nyonya Fish Head Curry is from the Malaysian Chinese community who had adopted the Malay culture. In this version, typical Nyonya herbs like daun kesum or laksa leaves (Vietnamese coriander) and bunga kantan (torch ginger flower) are used to create a spice paste.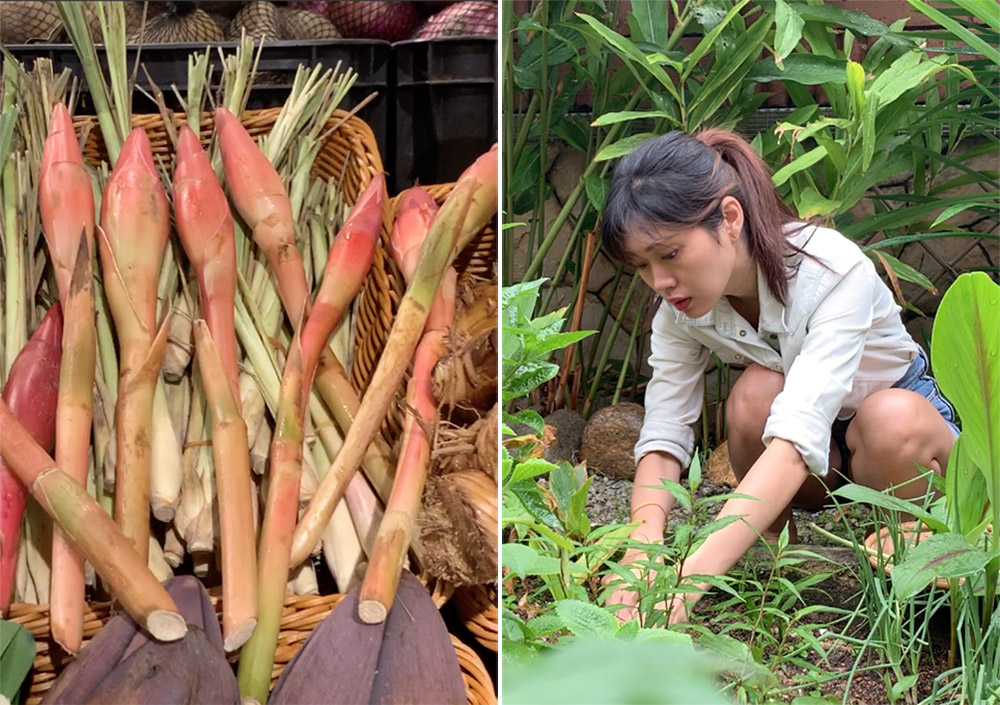 These two tropical herbs are hard to get out of Malaysia and Singapore. Growing them in my garden made me understand why – they need a lot of sun and water. And laksa leaves propagates through stems. Maybe that's why it's hard to export.
If you love curry laksa, you will love this dish. They are made from similar spices. In a Malaysian restaurant, it's normally served in a claypot and served bubbling hot!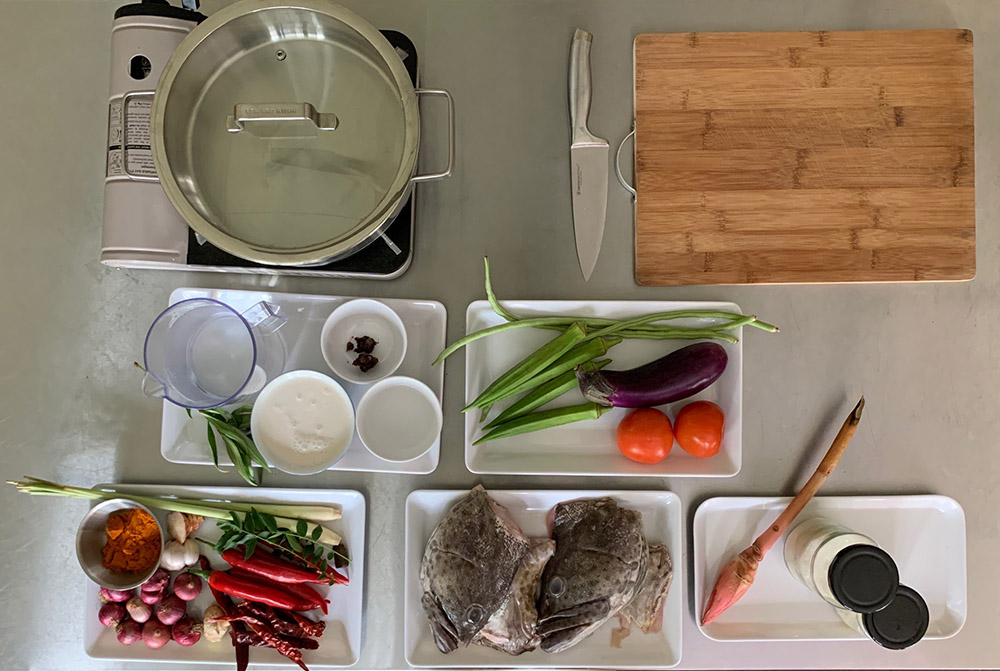 ---
TOOLS
Blender
Knife + chopping board
Pot/ Wok/ Pan + Lid
Cooking spatula
---
RECIPE CARD
Nyonya Fish Head Curry
6th June 2020
: 15 min
: 25 min
: 40 min
Ingredients
SPICE PASTE (FOR BLENDING)
4 tbsp fish curry powder
10 shallots (120 g), peeled and sliced
3 cloves of Garlic
1 cm (5 g) ginger, peeled
2 thumbsize (12 g) galangal
2 stalks of lemongrass (30g)
5 (70 g) fresh red chillies, slices
10 dried red chili, soaked and cut into pieces
1 1/2 tbsp (15 g) belacan/ shrimp paste

OIL
8 tbsp (1/2 cup) Cooking Oil

WATER & SPICES
2 sprigs of curry leaves
2 1/2 - 3 cups (600 - 750 ml) of water
1/2 tbsp (8 g) tamarind paste (diluted in 2 tbsp water)
2 stalks of laksa leaves/ daun kesum

VEGETABLES & FISH
4 ladies fingers/ okra
1 brinjal/ eggplant
3 pieces of long beans
1 kg fish head/ fish fillet
2 tomato, cut into quarter

SEASONINGS & GARNISH
200 ml coconut milk
Sugar (~ 1 tbsp)
Salt (~ 2 tsp)
1 stalk torch ginger flower/ bunga kantan
Directions
Step 1

BLEND SPICE PASTE: Using an electric blender, blend spice space until fine. Add a little oil to make blending easier.

Step 2

SAUTE SPICE PASTE: Heat oil in a wok or a pan. Sauté spice paste stirring continuously until spice paste is fragrant and oil starts to float (~10 minutes)

Step 3

ADD WATER & SPICES: Add the curry leaves and sauté for a minute before adding water, tamarind juice, and laksa leaves.

Step 4

BRAISE HARD VEGETABLES: Add the eggplant and long beans. Close the lid and simmer almost tender (~5 minutes)

Step 5

ADD COCONUT MILK: Add coconut milk and give it a stir.

Step 6

BRAISE SOFT VEGETABLES & FISH: Then add fish head, ladies fingers, and tomatoes. Once fish is tender, turn off heat.(~5 minutes)

Step 7

SEASON: Season to taste with sugar and salt.

Step 8

GARNISH. Dish out. Garnish with torch ginger flower. Serve with rice.
---
SHORT RECIPE
Blend spice paste: 4 tbsp fish curry powder + 10 shallots + 3 cloves Garlic + 1 cm ginger + 2 thumbsize galangal + 2 stalks of lemongrass + 5 fresh red chili + 1 1/2 tbsp shrimp paste + 2 tbsp oil. Cook spice paste in 1/2 cup oil + curry leaves. Add 3 cups of water + 1/2 tbsp tamarind paste + 2 stalks of laksa leaves. Bring to a boil. Add 1 brinjal + long beans. Simmer until veg soften (~5 min) Add 200 ml coconut milk+ 3 ladies fingers + 2 quartered tomato + 1 kg fish head. Simmer until fish softens (~5 min). Season with sugar (~1 tbsp) + salt (~2 tsp) + fish sauce. Garnish with torch ginger flower.
---
View this post on Instagram
KITCHEN HACKS
Blend spice paste with boil There's a lot of spices to blend so putting oil in it will make blending much easier. If you were to put in water, the oil in the pan will splatter once you put the spice paste into the oiled wok!
Leftover soup can be made into curry laksa If you have leftover curry, remove the vegetables, and save the soup for the next day. Put in some chicken, egg noodles, and long beans and you'll have a quick curry laksa!
See more hacks in my Youtube video!
---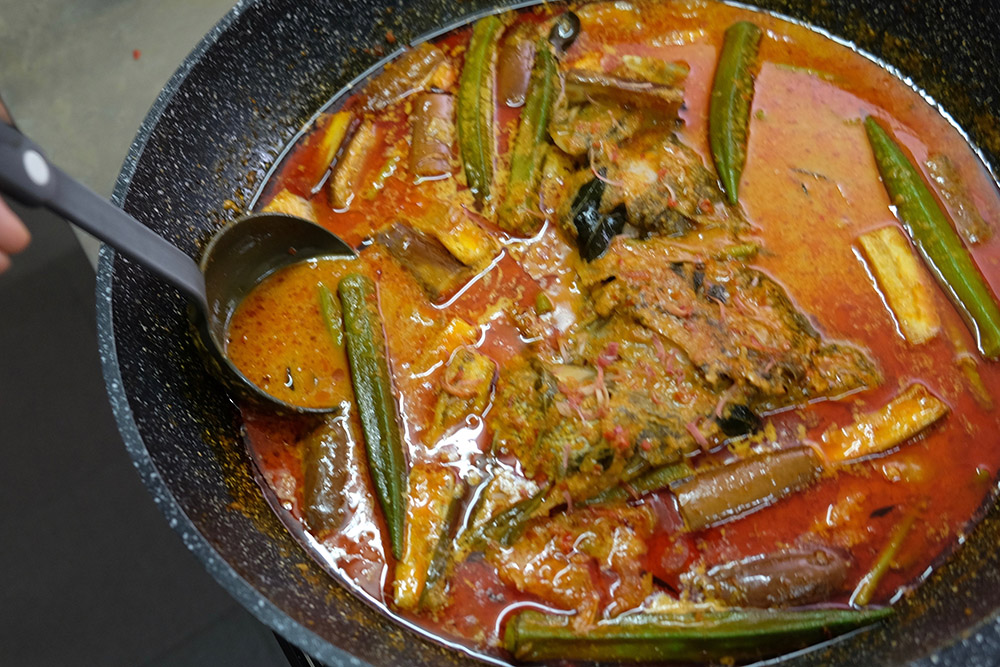 This dish may be a little overwhelming as compared to my other recipes which focus on simpler, faster food.
But the bright side is this is all you need to make for a meal! While cooking this, cook your rice in a rice cooker
I taught The Food Ranger how to make a big pot of it. As I have leftover, the next day I have it with noodles.
But I love it best when it's served bubbling hot and eaten with rice!
Enjoy!