Sago Gula Melaka is one of my top favourite Malaysian desserts. I love the texture of the chewy pearl sago that is drenched in combination of sweet gula melaka (palm sugar) and fragrant santan (coconut milk).
Curiously, unlike the omnipresent cendol or ice-kacang, this dessert is not widely available in Malaysian eateries. Especially the fact that this dessert is very easy to make. To make sago pudding, you only need four main ingredients: sago, palm sugar (gula melaka), coconut milk (santan) and pandan leaves.
---

What is sago?
Pearl sago is a starch that comes from sago palm. As it is plant-base, I thought that it should be generally nutritious. However, it contains little protein, vitamins or mineral. Having said that, I still value this whole, unprocessed food. Sago is also used to make keropok lekor (source: wikipedia).
---
TOOLS
Pot + stove
Whisk
Dessert bowl/ Muffin mould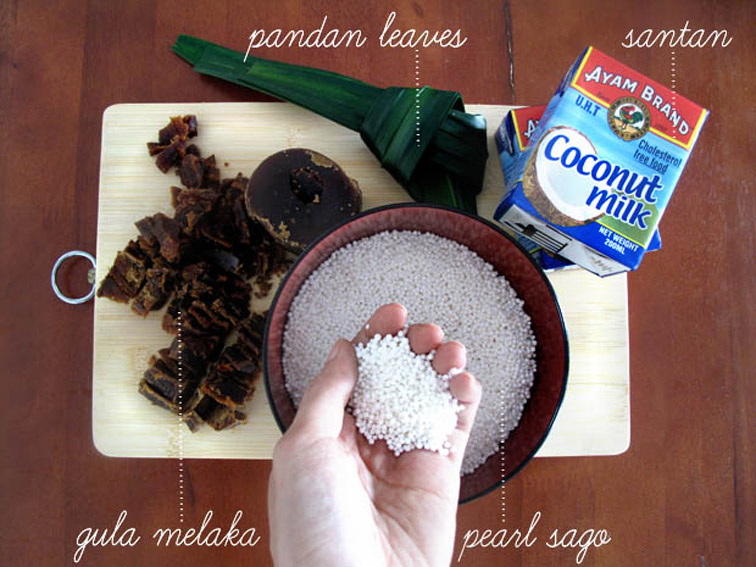 ---
RECIPE CARD
Sago Gula Melaka
13th May 2013
: 8 - 10
: Easy
Ingredients
TO COOK SAGO
1 1/2 cup (200 g) pearl sago
6 cups (1.5 L) water
FOR FLAVOURED COCONUT MILK:
1 cup (250 ml) coconut milk
3 pandan leaves, bruised & knotted
1/4 tsp salt, or to taste
FOR PALM SUGAR SYRUP:
200 g palm sugar (gula melaka), chopped
1/2 cup (125 ml) water
Directions
Step 1

COOK SAGO: In a pot, add sago and water. Turn on medium heat.

Step 2

STIR SAGO: With a whisk, keep stirring so that the sago do not clump. Cook until sago becomes translucent, about 15 minutes.

Step 3

STRAIN: Pour sago into a strainer and wash off excess starch in running cold water.

Step 4

POUR INTO BOWLS: Pour into individual small dessert bowls – to avoid having to transfer it to a serving bowl. Then, put into the fridge to set.

Step 5

FLAVOUR COCONUT MILK: In a saucepan, pour in coconut milk, pandan leaves and salt. Boil on low fire until it bubbles. Stir constantly. Set aside to cool.

Step 6

MAKE SYRUP: In another pot, melt palm sugar and three tablespoon of water on low fire, about 5 minutes

Step 7

SERVE: Serve pudding with drizzles of palm sugar syrup and flavoured coconut milk.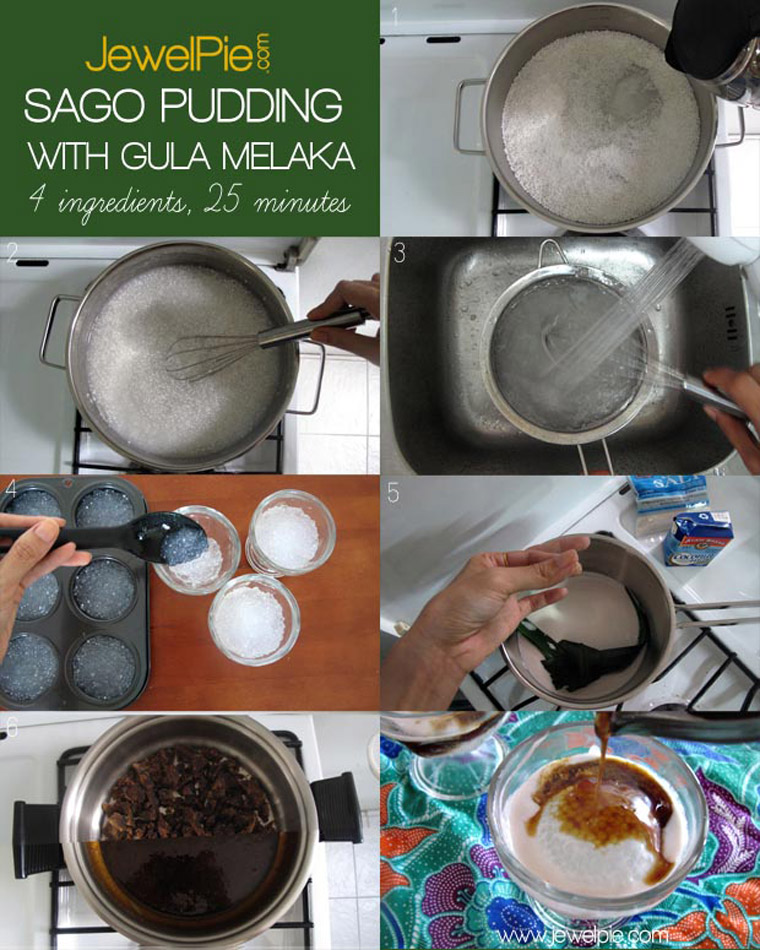 ---
COOKING TIPS
Muffin tray as mould. You can also put it in muffin tray/small bowls oiled with vegetable oil, for easy removal. This recipe makes about 10.
Packet coconut milk. As fresh santan is hard to come by and does not last, I used coconut milk in a packet for convenience.
Good quality palm sugar and coconut milk. As sago is tasteless, this dessert relies on the flavour of coconut milk and gula melaka. If you can, get fresh santan and pure gula melaka for best results.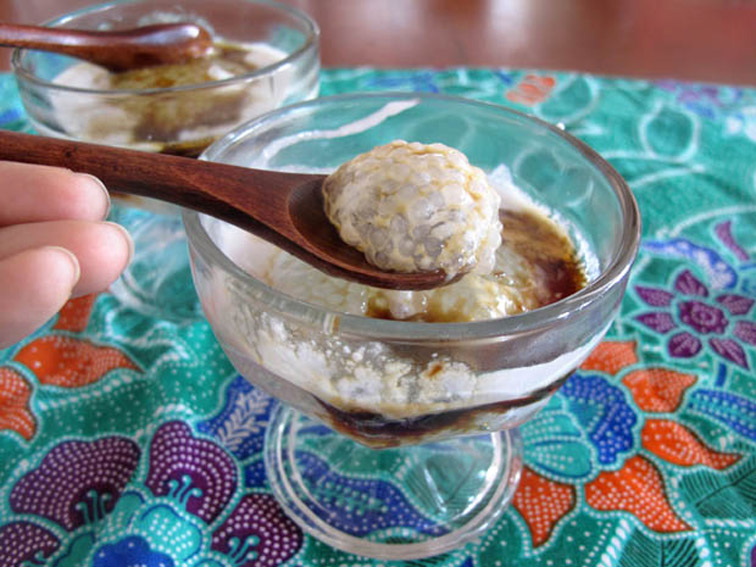 ---
Enjoy!