Since investing in a slow juicer, I try to make cold-pressed juice as often as possible. Realistically, the best I can do is two to three times a week. My modus operandi is make enough to last a few days before juicing again. Having spent many hundreds on this appliance, I told myself "This will not be left lonely in my kitchen!".
To ensure that the machine is a worthy buy, I devised many ways to make juicing as simple as possible so I'll be more inclined to make it. Keeping my fridge organised is one way. When I'm really busy, I resort to my tangy No-Peel Juice.
There are never-ending juicing combinations. If you look into juicing books, most target conditions e.g reduce fats (Read: Citrus Fat Burner Juice) or help detox (Read: Green recipe detox juice). This time, I just want a combination that is both convenient and tasty.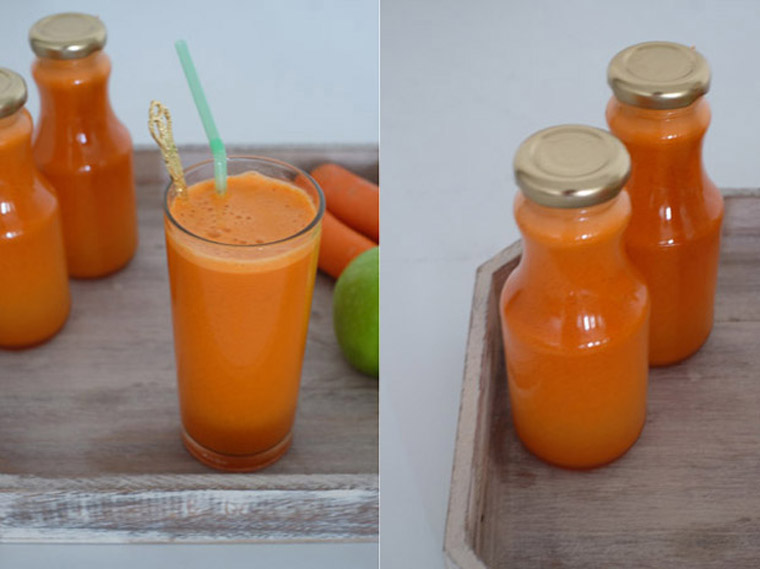 No-peel juice?
As I have a wide-mouth juicer, I already eliminate the need to cut fruits into small pieces. On top of not having to peel my produce, I choose fruits and vegetables that don't require peeling e.g carrots, apples, celery, kai lan. No chopping. No peeling. It's really just washing produce and throwing them into the machine.
I love the carrot- green apple-and ginger combo. Sweet carrot is balanced with sour green apples, while ginger gives a little spicy and peppery taste. As I like tangy drinks, I put quite a lot of green apples. If you like it sweeter have more carrots. You can omit ginger entirely if you don't like it. Juicing is really flexible!
---
TOOLS & APPLIANCES
Juicer (Preferably cold-pressed juicer with a wide chute)
---
RECIPE CARD
EASY, NO-PEEL COLD PRESSED JUICE
3rd May 2017
: 4
: Super Easy
Easy and delicious juice. Enjoy natural sweetness of carrot, tanginess of green apples and a hint of spiciness of ginger.
Ingredients
8 - 10 pcs Carrots
5 -6 pcs Green apples
1 knob Ginger
Directions
Step 1

Soak carrots, apples and ginger in water for 20 minutes.

Step 2

Scrub them clean and rinse.

Step 3

Place whole fruits directly through a wide-mouth juicer.
---
SHORT RECIPE
Soak 10 carrots, 6 apples and 1 knob ginger in water or DIY Fruit & Vegetable Pesticide Wash for 20 minutes. Scrub & rinse. Juice.
---
JUICING TIPS
It's best to get organic fruits since we are eating it whole and raw.
If you're not using organic fruits, you might be worried about pesticide content in the fruits and would prefer to remove the skin. Yes, if you feel better that way and have the time, please do it. You could also soak your vegetables salt and vinegar (DIY Fruit & Vegetable Pesticide Wash) which many sources claim that it helps get rid of pesticide residue.
If you can, get a wide-mouth juicer so that you don't have to chop your produce.
I keep my juice in a 300 ml glass containers which I fill to the brim to minimize oxidation.
Sometimes, I add stem or stalks of green vegetables which are too fibrous to cook e.g broccoli stem.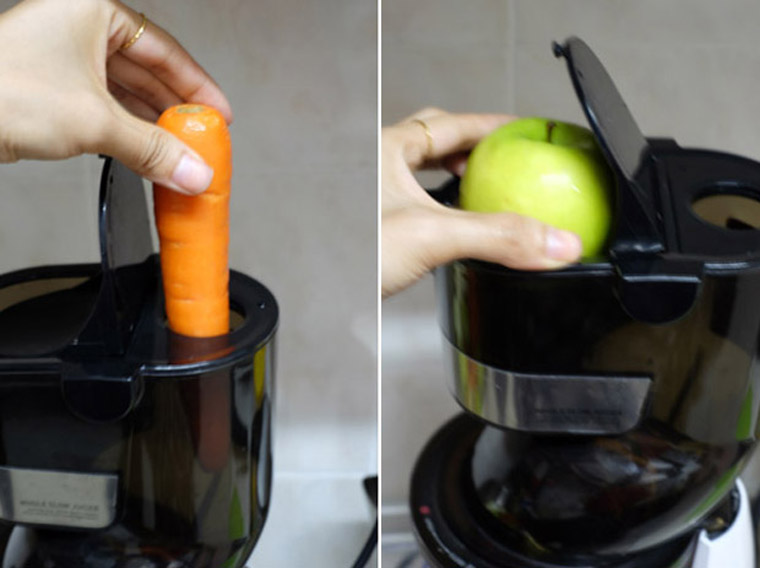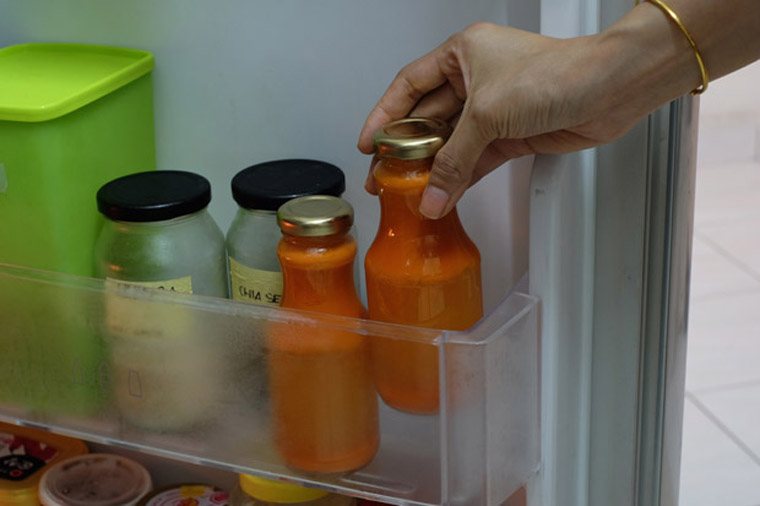 ---
Do you have a juicer at home which you're not using? What's your 'lazy, go-to' juice?