I grew up drinking herbal soup and tonics with a lot of unidentifiable things in it. There were sweet red rounded things (goji berries) and what look like thick tree barks (codonopsis root). While I could name some of them by their Chinese names, I had no idea what I was eating.
Many years back, I took an interest in Chinese herbology and bought heaps of books to study it. It's amazing to read all the health benefits that these herbs provide. I know how first hand how effective they are to my body (I swear by pat chan tong 八珍汤, a bitter herbal tonic for drinking after menstruation, which energised my body like nothing else).
I know that most people only know the herbs by their Chinese name. But for someone who is illiterate in Chinese, I thought its important to know their name in English so that we could read and learn more about it. Here's a list of common Chinese herbs - in English, Mandarin, and Cantonese - that are kept in my fridge: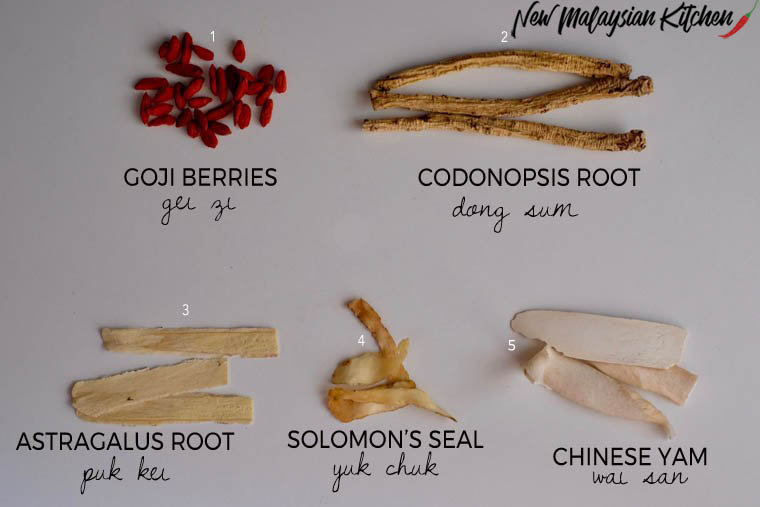 1. Goji Berries - 枸杞子 gou ji zi/ gei chi
2. Codonopsis root - 党参 dangshen/ dong sum
3. Astragalus root - 黄芪 huang qi/ puk kei)
4. Solomon's seal - 玉竹 yu zhu/ yuk chuk
5. Chinese yam - 淮山 huai shan/ wai san)
---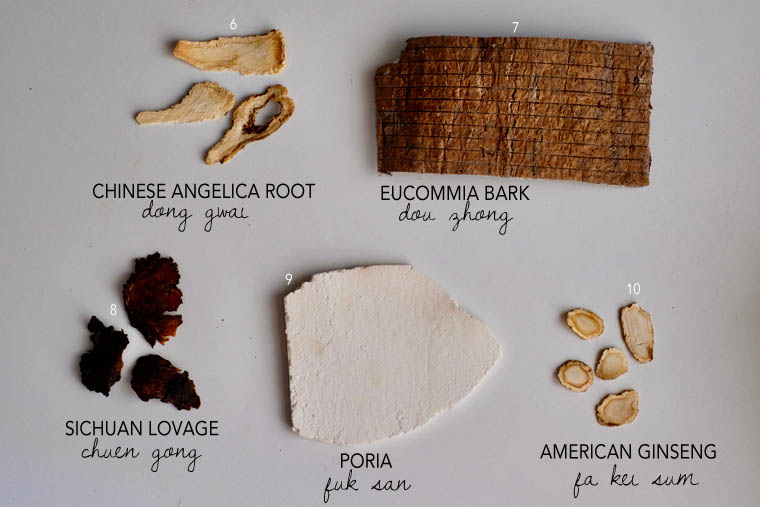 6. Chinese angelica root - 当归 dang gui/ dong guai
7. Eucommia bark – 杜仲 du zhong/ dou zhong
8. Sichuan Lovage - 川芎 chuang xiong/ chuen gong
9. Poria - 茯神 fu shen/ fuk san
10. American Ginseng - 花?參 fa kei sum
---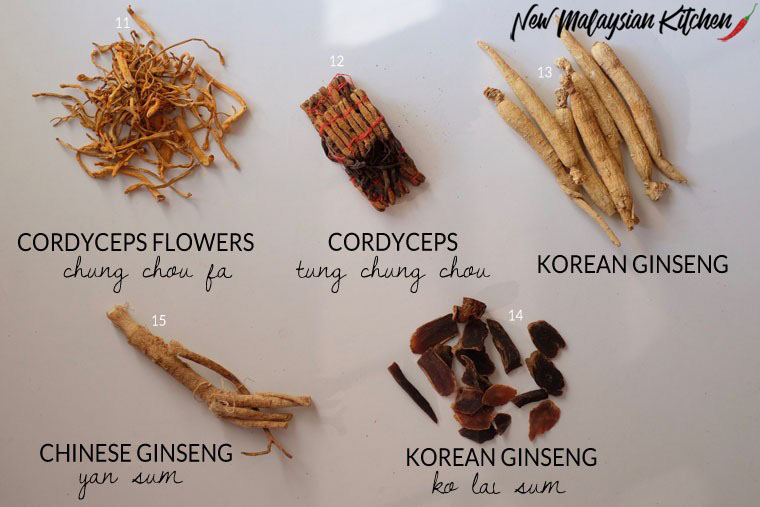 11. Cordyceps flowers - 虫草花 chong cao hua/ chung chou fa
12. Cordyceps - 东虫夏草 dong chong xia cao/ dong chung chou
13. Korean Ginseng - 人参 ren sheng/ yan sum
14. Korean Ginseng - 高麗參 gao li shen/ ko lai sum
15. Chinese Ginseng - 人参 ren sheng/ yan sum
(Note: Both 13 and 14 are Korean Ginseng in different forms)
---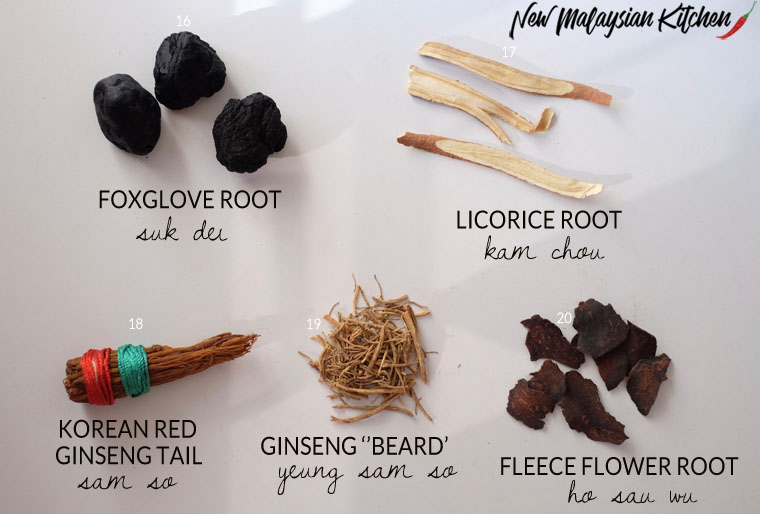 16. Foxglove Root - 熟地黄 shu di/ suk dei
17. Licorice Root - 甘草 gan cao/ kam chou
18. Korean Red Ginseng (Tail) - yeung Sum
19. Ginseng Beard - 洋心须/ yeung Sum So
20. Fleece Flower Root - 何首乌 he shou wu/ ho sau wu
---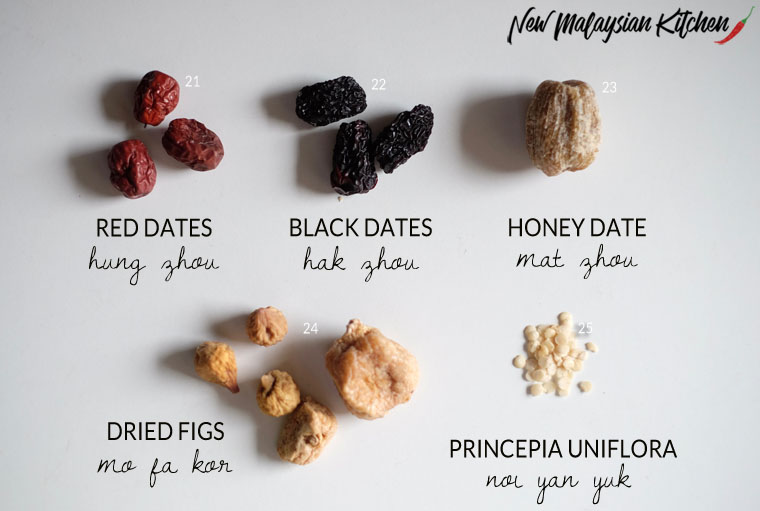 21. Red dates -红枣 hong zhao/ hung zhou
22. Black dates - 黑枣 hei zhao/ hak zhou
23. Honey dates - 蜜枣 mi zhao/ mat zhou
24. Dried figs - 无花果 mo fa kor
25. Princepia Uniflora -  内人肉 noi yan yuk
---
Many of these herbs are tucked away in the fridge. Due to our hot and humid weather, herbs keep fresh for longer in a cool place.
What other common Chinese herbs that should be in this list? Share with me!
And check out a simple yet potent herbal soup recipe that my mother makes:
FIND THIS USEFUL? GET CURATE RECIPES & FOOD TIPS IN YOUR INBOX
Every month, I send write a personalised e-mail with my favourite recipes, food tips, and recent food adventures. Keep in touch with me by signing-up for my newsletter👇 OR follow me at my personal Instagram.