I was like most children; I hated vegetables (except spinach because when I was a kid I liked Popeye). My poor mother had to cook spinach for me everyday, and my poor siblings got so fed up of it. She tried various ways to make me eat more green vegetables. One of successful way is through using dried shrimp belacan chilli. I could eat a whole stick of raw cucumber when it is accompanied this savoury dip!
When I no longer live with my mother, she occasionally sends over a container of fresh dried shrimp belacan. It would made my day. With this bottle of condiment, I would make petai sambal and kangkung belacan in a matter of minutes.
As I have learned to love and eat all kinds of vegetables, and they are faster when stir-fry with garlic, I only make it occasionally. When I do, it will be in a huge batch, stored it in a container and treated like gold. Do try this savoury recipe, it's slightly spicy and has some crunch from the dried shrimps. The burst of flavour is out of the world!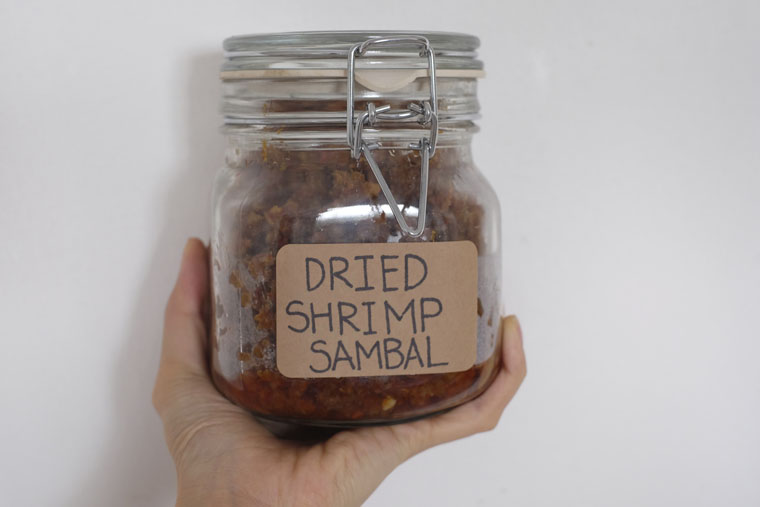 ---
TOOL
Blender/ pestle & mortar
Wok + spatula
Air-tight container
---
RECIPE CARD
DRIED SHRIMPS SAMBAL
3rd May 2017
: 30 min
: Medium
Ingredients
150 g (8pcs) shallots
100 g (8 pcs) red chillies
40 g (1 bulb) garlic
40 g belacan
200 g dried shrimps
250 ml cooking oil
Directions
Step 1

TO MAKE SAMBAL PASTE: Blend the shallots, chillies, garlic and belacan into a paste.

Step 2

TO PREPARE SHRIMPS: Blend dry shrimp for a few seconds. It should be crushed, but not too small to maintain the crunchy texture. In a wok with hot oil, fry dry shrimps. It should take about 10 min.

Step 3

TO COOK DRIED SHRIMPS & SAMBAL BELACAN: Fry sambal paste separately until fragrant. It should take about 10 minutes. Add the dried shrimps into wok, mix well and fry for a few minutes. Wait for it to cool before putting into a dry container.
---
SHORT RECIPE
Blend 150 g shallots + 100 g red chillies + 1 bulb garlic + 40 g belacan into a paste. Stir-fry sambal until fragrant (10 min). Add 200 g blended dried shrimps. Fry for a while. Cool & store.
---
COOKING TIPS
Make a big batch to keep in the refrigerator. It can last for weeks.
This condiment is delicious with rice or cucumber. It can also be used to stir-fry vegetables like sambal petai.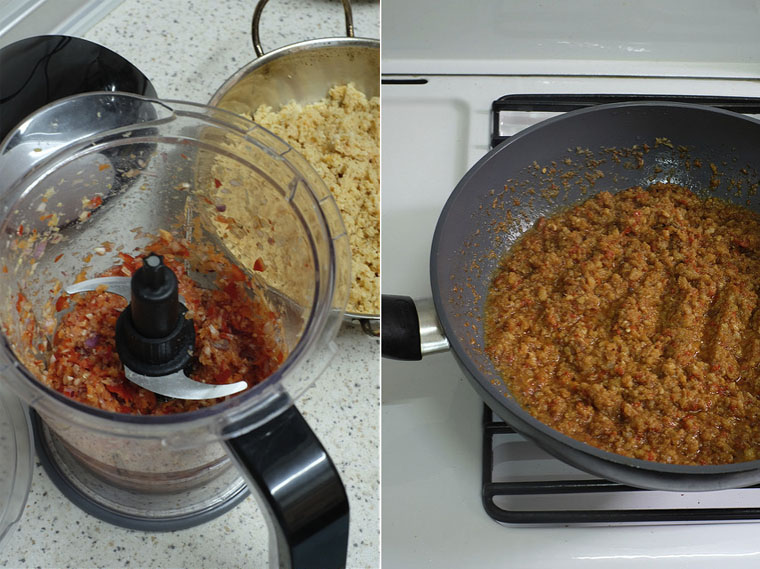 Enjoy!