"Who eats vegetables for breakfast?" he asked when I help myself with ratatouille during breakfast in a hotel at Paris recently. "The French?" I replied. "Weird" said he.
This is another dish I make to include more vegetables into my love one's diet. How do you convince a boy who loves steaks and ignore vegetables to eat more greens? The answer to the conundrum is: make the greens seems secondary. In this case, the pancake is flavour with dried shrimps which umami flavour overpowers any bitterness from the chives.
I grew up having this pancake for tea though. My mother, a stay-home-must and an excellent cook, need her tea time. She makes this pancake often, and other snacks such as fried lin gou (nian gao/年糕)) with yam.
I never noticed then the amount of vegetables in each pancake and I believe nobody will. Make this and someone will be having vegetables for breakfast and wouldn't even notice it 😉
---
INGREDIENTS
You need only these 3 main ingredients: flour, chives, and dried shrimps. The rest – oil, sugar, and alt – should be found in every cook's pantry.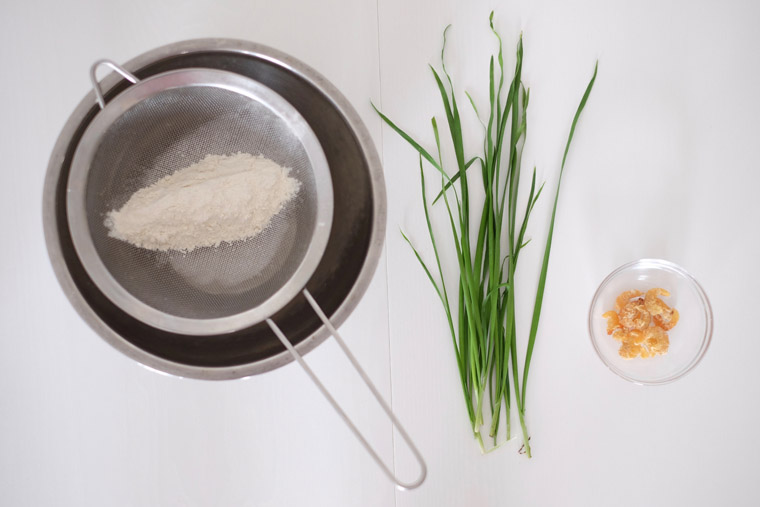 ---
TOOLS
Non-stick pan (I'm using a 28 cm pan)
Chopping board + Knife
Mixing bowl + chopstick (to mix batter)
Sift (optional)
Small bowl (to soak dried shrimps)
---
RECIPE CARD
Easy Chinese Chives Pancake
28th November 2017
: 2
: 5 min
: 10 min
: 15 min
: Easy
Ingredients
MAIN INGREDIENTS
4 tbsp all purpose flour, sifted
10 g chives, chopped into 2 cm
1 tbsp dried shrimps, soaked and chopped


OTHERS
6 tbsp water
¼ tsp sugar
¼ tsp salt
1/2 tbsp oil
Directions
Step 1

PREP: Soak shrimps. Sift flour (optional). Chop chives

Step 2

MAKE BATTER: Slowly add water into the flour while using a pair of chopstick to mix into a smooth paste. Season with sugar and salt. Add chives. Mix well.

Step 3

FRY DRY SHRIMPS: Heat 1/2 tbsp of oil in a pan over high fire. When oil sizzle, fry shrimps until fragrant (when it begins to jump) (1 min).

Step 4

HEAT BATTER: Pour batter into the middle of the pan. Immediately swirl it around the pan. Let it set.(3 min).

Step 5

FLIP BATTER. When pancake is no longer translucent and begin to brown, flip it over, and cook for another few minutes (3 min). Dish out and serve hot.
STEP 1: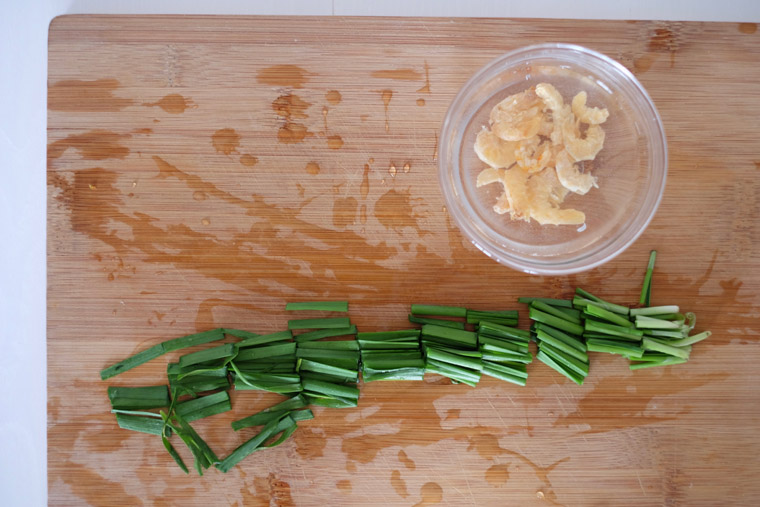 STEP 2: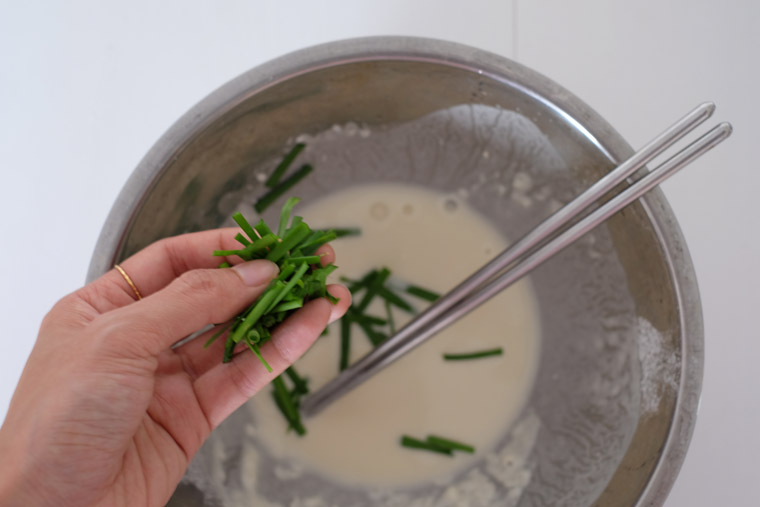 STEP 3: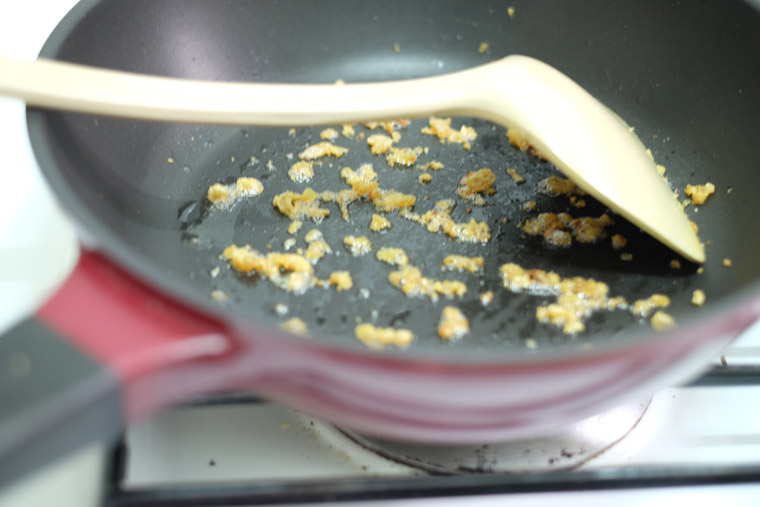 STEP 4: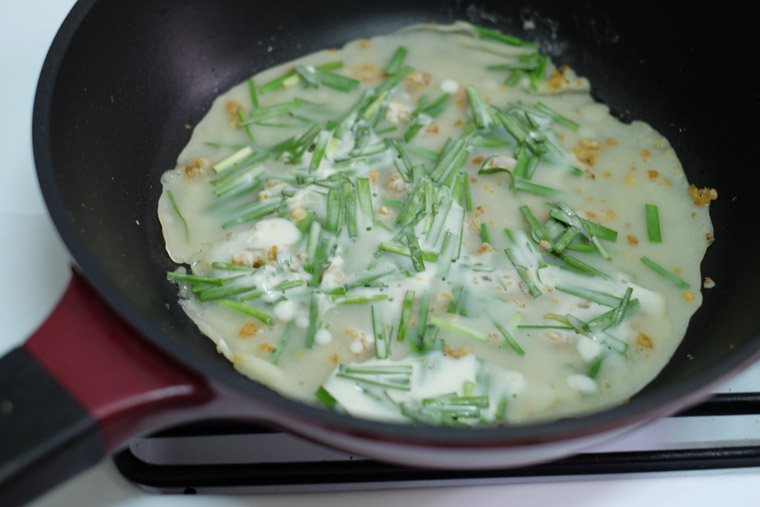 STEP 5:
---
SHORT RECIPE
Add 6 tbsp of water into 4 tbsp of sifted flour. Mix well. Add 1/4 tsp sugar + 1/4 tsp salt + 10 g chopped 2 cm chives. Fry shrimps in 1/2 tbsp oil. Cook batter (3 min). Flip. Cook (3 min).
---
COOKING TIPS
Double the recipe. This recipe makes one pancake. Depending on how many pancakes you want, multiple by that number. Easy!
You can omit sifting the flour. This additional step will make the texture of the pancake better. When I want it fast and don't feel particularly motivated, I happily skip this step.
How to make a round pancake? 

Pour batter in a circular motion into the pan and immediately swirl it around. You have to do this step really quickly.
Do not move the pancake until it is set. How do you know it's set? When the flour is no longer white. It should be light brown.
Slide the pancake from the pan into the plate. As the pancake is rather flimsy, its best to transfer it this way to prevent unnecessary contact with it.

Cook longer to make it crispy I prefer my pancake crispy and browned. So I'll normally cook longer than 3 minutes.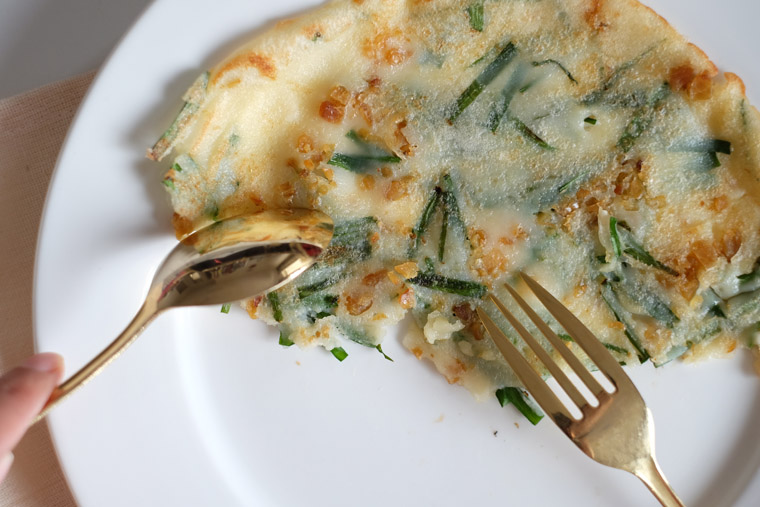 ---
Enjoy it for breakfast or tea!