Cooking can be tiring. Cooking every day during lockdown is even more so. So we have a few simple go-to recipes that we make at least once weekly. One of them is steamed fish!
TOP THREE COOKING TIPS
This dish does not need special skills. So even if you're new to cooking, this is something that you probably wouldn't fail. There are three things you need to do…
---
Where to get fresh fish in Kuala Lumpur
The variety of local fishes
How to rid of fishy odour
---
1.GET THE FRESHEST FISH YOU CAN
If you're lucky enough to live in peninsular Malaysia or Borneo or anywhere near the sea, find a fishmonger who sources directly from a fisher. While the freshness of meat like chicken is not as noticeable and can be masked with cooking method, fish is not.
Fish that are not fresh has an unpleasant fishy odour that is easily detectable. If I cannot get fresh fish, I won't bother steaming it; I'd just fry it instead.
Even if you're a buying from a reputable fisher,  it's also important to know how to choose fishes that are fresh. Do not pick fish that is 1) soft to touch, 2) has brown gills, 3) has red eyes. These are all indications that the fish has already deteriorated.
2.CLEAN THE FISH THROUGHLY
Make sure you get rid of the scales, the innards, and any residue blood. If not removed, these will compromise the taste of even the freshest fish.
3. DO NOT OVERCOOK IT
We prized steamed fish for its smooth texture among other things. The texture can be ruined if it is overcooked. Just like the poached chicken for Hainanese Chicken Rice, the trick is to cook it at the right temperature.
For the 800 g Garoupa, and a 600 g Chinese Pomfret, I steamed it for about 15 minutes. It was the perfect texture for me. But some friendly people on Youtube commented that it can even be shorter as the residual heat will continue cooking the fish even after its removed from the wok. To be on the safe side, you may want to see if it's just cooked maybe at 12 minutes.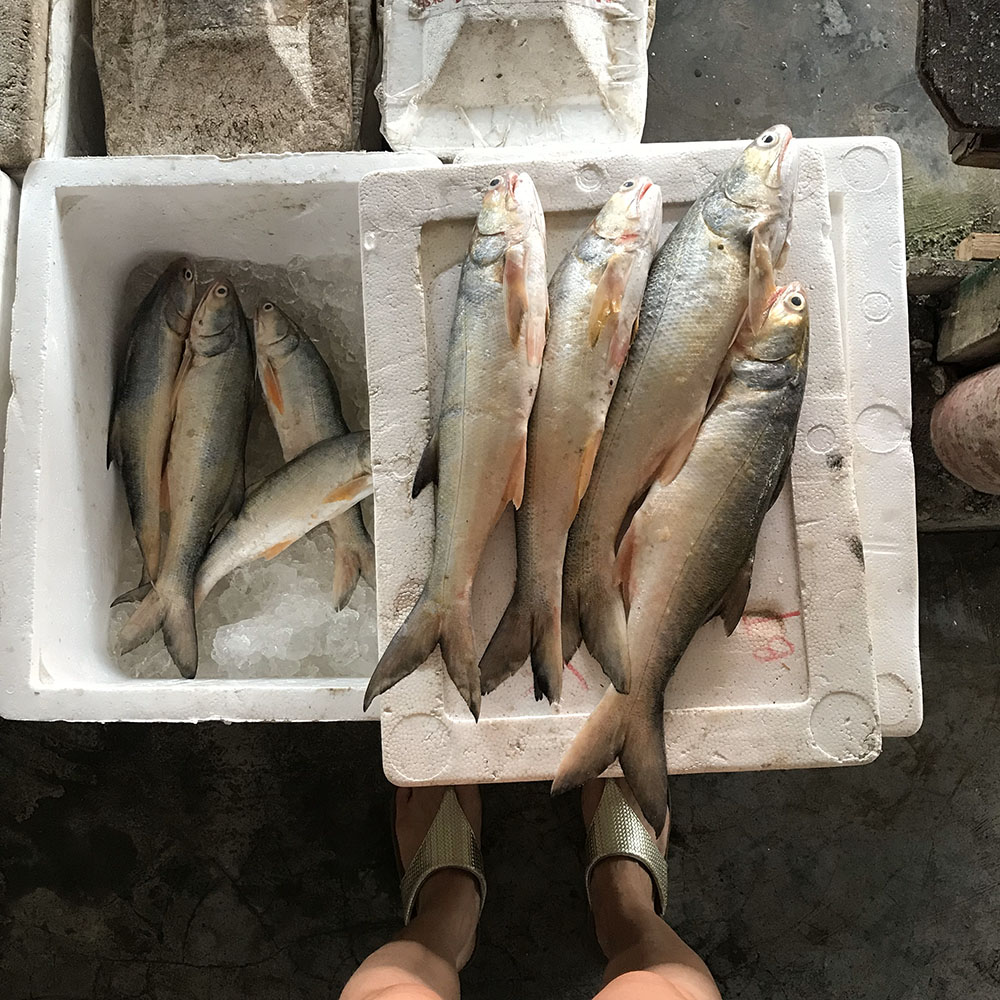 Fresh Threadfin/Senangin/ Ma Yau at Penambang, Kuala Selangor
WHERE TO GET FRESH FISH IN KUALA LUMPUR
I used to go all the way to Penambang at Kuala Selangor, a fishing village at west coast of Malaysia. I'll have lunch by the river while and waiting for the fisherman boat to come back for freshly caught fish.
Now, I discovered a new wholesale seafood store in Kepong called Seng Yep. They source fishes from places like Kuala Selangor, which is only 45 minutes away. Check out my Youtube video to see the the variety of fishes that you can get there.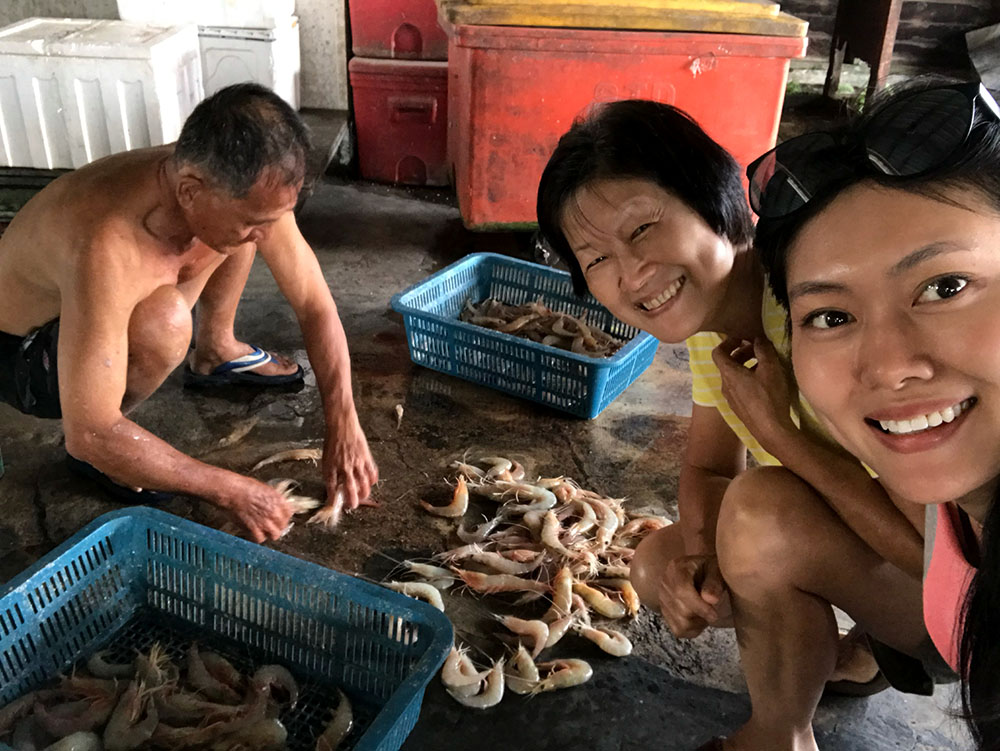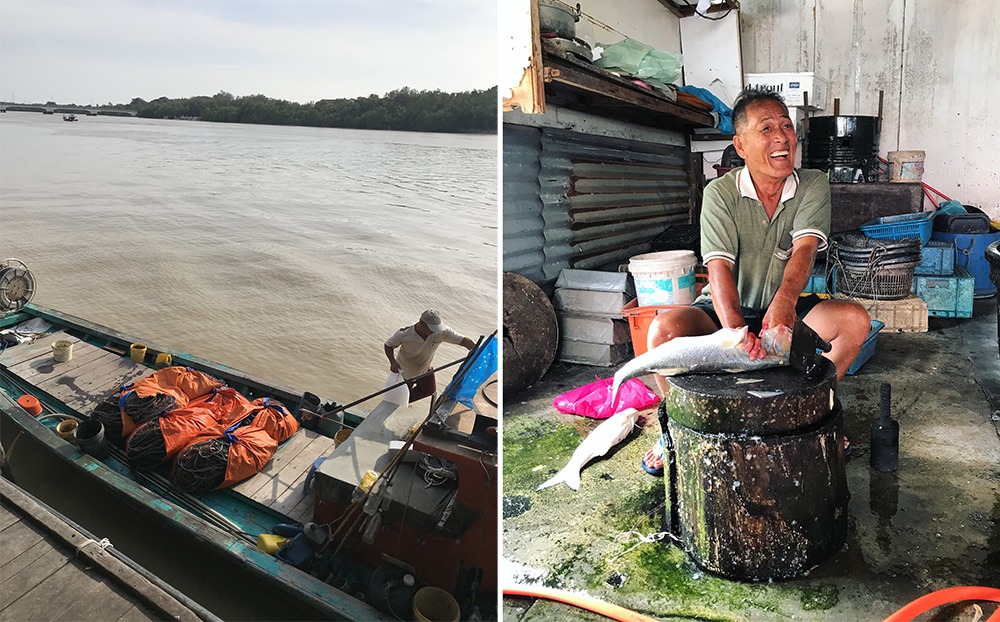 ---
FISH SUITABLE FOR STEAMING
These are some of the kind of fish that we like to use for steaming:
Garoupa/ Ikan Kerapu / Sek Pan
Pomfret / Ikan Bawal / Chong Yu
Threadfin / Ikan Senangin/ Ma Yau Yu 
---
TOOLS
Wok with lid
Steaming rack
Knife + chopping board
---
RECIPE CARD
EASY Malaysian-Chinese Steamed Whole Fish with Ginger & Soya Sauce
20th May 2021
: 4 person
: 10 min
: 15 min
: 20 min
: Easy
Easy, quick, and nutritious dish.
Ingredients
Fish suitable for steaming e.g Garoupa/Grouper, pomfret, etc - 800 g
TO MAKE CRISPY SHALLOT & OIL:
Shallot - 6 pieces
Oil - 1/2 cup
Soya sauce - 1/2 tablespoon
TOPPINGS
Coriander leaves - 1 bunch
Spring onions - 6 stalks
Fresh red chili - 1
Directions
Step 1

CLEAN & DRY FISH. Dry fish with a napkin. Remove any residue innards and blood. 

Step 2

MARINADE: Brush fish with 1 tbsp oil, 1 tsp salt, and 1/2 tbsp sesame oil. Marinade 20-30 minutes. 

Step 3

PREP TOPPINGS: Roughly chop coriander and spring onions. Slice chili thinly. 

Step 4

STEAM: Boil water. Put fish to steam for about 15 minutes (depends on the size and thickness of the fish)

Step 5

MAKE CRISPY SHALLOTS IN OIL: Slice shallots, put in a bowl, and pour 1/2 cup of oil over it. Microwave until just browned (~5 minutes). Add 1/2 tablespoon of soya sauce into 4 tablespoon of oil. 

Step 6

GARNISH: When the fish is cooked, top with chili, coriander, spring onion. Close for few seconds. Pour about 4 tablespoon of shallot oil-soya sauce over it.
---
SHORT RECIPE
Brush 1 tbsp oil + 1 tsp salt + 1/2 tbsp sesame oil on 800 g of garoupa fish. Top with 1/3 cup of julienned ginger. Steam for 15 minutes. Top with 1 sliced chili + 1 chopped coriander + 6 spring onions. Close lid for a few seconds. Top with 4 tablespoon shallot oil + 1 tsp soya sauce
---
KITCHEN HACKS
Cook shallot oil in a microwave It takes less than 10 minutes to make, and can be kept for up to two weeks.
Keep shallot oil in your pantry Always keep this handy in your kitchen pantry. It can be used to flavour other dishes e.g stir-fry vegetables.
Buy fish in a bulk Find a good source of fish and buy in bulk. Not only you get the freshest fish, they are usually more affordable too
Consider including steamed whole fish in your weekly menu. Not only it's easy to book, but its nutritious too.
WATCH VIDEO: CHEAT Malaysian-Chinese Steamed Fish Recipe (6 EASY Steps)