During my growing years, sometimes I eat up to two bowls of rice for dinner. Despite my mother preparing lavish meals with at least four different dishes (excluding Chinese soup), my siblings and I will still be hungry near bedtime. We will then voice our plight to our parents. I guess it's not easy to raise and feed a few teenagers who seem to always have growling tummies!
Sometimes we will make instant noodles or sandwich on our own. Other times, my parents will cook supper for us. We were spoilt with variety of homemade supper. One of our favourite is Hokkien Mee. I think that is how I have such pleasant memory of this dish and enjoy eating it once in a while.
In Malaysia, it is so easy to get delicious plate of Hokkien Mee without venturing too far from our neighbourhood. Many people don't find a need to cook them at home. But then, I've always like the homemade version where I get plenty of ingredients, especially seafood like prawns and fishcakes.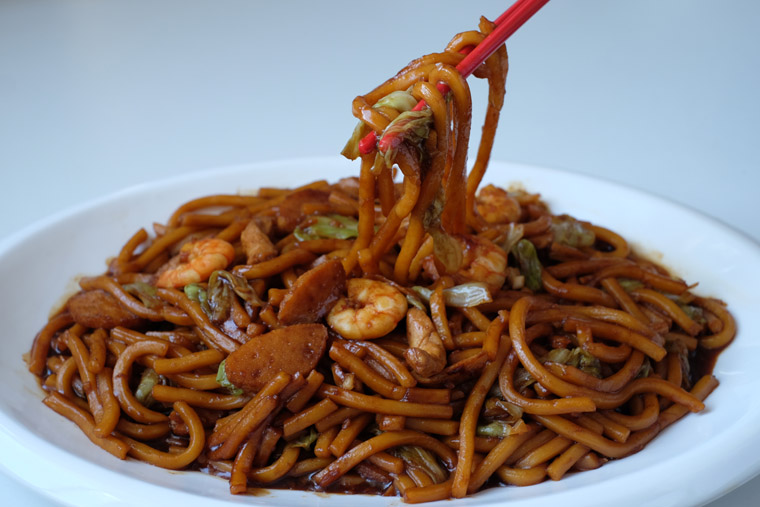 My mother taught me this recipe, in which she braised until the noodles soften and shimmer. This method is used because most home kitchens do not have powerful commercial ones. Hence, cooking the noodles relying on pure heat is not possible. The good news is that the braising method makes this recipe much easier.
Also, I wrote this dish for my friends who are overseas. With this in mind, I omit the pork lard and oil (which my family normally use) and use ingredients which are easily available everywhere in the world.  Even if you're faraway, you could probably make this dish without much trouble (the hardest ingredients to get hold of is the noodles). I believe this is the simplest Hokkien Mee recipe you can find.
---
TOOLS
Work with lid + spatula
Knife + chopping board
---
ACTIVE TIME
20 minutes
---
RECIPE CARD
Easy Malaysian Hokkien Noodles
13th June 2017
: 4
: Medium
Ingredients
3 tbsp oil
5 cloves of garlic, finely chopped
8 Prawns, medium sized
50 g pork, sliced
1 fried fish cake, sliced, chop into 0.5 cm slices (optional)
1 small green round cabbage, chopped into palm-sized pieces
400g of thick hokkien noodles
1 cup of chicken/pork stock, or water
SAUCE:
3 - 4 tbsp dark soy sauce (for colour)
2 - 3 tbsp of oyster sauce
1 tsp granulated sugar
3 dashes of white pepper powder
TOPPINGS:
crispy pork lard (optional)
Directions
Step 1

PREP INGREDIENTS: Soak noodles for 30 minutes (drain later). Mince garlic. Devein and remove shells of prawns. Slice fish cakes. Rinse cabbage, remove the leaves and chop into large palm-sized pieces. In a bowl, mix sauce together.

Step 2

FRY PRAWNS: Heat 3 tbsp oil in a wok over medium-high heat until shimmering. Fry prawns until it just turn red and set aside.

Step 3

FRY AROMATICS & PORK: Fry garlic until it begin to turn brown, or for 30 seconds. Add pork and fry until cooked, or for 30 seconds. Add fish cakes, stir a few times. Add cabbage and fry until it begin to soften, about 15 seconds.

Step 4

ADD NOODLES, STOCK & SEASONINGS: Pour in noodles, stock and sauce. Add more dark soy sauce if the colour is not dark enough.

Step 5

BRAISE: Cover with lid, and braise until stock evaporated and noodles almost turn dry and shimmery (20 min). Add in the prawns. Taste and adjust the sauce to your liking. You may want to add more salt, oyster sauce, soy sauce, pepper, sugar or even chicken stock powder.

Step 6

SERVE: Dish out noodles into a large plate. Best eaten with crispy pork lard and belacan chili.
---
SHORT RECIPE
Fry prawns in 3 tbsp oil. Set aside. Fry 5 minced garlic cloves + 50 g sliced pork. Fry fish slices & cabbage. Add 400 g soaked noodles + 1 cup stock + sauce (3 tbsp dark soy sauce + 2 tbsp oyster sauce + 1 tsp sugar + few dashes pepper). Braise with lid closed for 20 min, or until sauce evaporated. Add prawns. Adjust seasoning. Serve.
---
COOKING TIPS
Using pork lard and oil is highly recommended. Pork lard and oil adds incredibly flavour to this dish. I recommend that you carve out an extra 20 minutes to make crispy pork lard and use the oil for cooking and drizzling over the dish. It makes a huge difference!
Cube and freeze pork lard in small portion. My friend, Melody, a Malaysian who lives in Australia, said "Everyone loves Hokkien Mee in my household! Here's a tip though for lard - when I buy bacon and split it up in individual meal portions for freezing, I cut off the lard and dice it and freeze it too - before I start making these noodles, I fry the lard up, and set aside so I get the lard AND oil". Try 100 - 125 grams pork fats for this recipe.
Blanch vegetables To save time, blanch the noodles in hot water for 5 minutes instead of soaking in room temperature water for 30 minutes.
Fish cakes is optional. As fish cakes is not a common ingredients around the world e.g especially western countries, I put it an an optional ingredient. This dish will still taste good without it.
Cooking without stock. If you do not have stock, you may need to put more seasonings. If you are trying to achieve the umami taste that you get at hawker stalls, you may need to add more oyster sauce or even chicken stock powder. As I cook with pork stock, I find the taste pleasant enough.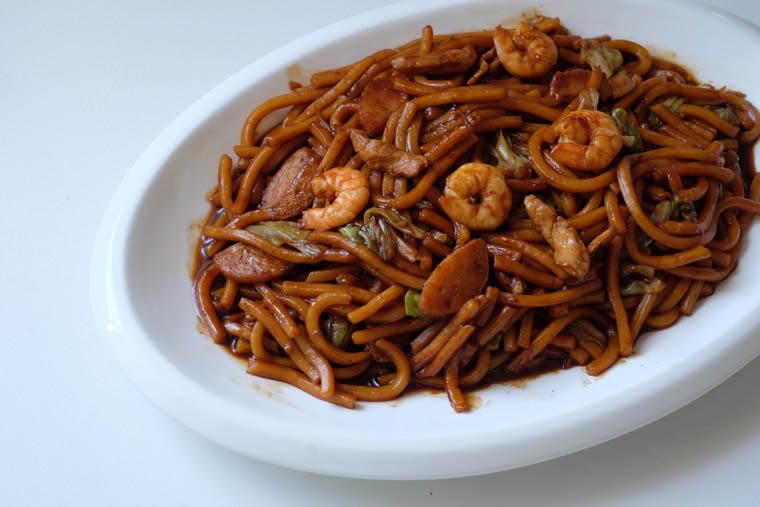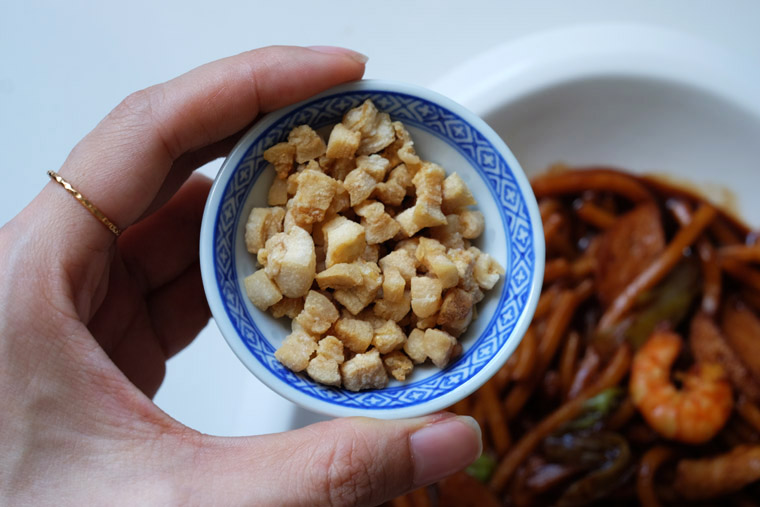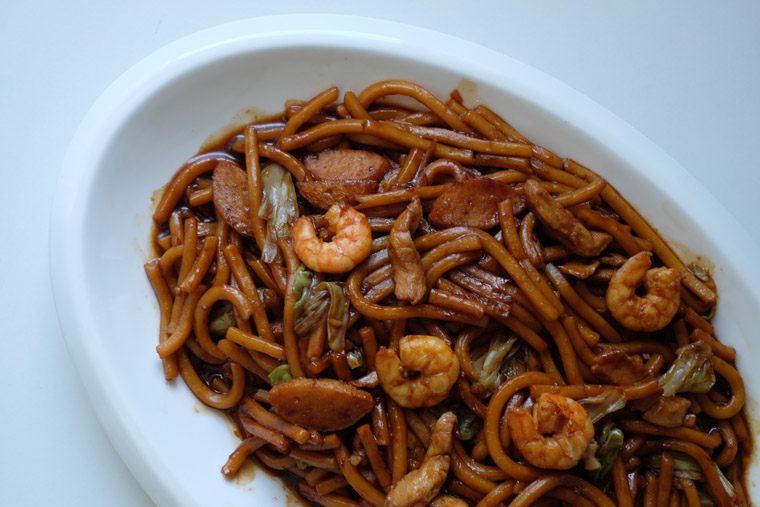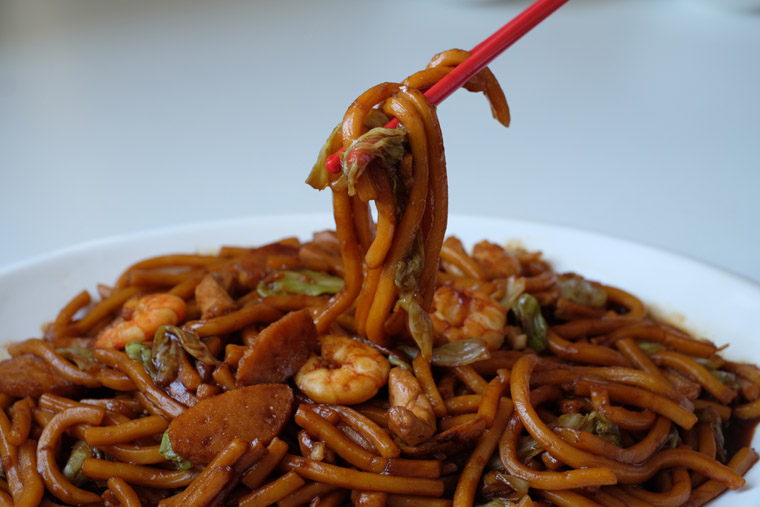 ---
Enjoy with some crispy pork lard!
Learn to Cook KL Hokkien Mee at New Malaysian Kitchen Cooking Class
The above is my family home-style recipe. I have a more authentic recipe which I have research from talking to hawkers and many rounds of experiments in the kitchen. If you'll like to learn how to make authentic Hokkien Noodles, join my cooking class!
LIKE THIS RECIPE? GET CURATE RECIPES IN YOUR INBOX
Every month, I send write a personalised e-mail with my favourite recipes, food tips, and recent food adventures. Keep in touch with me by signing-up for my newsletter👇 OR follow me at my personal Instagram.