How do we protect ourselves and our family from this Coronavirus pandemic? How do we do our best to avoid spreading of the virus? How can we help our medical staff? That's what I've been wondering and working on. Two things that we can do:
Practice social distancing by staying at home I do not go out unless to the supermarket. I've found a few smaller businesses that deliver vegetables to my house (Read: 4 Independent Vegetable Delivery To Get You Through This Quarantine). If you really have to go out to buy groceries, go alone.
Cook nutritious food I cook using much more herbs and spices that is high in antioxidants e.g goji berries and turmeric than usual. It goes without saying that vegetables and fruits are good for us. But at this time, it may be difficult to get.
---
Keep yourself healthy for yourself, your family, and frontliners (doctors, nurses, cleaning staff)
I have some close friends working as doctors and nurses who are under tremendous stress. They are not complaining about being tired, but about how people are ignoring orders and making work very tough for them.
When I asked a doctor from a major hospital in KL about what I can do to help medical staff who are combating this pandemic, he said
"Don't get sick - coronavirus or other illness. If you're admitted to the hospital, my attention will be halved. Avoid hospitals/clinics" (rephrased)
A nurse from a major hospital in Selangor said, that on top of following orders from the government to stay at home, we can
"Eat healthy and keep clean.... I've seen a lot of ppl sharing information that is totally wrong. Eg Taking high doses of vitamin c >1 gm a day helps prevent infection n boost immune system. It is totally false. Those so called interview with Prof from God knows where are probably being paid by pharmaceutical companies to give reviews. Everything in moderation is sufficient" (verbatim)
My conclusion is: stay at home and cook. That to me, is not only easy to do but also pleasurable. Let's take this rare opportunity to pick up a skill like cooking and spending time with family!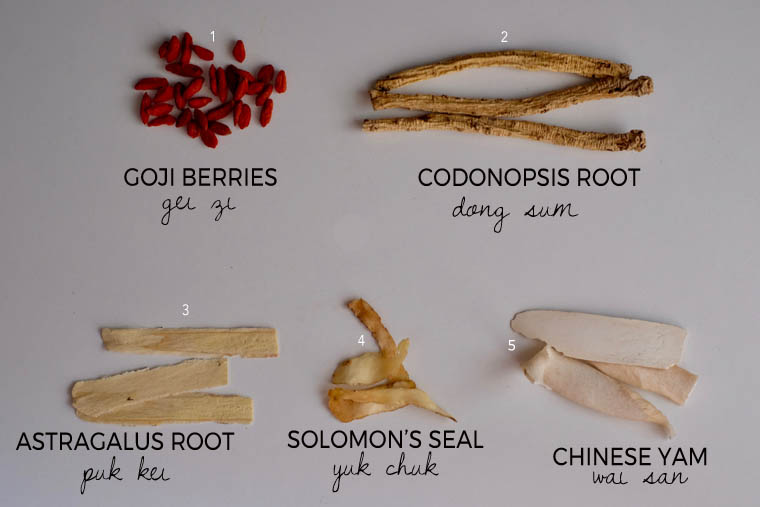 ---
Cook simple yet nutritious food...and use the leftovers for another meal
My family has always been cooking at home and eating healthy. But recently, we upped our game by including more herbs and spices into our diet. We've been consuming more turmeric, Chinese herbs, herbal teas.
We are also doing our best to make sure all the groceries that we have at home are used effectively. We made an inventory of food that we have and we don't throw away leftovers anymore; traditional Chinese Medicine (TCM) believes that leftover food is not good for health so we normally cook just enough for the day.
So yesterday, we made herbal chicken for dinner and used the leftover to make congee for lunch. It's super easy to do; even if you've never cooked before, I'm sure you can do it. Let's try!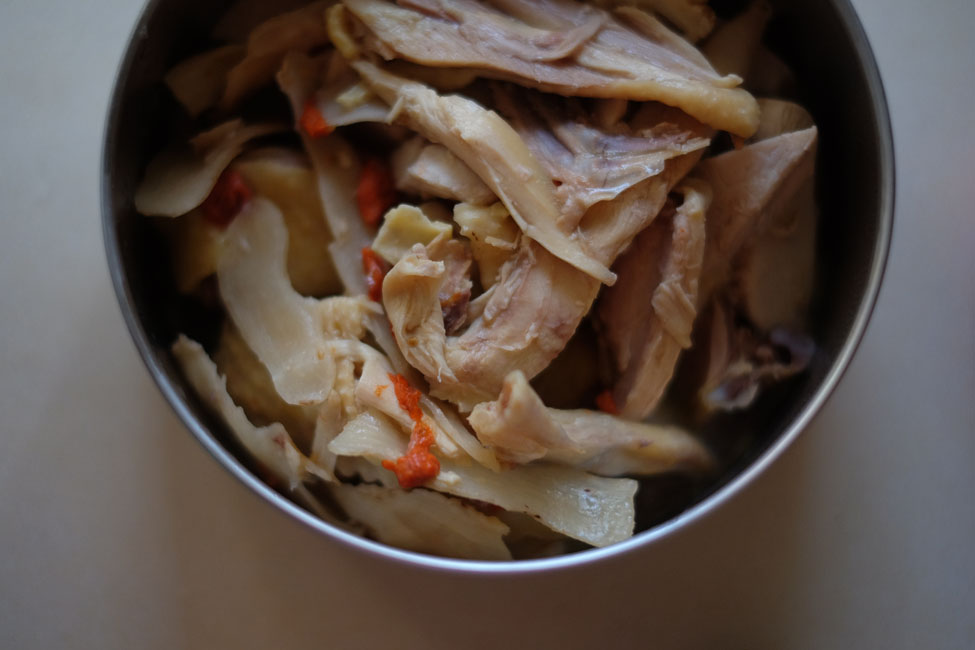 ---
TOOLS
For steamed herbal chicken
Wok + lid
Knife + chopping board
Plate/bowl
For herbal chicken congee
rice cooker
Knife + chopping board
---

DINNER: Easy Steamed Herbal Chicken
Easy Steamed Herbal Chicken - 5 Ingredients
21st March 2020
: 10 min
: 20 min
: 30 min
: Easy
Easy steamed chicken made with three potent Chinese herbs
Ingredients
1/2 chicken + 1 chicken breast - 800 g
Goji berries (kei chi) - 1 tablespoon or 15 pieces
Solomon seal (yuk chuk) - 1/4 cup or 10 pieces
Angelica roots (dang gwai) - 4 slices
Water - 1/2 cup
Salt to taste (~ 1/2 tablespoon)
Chinese Rice wine - 1 tablespoon (optional)
Directions
Step 1

WASH CHICKEN: Clean chicken thoroughly and place the entire chicken onto a high rimmed plate.

Step 2

BOIL HERBS: Place solomon seal (yuk chuk), angelica roots (dang gwai), goji berries (kei chi), and water in a wok. Boil for 5 minutes to extract flavour from it. Add salt and mix. Then pour the herbs and water into the plate of chicken.

Step 3

STEAM CHICKEN: Put a steaming rack and two bowls of water into the wok. Turn on the heat. When water boils, put the plate of chicken in. Cover and steam on medium fire for 15 - 20 minutes until chicken is cooked. Add 2 tablespoon of chinese rice wine (optional)

Step 4

CHOP CHICKEN: Chop the chicken into bite-size pieces.
---
SHORT RECIPE
Clean the chicken. Boil 10 solomon seal + 4 angelica roots + 15 goji berries + 1/2 cup of water for 5 min. Add 1/2 salt. Mix well. Pour into chicken. Steam for 15 - 20 minutes.  Pour in 1 tablespoon of rice wine. Chop chicken into bite size pieces.
---
STEP-BY-STEP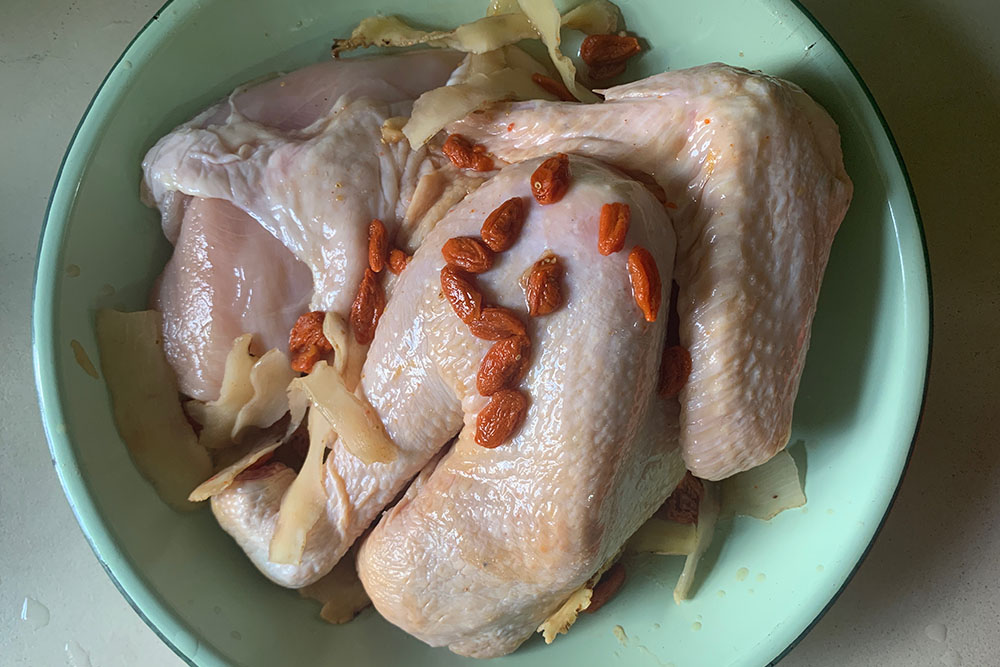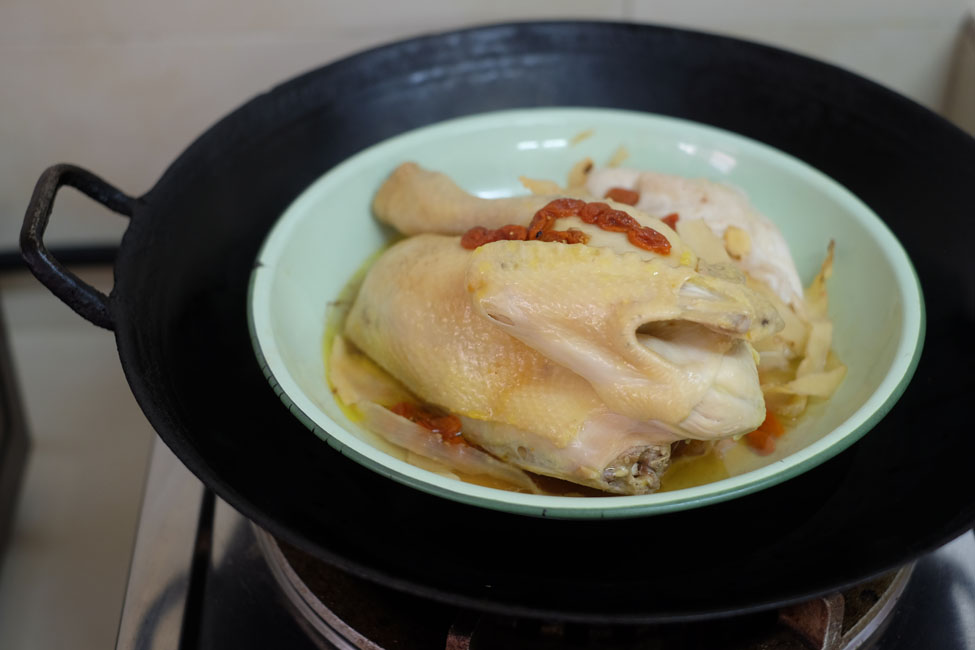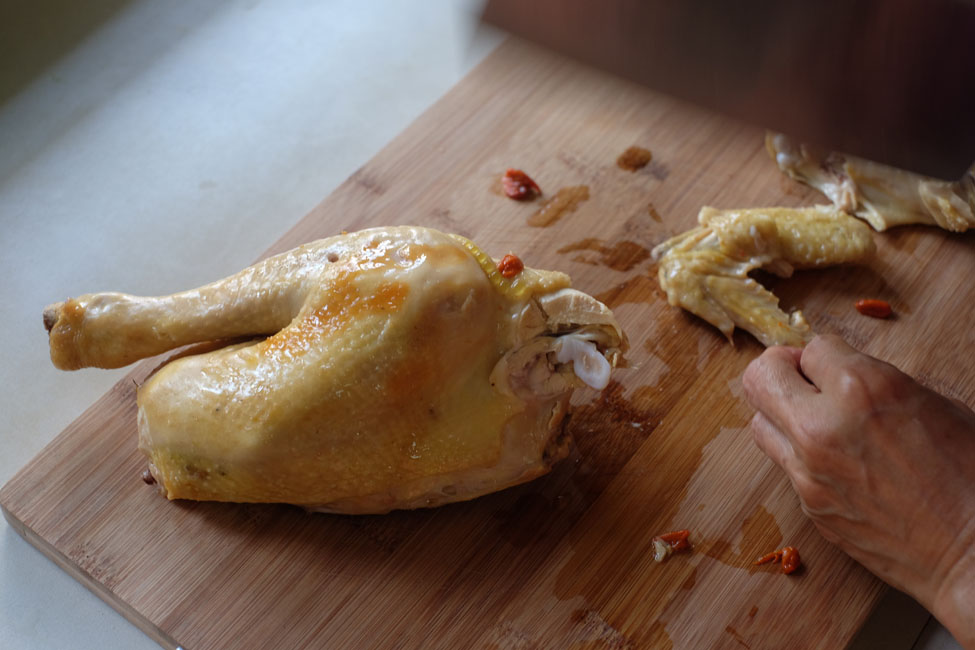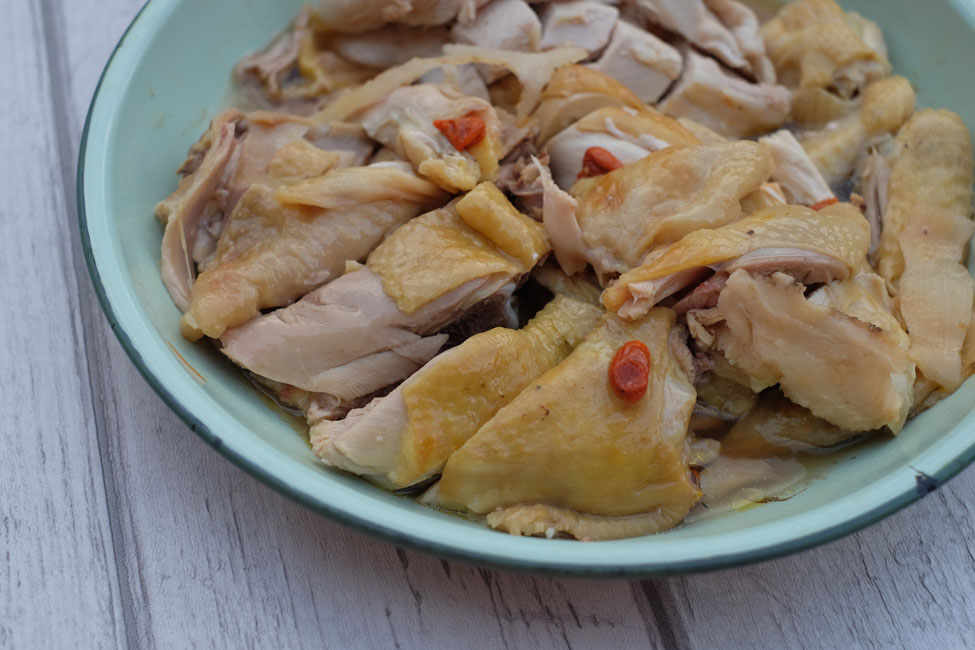 Check out some steps in video form at my Instagram.
---
COOKING HACKS & TIPS
It's easier to chop the chicken before steamingTo make it even easier, chop the chicken into smaller pieces before steaming. Then you don't have to chop after that. But my family is very particular about the juiciness and texture of the chicken. Steaming half of the chicken first before chopping means it's less likely to be dry or chewy.
Use free-range/ kampung chicken if you can This chicken feeds on better feed such as corn. Hence it has beautiful yellow skin, in contrast to the pale skin of regular farmed chickens. But during this time, any chicken will do!
Learn more about common Chinese herbs If you are not familiar with the herbs I mentioned. Checkout my article: 25 Chinese herbs in English and Chinese. It's common herbs found in a typical kitchen (like mine). 
Order herbs online Try to order it online at herbal shops like Chai Huat Hin to avoid going out (Let me know if you know of other herbal shops doing delivery)
---
NEXT DAY'S LUNCH: Herbal Chicken Congee (using leftovers)

Herbal Chicken Congee
21st March 2020
: 5 min
: 1 hr
: Easy
Easy herbal chicken congee using leftover from yesterday's meal
Ingredients
1 cup of rice (160 ml cup/ 125 g)
Leftover chicken (about 2 cups)
Carrot - 1 piece
Water - 10 cups (1600 ml)
Directions
Step 1

WASH RICE & CHOP CARROTS: Wash rice until water is clear. Peel and chop carrots.

Step 2

COOK CONGEE: Put washed rice, carrot, leftover chicken, and water into the rice cooker. 

Step 3

COOK IN A RICE COOKER: Let the rice cooker do its job. It should be ready in an hour. Serve with fried garlic, spring onions, and soy sauce if you have.
---
SHORT RECIPE
Wash 1 cup of rice until water is clear. Peel and chop 1 carrot. Put washed rice + carrots + leftover chicken + 9 rice cups of water into the rice cooker.
---
STEP-BY-STEP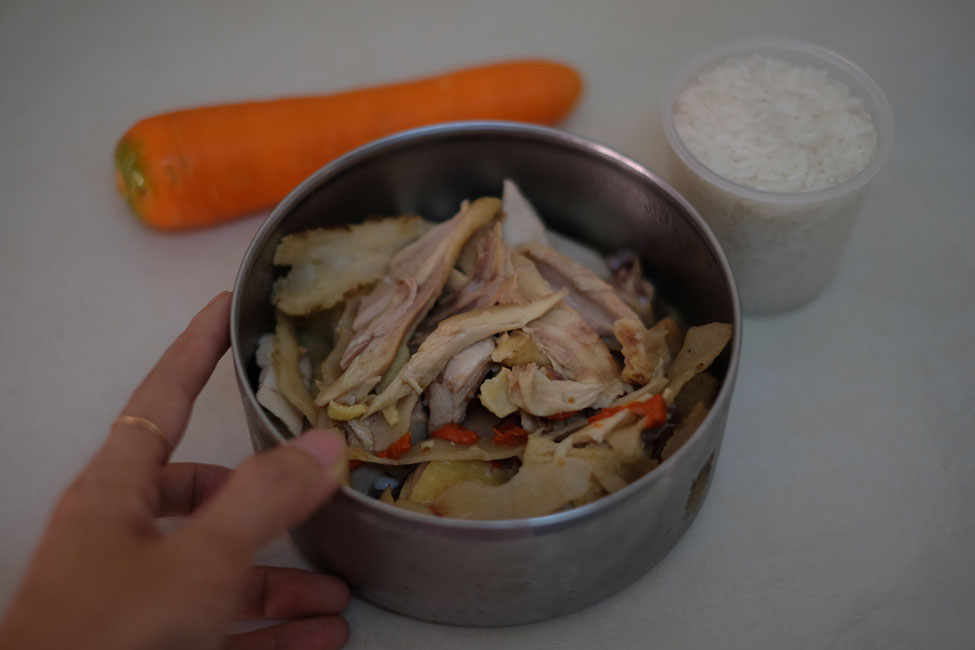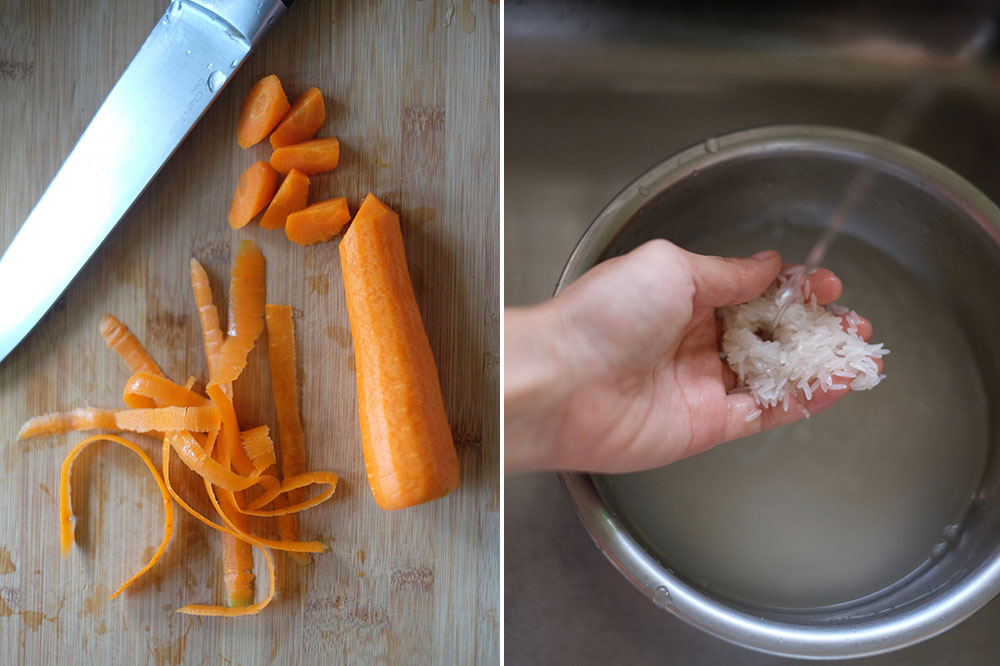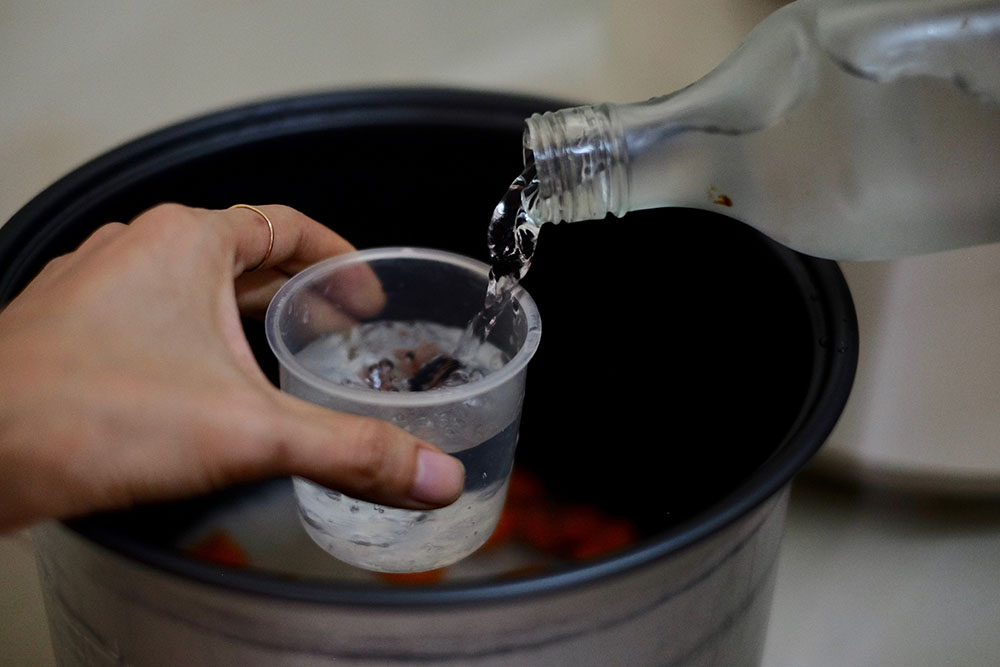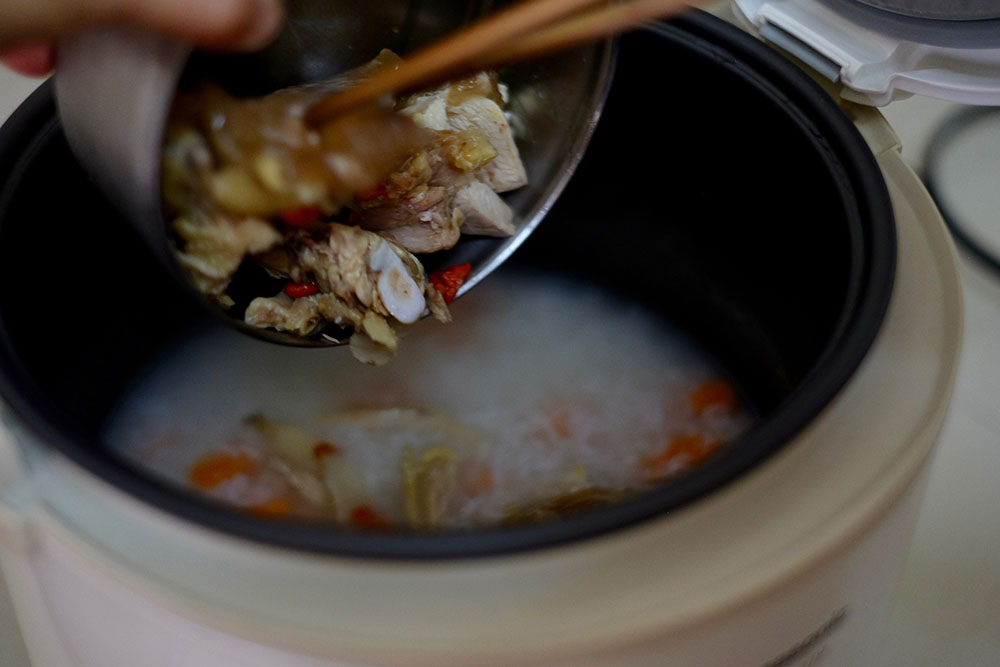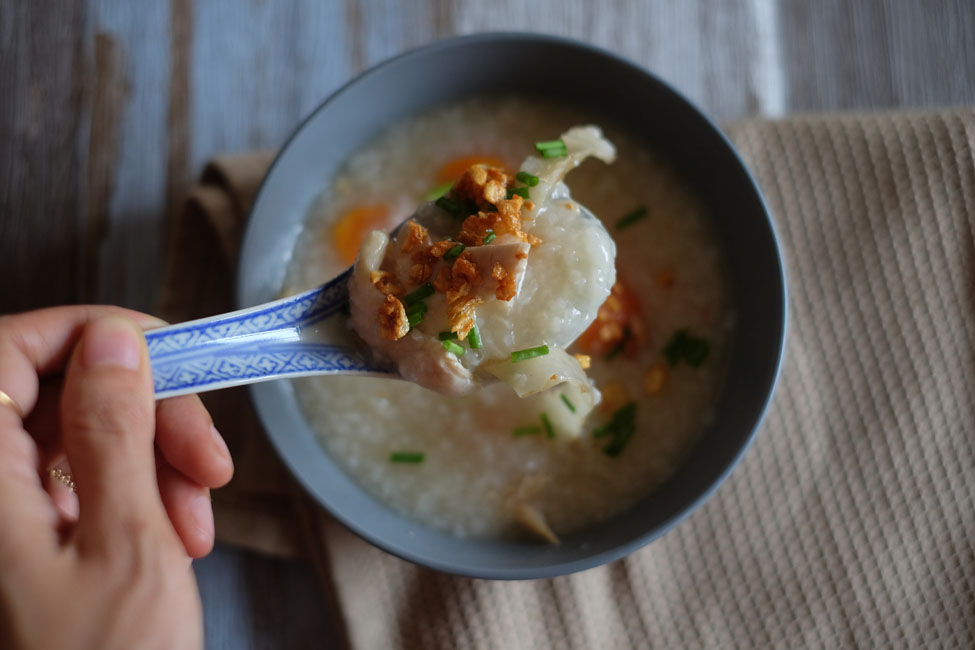 ---
COOKING TIPS
Place the chicken in 15 minutes before you're ready to eat for juicier chicken The above recipe is simplified. I would normally dump everything in. In reality, my Mom is very particular about her chicken and refused to let me put it in earlier with the rice as carrot as she doesn't want to overcook the chicken.
Remove the solomon seal. We normally remove the solomon seal before putting into the rice cooker. It has a chewy texture that not many people like. But its good for health and at times like this, I convinced my Mom to just eat it.
Eat it together with some fried garlic We are trying to eat as much superfoods as we can. Garlic is one of them. You can make garlic oil and pour it over. Make it in a microwave in just 5 minutes! I like to do it in a small egg pan (Don't let is turn brown like this. I was busy taking the shot and quickly poured it out to stop it from turning black and bitter)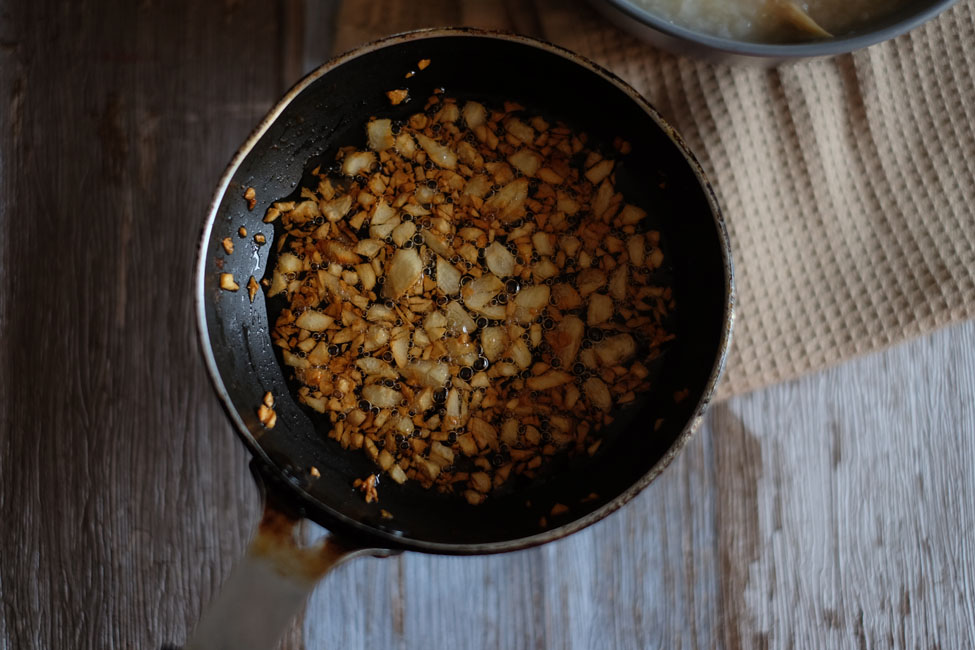 ---
LET'S COOK & STAY IN!
The least we can do now to help the medical staff by not being a burden. My friend, SC Shekar, a photographer whose art work I admire said this: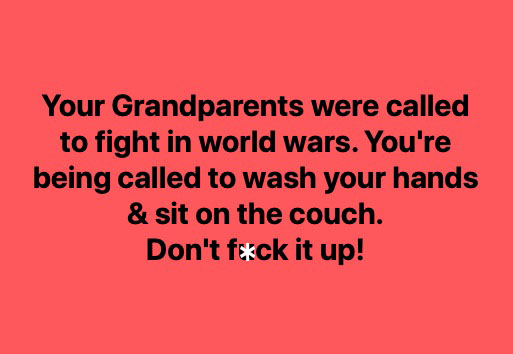 Let's see it positively. Now is the time to pick up cooking skill and spend time with family. Be creative about food that you can make with the groceries you have at home. Let's get out of this pandemic together being healthier and smarter.
Stay home, keep clean, and eat healthy!
LIKE THIS RECIPE? GET CURATED RECIPES IN YOUR INBOX
Every month, I write a personalised e-mail with my favourite recipes, food tips, and recent food adventures. Keep in touch with me by signing-up for my newsletter👇 OR follow me at my personal Instagram.