Chinese New Year in 2021 is an odd one. Many families around the globe will be celebrating Chinese New Year at home in a lockdown. My brother said CNY is now 'Celebrate Next Year'. 
But it doesn't have to be so. We can still celebrate at home even if you can't cook. All you need is some creativity!
This is what we will do: buy a store-bought roast chicken and turn it into 'Two Way Pineapple Roast Chicken' with Kewpie's Roasted Sesame Sauce. Best of all, it can be done in just 15 minutes!
View this post on Instagram
---
WHY EVEN A BEGINNER CAN MAKE THIS
Even if you can't cook, you'll be able to make it. You only need to:
Buy & slice a chicken

Chop a few things: pineapple, carrot, celery

Make a delicious dressing using Kewpie roasted sesame sauce for a nutty and creamy texture 
Then arrange everything into a platter!
---
TOOLS
Round platter

Chopping board + knife

Bowl for mixing sauce
---
RECIPE CARD
No-cook Roast Chicken with Pineapple for Chinese New Year (20 Minutes, 9 Ingredients)
10th February 2021
: 4
: 15 min
: 15 min
: easy
Lessen yours and your family burden this Chinese New Year with this no-cook Chinese New Year dish!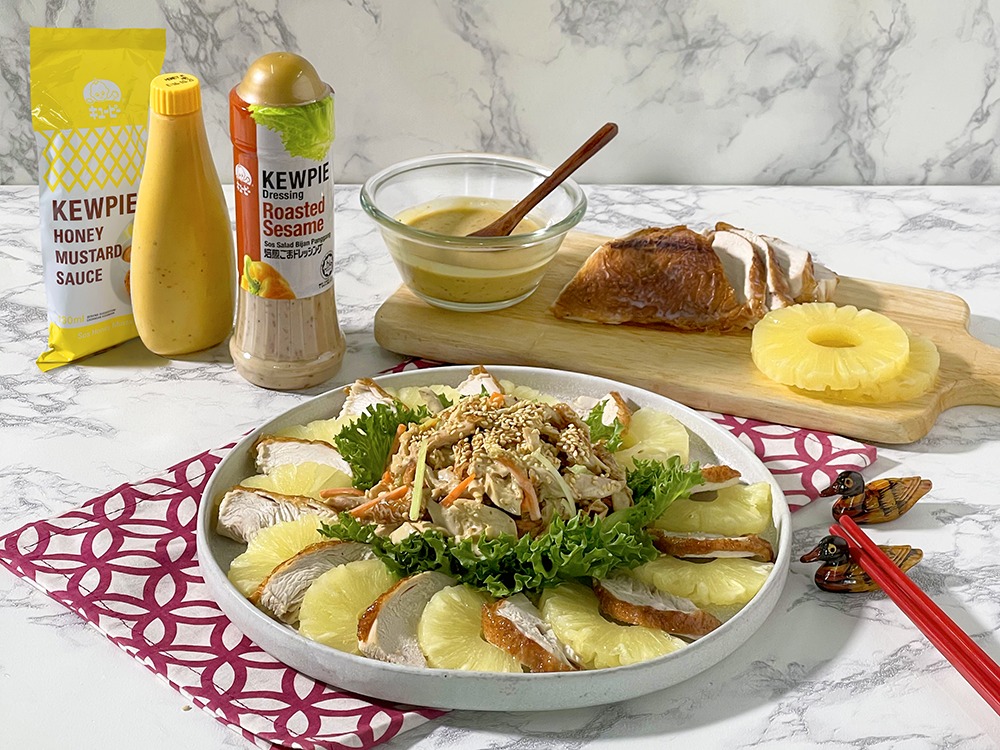 Ingredients
Roast chicken - 1/2
Pineapple (canned) - 1 can
Celery - 6 inches
Carrot - 6 inches
Seasonings
Kewpie roasted sesame dressing - 6 tbsp
Kewpie honey mustard sauce - 3 tbsp
Light soy sauce - 1 1/2 tbsp
Garnish
Lettuce - 2 - 3 leaves
Toasted white sesame seeds - 1 tsp
Directions
Step 1

SLICE CHICKEN & PINEAPPLE: Slice the roast chicken breast meat into thin slices.Cut pineapple slices into half, then slice thinly.

Step 2

ARRANGE CHICKEN SLICES & PINEAPPLE: Arrange chicken slices and pineapple slices, alternatively, around the plate.

Step 3

MAKE SAUCE: In a bowl, combine Kewpie sesame sauce, Kewpie honey mustard sauce, and light soy sauce. Mix well.

Step 4

MAKE CHICKEN SALAD: Slice celery and carrot into matchstick-size.Cut the rest of the chicken into shreds and mix well with celery and carrot. Pour the sauce into the bowl of chicken and vegetables. Toss to combine.

Step 5

ARRANGE CHICKEN SALAD: Place lettuce in the middle of the platter. Scoop flavoured shredded chicken and vegetables on the lettuce.

Step 6

GARNISH: Garnish with sesame seeds.
---

COOKING TIPS
Visit a major supermarket to get everything at one go 

You can get Kewpie sauce and all of the ingredients at major supermarkets. Some supermarkets have deli sections where you can buy roast chicken. 

Buy chicken at the nearest chicken rice store

- If not, get a chicken from your nearest chicken rice store. Remember to order ahead of time if you're making it for Chinese New Year as it's a busy season. You can even ask the seller to slice the chicken breast for you.

Replace chicken with duck -

This dish can be made with duck (I think it'll taste even better!)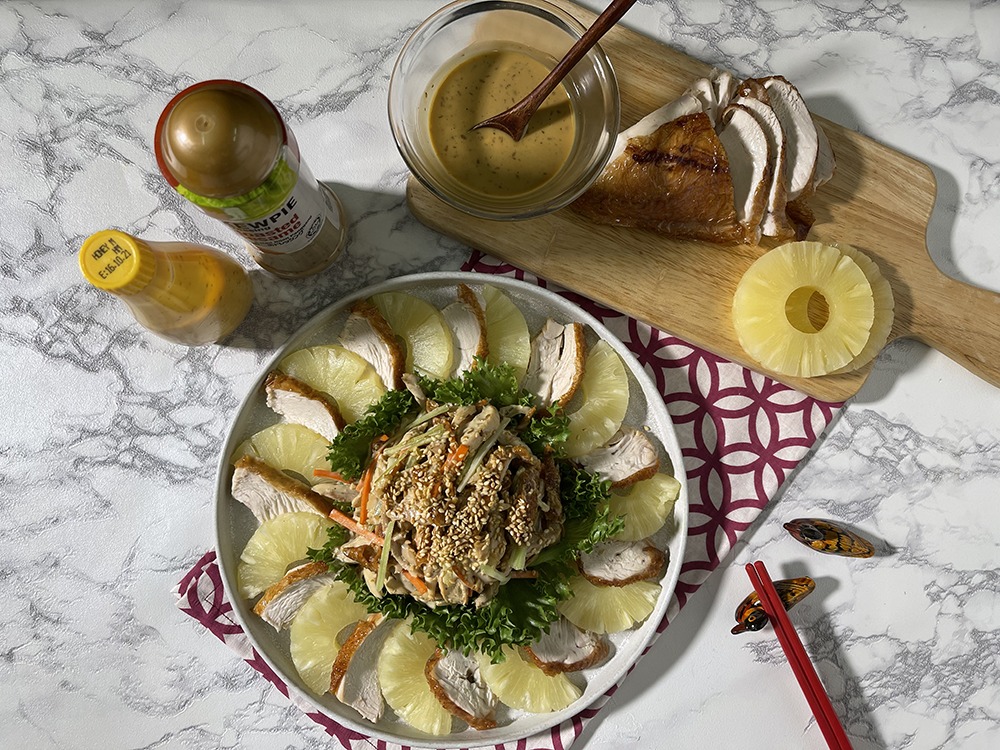 Not being able to cook is not an excuse anymore. Try out this simple recipe and impress your family this Chinese New Year!