This dish is inspired by my late grandmother who raised seven kids while running a business. Chinese New Year was a big affair for her; she would order all the typical must-have for the festivity like chickens and cook a feast for all her children and grandchildren. Cold Dish Platter is one of the many that she makes yearly and which I remember fondly.
View this post on Instagram

So when Kewpie, the producer of Japan's most beloved mayonnaise, contacted me to create a Chinese New Year dish, I immediately thought of this. Only then I started asking my mother more about this dish. 
She told me that my grandmother loved Sek Yuen, one of the oldest Chinese restaurants in Kuala Lumpur. My grandmother loved this cold platter dish and recreated it at home.
---
WHY IS IT AUSPICIOUS
Prawns in Cantonese (ha) sounds like laughter

Chicken is a symbol of prosperity

Razor Clams is a luxurious ingredient

Jellyfish (海蜇) is a popular seafood
Lettuce, also known as 'Sang Choi 生菜', sounds like 'growing luck'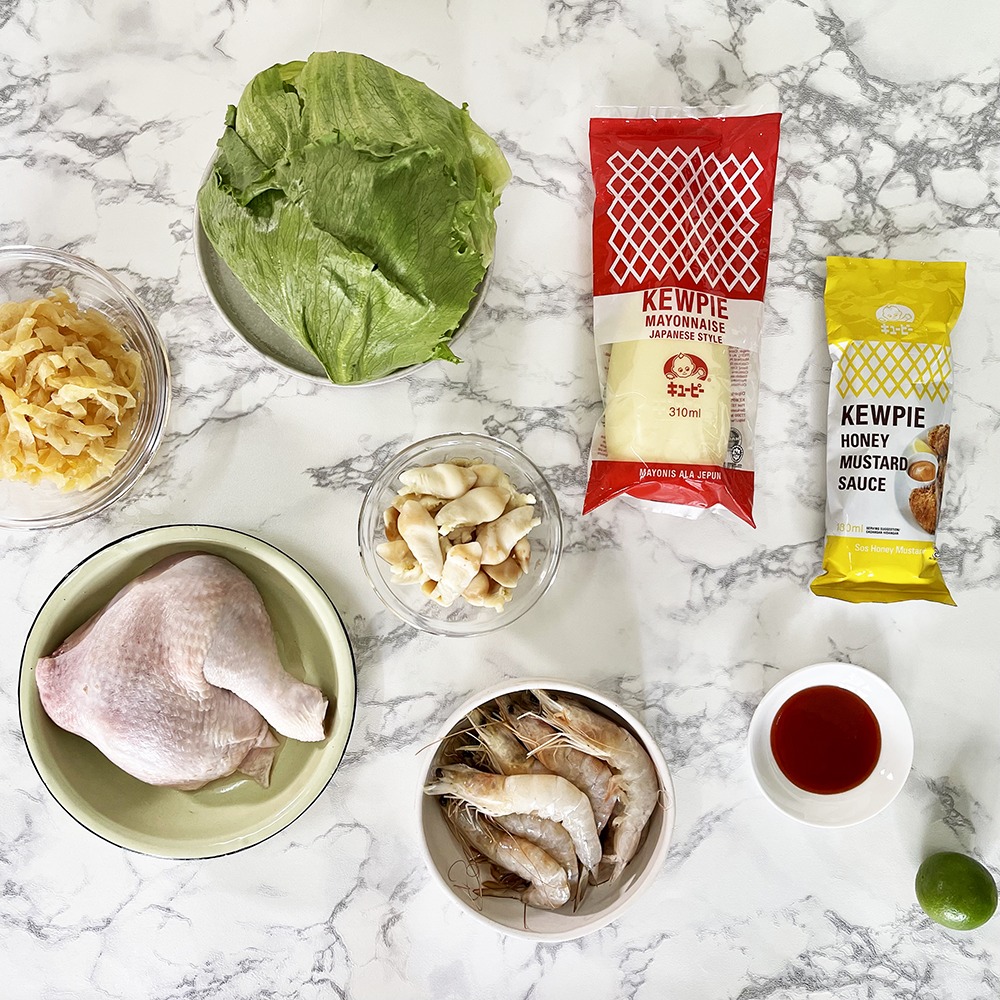 ---
CAN'T COOK/ NO TIME? THIS COLD DISH IS THE SOLUTION
Not only this dish is luxurious and auspicious, but it's also incredibly easy to make. It's a perfect dish for people who lacks the time or cooking skills.
The dressing is made with a few basic sauces including Kewpie mayonnaise which is packed in an easy-to-handle squeeze bottle

Prawns, chicken, and jellyfish are simply boiled/steamed

Razor Clams fresh are used fresh from the can
---
TOOLS
Wok + steam rack + lid
Chopping board + knife
Bowl
Round serving plate
Can opener
---
RECIPE CARD
Five Variety Cold Platter For Chinese New Year
8th February 2021
: 4
: 30 min
: 30 min
: Easy
Ingredients
Salted jellyfish x 1 ½ cup
Chicken leg x 1 piece
Prawns x 8 pieces
Lettuce x 2 - 3 pieces
Razor clams (canned) x 1
SAUCE:
Kewpie mayonnaise x 4 tbsp
Kewpie Honey mustard sauce x 2 tbsp
Ketchup x 2 tbsp
Lime juice x 1 tbsp
Directions
Step 1

PREP: Steam the chicken leg, shred it, and place into a bowl. Steam prawns and remove the shells. Chop lettuce into long, thin shreds. Soak jelly fish in a pot of water and then boil until just cooked. Open a can of pacific clams and remove it from the brine.

Step 2

ARRANGE INGREDIENTS: Put the bowl with chicken, upside down, in the middle of the platter. Then arrange prawns, jellyfish, pacific clams, and lettuce around it. Place it in the fridge until ready to eat.

Step 3

PREPARE SAUCE: In a bowl, combine Kewpie mayonnaise, Kewpie honey mustard sauce, ketchup, and lime juice. Mix well.

Step 4

SERVE: When ready to serve, remove the platter from the fridge. Pour the sauce over the platter and mix well.
---
KITCHEN TIPS
Do not remove the bowl after cupping chicken for gelatinous and neat chicken - If you want your chicken to look nice, do not remove the bowl when arranging the chicken (in step 2). Keep the shredded chicken leg cupped in the fridge for hours and it'll turn gelatinous. Chinese restaurants achieve this by adding gelatin, but at home, you can use time instead.
Use chicken leg - This dish normally uses chicken leg for its smoother texture.

Buy jellyfish slices - 

There are fresh jellyfish which you will need to slice on your own. I suggest getting cut jellyfish for convenience. During Chinese New Year, even some Chinese dried seafood/ independent grocery stores sell this. I also found it at a store selling frozen seafood. 

Make the sauce the day before - 

If you'll be busy on the day you plan to serve this dish, make the sauce the day before. You may also make the entire platter the night before. Though for me, I prefer to make everything fresh. 

Substitute with other auspicious ingredients- 

If you don't like any of the components above, you can use other things like abalone, purple cabbage, and cucumber

So this Chinese New Year is your time to show that you can make something delicious for your family. Good luck!