Cooking a Chinese New Year feast for the family can be stressful. Having done it for the first time in recent years, I still remember the trepidation. But it doesn't have to be. There are plenty of simple yet auspicious recipes out there. Steamed Chicken is one of them.
WHY IS IT AUSPICIOUS
When someone overcame a hurdle, there's a popular saying "slaughter chicken to thank the Gods" (劏雞還神). Chickens are always significant for the Chinese. I remember my late father told me that, in the 40's, when he was a child, having chicken on the table is very precious.
A whole chicken (including its head and feet) symbolises the togetherness of the family. However, we are not so strict nowadays. We'll normally have chicken for Chinese New Year, but without the head and the feet.
WHY IS IT EASY
You only need to salt and steam the whole chicken. Even if you're not good at cooking, this is something that is hard to screw up.
The hardest part is chopping the chicken. Which if you're not particular, you can just serve it whole and cut it with a knife which I did when I cooked the entire Chinese New Year feast on my own. Afterall, serving it whole is auspicious!
We'll also be making a simple sauce with only 3 ingredients and simple frying in the pan. This is also hard to mess up.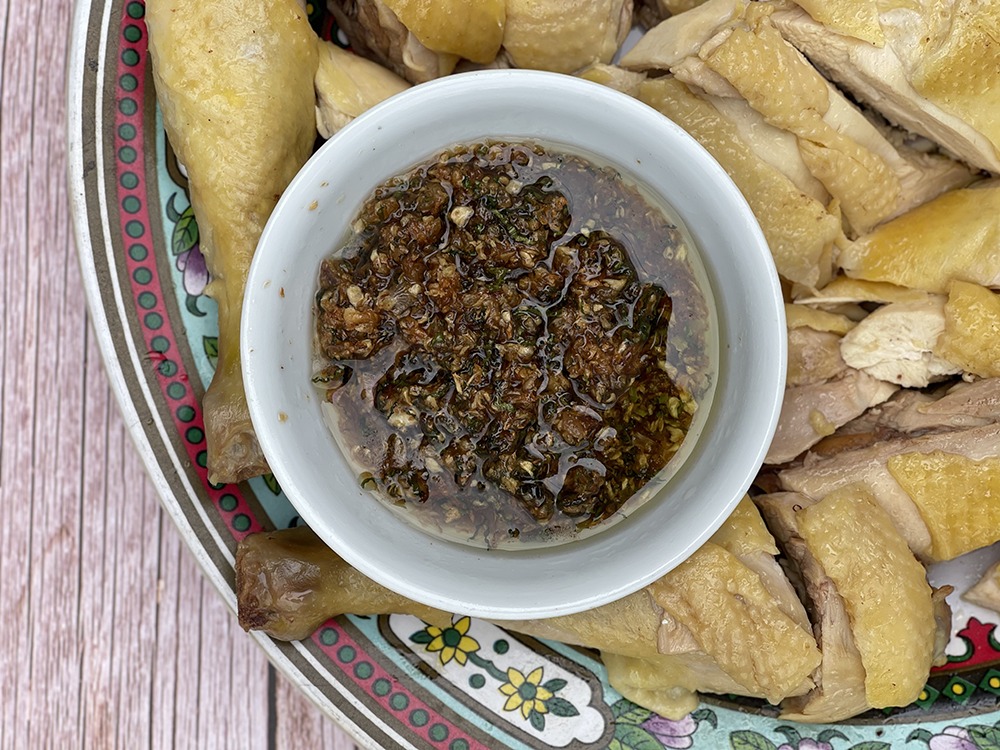 HEALTHY DIPPING SAUCE
In this recipe, I'll be making ginger and coriander sauce to dip with the chicken. It's what my late grandaunt likes to cook at every reunion dinner.
Each of the ingredients is incredibly good for the health. To make it even healthier, I like using coconut oil.
It's so easy to make that I make it often for regular dinner as well, not just during Chinese New Year.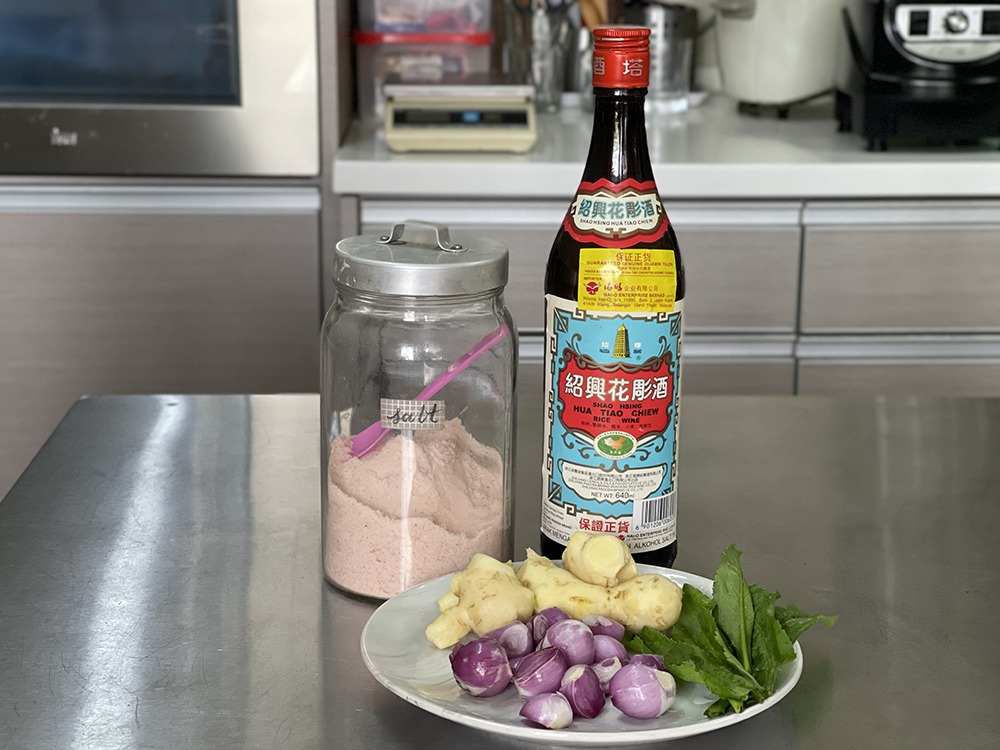 ---
TOOLS
Wok + steaming rack + lid / Food Steamer to steam chicken
Scissors/ Knife/ Cleaver to chop chicken
Knife + chopping board to mince ingredients
Small pan to fry ingredients for making sauce
---
RECIPE CARD
Steamed Chicken with Ginger-Coriander Sauce
24th January 2021
: 4-6
: 10 min
: 30 min
: 40 min
: Easy
And easy and auspicious dish for Chinese New Year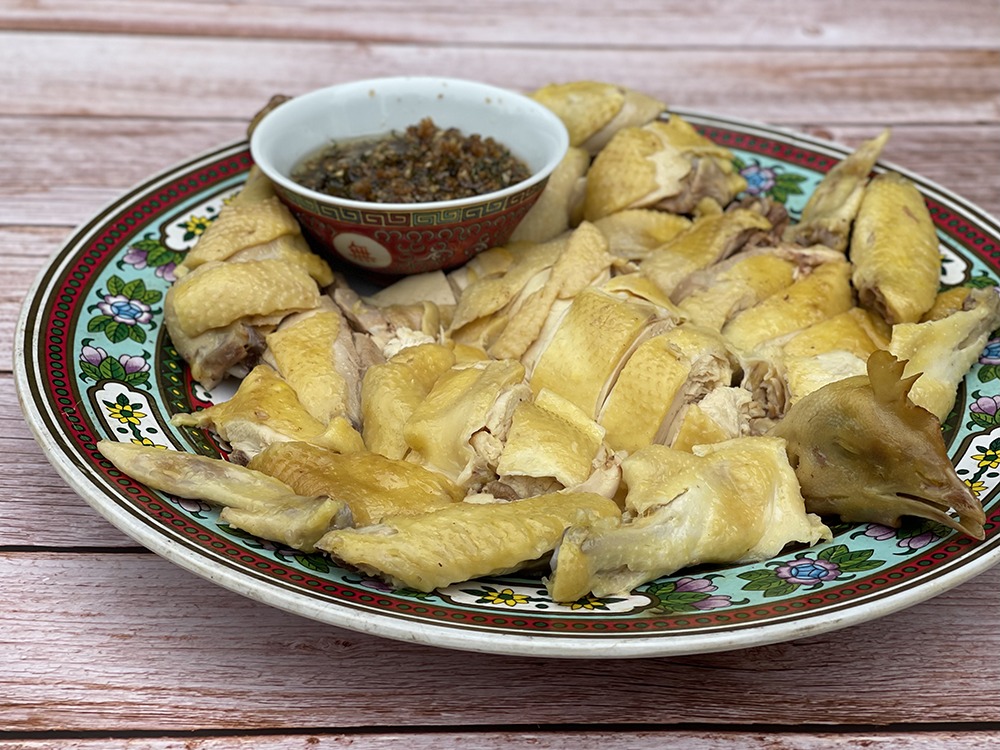 Ingredients
CHICKEN:
Free-range chicken x 1 (about 1.6 kg)
Salt x 1 tsp
Shaoxing rice wine x 1/2 tbsp (OPTIONAL)
SAUCE:
Cooking oil x 1/2 cup
Ginger - 135 g
Shallots x 70 g
Coriander leaves x 12 gram
Salt x 1 teaspoon
Sugar x 1/2 teaspoon
Directions
Step 1

1. PREP: Scrub chicken. Mince all ginger, shallots, and coriander.

Step 2

2. MARINADE & STEAM CHICKEN: Marinade chicken with salt and wine. Steam chicken for 25 – 30 minutes.

Step 3

3. COOK SAUCE: Fry ginger and shallots in oil until golden brown.Add coriander, salt, and sugar. Mix well
---
SHORT RECIPE
Rub chicken with salt. Ribse, Steam for 30 minutes, or until cooked. Fry 1/4 cup minced shallots + 1/4 cup minced ginger in 1/4 cup of oil until golden. Add 1/4 cup of coriande and salt. Mix well.
---
COOKING TIPS
Use free-range chicken The least ingredients they are, the better quality the ingredients must be. This dish is prized for the quality of the chicken. My family likes getting free-range chicken with special feed including corn. It's more flavourful and the skin is more yellow as well.
Where to buy good quality chicken It's normally available at wet market in Malaysia. At the market that I go to, it's slaughtered on the same day. Supermarkets usually do not have these chickens. But I know I've seen it at Village Grocer (though it's rare)
Type of oil My grandaunt normally use regular vegetable oil like canola. But when I make this (without my Mom), I prefer to use coconut oil. Although I have not tried it, I think olive oil will be okay as well as the strong taste of ginger and coriander mask most of the taste of certain oil. It's up to you.
Halal Order halal kampung chicken and omit the cooking wine. It's still going to taste yum!
Any type of coriander, roots or leaves, will do My grandaunt which inspires this recipe uses coriander roots. However, my family uses sawtooth coriander leaves as we have a lot of them in the garden.
If you really think you can't…
Buy the chicken from a chicken rice stall near you I know this is a cooking blog, and I do encourage that you try to cook. However, if it's really tough on you, there is no shame to buy the whole chicken for Chinese New Year reunion dinner.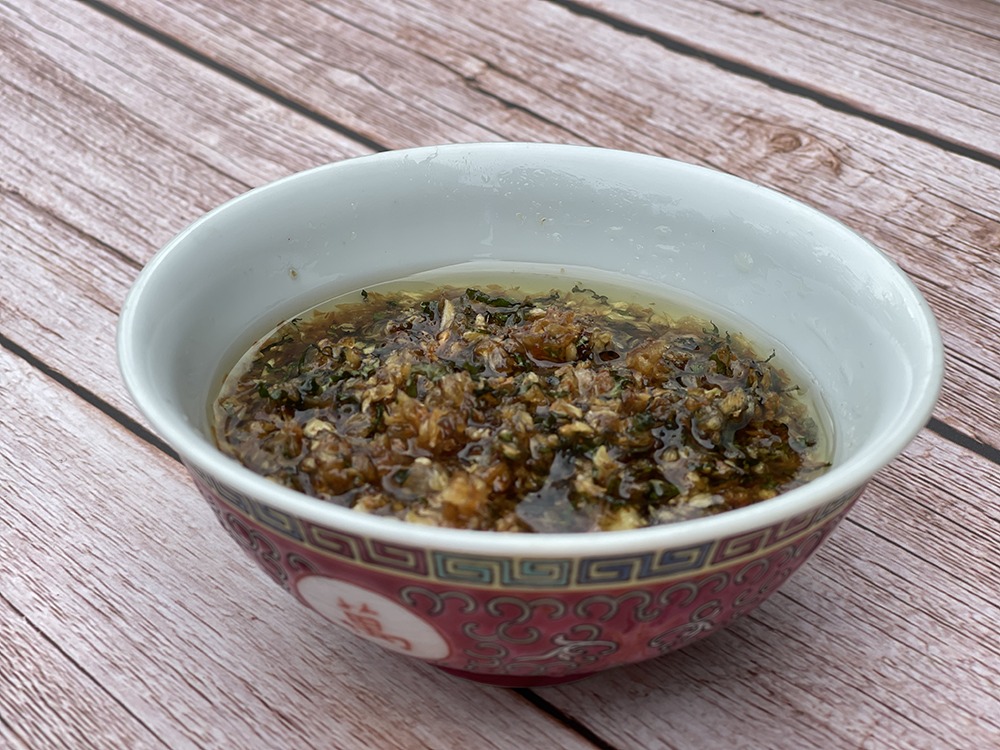 Having said that, this is REALLY easy to make. Check out my video for more detailed steps and tips to clean the chicken.
Good luck!