Being a Hakka descent, I have this dish quite often while I was growing up. However, my family's eating habit changed over the years. We try to have more vegetables and less meat. When we do have meat, it's normally steamed or braised.
I've almost forgotten about the existence of this dish until I saw it at an economic rice stall. So I asked my Mom to teach me to cook her version of it.  Here's a simple recipe for Hakka fried pork. It's so delicious with rice, or eaten just on its own!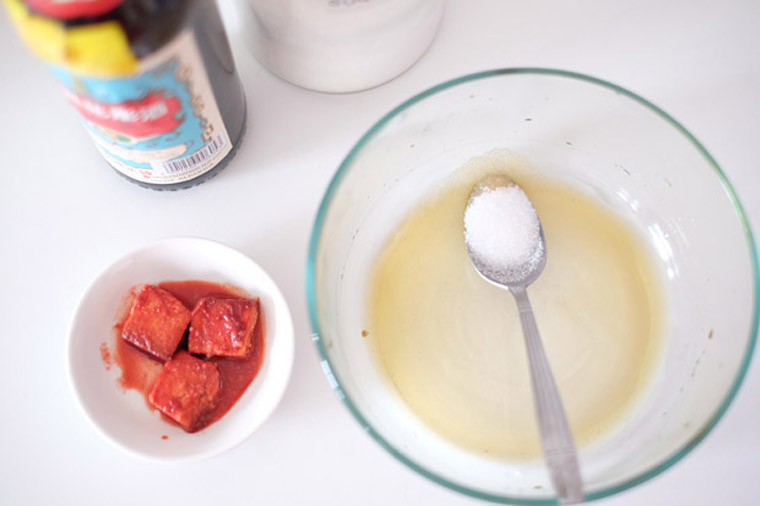 ---
TOOLS
Stove, wok and tongs
Container with lid/ bowl with clingfilm
Measuring spoon
Electric blender/ juicer/ pestle & mortar
Paper napkin
---
RECIPE CARD
EASY HAKKA FRIED PORK BELLY WITH RED FERMENTED BEANCURD (HAKKA CHAR YUK/ 客家炸肉)
1st October 2016
: 4
: 10 min
: 20 min
: Medium
Crispy fried pork flavoured with pungent red fermented beancurd and shallots
Ingredients
500 g Pork belly
3 pcs Red fermented beancurd
3 tbsp Chinese cooking wine
1 tbsp Sugar
10 pcs (100g) Shallots
2 tbsp Cornflour
Cooking oil for deep frying
Directions
Step 1

MAKE MARINATE: Pour 3 tbsp of Chinese cooking wine and 1 tbsp of sugar into a container. Add 3 pieces of red beancurd and mash with a spoon. Mix well.

Step 2

CHOP PORK: Chop pork belly into bite-size pieces. Add into container.

Step 3

EXTRACT JUICE FROM SHALLOTS: Peel shallots and chop off the roots. Pound or blend shallots. With both of your hands, cup the pounded shallots and squeeze its juice into the container.

Step 4

MARINATE PORK: Mix well so that sauce they are evenly coated with seasonings. Place in the fridge and marinate for 2 hours, or overnight.

Step 5

LINE PLATE WITH PAPER NAPKINS: It absorbs oil which will make pork crispier.

Step 6

FLOUR PORK: Sprinkle 2 tbsp of flour over pork. Mix well.

Step 7

FRY PORK: Pour enough oil in a wok to submerge pork. Turn on the stove to medium. Heat oil until it sizzles. Then deep-fry pork in small batches until it turns golden brown. Transfer to plate.

Step 8

Serve hot.
---
SHORT RECIPE
Marinate bite-sized pork belly in 3 tbsp of Chinese cooking wine + 1 tbsp sugar + 3 pcs of mashed red fermented beancurd + juice from 10 pcs of shallots for 2 hours, or overnight. Add 2 tbsp of flour in pork. Mix well. Fry until crispy.
---
COOKING TIPS
To make frying easier, I like to use an extra long tongs (pictured below).
Get pork belly with good amount of fats. A good balance of lean meat and fat is much more delicious.
If I could help it, I try not to get pork from the supermarket. Instead, I get them from wet market or a pork specialty shop, An Xin (www.aameatshop.com.my). I like that there's more variety, so I could choose the size and the level of fats I want. Besides, they are much fresher too. Though I pay a little bit more than usual for that.
A good quality red beancurd (nam yu/南乳) is also important. The below brand was recommended to me.
Pounding shallots with pestle and mortar gives more juice than chopping with an electric blender. I've tried both; using an electric blender is definitely much easier and would be my preferred choice. I even tried to use my cold juicer to extract every ounce of juice from the shallots.
Try to not allow pounded shallot pieces to mix with the marinate. When  fried, there would be specks of burned shallots which do not look appealing.
I like to marinate my meat in glass container with plastic lid. If you don't have one, use a bowl and clingfilm to cover it.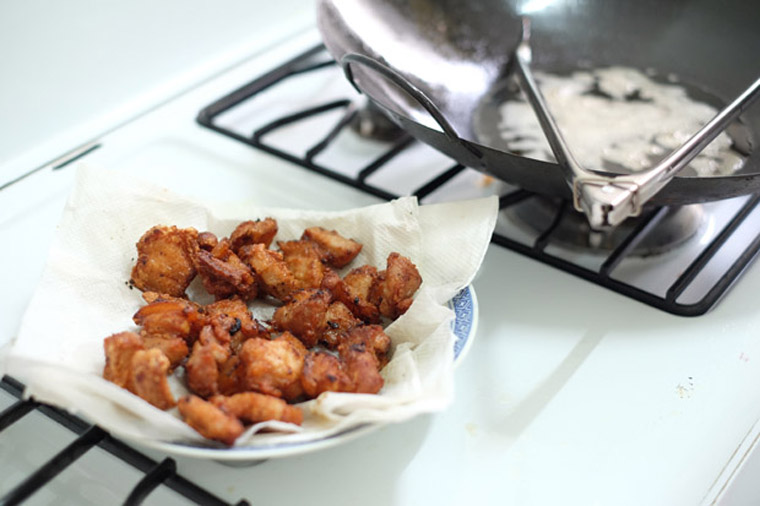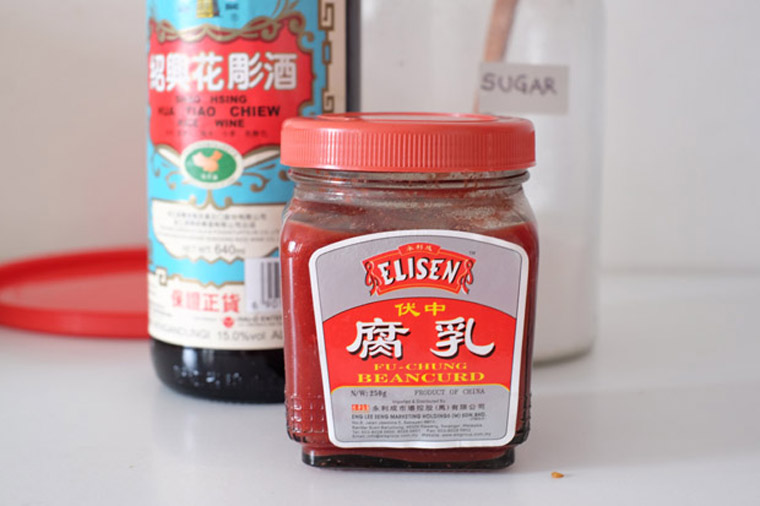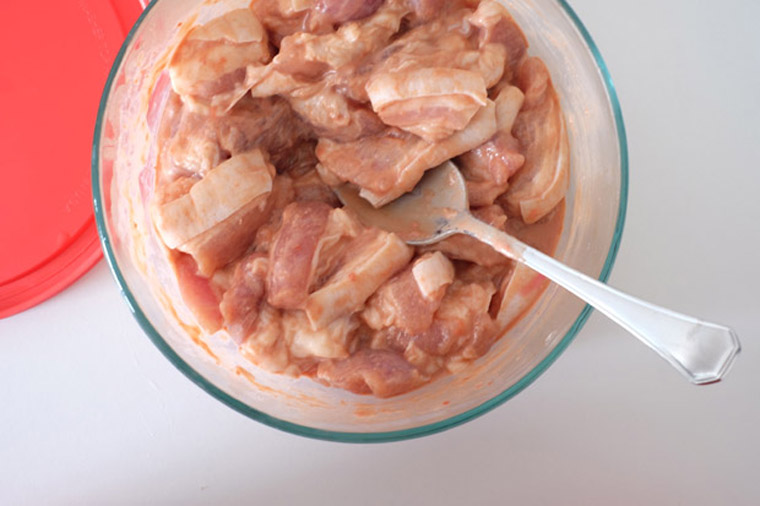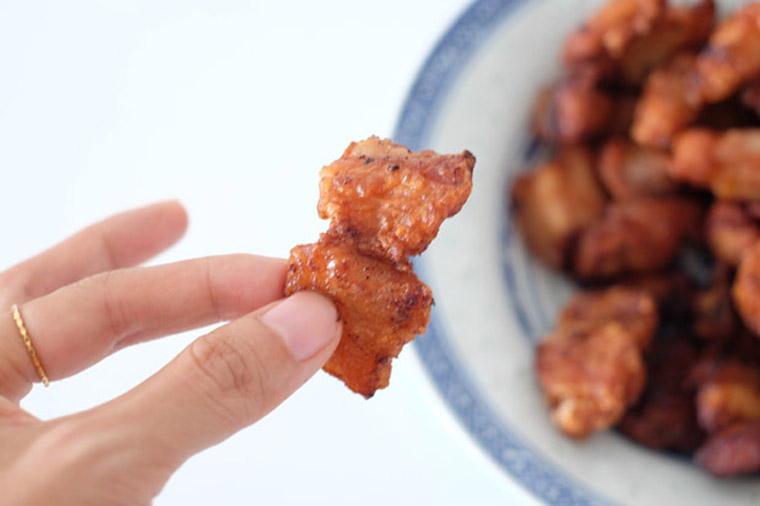 Enjoy!
LIKE THIS RECIPE? GET CURATE RECIPES IN YOUR INBOX
Every month, I send write a personalised e-mail with my favourite recipes, food tips, and recent food adventures. Keep in touch with me by signing-up for my newsletter👇 OR follow me at my personal Instagram.